Specialized M2 Pro 57cm Road Bike @ Pedal Revolution Refurbished Bicycle Update
Though it may not be the Fourth of July, it was still Veterans' Day yesterday, so even though it's a day late what better time to post this finely refurbished Specialized road bike.  For a long time this frame and fork resided in a dark corner of our upstairs storage area, but one particular morning this blogger saw it, cocked his head slightly with new-found interest, and brought it downstairs to be built up.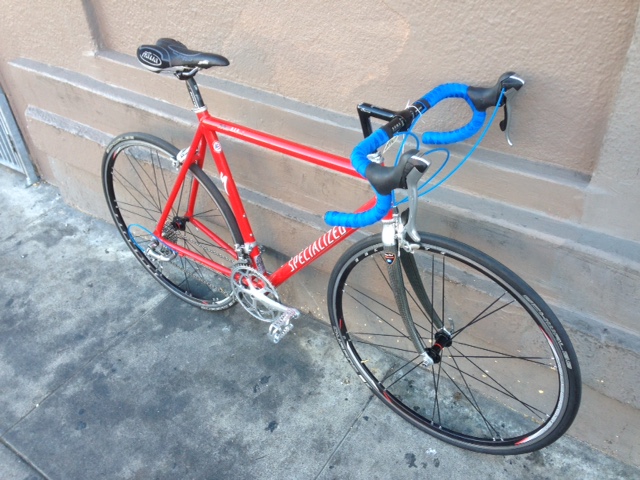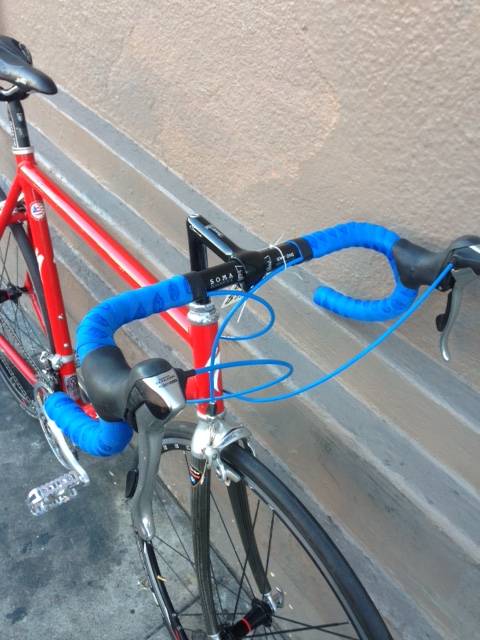 A couple highlights of the build include a Chris King headset and a Dura-Ace 7700 crankset, both in very nice shape.  The rest of the the build is Shimano Ultegra, and we've (again) modernized the cockpit with the short & shallow drop of the Soma Highway One handlebar.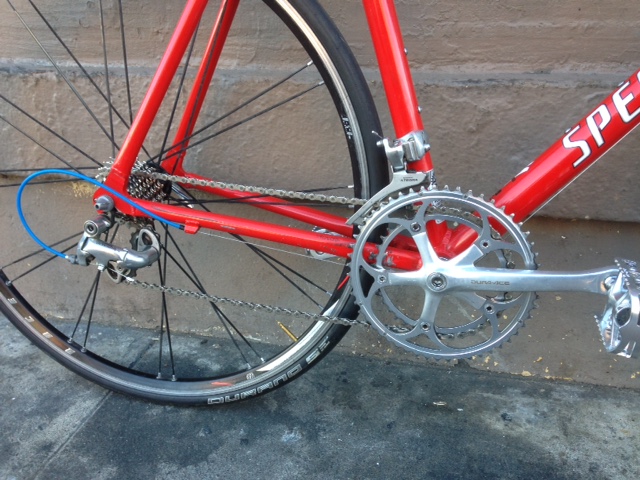 The opportunity for the 'Merican color scheme was not grasped until the shift and brake cables were about to be installed, whereupon the builder seized on the opportunity with a sort of child-like glee. In hindsight, this excitement could hardly be described as nationalistic or political in nature; rather, it was merely in response to the synergy afforded by the color combination.
This does bring me to a mildly political point, however.  Here in America, there's always that expression "Red, White, and Blue," yet the Brits have the same colors on their flag and it's just called a Union Jack.  In fact, until now I had no idea that over forty national flags are comprised of those colors. So if you're riding along and don't want to be identified as an American, you can always just tell yourself you're flying along on a Samoan national team bike…
This Specialized would be a good fit for someone between 5'9″ and 6"0′.  Come give it a test ride today!
$850   SOLD!!
'MERICA! A Slightly Patriotic Specialized Rockhopper! @Pedal Revolution Refurbished Used Bike Update
Just in time for Independence Day, this patriotic little number just hit the floor at Pedal Revolution. A refurbished Specialized Rockhopper with timely red, white, and blue accents. Perfect for the July 4th parade or your general run-of-the-mill enthusiastically patriotic commute to work. - Update: SOLD
(ALSO! Works for patriotic Frenchies, FYI). Vive la France! Sacre Bleu! USA! USA! 'MERICA!! etc. etc.
$350 SOLD!