Novara Trionfo 48cm @ Pedal Revolution Refurbished Bicycle Update
While shopping a while back I purchased a bottle of what I assumed to be olive oil, based on the presence of those words on the label as well as a prominently displayed Italian flag. It was only when I got home that I discovered it had been blended with canola oil, reducing it from prime bread-dipping status to mere general-purpose frying duty.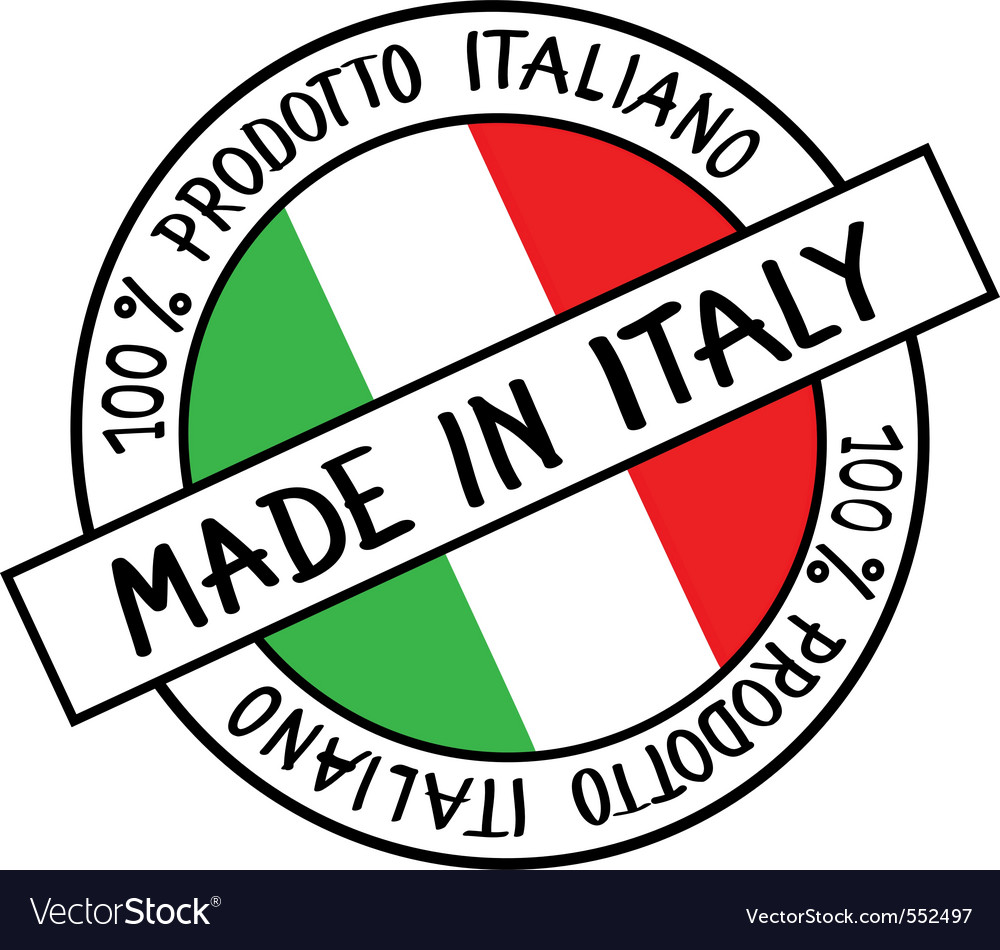 While the Made in Italy label does seem to gain the immediate attention and respect of the average American consumer, I hadn't even seen that.  Just the flag.  Enough to buy the item.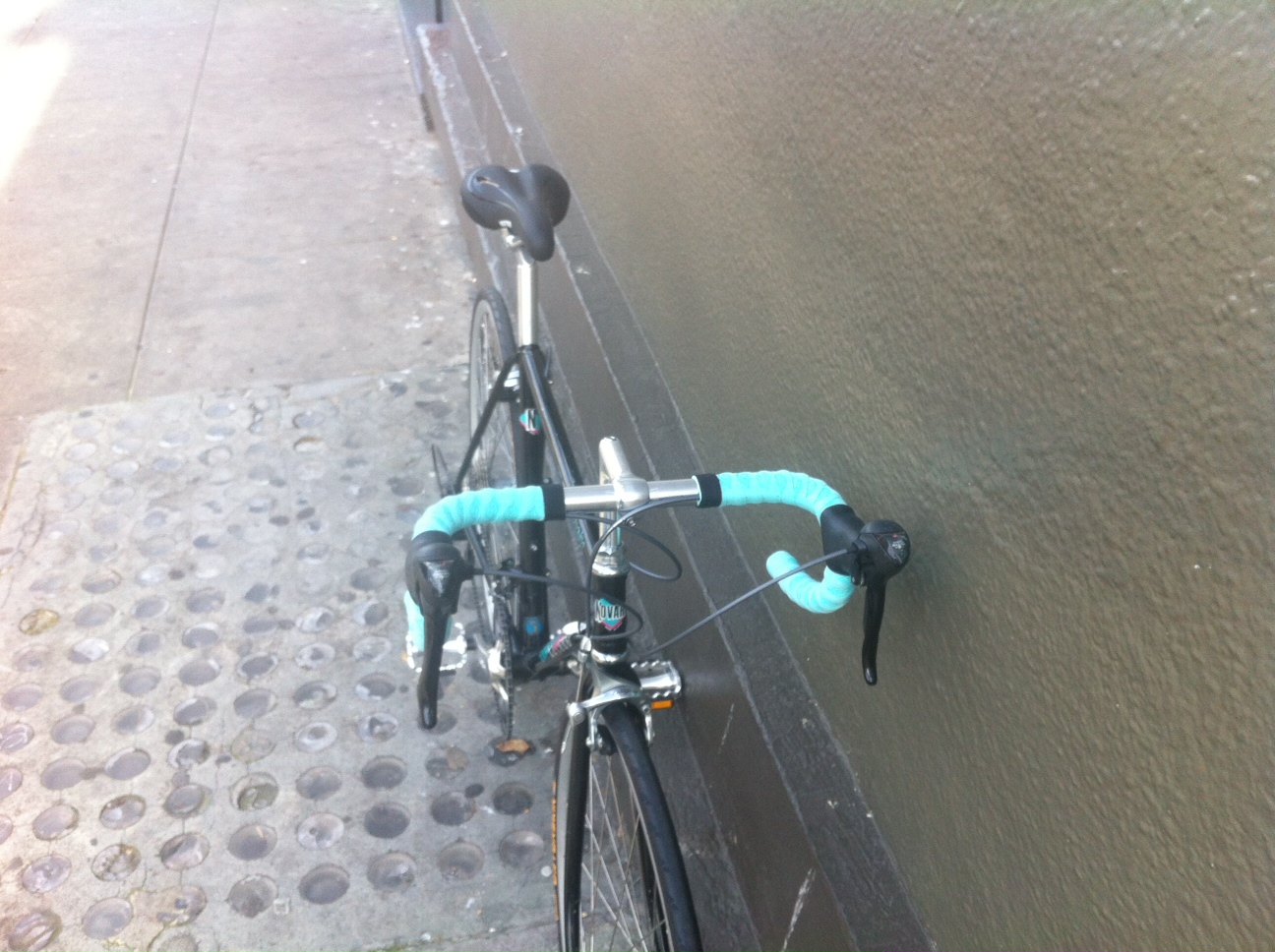 You won't see an Italian flag on this Novara Trionfo, but maybe its Italian name is enough to lure you in.  And in that case you won't feel duped as I did, because this is very nice, classic steel road bike-not some off-brand fry oil lurking in the back of your kitchen cabinet.
Also of note is the internal cable routing. As a mechanic, it's sometimes hard to feed the brake or derailleur cable through these small holes.  The makers of this frame, a late-1980's model, took the trouble to design this feature well.  The cable went through perfectly, and I didn't even have to bother to slightly pre-bend the end of the cable to help it find the exit.
The Trionfo was stripped the the bare frame and fully rebuilt with more modern parts.  A size-appropriate 165mm crankset has been installed, as well as some narrower 38cm Soma Highway One handlebars.  It's also got a nice set of 700 x 25 Gatorskin tires that should hold up well in our glass-strewned city.
Come check it out today! A good fit for someone right around 5′ tall.
$750
Trek 830 Antelope 18"
Another fine-looking utilitarian machine from Pedal Rev.  This one features a good solid steel frame (paint in good shape), plenty of tire clearance, and various new parts.
This particular Trek 830 Antelope would make great urban transportation for somebody about 5'4″ to 5'8″. Come check it out today!
$425
Custom 17" Red Specialized Hardrock w/Drop Bars @Pedal Revolution Refurbished Bicycle Update
We've got a nice Specialized that we've converted into a all-rounder, featuring a relatively upright riding position with Shimano bar end shifting.  Most of the parts on this build are new, and if you're into the color red and are looking for a comfortable do-it-all rig, this one could be a great fit for you.
This bike would be great for some long-distance touring too; the long chainstays are on par with a Surly Long Haul Trucker, and the bike's solid enough to handle most anything you could throw at it. If you're in the 5'4″ to 5″8″ range, come check it out today!
$750
Van Dessel Cyclocross 56cm @ Pedal Revolution Refurbished Bicycle Update
Today's new addition in the Pedal Rev refurbished bike rack is this interesting-looking Van Dessel.  It's been nicely set up for general-purpose cyclocross duty, with a single-chainring setup and some Kenda 'cross tires.  Also has new WTB saddle and Salsa handlebars.
This Van Dessel should be a good fit for somebody about 5'9″ to 5'11".  Come check it out today!!
$625
48cm Rocky Mountain Oxygen Road @ Pedal Revolution Refurbished Bicycle Update
Are you a smaller person looking for a good road bike? We have a nice 48cm Rocky Mountain with a Shimano 105 10-speed drivetrain, fresh bar wrap and a new pair of Continental Gatorskins.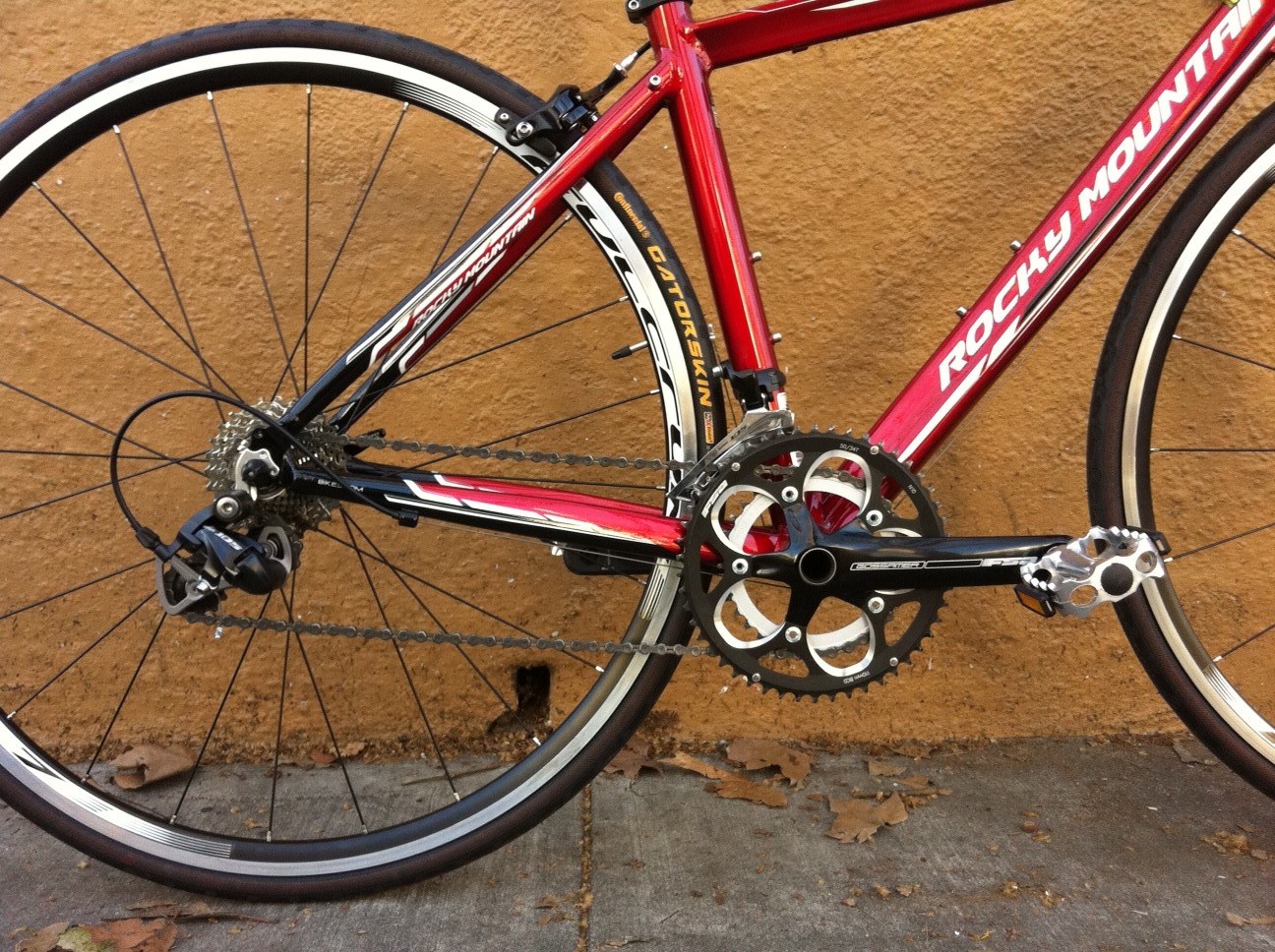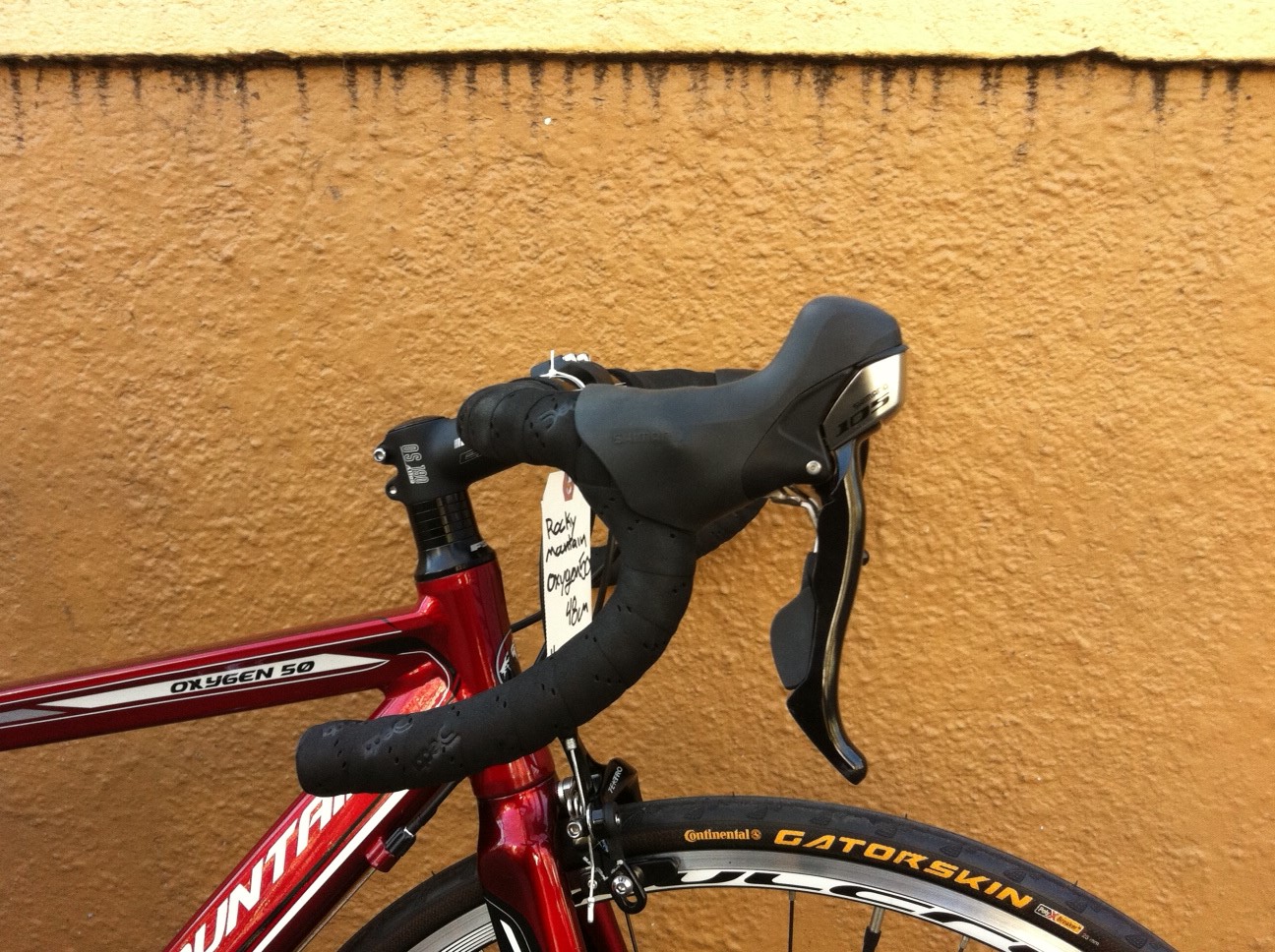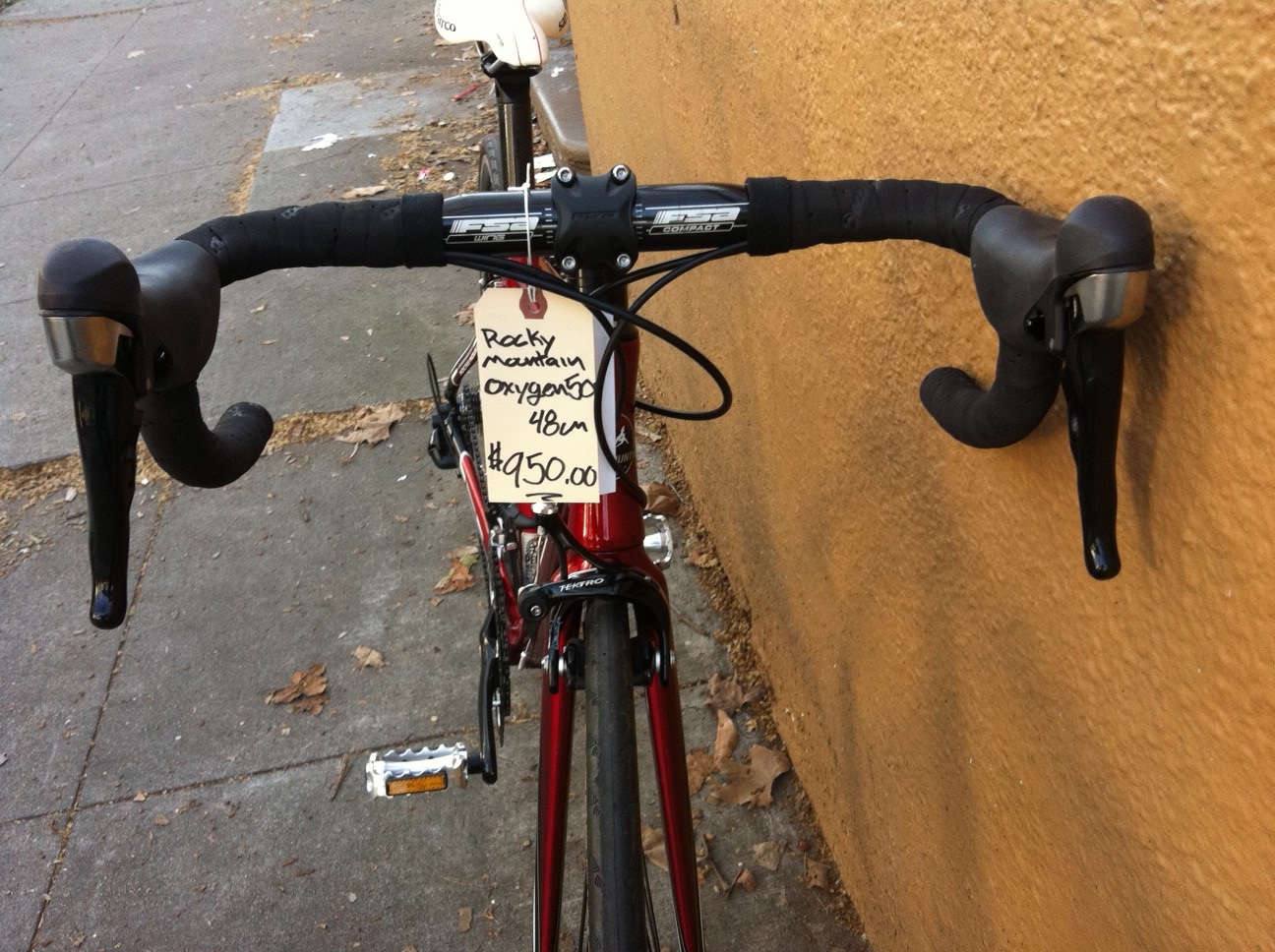 The bike is in like-new shape; like all of our refurbished bikes, it comes with a 3 month guarantee.  If you're around 5′ tall and are looking for a good road bike, come check it out today!
$950
50 cm Trek 2120 Carbon Road Bike @ Pedal Revolution Refurbished Bicycle Update
As a material, carbon fiber was first used on production bikes in the late 80's/early 90's.  The bike you see here, a Trek 2120, was among the first.  The three main tubes are carbon, and they're bonded to aluminum to form the rest of the frame.  Though the frame is pretty old, it is still in fine shape; a lot of the early carbon frames tended to be "overbuilt", and are in fact stronger that some of the newer and thinner carbon frames out there today.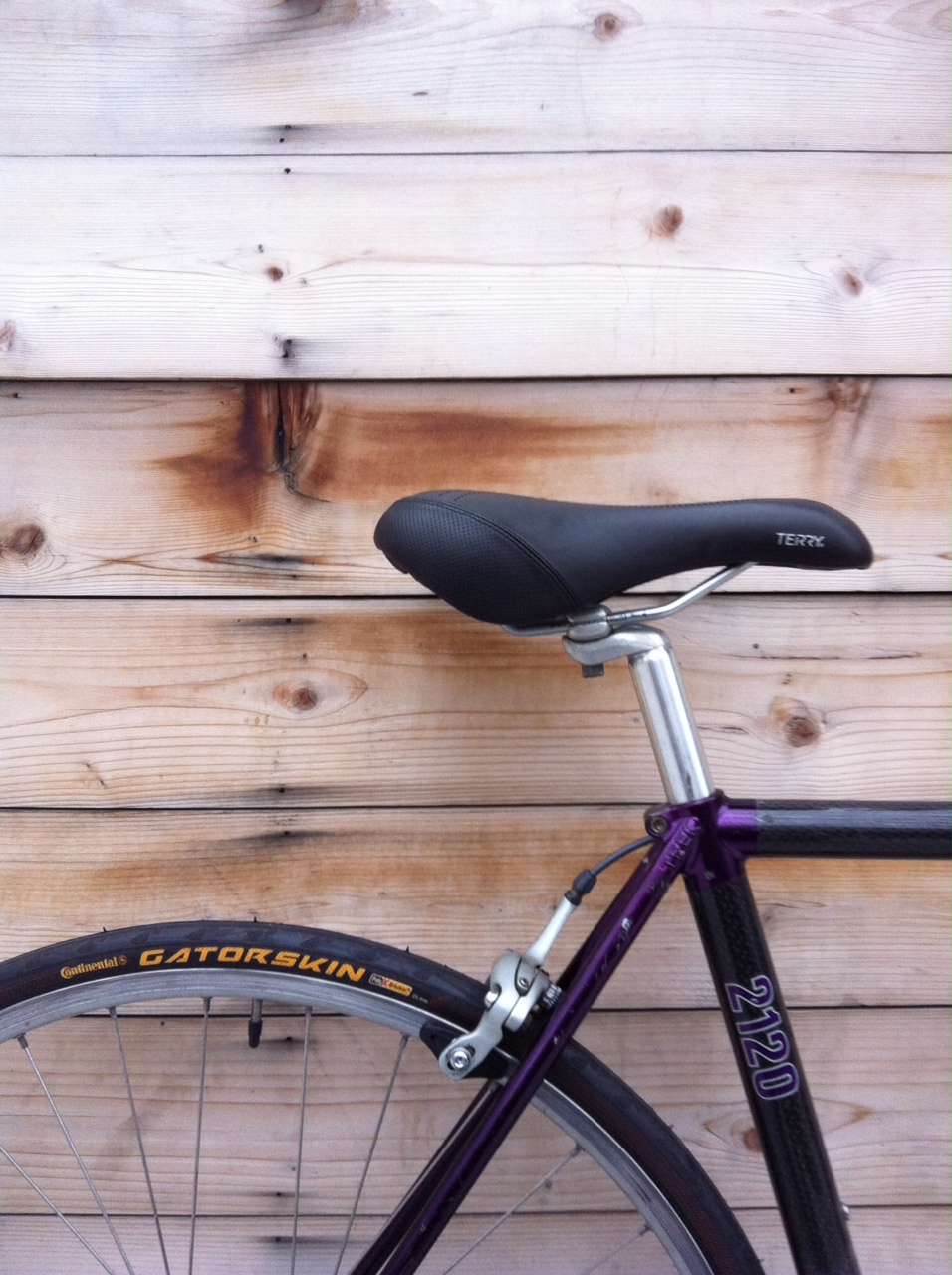 Terry saddle and new Continental Gatorskin 700 x 25 tires.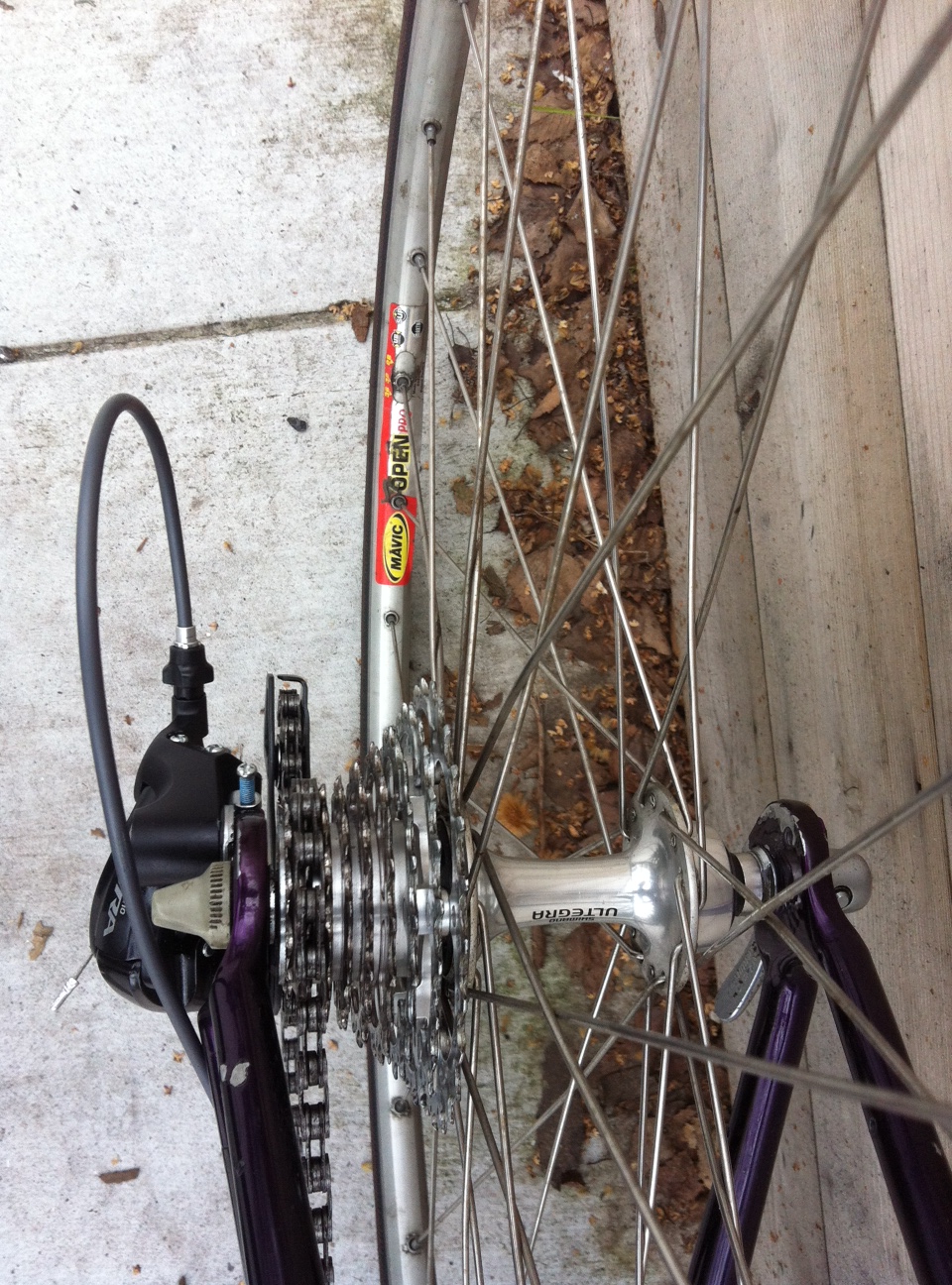 Bike features a nice wheelset-Shimano Ultegra hubs laced to Mavic Open Pro rims.  A light, solid set of hoops!
The rest of the drivetrain is a mix of Shimano Sora/105 parts.  A good fit for someone about 5'1″ to 5'4″.  Come check it out today!!
$700
SOLD!!!
Cannondale Synapse 51cm @ Pedal Revolution Refurbished Bicycle Update
We've got a nice Cannondale for sale here at Pedal Rev.  It's got a Shimano 105 10-speed groupset, a quality lightweight wheelset, and some nice orange bar tape.  The bike really hasn't seen much use at all, as you can may tell from the below photos. We upgraded the tires (Gatorskin 700 x 25!!) and installed new Shimano cables and housing.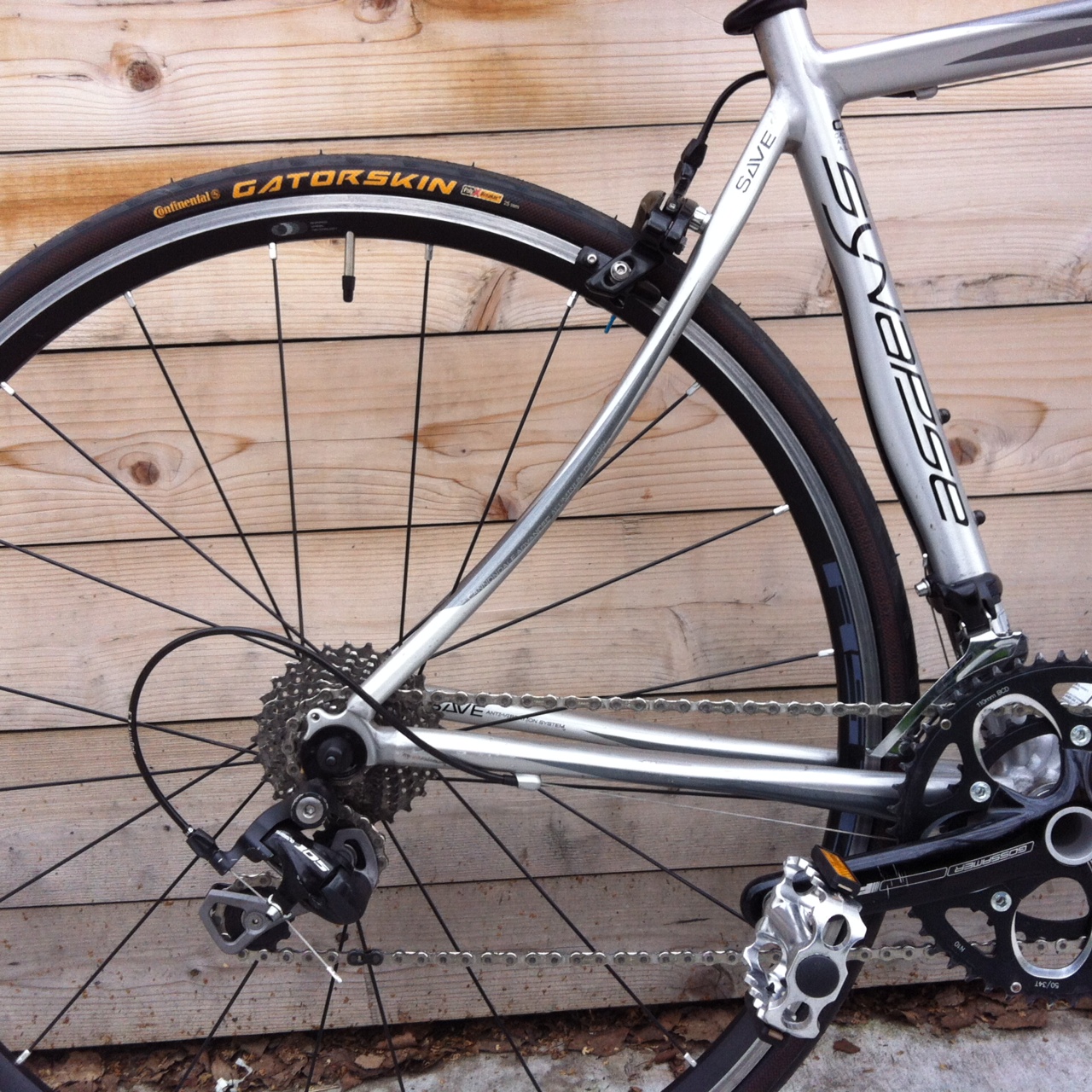 The bike should be a good fit for somebody about 5'3″ to 5'6″.  Come check it out today!!
$950
SOLD!!!
Motobecane Super Touring 58cm, Custom Town-Style
From what I can gather, 1980 seems to have been a fairly tumultuous time.  Americans were being held hostage in Iran as their home country watched helplessly on (at least for the most part).  The Soviets were invading Afghanistan, beginning the decades of political instability and human misfortune in that country; in response, Jimmy Carter boycotted the 1980 Moscow Summer Olympics.  And the U.S. economy wasn't doing too well; Reagan was about to perform his trickle-down on America and swell the ranks of the billionaire class. On a more positive and politically unrelated note, the Lakers won the NBA championship and Magic Johnson played a real nice Game 6.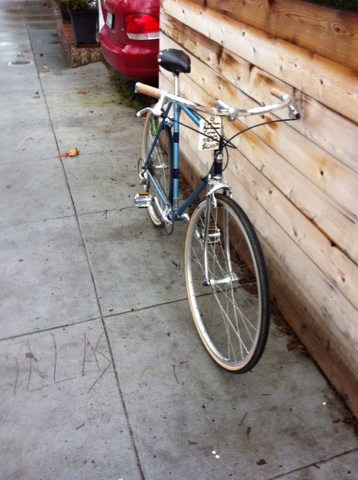 Not too sure what was going on over in France, but I do know that Motobecane was still making bicycles.  They'd file for bankruptcy in 1981, but this fine Super Touring was ushered off the production line just in time for your cycling enjoyment.  Relatively thorough online research leads me to conclude it is indeed a 1980 model.
This bike came to us in a pretty unorthodox fashion.  A gentleman called the shop a while back and I (Todd) picked up the phone.  He explained that he had an old Motobecane he wanted to donate, but would be shipping it to from out-of-state. I tried to suggest that it might not be worth his trouble, but he wasn't sure what to do with it and wanted the bike to go to good use.  So I thanked him and said sure, ship it on out.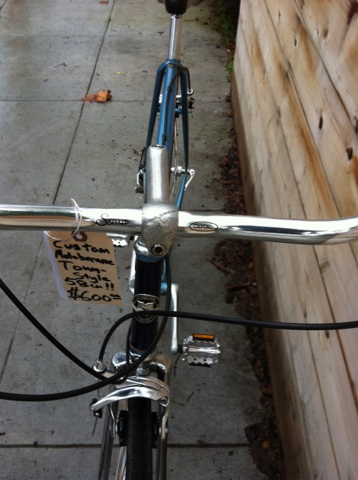 As it turned out this was one of the better-quality Motobecane frames of that era, built with heat-treated steel tubing and a derailleur hanger.  We replaced the damaged original fork with a chrome one, and it's been built up nicely for stylish around-town use.  Nearly all the parts, including the brakes and wheelset, are new.  Favorites of mine include the comfortable Soma Oxford handlebar and excellent Suntour ratcheting bar-end shifter.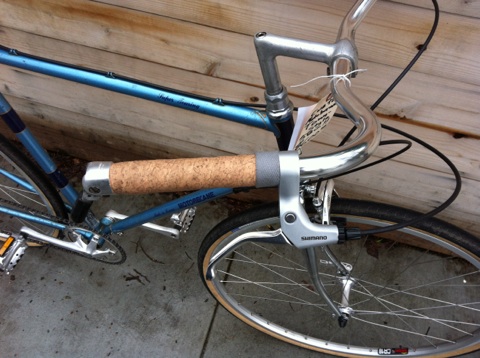 The bike would be a great fit for somebody about 5'10" to 6′.  Come check it out today!!
$600
SOLD!!!!!
Schwinn Sierra 8 Speed Nexus Internally Geared Hub 21" @Pedal Revolution Refurbished Bike Update
This Schwinn Sierra began life as an early era mountain bike and has all the characteristics that made the bikes of that time so versatile: Steel frame, relaxed geometry, long wheel base, low-ish bottom bracket, rack and fender mounts. Early mountain bike design borrowed a lot from classic touring bikes and were designed to be comfortable for off-road touring rather than the popular type of "shredding" style riding done today on contemporary mountain bikes. These early bikes were so robust that a few decades later the frames are still going strong. We love receiving donations of these bikes and rebuilding them as dependable utility commuter bikes. In fact, a current inclination among many San Francisco bike couriers is to use a rebuilt early era mountain bike for delivery, rather than the tried and true fixed gear or steel road bike. They are more comfortable for long days in the saddle, cheap to repair and replace, can accommodate heavy loads, aren't flashy looking (theft deterrent!), and can take a beating!
This one got the unique treatment of an internally geared Shimano Nexus 8 speed wheelset plus all the other goodies that we love - Continental Touring tires, WTB saddle, upright Wald handlebar, new brakes, and full fenders for the rainy days to come.
21″ fits a taller individual of  about  5'11"- 6'2″.
$450 SOLD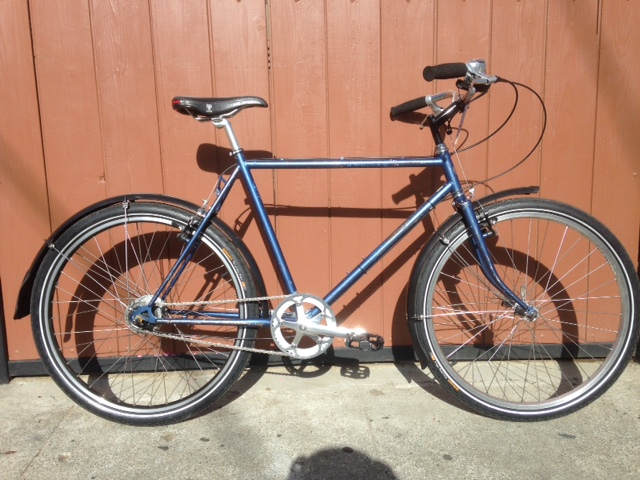 Custom Gitane 63 cm Town-Style 3 speed @ Pedal Revolution Refurbished Bicycle Update
Are you or someone dear to you between 6'1″ and 6'4″, dig the color orange, and in the market for a unique town-style bicycle that rides like a dream? If any of this rings true, you'd best come in to Pedal Rev to check out this Gitane.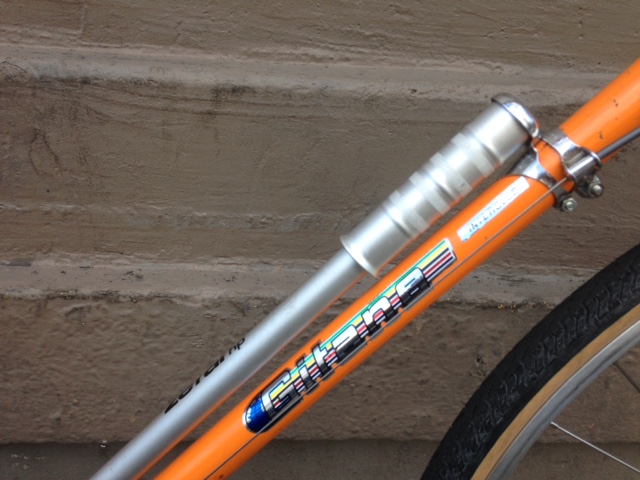 According to the original sales paperwork provided by the gentleman who kindly donated it to us, this bike cost $165 way back in 1972.  It still had all the original parts on it, and the paint is in great shape for its age.  But cycling has come a long way since then and major changes were on order; in fact, the frame, seatpost, and matching original Zefal pump are the only items that weren't replaced.
Cool details on this bike include a new polished 3-speed wheel, some vintage Suntour Cyclone cranks, and some pretty wide Nitto handlebars that'll be well suited to the larger individual who ends up putting miles on this rig.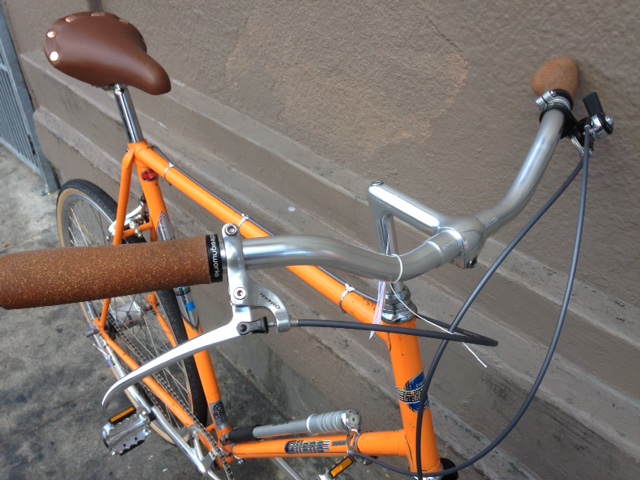 Some ergonomic Portland Design Works grips are comfortable on the hands, and the retro-look Tektro brake levers control new dual-pivot calipers that'll bring this orange whip to a stop in no time.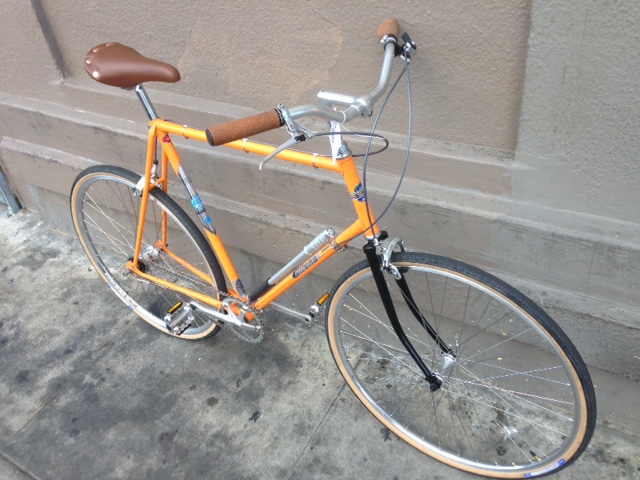 Come on by and take it for a test ride!
$725
Specialized RockHopper Commuter 19.5" @Pedal Revolution Refurbished Bike Update
Another rebuilt gem from yester-year. Cool grey and aqua color scheme on this classic steel Rock Hopper frameset. Rebuilt by Pedal Revolution for heavy duty commuter use with new drivetrain, wheels, upright bars, shifters, brakes, saddle, and burly Continental Touring Plus tires.
19.5″ (fits 5'9″- 6′).
$375.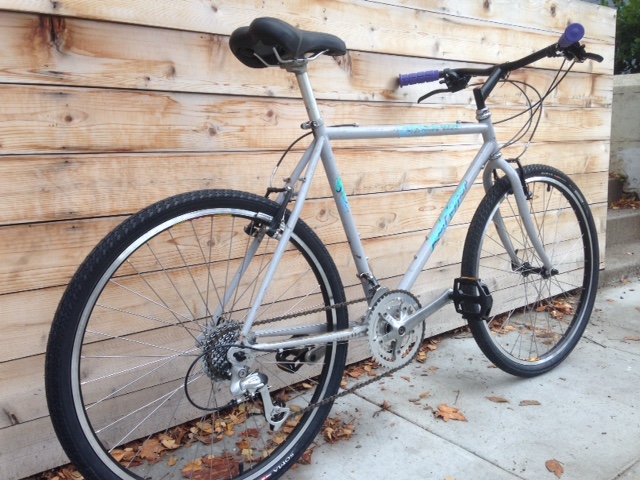 Univega "Davey Jones Green" MTB Commuter 19" @Pedal Revolution Refurbished Bike Update
The rain and a chill in the air have slowed things down here at the shop and the fine mechanics at Pedal Revolution have been keeping busy building up a huge assortment of custom used bikes….almost too many to post! We have a good assortment of affordable commuter bike options as well as some nicer road, touring, and city bike rebuilds. Stop in and pay us a visit to see our latest offerings.
Here is a great deal of the day: A rebuilt Univega Alpina Uno set up for commuter duty with durable Continental City Ride tires. $325 for this bombproof steel framed utility bike!
19″ and an ideal fit for a rider 5'9″ - 6'1″.
Powdercoated Custom Step-Through Commuter 50cm @Pedal Revolution Refurbished Bike Update
Who says "Mixte" style bikes need to be dainty and pastel colored? We had this one powdercoated in a stylish finish we've come to refer to as "Scorched Earth Brown". Full custom rebuild job on this one and it rides like a dream. All the good stuff and Pedal Rev favorites are represented: 1×7 "just enough" drivetrain, Mavic/Shimano road wheelset, Panaracer Pasela tires, WTB comfort saddle, Velo Orange Milan handlebars, Soma Sutro stem, and leather grips. Understated and awesome.
50cm and an ideal fit for a rider 5'3″ - 5'6″.
$850.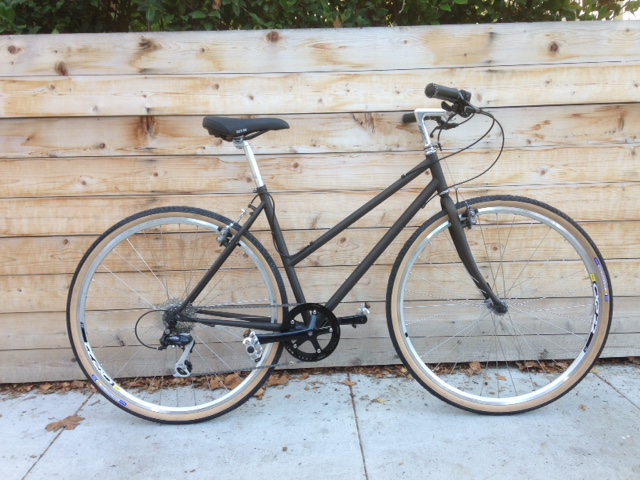 Raleigh "Sports" Brown Townie 57cm @Pedal Revolution Refurbished Bike Update
Super custom rebuild on this gem of a Raleigh frameset. A ground-up build with all parts replaced on this made in England frame including a Tange chrome fork, Sturmey Archer 3 speed internally geared wheelset, MKS touring pedals, Dual pivot brake calipers, Soma oxford bar, and leather grips and saddle. Reconfigured to give a more upright seating arrangement, this bike is a go-to city bike for daily use. Slap a basket and some fenders on it and you've got a reliable grocery getter/rain bike.
57cm fits 5'10" - 6'1″
$525. SOLD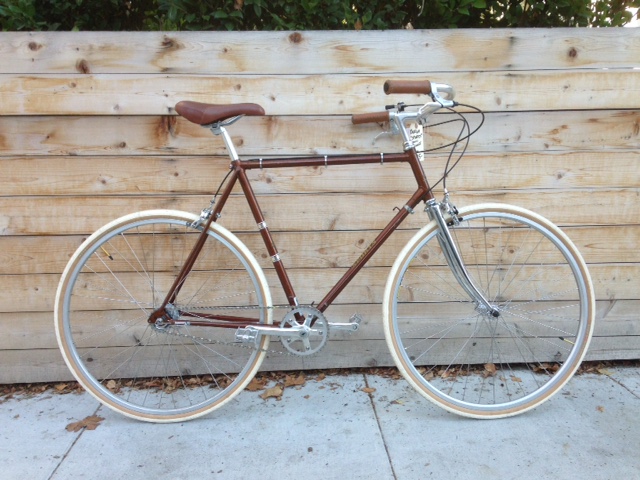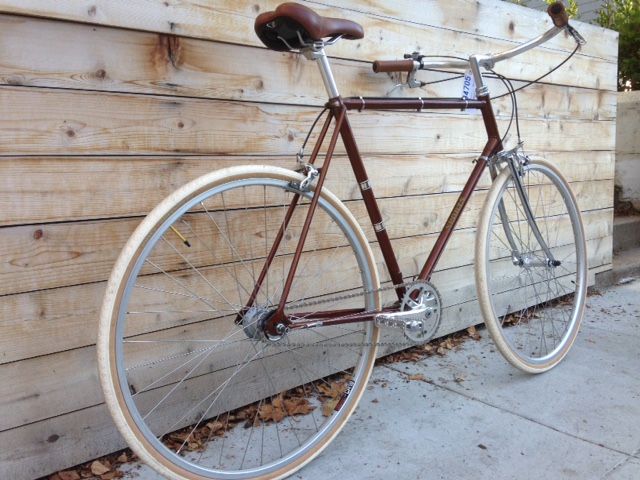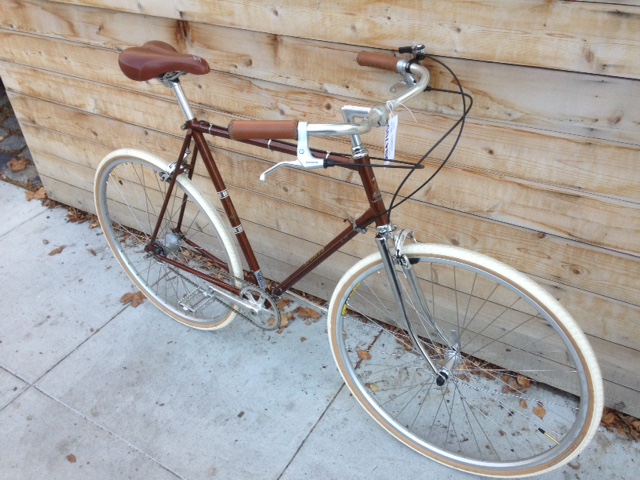 Schwinn Sierra 21" Custom Hybrid @Pedal Revolution Refurbished Bike Update
A really great rebuild on this Schwinn Sierra. The early Mountain Bike frame converted easily to a burly day-to-day utility commuter. We matched the classic steel frame to a new Shimano Nexus 8 speed internally geared wheel and a new single front chainring crankset. New canti brakes, Continental touring Plus tires, Wald upright handlebars, Shimano shifters, and full fenders round the rest of the build out to make a comfortable, reliable commute bike.
A great fit for a rider around 6′ and up.
21″ - $430. SOLD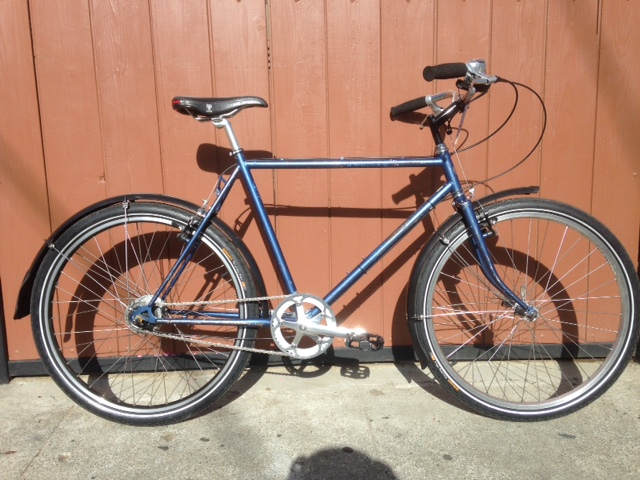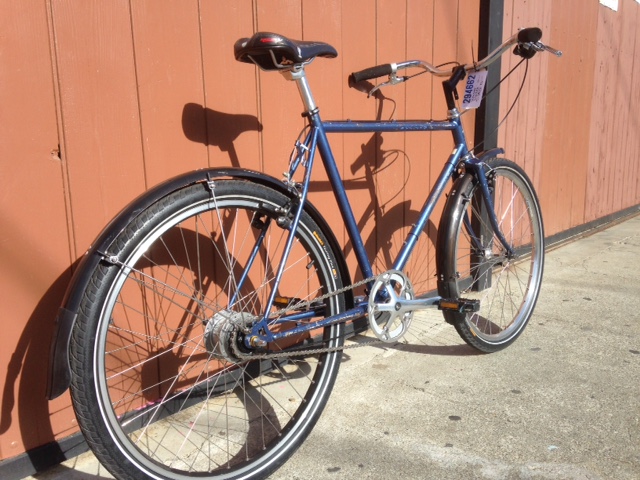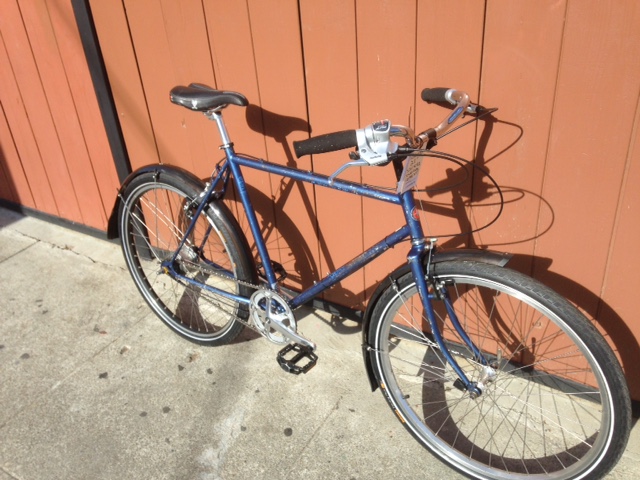 Pedal Revolution Used Bike Update: IRO Mark V Single Speed
Pedal Revolution Used Bike Update: IRO Mark V Single Speed - 49cm
Depending on your needs, a single-speed bike can be awesome.  In addition to the excellent elemental minimalist stripped down bare naked good looks, single-speeds tend to be more maintenance free than bikes with complex gear systems. Because the drivetrains are so simple, wear and tear parts that do need to be replaced are generally less expensive (1/8″ single speed/bmx style chain for $15 vs a $50 10 speed cassette chain!!!).  Simply due to having fewer parts, the bikes also trend lightweight for less dollars.
As a secondary or tertiary bike, single speeds are ideal.  Their lightweight and simplicity makes hauling them up and down apartment stairs and on and off public transit a breeze.  Further, no need to worry about your rear derailleur getting bent out of shape when parking at a busy bike rack.
This bike has super nice unique handbuilt wheels (super strong and light!): pink IRO sealed bearing hubs and Velocity rims.  The brand new wheels are 650C size (actual rim/Bead Seat Diameter 571 mm), smaller than conventional road 700c (BSD 622 mm) wheels so they are appropriately scaled to the very small frame and rider.

Oury grips, neo-retro Tektro brake levers, and a sweptback Velo Orange Milan handlebar for comfort and style.
Because of the unique parts, and small frame and appropriately sized wheels, this is a really killer bike for someone around 5′ tall:
$600 - 49cm frame
Lemond 853 Reynolds Steel Road Bike 54cm @Pedal Revolution Custom Bike Update
Steel bicycles have had a cadre of die-hard fans who appreciate their smooth ride quality and long-term durability. In an era where much of what we consume is becoming more and more dispose-able, short life spans in products are less and less relevant. That fancy new smart phone you just got will soon be overshadowed by the slightly updated version coming out in six months.  Fortunately, if you do a little research, a bicycle can still be purchased that will last for many years of consistent service. This custom rebuilt Lemond road bike is a fine example of a classic lightweight steel-framed bicycle that has many years of service to give. Built from Reynolds 853 tubing, this is a performance designated bike designed to go fast and handle quickly. The vibration dampening compliance that the steel frame provides is noticeable when travelling over rough roads or after long hours in the saddle.  This bike was refurbished with a well-rounded parts grouping including a Shimano 105 drivetrain and brakeset, brand new Shimano tiagra 9 speed shifters, Soma Highway One compact handlebar, and durable Vittoria Randonneur tires.
It's sized at 54cm  and would be a great fit for a rider 5'5″ - 5'9″.
$900. SOLD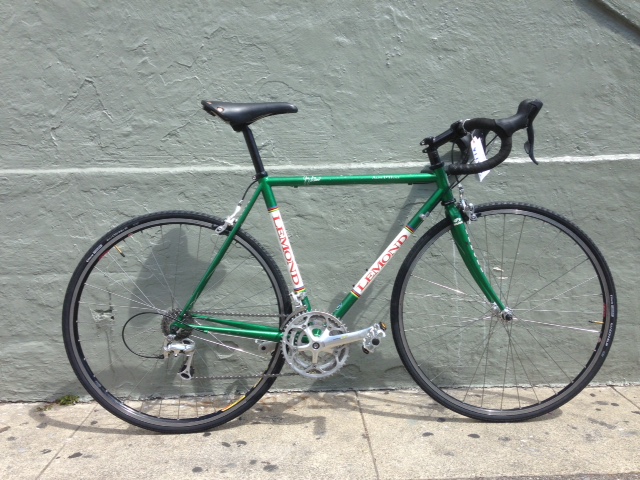 Pedal Revolution Used Bicycle Update: Motobecane Step-Through 3-Speed
Pedal Revolution Used Bicycle Update: Motobecane Step-Through 3-Speed
Another Pedal Revolution original here.  This bike was donated with long obsolete 27″ wheels, a conventional derailleur drivetrain, a low long deep drop handlebar (i.e. uncomfortable) and a bric a brac of low-endish 80s parts.
The bike was reconstituted with a more upright Velo Orange Milan bar and svelte Tektro neo-retro levers (they look like a lot of levers on older bikes but benefit from stiffer cold forge construction and return springs for smoothness and greater cable life).
New 700c wheels with a Sturmey Archer 3-Speed internal gear hub replace the clunky and complex original drivetrain.  Soma Xpress terra cotta tires make another appearance here.  These are essentially a slightly more beefed up version of the Panaracer Pasela tires that get are often spotlighted on this blog.
The gold housing just looks really great. It jives well with the painted on logo but neither enhances or undermines the brake function.
The cork grips were heavily layered with shellac for good looks but they also don't feel too bad.
The demi-mixte frame construction is totally wild.  Just prior to Pedal Revolution being donated this bike, I (Joel), had seen another one of these frames in the shop for the first time and it blew my mind.  So strange to have another one given to us so soon after that.  The unconventional frame construction and 3-Speed rebuild make this a super unique bike.
Burgundy (in New Orleans, they would call the color "Ber-gun-day") Motobecane Step-Through 3-Speed:
$500 - A Good Ride for someone about 5'4″?
SOLD
Motobecane Grand Touring Road Bike 53cm @Pedal Revolution Refurbished Bike Update
As attributes, quick, light, and affordable are generally not found together in one bicycle. Generally you'd have to settle for one or two of the above characteristics. This 80's Motobecane Grand Touring is a gem of a bike that finds a happy balance between all three. It was rebuilt with a new wheelset, brakes, Soma New Express Terracotta tires, and a Soma Highway one bar. It's a great mix of old and new at a very reasonable price.
53cm ST - 55cm TT. A great fit for 5'5″-5'9″.
$575. SOLD