Mural Appreciation and Pedal Revolution Spring Sale Event May 20th!
Join us in celebrating our Beautiful Mona Caron Mural and pick up some new summer gear while your at it!
Store-wide sale on bikes and accessories!
Win a bike or some SWAG in our Raffle!
Free BBQ!
st
Bike Sale! All Linus Bikes are 20% Off!
Some exciting news around these parts is that all models of Linus Bikes are on sale.
That's right, all Linus bikes are 20% right now. Pedal Revolution has pretty good inventory on a bunch of different models so come on by and find yourself a shiny new ride for the summer.
Custom 17" Red Specialized Hardrock w/Drop Bars @Pedal Revolution Refurbished Bicycle Update
We've got a nice Specialized that we've converted into a all-rounder, featuring a relatively upright riding position with Shimano bar end shifting.  Most of the parts on this build are new, and if you're into the color red and are looking for a comfortable do-it-all rig, this one could be a great fit for you.
This bike would be great for some long-distance touring too; the long chainstays are on par with a Surly Long Haul Trucker, and the bike's solid enough to handle most anything you could throw at it. If you're in the 5'4″ to 5″8″ range, come check it out today!
$750
48cm Rocky Mountain Oxygen Road @ Pedal Revolution Refurbished Bicycle Update
Are you a smaller person looking for a good road bike? We have a nice 48cm Rocky Mountain with a Shimano 105 10-speed drivetrain, fresh bar wrap and a new pair of Continental Gatorskins.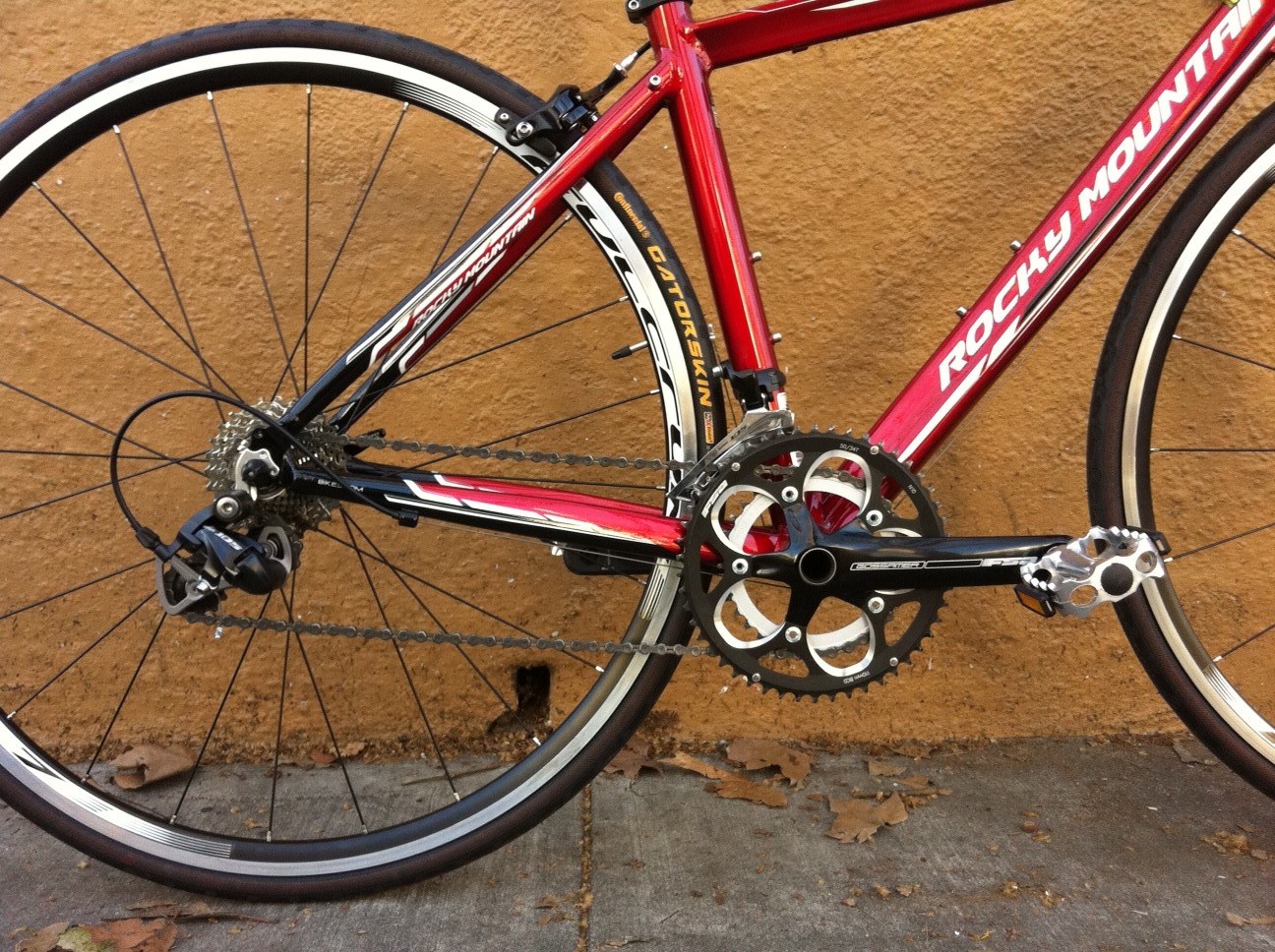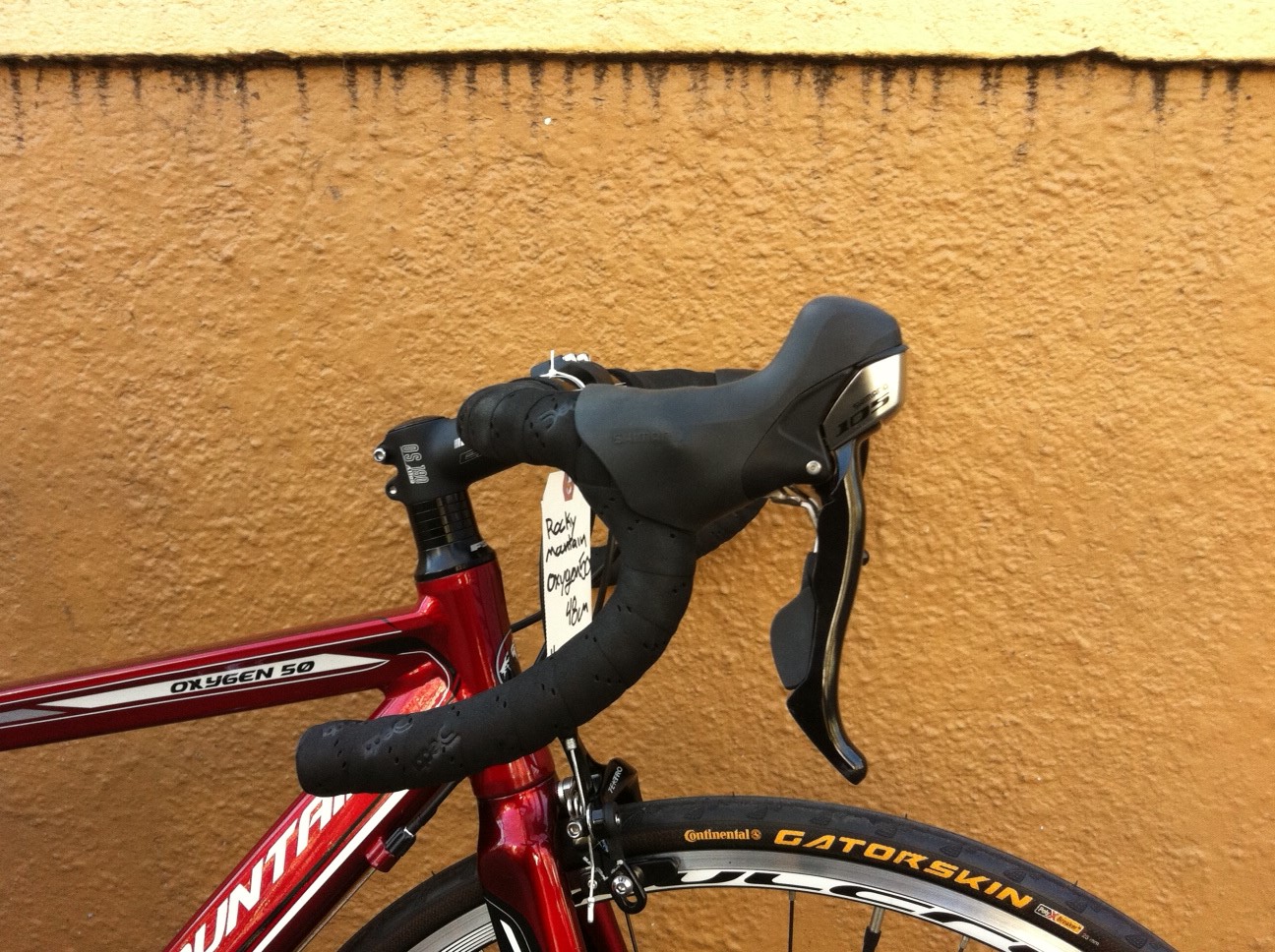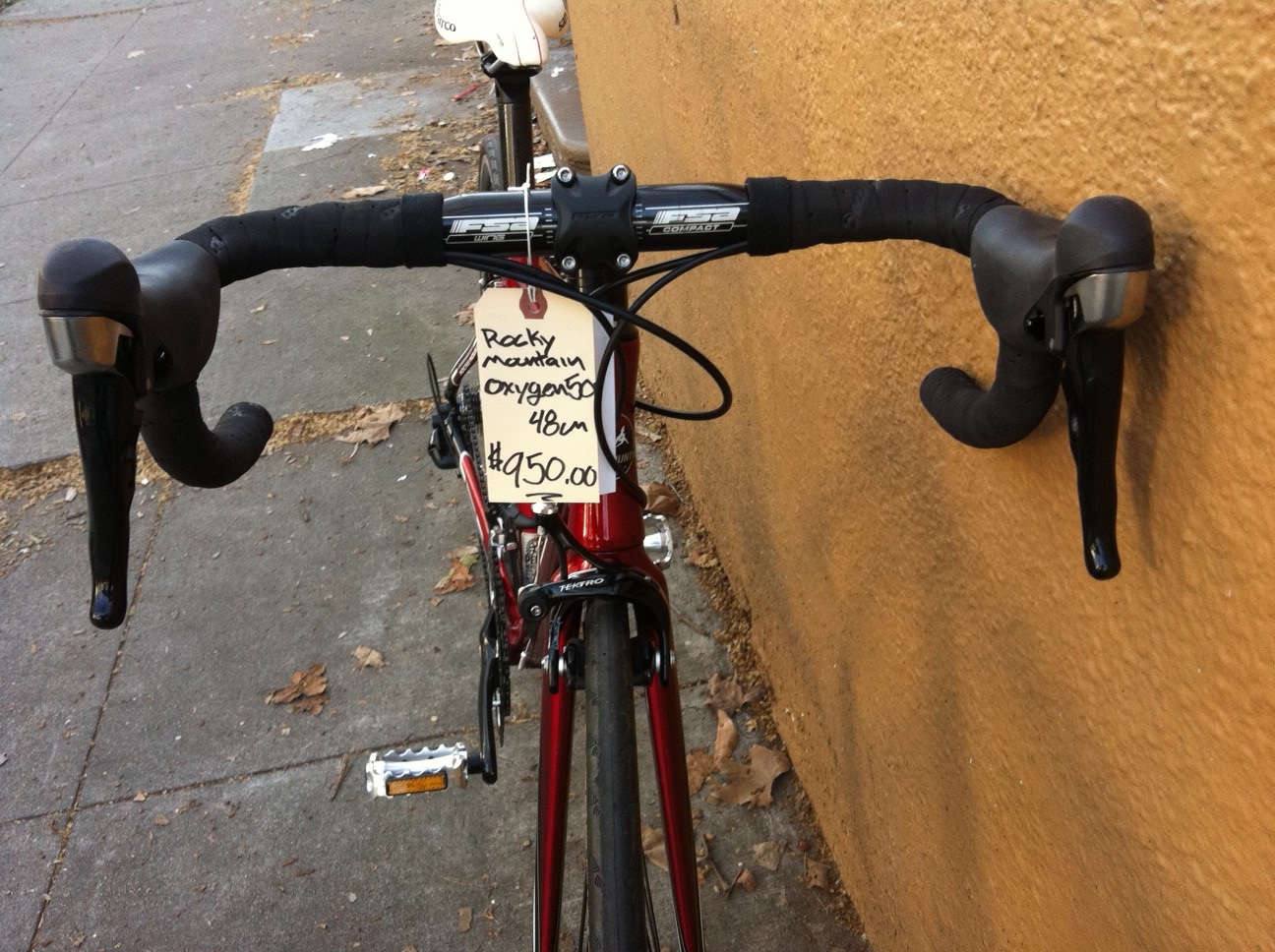 The bike is in like-new shape; like all of our refurbished bikes, it comes with a 3 month guarantee.  If you're around 5′ tall and are looking for a good road bike, come check it out today!
$950
Cannondale Synapse 51cm @ Pedal Revolution Refurbished Bicycle Update
We've got a nice Cannondale for sale here at Pedal Rev.  It's got a Shimano 105 10-speed groupset, a quality lightweight wheelset, and some nice orange bar tape.  The bike really hasn't seen much use at all, as you can may tell from the below photos. We upgraded the tires (Gatorskin 700 x 25!!) and installed new Shimano cables and housing.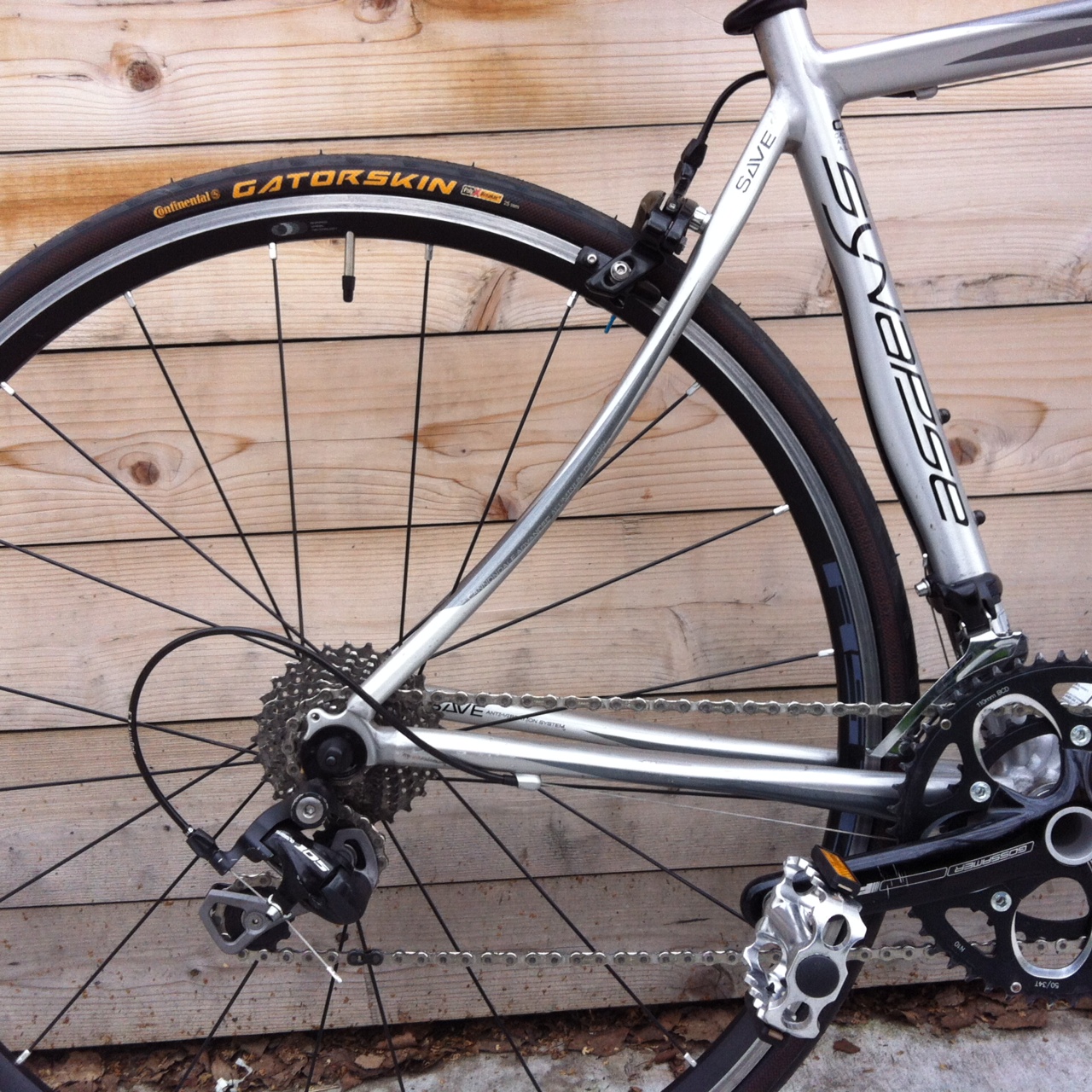 The bike should be a good fit for somebody about 5'3″ to 5'6″.  Come check it out today!!
$950
SOLD!!!
Motobecane Super Touring 58cm, Custom Town-Style
From what I can gather, 1980 seems to have been a fairly tumultuous time.  Americans were being held hostage in Iran as their home country watched helplessly on (at least for the most part).  The Soviets were invading Afghanistan, beginning the decades of political instability and human misfortune in that country; in response, Jimmy Carter boycotted the 1980 Moscow Summer Olympics.  And the U.S. economy wasn't doing too well; Reagan was about to perform his trickle-down on America and swell the ranks of the billionaire class. On a more positive and politically unrelated note, the Lakers won the NBA championship and Magic Johnson played a real nice Game 6.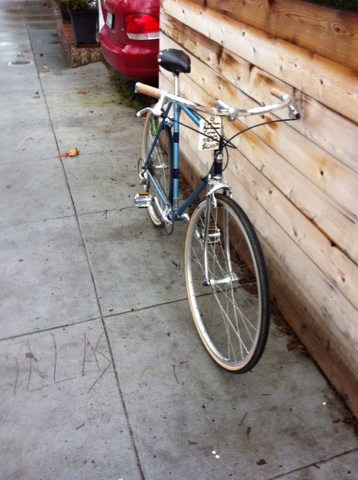 Not too sure what was going on over in France, but I do know that Motobecane was still making bicycles.  They'd file for bankruptcy in 1981, but this fine Super Touring was ushered off the production line just in time for your cycling enjoyment.  Relatively thorough online research leads me to conclude it is indeed a 1980 model.
This bike came to us in a pretty unorthodox fashion.  A gentleman called the shop a while back and I (Todd) picked up the phone.  He explained that he had an old Motobecane he wanted to donate, but would be shipping it to from out-of-state. I tried to suggest that it might not be worth his trouble, but he wasn't sure what to do with it and wanted the bike to go to good use.  So I thanked him and said sure, ship it on out.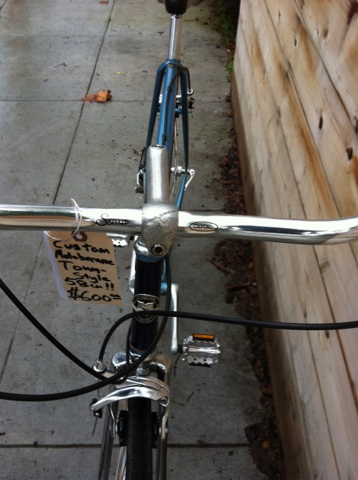 As it turned out this was one of the better-quality Motobecane frames of that era, built with heat-treated steel tubing and a derailleur hanger.  We replaced the damaged original fork with a chrome one, and it's been built up nicely for stylish around-town use.  Nearly all the parts, including the brakes and wheelset, are new.  Favorites of mine include the comfortable Soma Oxford handlebar and excellent Suntour ratcheting bar-end shifter.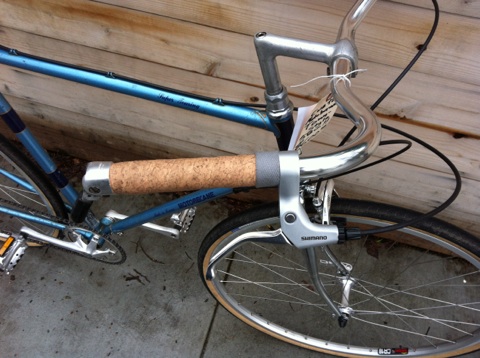 The bike would be a great fit for somebody about 5'10" to 6′.  Come check it out today!!
$600
SOLD!!!!!
Schwinn Sierra 8 Speed Nexus Internally Geared Hub 21" @Pedal Revolution Refurbished Bike Update
This Schwinn Sierra began life as an early era mountain bike and has all the characteristics that made the bikes of that time so versatile: Steel frame, relaxed geometry, long wheel base, low-ish bottom bracket, rack and fender mounts. Early mountain bike design borrowed a lot from classic touring bikes and were designed to be comfortable for off-road touring rather than the popular type of "shredding" style riding done today on contemporary mountain bikes. These early bikes were so robust that a few decades later the frames are still going strong. We love receiving donations of these bikes and rebuilding them as dependable utility commuter bikes. In fact, a current inclination among many San Francisco bike couriers is to use a rebuilt early era mountain bike for delivery, rather than the tried and true fixed gear or steel road bike. They are more comfortable for long days in the saddle, cheap to repair and replace, can accommodate heavy loads, aren't flashy looking (theft deterrent!), and can take a beating!
This one got the unique treatment of an internally geared Shimano Nexus 8 speed wheelset plus all the other goodies that we love - Continental Touring tires, WTB saddle, upright Wald handlebar, new brakes, and full fenders for the rainy days to come.
21″ fits a taller individual of  about  5'11"- 6'2″.
$450 SOLD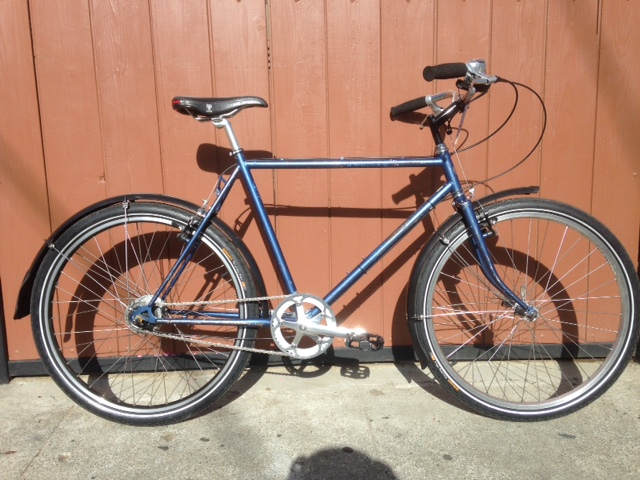 Custom Gitane 63 cm Town-Style 3 speed @ Pedal Revolution Refurbished Bicycle Update
Are you or someone dear to you between 6'1″ and 6'4″, dig the color orange, and in the market for a unique town-style bicycle that rides like a dream? If any of this rings true, you'd best come in to Pedal Rev to check out this Gitane.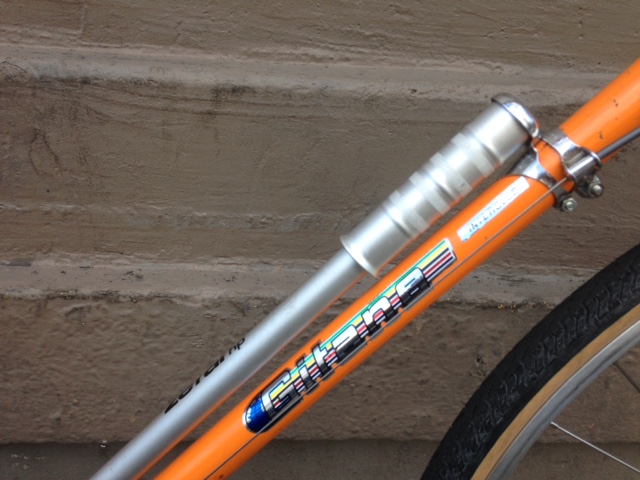 According to the original sales paperwork provided by the gentleman who kindly donated it to us, this bike cost $165 way back in 1972.  It still had all the original parts on it, and the paint is in great shape for its age.  But cycling has come a long way since then and major changes were on order; in fact, the frame, seatpost, and matching original Zefal pump are the only items that weren't replaced.
Cool details on this bike include a new polished 3-speed wheel, some vintage Suntour Cyclone cranks, and some pretty wide Nitto handlebars that'll be well suited to the larger individual who ends up putting miles on this rig.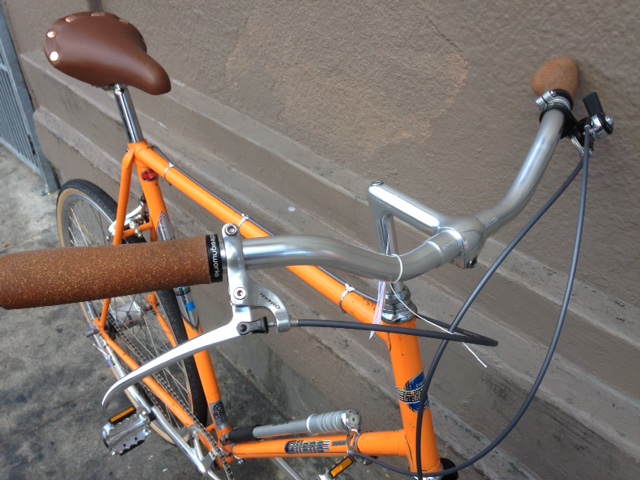 Some ergonomic Portland Design Works grips are comfortable on the hands, and the retro-look Tektro brake levers control new dual-pivot calipers that'll bring this orange whip to a stop in no time.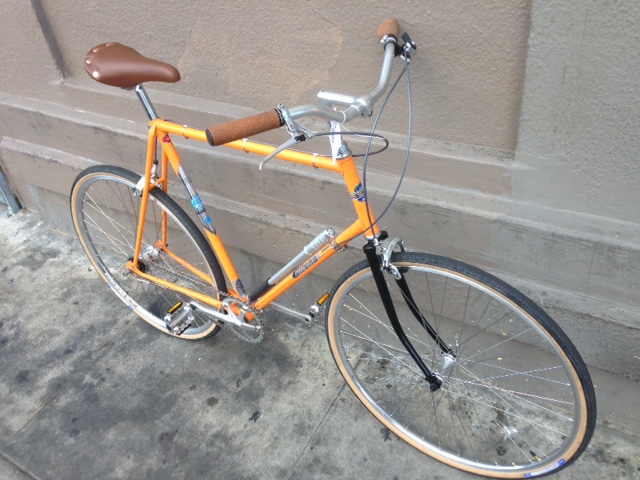 Come on by and take it for a test ride!
$725
Specialized M2 Pro 57cm Road Bike @ Pedal Revolution Refurbished Bicycle Update
Though it may not be the Fourth of July, it was still Veterans' Day yesterday, so even though it's a day late what better time to post this finely refurbished Specialized road bike.  For a long time this frame and fork resided in a dark corner of our upstairs storage area, but one particular morning this blogger saw it, cocked his head slightly with new-found interest, and brought it downstairs to be built up.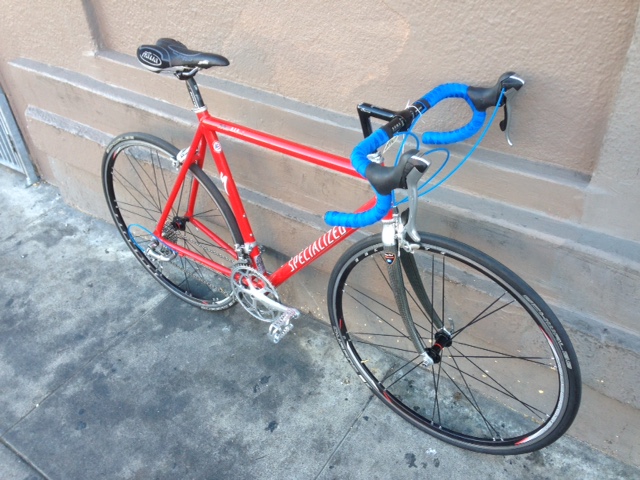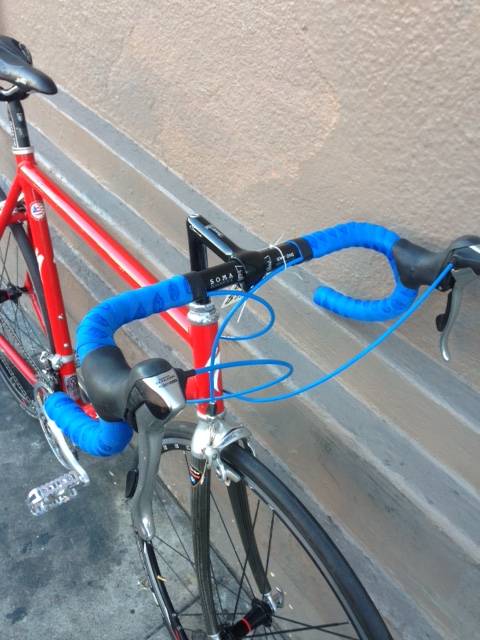 A couple highlights of the build include a Chris King headset and a Dura-Ace 7700 crankset, both in very nice shape.  The rest of the the build is Shimano Ultegra, and we've (again) modernized the cockpit with the short & shallow drop of the Soma Highway One handlebar.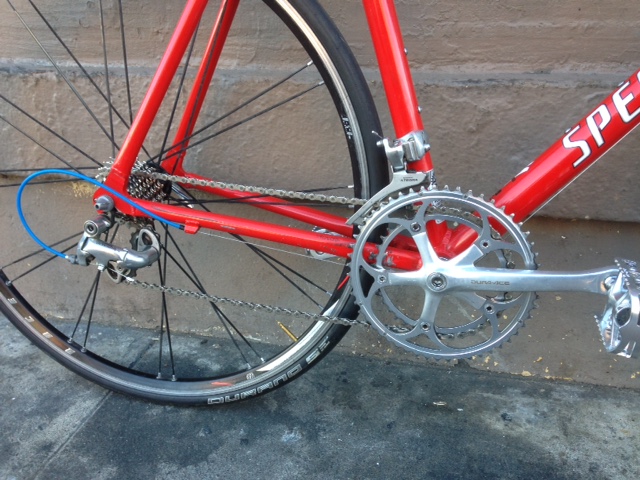 The opportunity for the 'Merican color scheme was not grasped until the shift and brake cables were about to be installed, whereupon the builder seized on the opportunity with a sort of child-like glee. In hindsight, this excitement could hardly be described as nationalistic or political in nature; rather, it was merely in response to the synergy afforded by the color combination.
This does bring me to a mildly political point, however.  Here in America, there's always that expression "Red, White, and Blue," yet the Brits have the same colors on their flag and it's just called a Union Jack.  In fact, until now I had no idea that over forty national flags are comprised of those colors. So if you're riding along and don't want to be identified as an American, you can always just tell yourself you're flying along on a Samoan national team bike…
This Specialized would be a good fit for someone between 5'9″ and 6"0′.  Come give it a test ride today!
$850   SOLD!!
Serotta Saratoga 56cm Road Bike @ Pedal Revolution Refurbished Bicycle Update
Bikes that bear the Serotta name belong to a long lineage of high-quality, American-made frames.  The company was founded in 1972 by Ben Serotta and went on to provide frames for Olympians and Tour de France riders in the 1980s.  As a relatively small-scale, artisan frame manufacturer, Serotta did some very interesting designs which can be read about in this article, published in Velo News.
This particular one we have in stock, the Saratoga model, is perhaps the quintessential "mile crusher" that we love here at Pedal Revolution.  It's got a lightweight Reynolds 501 steel frame, a fork with some good steerer tube extension for a moderately upright riding position, and a Shimano 105 groupset in very nice condition.  The wheels are also very nice-Shimano 105 hubs laced to Mavic Open Pro rims.  Good looking and riding hoops, and wrapped with the ubiquitous Panaracer Pasela tire.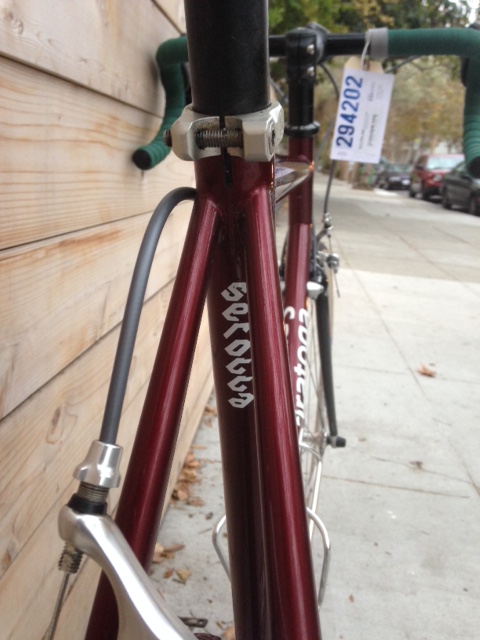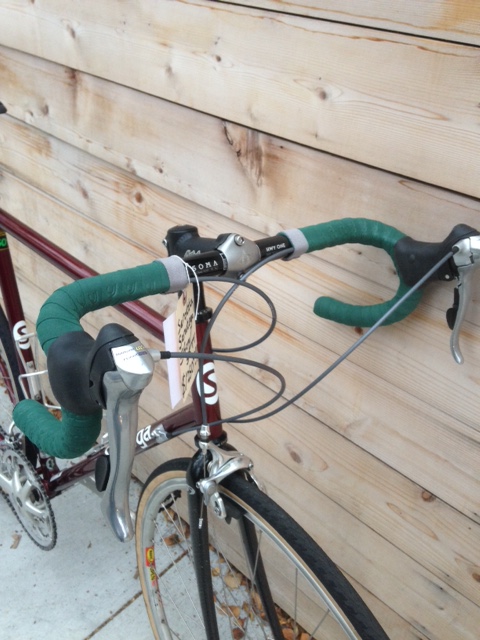 We've modernized the bike with a 42cm wide Soma Highway One handlebar and some cool Jaguar Racing Green handlebar tape, finished off with some grey Newbaum's tape for a classic look.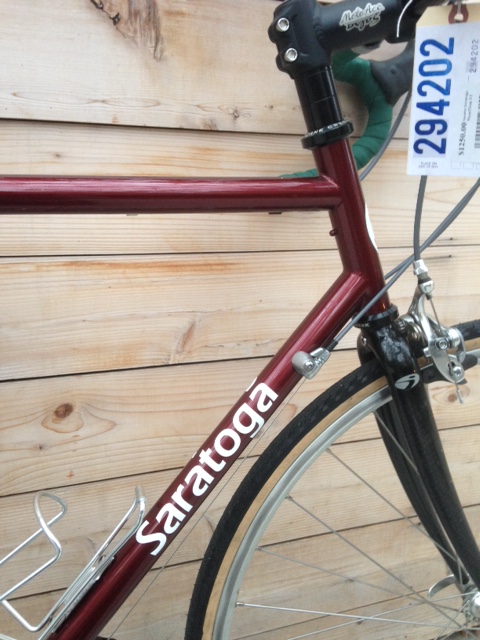 The bike weighs in at just over 23 lbs.  A great fit for somebody in the 5'10" neighborhood.
$1250  SOLD!!!
"Gold Vein" Lugged 56 cm Road Bike @ Pedal Revolution Refurbished Bicycle Update
Anybody who's been in San Francisco for a little time, or closely studied a city map, knows that the streets can be extremely confusing-especially for a cyclist.  That's partly because of the hills (if I keep pedaling straight up this hill maybe it's a shortcut??) but also because of the city's rapid growth brought on by the Gold Rush.  The city really grew like crazy.  A quick Wikipedia query put some numbers on what I had already vaguely known: At the beginning of 1848 there were only 1,000 residents, but by 1870 it was a city of 150,000.  Getting any type of overarching city plan together must have been nearly impossible.  I guess the city is still trying to mitigate the effects of poor initial planning (e.g. the $ 1.5 billion Central Subway), but that's another story.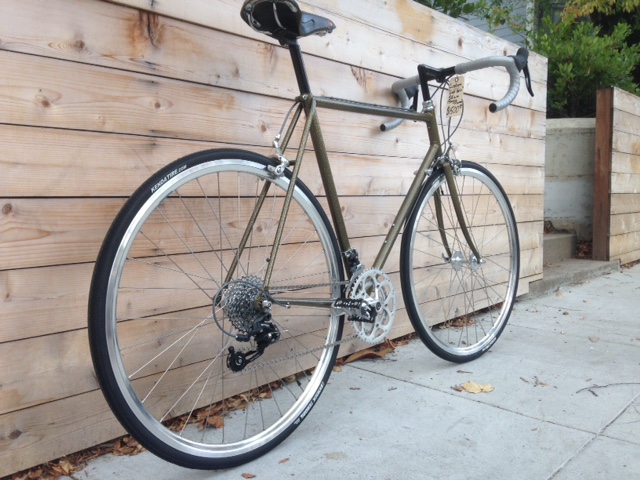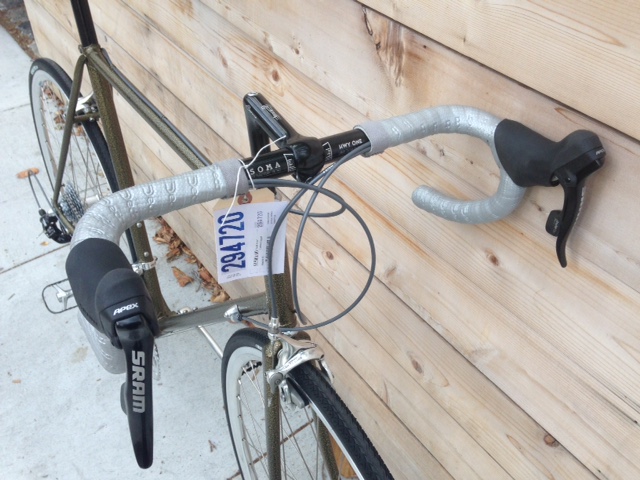 The story for today, though, is a beautiful 56 cm road bike done up in the beautifully textured "Gold Vein" color (thank you Champion Powder Coating).  The frame was a higher-end Shogun from the mid-80's.  You can tell its quality based on the fluted tips of the seatstays, the minimalist cable guides under the bottom bracket, and what I believe are investment-cast Suntour dropouts.  Originally this bike came equipped with Suntour components as well, but after the frame got painted it was time to modernize the bike.
We've put some nice parts into this build.  It's got a SRAM Apex 10-speed drivetrain, Shimano Ultegra brakes (those are some very elegant stoppers, folks), and a nice wheelset with SUZUE sealed bearing hubs.  A Sugino 50/34 crankset, MKS UB-Lite pedals, and a Brooks Professional saddle are some more great looking parts that'll last a very long time.  Considering the frame is already gold, we tried to keep other things a little understated.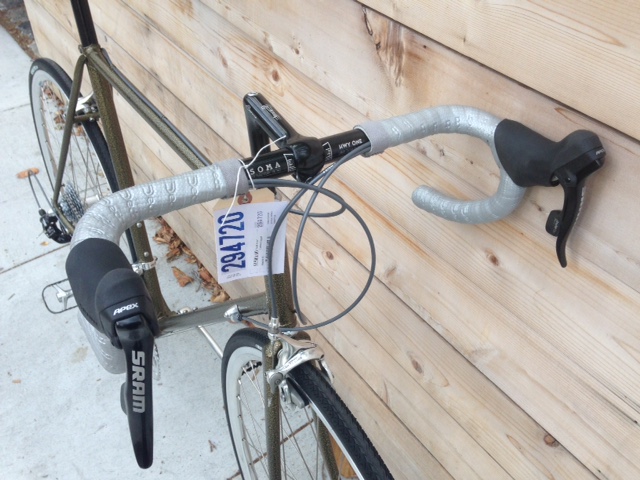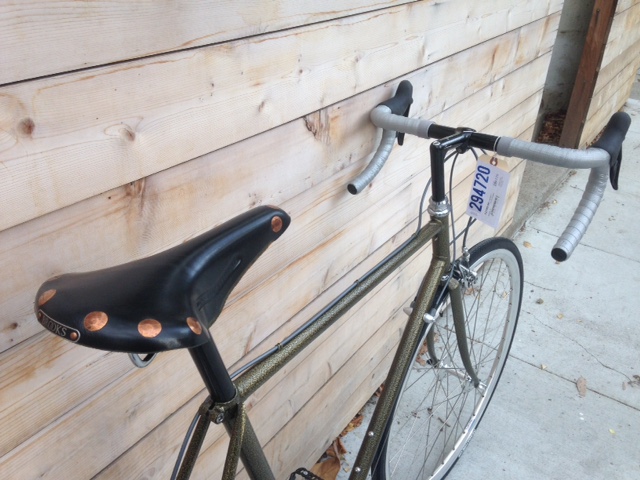 The geometry of this frame was intended for road racing, but we've put the Soma Sutro stem and Highway One bar (in the 42 cm width) for a somewhat more upright riding position.  It handles very nimbly and is a real pleasure to ride.  If you're around 5'10" or so, she'd be a pretty prime fit for you.
$1500     SOLD!!!
Univega Viva Sport Single Speed 68cm!!! @Pedal Revolution Refurbished Bicycle Update
Here at Pedal Revolution we like to joke around and say we "play to the margins." In this context we're referring to those very special hominids who fall outside (sometimes far outside) the bell curve of human height.  To keep costs down and standardize production, most bicycle companies don't invest all that much in designing bikes for both very tall and very short people.  As for me (Todd), I stand around 6'3″ so it's easy enough to get a bike that works out fit-wise.  I could, however, digress for a long time about how frustrating it is to find a size 14 shoe.  Like you, the prospective bike buyer who wants to actually try out the machine, I want to try out the shoe…but of course they only go up to a 12 or a 13.  Then it's time to hang my head and leave the store, resigning myself to the joys of purchasing shoes online, sight unseen.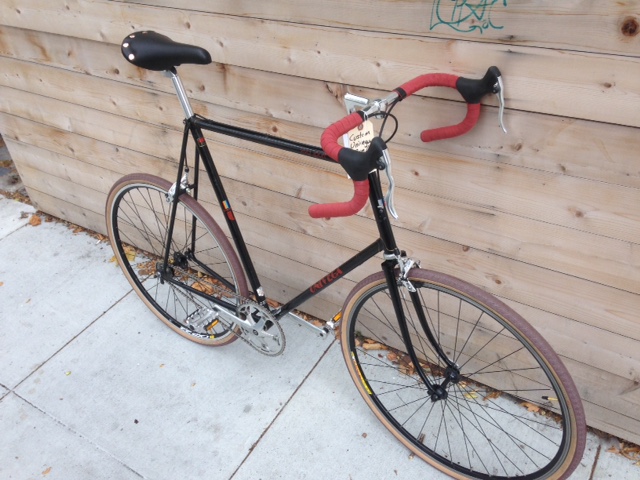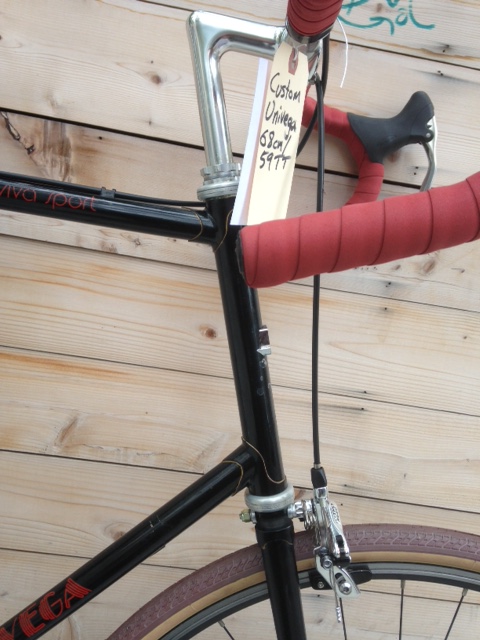 Anyway, if you're above 6'4″ and want some simple, proper-fitting transportation, this Univega could be your ticket.  We've outfitted it with some slick parts, including a Soma handlebar/stem setup and some great-looking Soma 700 x 32mm tires for a smooth ride.  Quality Tektro dual-pivot brakes provide excellent stopping power. Other interesting touches include a Shimano 600 headset (some real smooth bearings there, folks) and true track cranks by the Italian manufacturer Miche.  And to top it off we've chosen bar tape that's the coloration of that nice Chianti…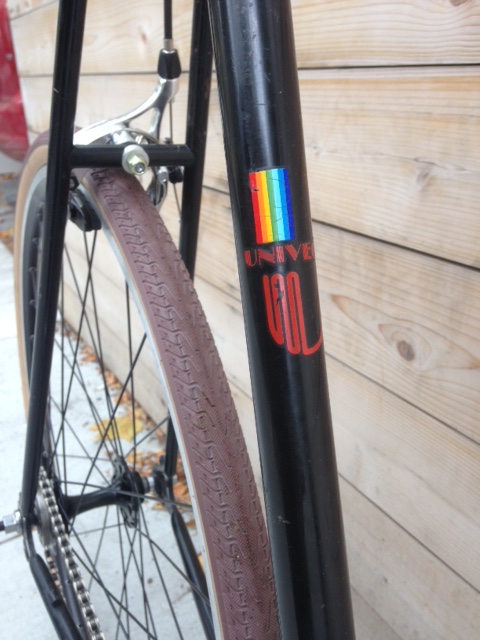 Like many of our refurbished bikes, this one has nearly all new parts, aside from the frame.  You'll get years of low-maintenance riding out of this machine.
$500
Peugeot Canyon Express All-Arounder Bike @Pedal Revolution Refurbished Bike Update
last night was the longest night of the year. The sun set at 8:54pm and to celebrate all of the extra daylight the staff at Pedal Rev decided to go for a Sub 24 hour bike camping overnight. Otherwise known as an S240, the idea is that it isn't always easy to get away for big trips, extended weekends, etc. but it's not too tough to get out for a quick overnight, sleep under the stars and make it back to work the next day, albeit a little groggy. Touring bikes are a fine choice for this type of excursion accommodating racks and bags to facilitate bringing things like camping gear, food, coffee, frisbees, whiskey, bug spray, etc. Touring bikes are wonderful things but they are costly and there are other options out there if you dream of loading up a bike and venturing forth down the road for a little nature time. Older era Mountain bikes make for great budget touring bikes with their long wheelbases, rack mounts, steel frames,and sturdy construction. These can often be found used and modified to work as workhorse commuter bikes and yes, even touring bikes.
Below is a fine example of a Pedal Revolution rebuilt Peugeot Canyon Express rigid mountain bike into a more utilitarian machine. Reinforced asphalt friendly tires matched to new wheels and a comfortable wide, upright handlebar make for steady cruising on street or dirt, in city or country. We have modified Surly Long Haul Truckers in just way for customers who preferred a more upright but still efficient ride. Come check this one out and get your ride on.
22″ fits 6'1″ - 6'4″
$400.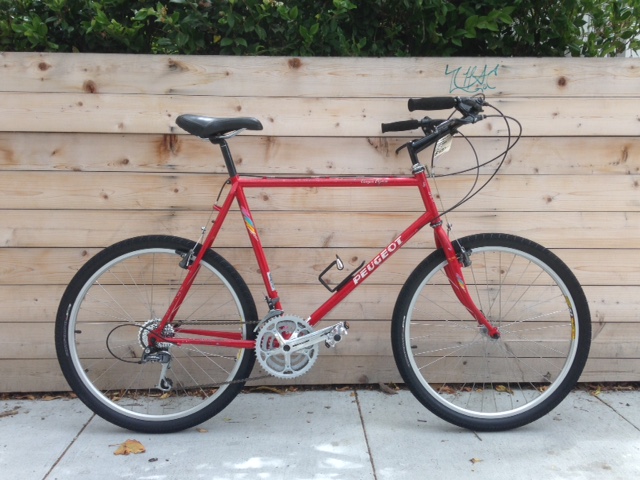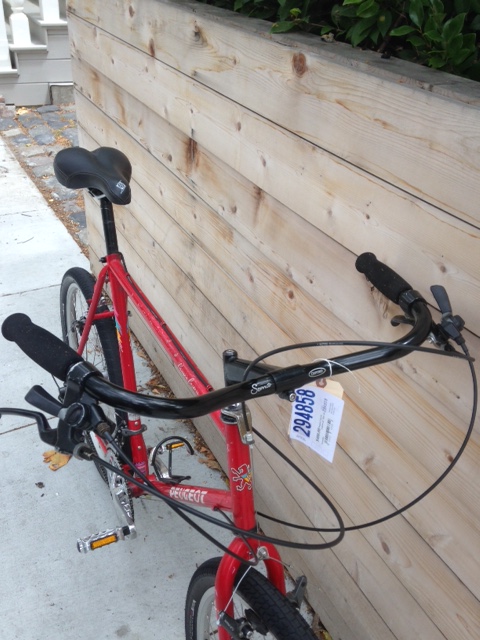 Surly Disc Trucker Outfitted out for the Road @Pedal Revolution Bike Update
A super utility vehicle is presented in this mini Surly Disc Trucker. Our customer wanted a reliable touring bike to take her from California to Colorado. Upright riding position was key as well as carrying capability as she will be self-supported for the trip through various national parks. The 42cm Disc Trucker with 26″ wheels was a perfect match for her needs. This bike will do the job confidently over asphalt and dirt for miles and miles. When the next adventure is just beyond the horizon, a bicycle is fine choice to get you there.