Motobecane Super Touring 58cm, Custom Town-Style
From what I can gather, 1980 seems to have been a fairly tumultuous time.  Americans were being held hostage in Iran as their home country watched helplessly on (at least for the most part).  The Soviets were invading Afghanistan, beginning the decades of political instability and human misfortune in that country; in response, Jimmy Carter boycotted the 1980 Moscow Summer Olympics.  And the U.S. economy wasn't doing too well; Reagan was about to perform his trickle-down on America and swell the ranks of the billionaire class. On a more positive and politically unrelated note, the Lakers won the NBA championship and Magic Johnson played a real nice Game 6.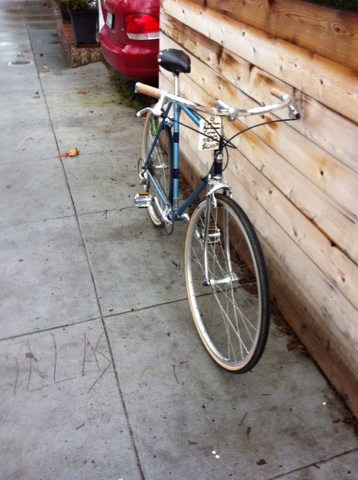 Not too sure what was going on over in France, but I do know that Motobecane was still making bicycles.  They'd file for bankruptcy in 1981, but this fine Super Touring was ushered off the production line just in time for your cycling enjoyment.  Relatively thorough online research leads me to conclude it is indeed a 1980 model.
This bike came to us in a pretty unorthodox fashion.  A gentleman called the shop a while back and I (Todd) picked up the phone.  He explained that he had an old Motobecane he wanted to donate, but would be shipping it to from out-of-state. I tried to suggest that it might not be worth his trouble, but he wasn't sure what to do with it and wanted the bike to go to good use.  So I thanked him and said sure, ship it on out.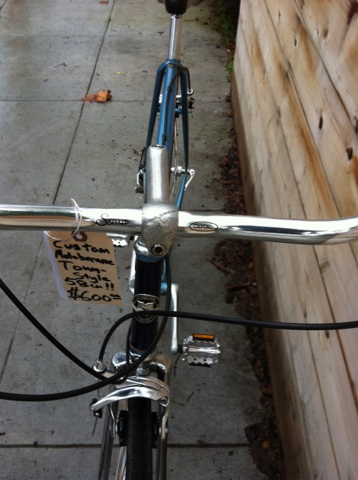 As it turned out this was one of the better-quality Motobecane frames of that era, built with heat-treated steel tubing and a derailleur hanger.  We replaced the damaged original fork with a chrome one, and it's been built up nicely for stylish around-town use.  Nearly all the parts, including the brakes and wheelset, are new.  Favorites of mine include the comfortable Soma Oxford handlebar and excellent Suntour ratcheting bar-end shifter.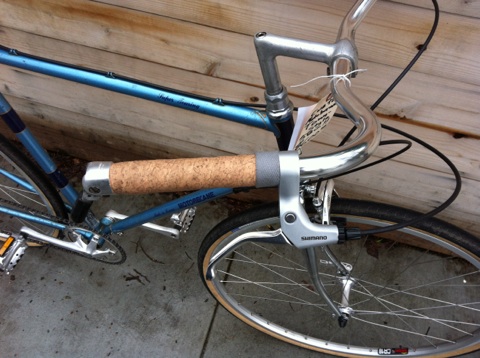 The bike would be a great fit for somebody about 5'10" to 6′.  Come check it out today!!
$600
SOLD!!!!!