Italian Dreams-Benotto & Atala
These two beauties make a cameo appearance in the previous post, but they're both worthy of special mention.  We all have some appreciation for the beauty and flow of the Romance languages, and bicycle makers in those nations have indeed capitalized on the American desire for something a little bit more-how shall we put this-well, maybe just a little prettier.  Think Bianchi, De Rosa, Colnago or even (dare I say it) Peugeot.  But the Italians seem to have maintained the most cachet, so let's just focus on them for a minute.  It's also tempting to try and spin a fictional love story for Benotto and Atala; I am sure they do love each other very much, and enjoyed every minute they spent together riding along the cobblestone roads of the Italian countryside…of course now they have both found themselves in San Francisco, are a little lost, and need loving homes!
Atala, at 53 cm, would be a good fit for a human about 5'5″ to 5'9″.  Benotto's a little smaller, at 50 cm, and is seeking a rider in the 5'0″ to 5'4″ neighborhood.  While both would like to think they're priceless, the brutality of capitalism and the global marketplace have assigned each of them values of $550.
SFBC Winterfest Auction Bike - Custom built by Pedal Revolution
SFBC Winterfest Auction Bike - Custom built by Pedal Revolution
This bike was assembled from the frame up by Pedal Revolution and given to The San Francisco Bike Coalition for their Annual fundraising party - Winterfest!
Lead Mechanic Todd B. with assistance from two our Youth interns Daniel and Josh spearheaded the assembly utilizing many donated components from Soma Fabrications. This is a signature example of a custom refurbished Pedal Revolution bike; a classic steel frame completely rebuilt with great quality new parts into a totally reconfigured city bike. Our focus is versatility, function, reliability, and fun! Early mountain bike frames like this one had a very high level of craftsmanship from Japan and had more of a touring bike geometry compared to contemporary mountain bikes. We love transforming these classic bikes into unique and utilitarian commuter style bikes, capable of carrying significant loads and accommodating racks, baskets, and fenders. Many of our customers rely on their bikes as their primary mode of transportation, grocery getting, commuting, and recreation. They want a bike that can reliably get them to work and back home and then be outfitted for a weekend bike camping trip or out of town adventure.
Pedal Revolution is a non-profit bike shop that has been in business since 1992 and hosts a paid work internship program for at-risk bay area youth. We employ 20 young people every year as interns in our shop working side by side with our professional staff. Our interns learn a combination of basic work-readiness skills and participate in a bicycle service based training curriculum experiencing bicycle repair, assembly, and sales in our own business. Interns assist our professional staff in the building of our new and custom refurbished used bicycles like the one you see here. Our refurbished used bicycles arrive from donations from individuals like you who want to support our program. The bikes are stripped, assessed, and then rebuilt with new components to assure a long and reliable life. These bikes are unique, one of a kind creations with distinct style and a character all their own. Please consider donating your old bicycles, frames, or bike parts to our program to support our social mission. Next time you are in the market for a fantastic new or refurbished used bike come visit us!
Here are some photos of the before and after bike build process:
Pictured below are two of our current youth interns Josh and Daniel holding the vintage Miyata "Terra Runner" frameset that provided the foundation for this build:
80's Japan built, triple butted, lugged steel goodness.
The paint was a little rough so we sent it off to our friends at Champion Powdercoating for a super sweet repaint.
We've come to referring to this textured blue finish as " Pining for the Fjords Blue".
Service Manager Joel had the bright idea to have the stem painted to match.
Came out quite nice!
Here are Josh and Daniel again with painted frame, fork, and stem with the new wheels and Soma Fabrications New Xpress tires which they set up and installed.
Below Daniel carefully shellacks the cork grips designated for the bike. We love the classic look of cork grips.
Shellacking weatherproofs them and keeps them looking good for a long time.
Brand new drivetrain with Sugino touring cranks, Shimano and IRD mechanicals, and stylish MKS touring pedals.
Shop bottle/shop sticker steeze.
Sprung leather touring saddle.
Soma Fabrications Oxford Handlebar, IRD thumbshifters, Champs Elysees front rack, and Wald basket….gotta have a basket.
Those grips though!
This was a really fun project for the Pedal Rev crew. Hope you like!
Bike details:
-80's era Lugged steel  Miyata "Terra Runner" early MTB frame
-Made in Japan
-Size 21"
-Custom powder-coated "Pining for the Fjords Blue"
Parts:
-Shimano 26" wheelset
-Soma Fabrications New Xpress Touring Tires
-Sugino XD500 Touring Crankset
-Shimano Deore M591 Long cage rear Derailleur
-IRD Front derailleur
-MKS Sylvan Touring Pedals
-Velo Orange Leather Saddle
-Soma Fabrications Oxford handlebar
-IRD 9spd indexed thumbshifters
-Shellacked Cork Grips
-Soma Fabrications Champs Elysees stainless front rack
-Wald basket
Univega 53cm Town-Style @ Pedal Revolution Refurbished Bicycle Update
Several weeks ago we had a customer come by the bike shop to donate an old Univega that dated back to her college days.  She hoped that we would make use of it, and we assured her as much.  It's the objective of this post to show the process we go through to refurbish good-quality older bicycles here at Pedal Rev.
To be a reliable and comfortable bicycle for the next rider, this Univega really needed everything.  This started with removing all components from the frame and determining which parts could be re-used.
She'll be a good fit for somebody in the 5'3-5'7″ range.  Come take a test ride!
$700
SOLD!!!!
Motobecane Super Touring 58cm, Custom Town-Style
From what I can gather, 1980 seems to have been a fairly tumultuous time.  Americans were being held hostage in Iran as their home country watched helplessly on (at least for the most part).  The Soviets were invading Afghanistan, beginning the decades of political instability and human misfortune in that country; in response, Jimmy Carter boycotted the 1980 Moscow Summer Olympics.  And the U.S. economy wasn't doing too well; Reagan was about to perform his trickle-down on America and swell the ranks of the billionaire class. On a more positive and politically unrelated note, the Lakers won the NBA championship and Magic Johnson played a real nice Game 6.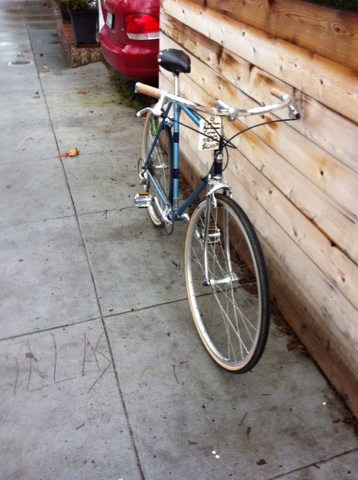 Not too sure what was going on over in France, but I do know that Motobecane was still making bicycles.  They'd file for bankruptcy in 1981, but this fine Super Touring was ushered off the production line just in time for your cycling enjoyment.  Relatively thorough online research leads me to conclude it is indeed a 1980 model.
This bike came to us in a pretty unorthodox fashion.  A gentleman called the shop a while back and I (Todd) picked up the phone.  He explained that he had an old Motobecane he wanted to donate, but would be shipping it to from out-of-state. I tried to suggest that it might not be worth his trouble, but he wasn't sure what to do with it and wanted the bike to go to good use.  So I thanked him and said sure, ship it on out.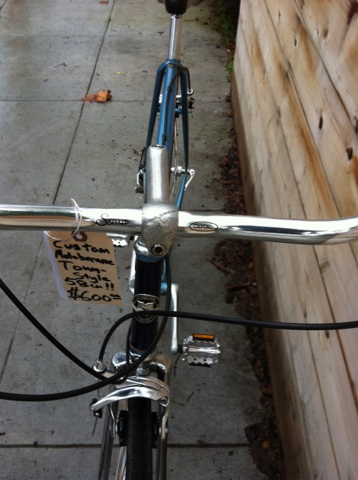 As it turned out this was one of the better-quality Motobecane frames of that era, built with heat-treated steel tubing and a derailleur hanger.  We replaced the damaged original fork with a chrome one, and it's been built up nicely for stylish around-town use.  Nearly all the parts, including the brakes and wheelset, are new.  Favorites of mine include the comfortable Soma Oxford handlebar and excellent Suntour ratcheting bar-end shifter.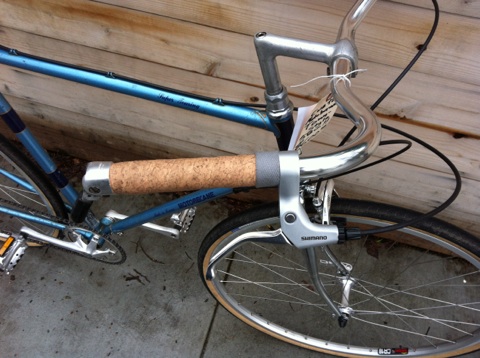 The bike would be a great fit for somebody about 5'10" to 6′.  Come check it out today!!
$600
SOLD!!!!!
Custom Gitane 63 cm Town-Style 3 speed @ Pedal Revolution Refurbished Bicycle Update
Are you or someone dear to you between 6'1″ and 6'4″, dig the color orange, and in the market for a unique town-style bicycle that rides like a dream? If any of this rings true, you'd best come in to Pedal Rev to check out this Gitane.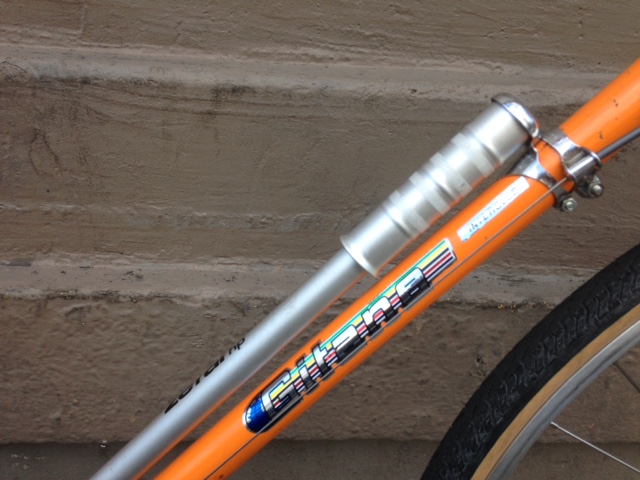 According to the original sales paperwork provided by the gentleman who kindly donated it to us, this bike cost $165 way back in 1972.  It still had all the original parts on it, and the paint is in great shape for its age.  But cycling has come a long way since then and major changes were on order; in fact, the frame, seatpost, and matching original Zefal pump are the only items that weren't replaced.
Cool details on this bike include a new polished 3-speed wheel, some vintage Suntour Cyclone cranks, and some pretty wide Nitto handlebars that'll be well suited to the larger individual who ends up putting miles on this rig.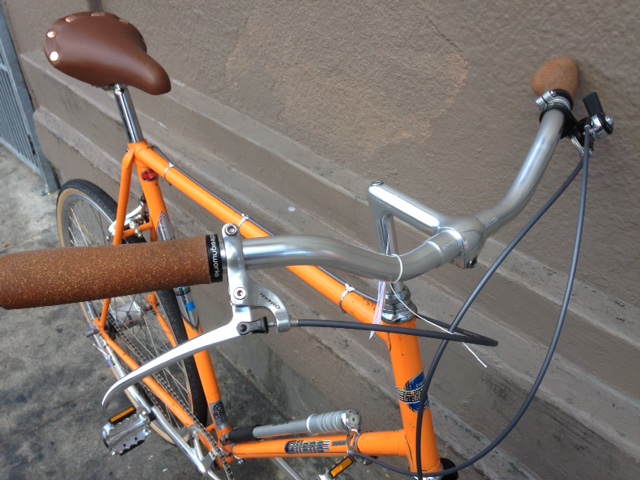 Some ergonomic Portland Design Works grips are comfortable on the hands, and the retro-look Tektro brake levers control new dual-pivot calipers that'll bring this orange whip to a stop in no time.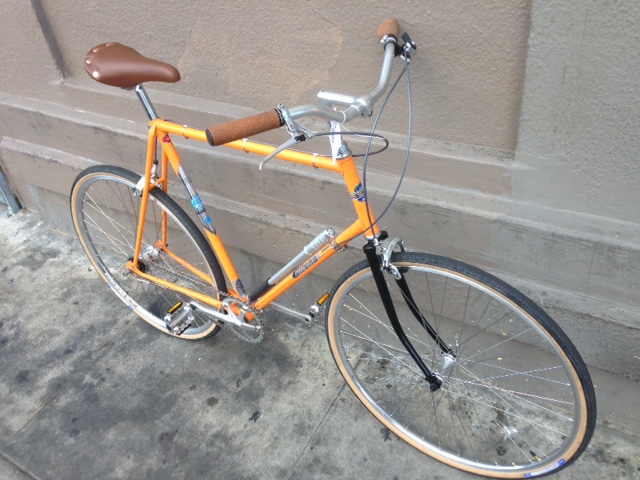 Come on by and take it for a test ride!
$725
Powdercoated Custom Step-Through Commuter 50cm @Pedal Revolution Refurbished Bike Update
Who says "Mixte" style bikes need to be dainty and pastel colored? We had this one powdercoated in a stylish finish we've come to refer to as "Scorched Earth Brown". Full custom rebuild job on this one and it rides like a dream. All the good stuff and Pedal Rev favorites are represented: 1×7 "just enough" drivetrain, Mavic/Shimano road wheelset, Panaracer Pasela tires, WTB comfort saddle, Velo Orange Milan handlebars, Soma Sutro stem, and leather grips. Understated and awesome.
50cm and an ideal fit for a rider 5'3″ - 5'6″.
$850.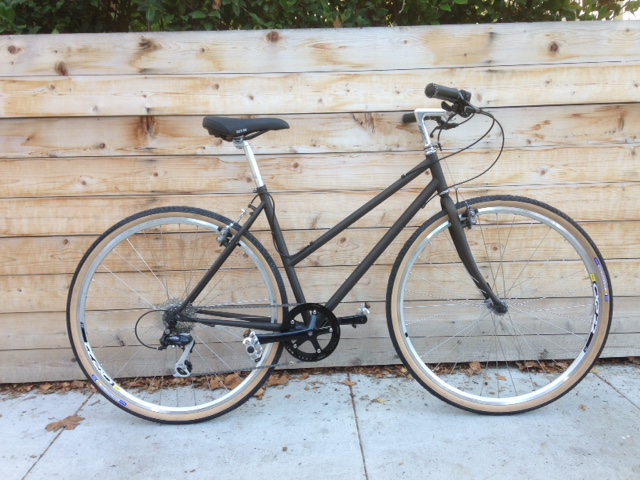 Raleigh "Sports" Brown Townie 57cm @Pedal Revolution Refurbished Bike Update
Super custom rebuild on this gem of a Raleigh frameset. A ground-up build with all parts replaced on this made in England frame including a Tange chrome fork, Sturmey Archer 3 speed internally geared wheelset, MKS touring pedals, Dual pivot brake calipers, Soma oxford bar, and leather grips and saddle. Reconfigured to give a more upright seating arrangement, this bike is a go-to city bike for daily use. Slap a basket and some fenders on it and you've got a reliable grocery getter/rain bike.
57cm fits 5'10" - 6'1″
$525. SOLD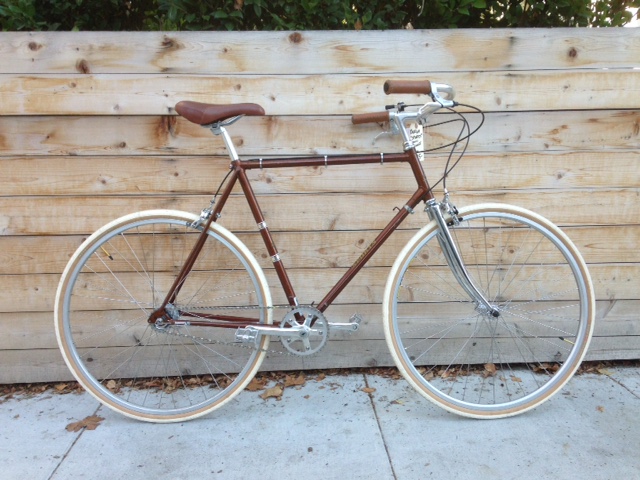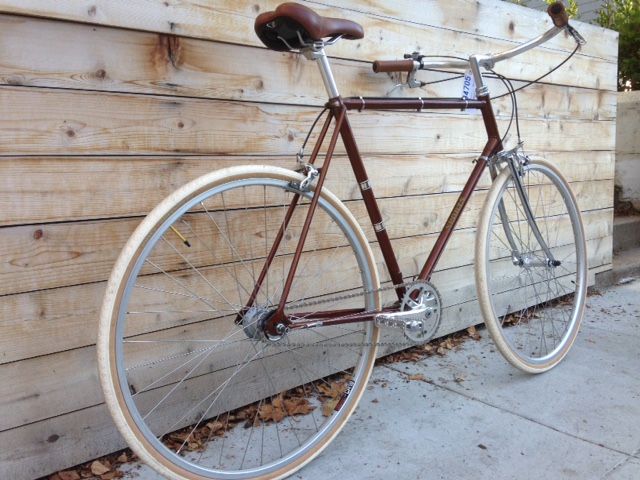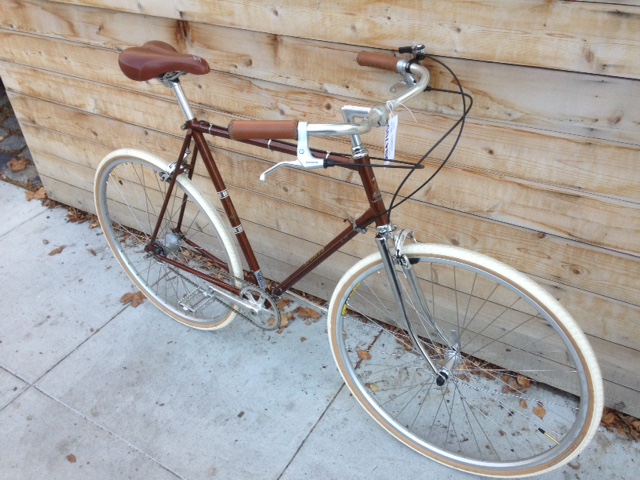 Pedal Revolution Used Bicycle Update: Motobecane Step-Through 3-Speed
Pedal Revolution Used Bicycle Update: Motobecane Step-Through 3-Speed
Another Pedal Revolution original here.  This bike was donated with long obsolete 27″ wheels, a conventional derailleur drivetrain, a low long deep drop handlebar (i.e. uncomfortable) and a bric a brac of low-endish 80s parts.
The bike was reconstituted with a more upright Velo Orange Milan bar and svelte Tektro neo-retro levers (they look like a lot of levers on older bikes but benefit from stiffer cold forge construction and return springs for smoothness and greater cable life).
New 700c wheels with a Sturmey Archer 3-Speed internal gear hub replace the clunky and complex original drivetrain.  Soma Xpress terra cotta tires make another appearance here.  These are essentially a slightly more beefed up version of the Panaracer Pasela tires that get are often spotlighted on this blog.
The gold housing just looks really great. It jives well with the painted on logo but neither enhances or undermines the brake function.
The cork grips were heavily layered with shellac for good looks but they also don't feel too bad.
The demi-mixte frame construction is totally wild.  Just prior to Pedal Revolution being donated this bike, I (Joel), had seen another one of these frames in the shop for the first time and it blew my mind.  So strange to have another one given to us so soon after that.  The unconventional frame construction and 3-Speed rebuild make this a super unique bike.
Burgundy (in New Orleans, they would call the color "Ber-gun-day") Motobecane Step-Through 3-Speed:
$500 - A Good Ride for someone about 5'4″?
SOLD
Motobecane Grand Touring Road Bike 53cm @Pedal Revolution Refurbished Bike Update
As attributes, quick, light, and affordable are generally not found together in one bicycle. Generally you'd have to settle for one or two of the above characteristics. This 80's Motobecane Grand Touring is a gem of a bike that finds a happy balance between all three. It was rebuilt with a new wheelset, brakes, Soma New Express Terracotta tires, and a Soma Highway one bar. It's a great mix of old and new at a very reasonable price.
53cm ST - 55cm TT. A great fit for 5'5″-5'9″.
$575. SOLD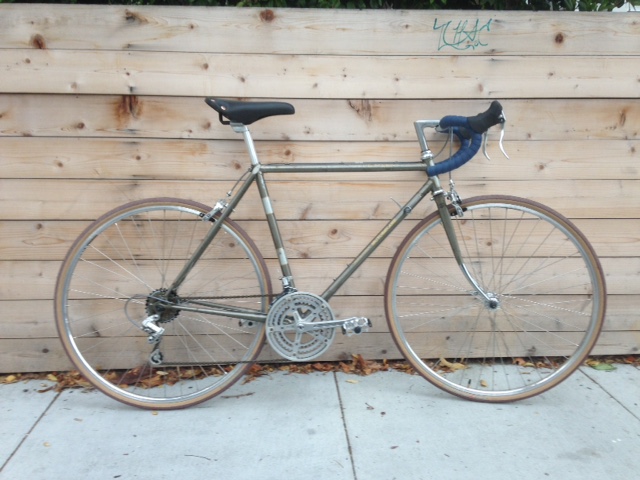 Robin Hood 3-Speed @ Pedal Revolution Refurbished Bike Update
1969 Robin Hood 3-Speed Step-Through - $350 SOLD!
In the year 2008, I (Joel) began my career as a bicycle mechanic.  7 years ago this month actually.  I worked at Broadway Bicycle School in Cambridge, MA. This shop serviced many old British 3-Speed bikes.  It was actually kind of a specialty of the shop.  I was tasked with tuning up many of these bikes and let me tell you, at the time, they were the bane of my existence.  Compared with contemporary bikes, these bikes are unconventional and quirky as can be (internal gear hubs that are influenced by by their position in the frame, front hubs that are adjusted in the fork, use of metric and non-metric/imperial fasteners, "Raleigh"/26 TPI threading, brakes that are centered with a hammer and punch!…).
At a certain indecipherable point (I suppose it has been a process, journey or evolution in my development as a mechanic and cyclist) I formed a real affection for these idiosyncratic machines best celebrated on the Sheldon Brown (fellow Broadway Bicycle School alumnus) website.  Please allow me to quote:
These Are Real Bikes!

on't sneer at old 3-speeds. They are serious bikes, built for serious use. They are meant for utilitarian cyclists, and they are still extremely appropriate for riders who don't usually go more than a few miles at a time. They are particularly at home in stop-and-go traffic, because they can be shifted even while stopped. Their English heritage: full fenders, oil lubrication, and totally enclosed gear system makes them relatively impervious to wet conditions. They may be heavy, but that is not because they were built to be cheap, but because they were built to endure extremely rough usage and neglect. Properly cared for, they will outlast us all.
As evidenced by the date stamped on this Robin Hood's Sturmey Archer hub, this bicycle was manufactured in 1969.
In 1969, the guts of the Sturmey Archer AW hub were much the same as  in 1902, having survived two world wars, the great depression, the baby boom and several high-profile assassinations fully intact. However, 1969 was a pivotal year of change in the history of Rock N Roll.  Anyone in the Bay Area today who happens to catch audio glimpses of traffic reports referencing Altamont must surely be reminded of the ugly events that occurred at the free concert there in December 1969, the edge of the 1970s.  As we now know, the Altamount Free Concert was the event that signaled the end of the day glow tie dye days of peace and love.  What followed was a decade of earth tones, religious cultism, political assassination, heavy narcotic use, domestic terrorism, disco, escalating imperial war atrocities, and the emergence of punk rock. Around the time I was birthed, The Clash succinctly penned the perfect counter point to the peace and love espoused by the flowerer children of the 60's, Hate and War ("the only things we got today").  A real theme song for the 1970s.
A more positive association one can make with this bike and The Clash is their invocation of Robin Hood in the excellent song White Man in Hammersmith Palais.  Perhaps the first of example of White musicians properly doing what Bob Marley would affectionately call the "punky reggae".
As mentioned in the above quote from the Sheldon Brown website, although these are real bikes, they were geared for the flat streets of Nottingham or Manchester (see the below video) England rather than hilly San Francisco.  Thusly, the original cottered cranks were replaced with a Velo Orange threadless bottom bracket (mooting the Raleigh threaded bottom bracket shell) and a beautiful Sugino crank fitted with a 42 tooth chainring.  This crank is mated to a 23 tooth rear cog and provides excellent gearing for our vertiginous local terrain.
Sekai "Solid Gold" Town and City Bike @Pedal Revolution Custom Used Bike Update
Sekai Townie Conversion. Japanese built lugged steel Sekai road frame got the Pedal Rev touch and was transformed into a classy more upright riding town and city bike. Full parts rebuild on this great pale gold frame set. Very light and quick for a tall bike.
62cm - fits 6'0″ - 6'3″
$695 SOLD!