Novara Trionfo 48cm @ Pedal Revolution Refurbished Bicycle Update
While shopping a while back I purchased a bottle of what I assumed to be olive oil, based on the presence of those words on the label as well as a prominently displayed Italian flag. It was only when I got home that I discovered it had been blended with canola oil, reducing it from prime bread-dipping status to mere general-purpose frying duty.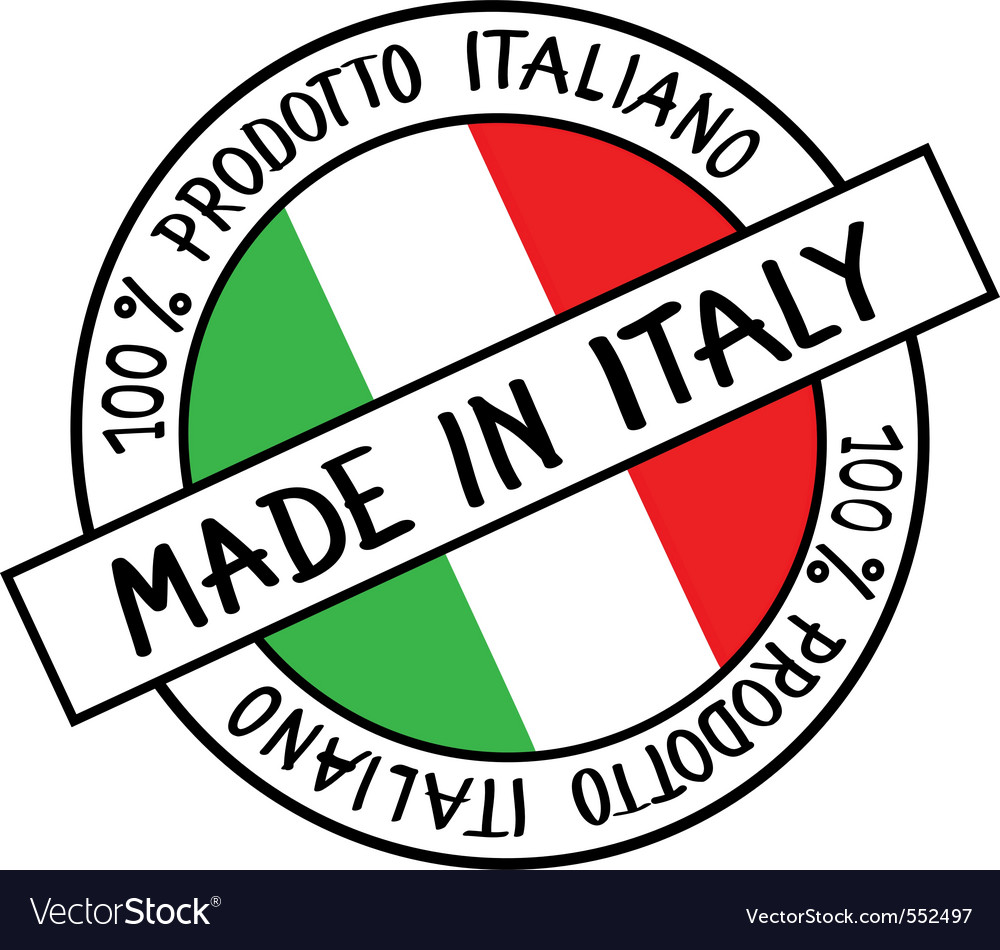 While the Made in Italy label does seem to gain the immediate attention and respect of the average American consumer, I hadn't even seen that.  Just the flag.  Enough to buy the item.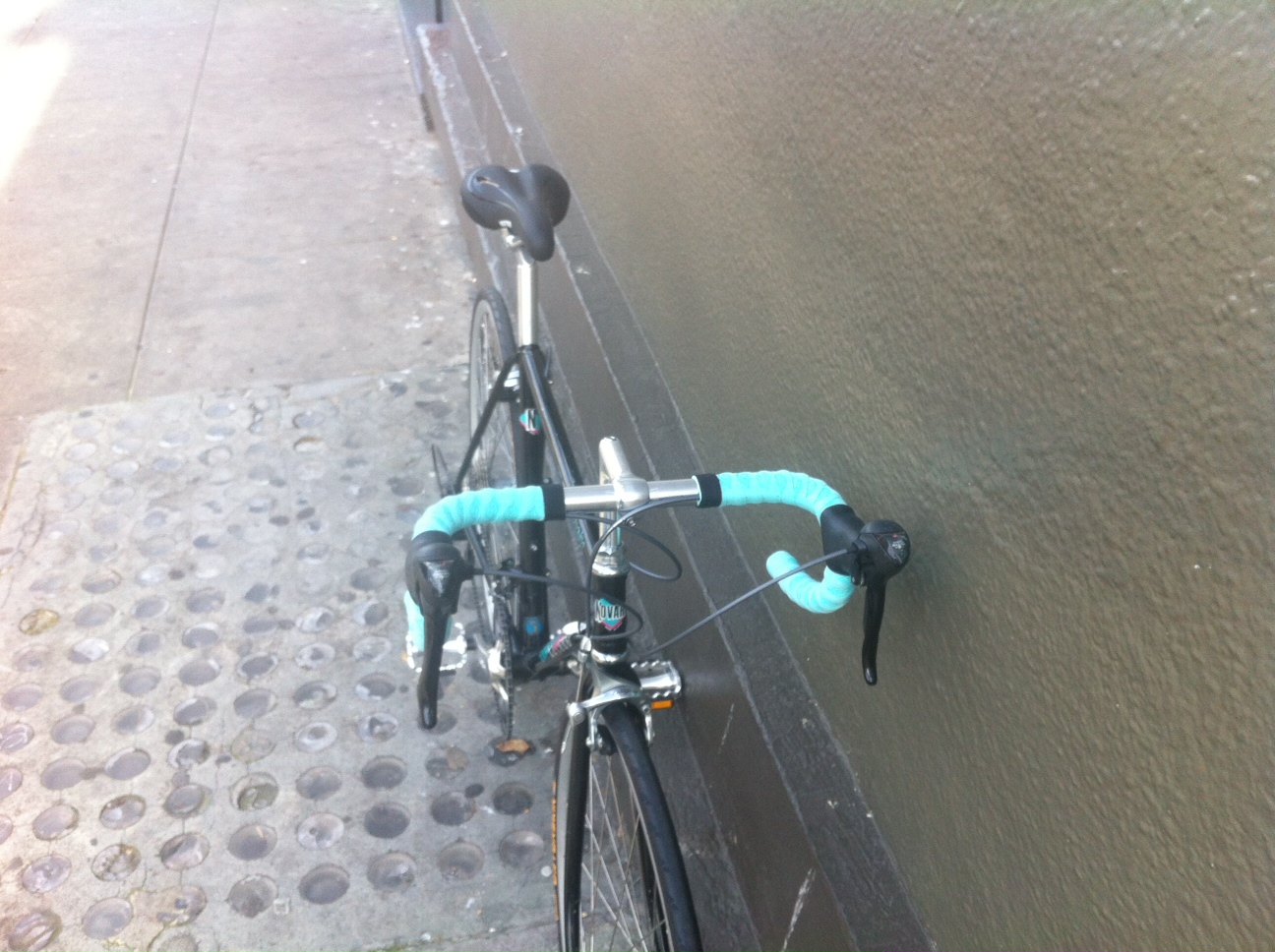 You won't see an Italian flag on this Novara Trionfo, but maybe its Italian name is enough to lure you in.  And in that case you won't feel duped as I did, because this is very nice, classic steel road bike-not some off-brand fry oil lurking in the back of your kitchen cabinet.
Also of note is the internal cable routing. As a mechanic, it's sometimes hard to feed the brake or derailleur cable through these small holes.  The makers of this frame, a late-1980's model, took the trouble to design this feature well.  The cable went through perfectly, and I didn't even have to bother to slightly pre-bend the end of the cable to help it find the exit.
The Trionfo was stripped the the bare frame and fully rebuilt with more modern parts.  A size-appropriate 165mm crankset has been installed, as well as some narrower 38cm Soma Highway One handlebars.  It's also got a nice set of 700 x 25 Gatorskin tires that should hold up well in our glass-strewned city.
Come check it out today! A good fit for someone right around 5′ tall.
$750
Univega 53cm Town-Style @ Pedal Revolution Refurbished Bicycle Update
Several weeks ago we had a customer come by the bike shop to donate an old Univega that dated back to her college days.  She hoped that we would make use of it, and we assured her as much.  It's the objective of this post to show the process we go through to refurbish good-quality older bicycles here at Pedal Rev.
To be a reliable and comfortable bicycle for the next rider, this Univega really needed everything.  This started with removing all components from the frame and determining which parts could be re-used.
She'll be a good fit for somebody in the 5'3-5'7″ range.  Come take a test ride!
$700
SOLD!!!!
48cm Rocky Mountain Oxygen Road @ Pedal Revolution Refurbished Bicycle Update
Are you a smaller person looking for a good road bike? We have a nice 48cm Rocky Mountain with a Shimano 105 10-speed drivetrain, fresh bar wrap and a new pair of Continental Gatorskins.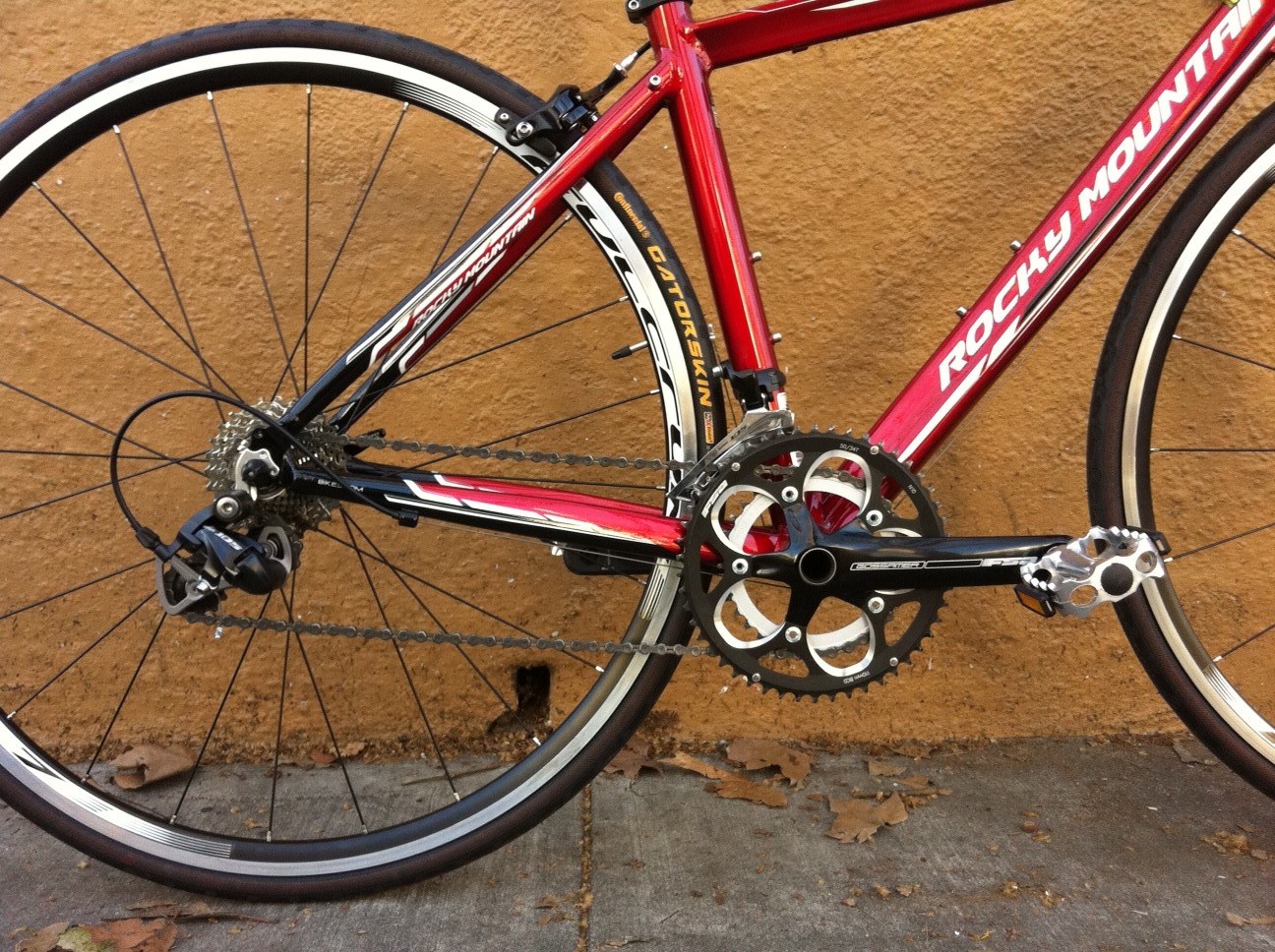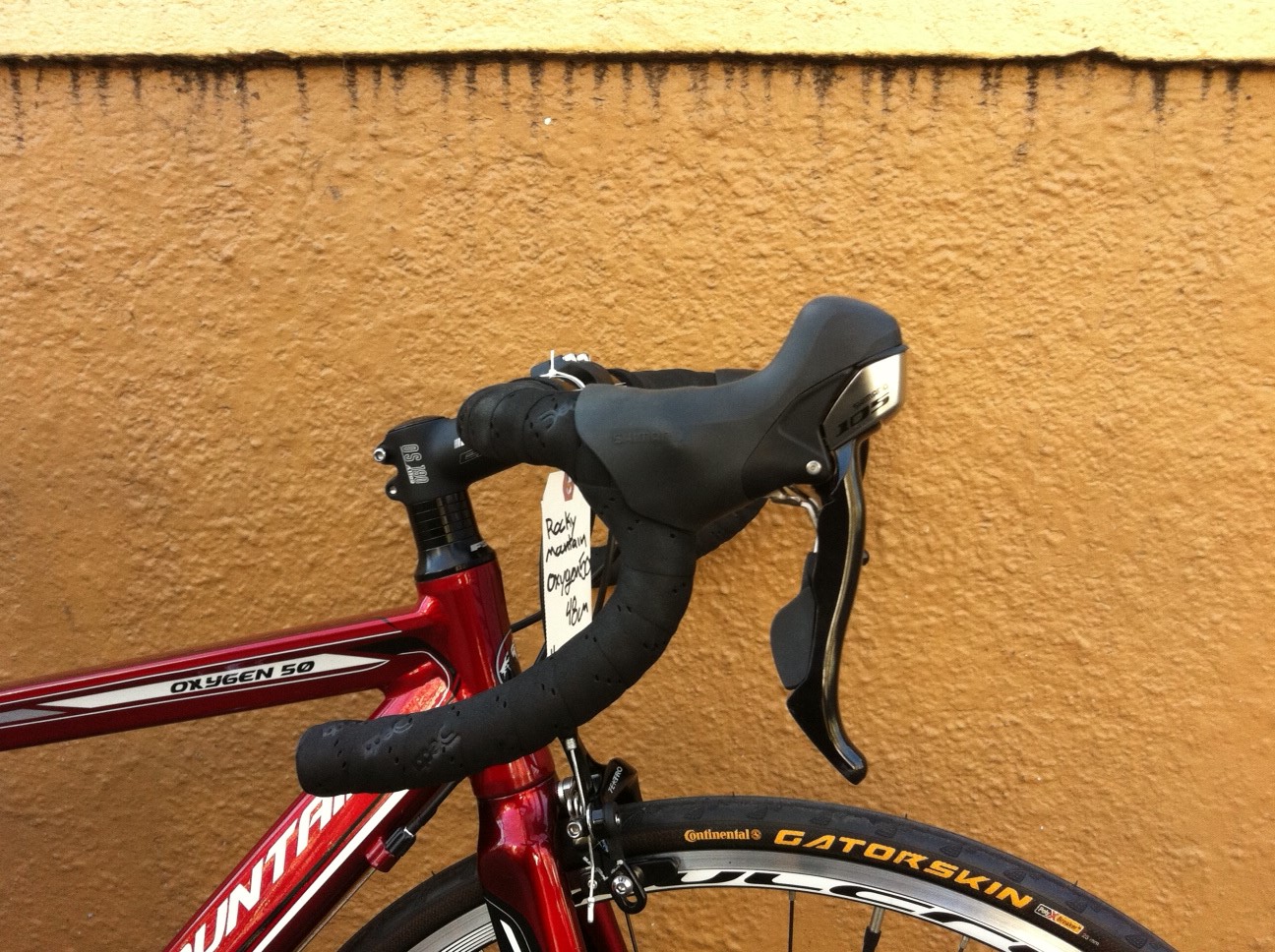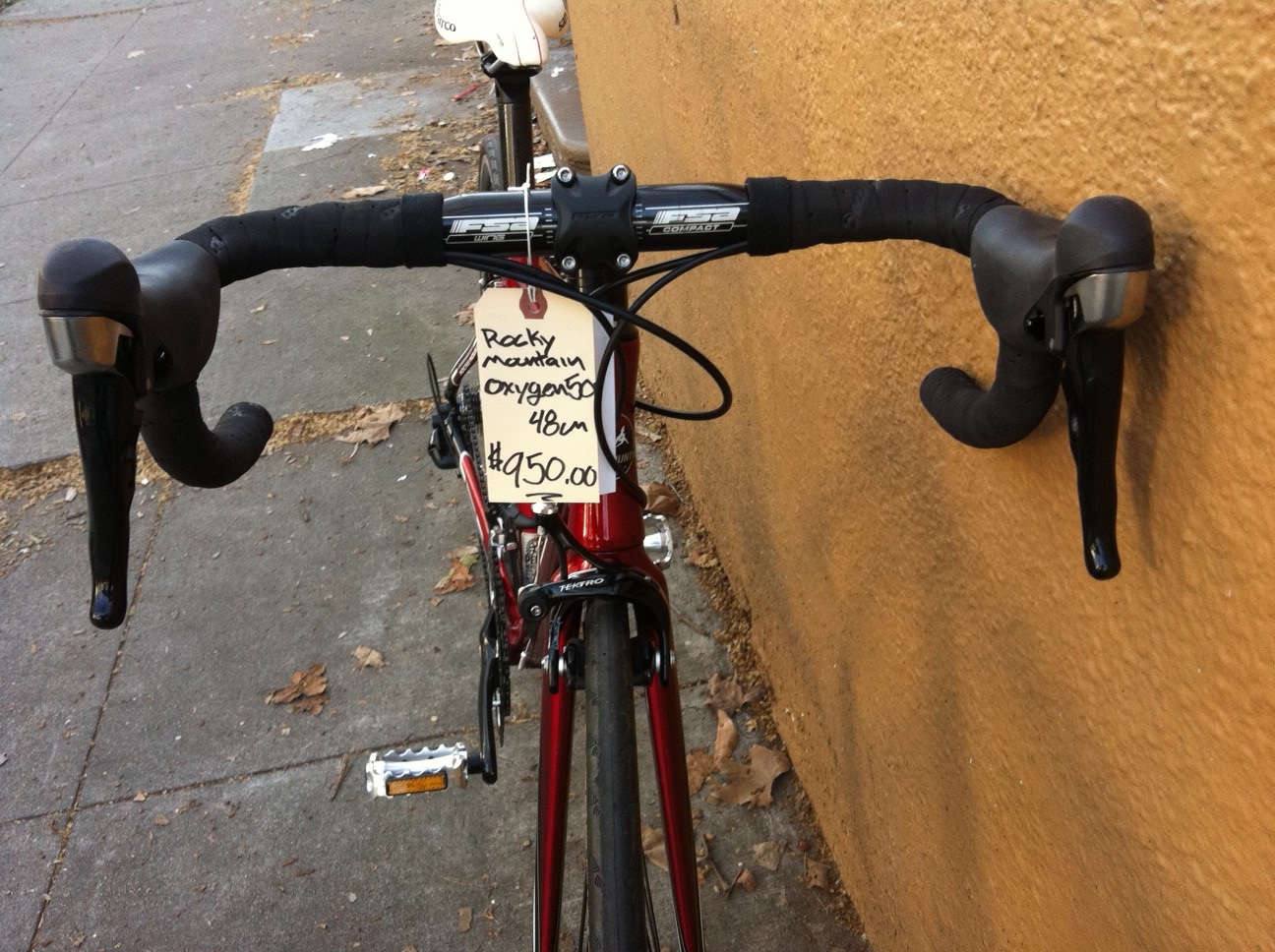 The bike is in like-new shape; like all of our refurbished bikes, it comes with a 3 month guarantee.  If you're around 5′ tall and are looking for a good road bike, come check it out today!
$950
50 cm Trek 2120 Carbon Road Bike @ Pedal Revolution Refurbished Bicycle Update
As a material, carbon fiber was first used on production bikes in the late 80's/early 90's.  The bike you see here, a Trek 2120, was among the first.  The three main tubes are carbon, and they're bonded to aluminum to form the rest of the frame.  Though the frame is pretty old, it is still in fine shape; a lot of the early carbon frames tended to be "overbuilt", and are in fact stronger that some of the newer and thinner carbon frames out there today.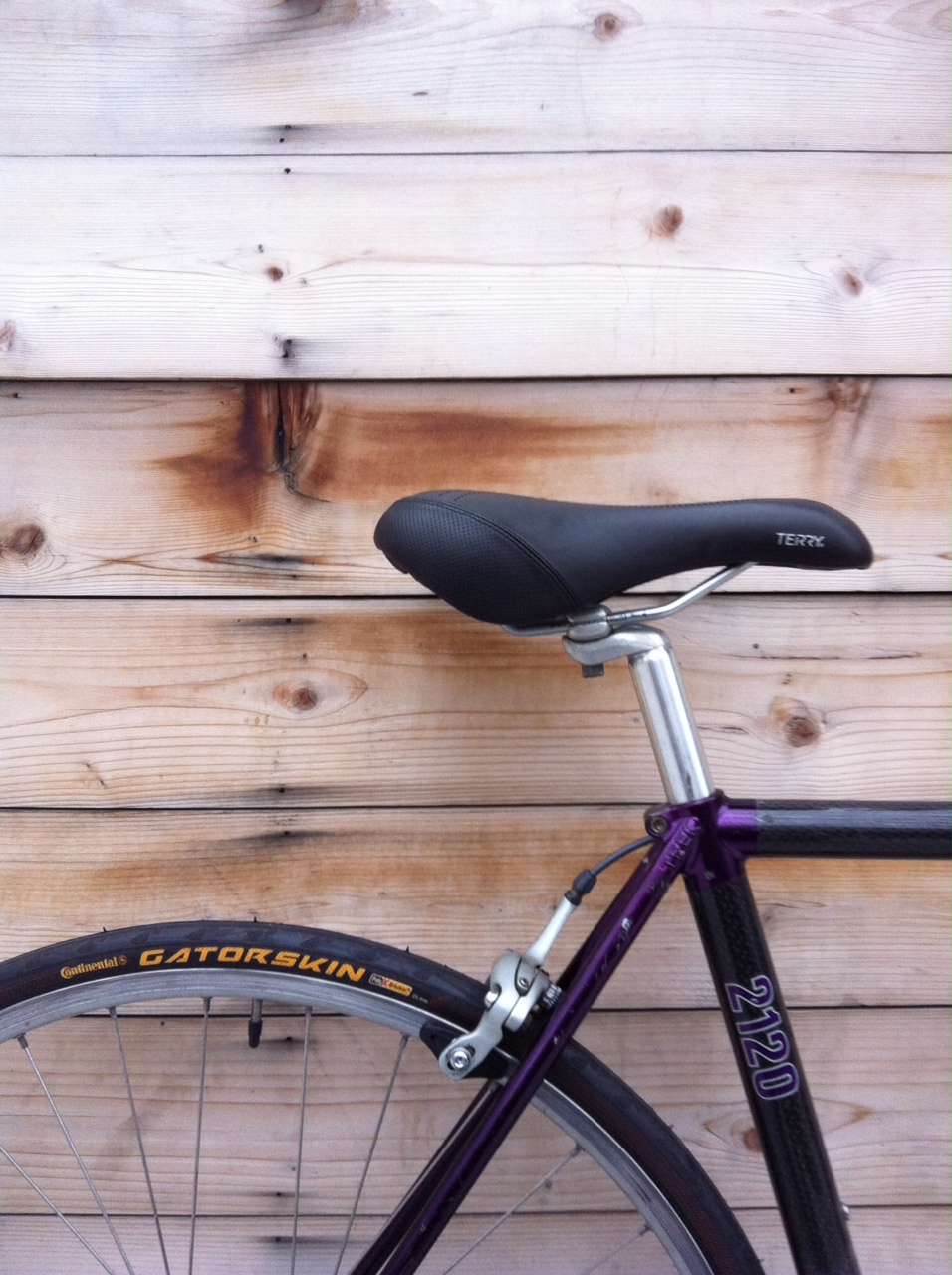 Terry saddle and new Continental Gatorskin 700 x 25 tires.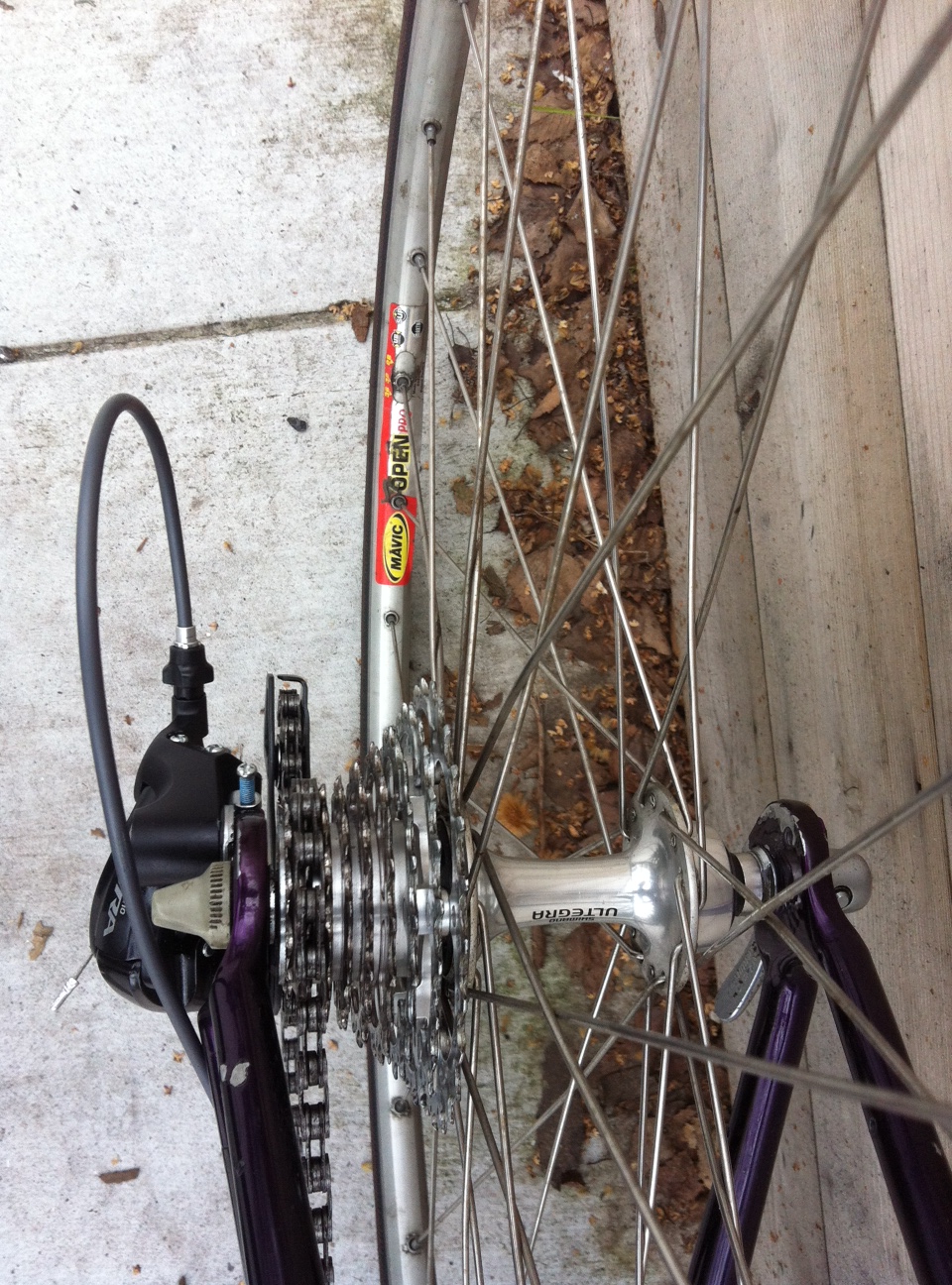 Bike features a nice wheelset-Shimano Ultegra hubs laced to Mavic Open Pro rims.  A light, solid set of hoops!
The rest of the drivetrain is a mix of Shimano Sora/105 parts.  A good fit for someone about 5'1″ to 5'4″.  Come check it out today!!
$700
SOLD!!!
Cannondale Synapse 51cm @ Pedal Revolution Refurbished Bicycle Update
We've got a nice Cannondale for sale here at Pedal Rev.  It's got a Shimano 105 10-speed groupset, a quality lightweight wheelset, and some nice orange bar tape.  The bike really hasn't seen much use at all, as you can may tell from the below photos. We upgraded the tires (Gatorskin 700 x 25!!) and installed new Shimano cables and housing.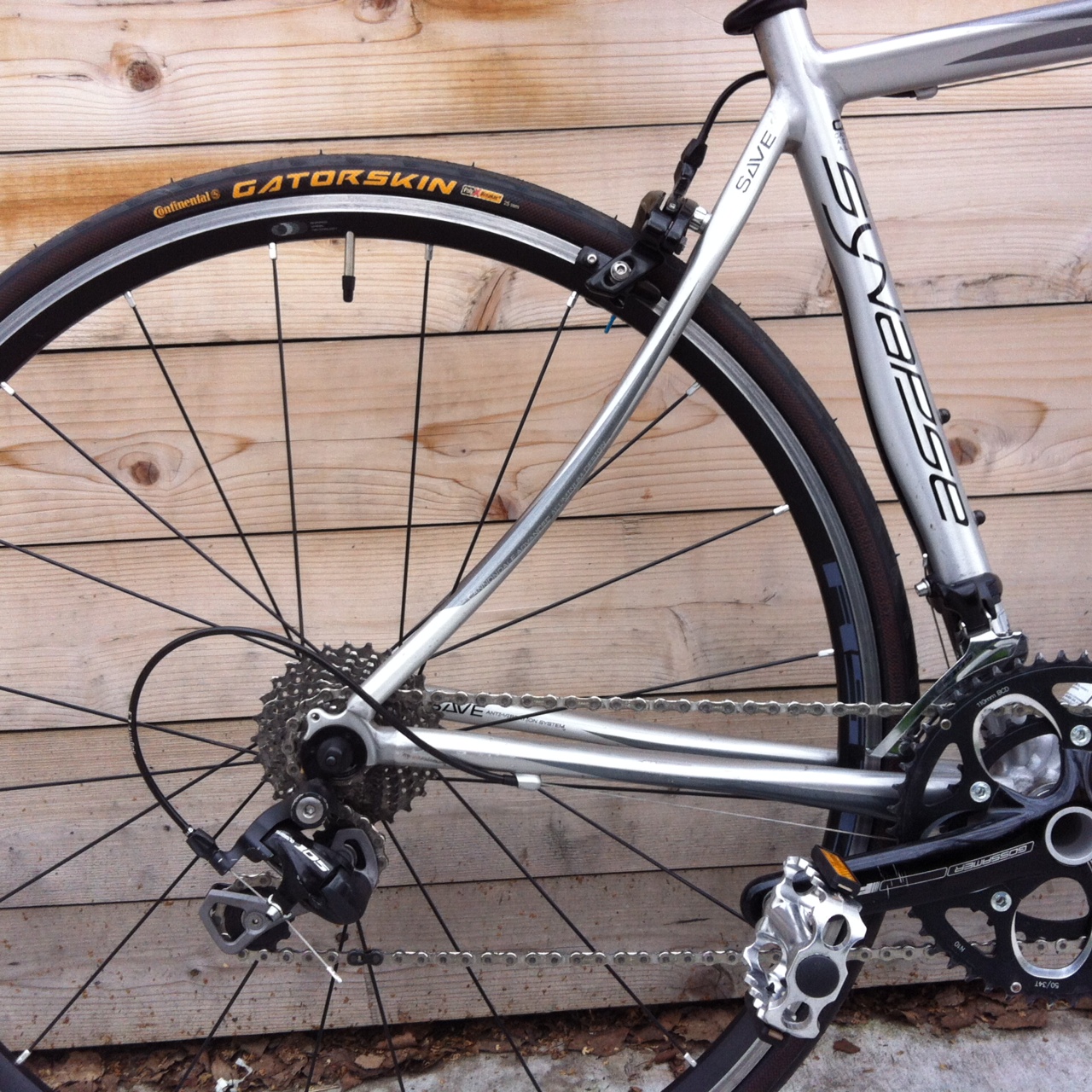 The bike should be a good fit for somebody about 5'3″ to 5'6″.  Come check it out today!!
$950
SOLD!!!
Motobecane Super Touring 58cm, Custom Town-Style
From what I can gather, 1980 seems to have been a fairly tumultuous time.  Americans were being held hostage in Iran as their home country watched helplessly on (at least for the most part).  The Soviets were invading Afghanistan, beginning the decades of political instability and human misfortune in that country; in response, Jimmy Carter boycotted the 1980 Moscow Summer Olympics.  And the U.S. economy wasn't doing too well; Reagan was about to perform his trickle-down on America and swell the ranks of the billionaire class. On a more positive and politically unrelated note, the Lakers won the NBA championship and Magic Johnson played a real nice Game 6.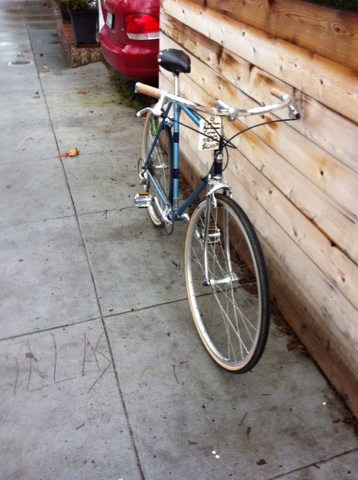 Not too sure what was going on over in France, but I do know that Motobecane was still making bicycles.  They'd file for bankruptcy in 1981, but this fine Super Touring was ushered off the production line just in time for your cycling enjoyment.  Relatively thorough online research leads me to conclude it is indeed a 1980 model.
This bike came to us in a pretty unorthodox fashion.  A gentleman called the shop a while back and I (Todd) picked up the phone.  He explained that he had an old Motobecane he wanted to donate, but would be shipping it to from out-of-state. I tried to suggest that it might not be worth his trouble, but he wasn't sure what to do with it and wanted the bike to go to good use.  So I thanked him and said sure, ship it on out.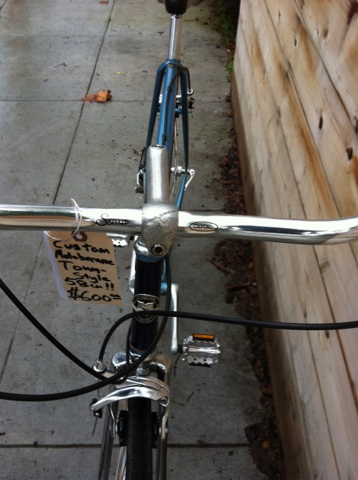 As it turned out this was one of the better-quality Motobecane frames of that era, built with heat-treated steel tubing and a derailleur hanger.  We replaced the damaged original fork with a chrome one, and it's been built up nicely for stylish around-town use.  Nearly all the parts, including the brakes and wheelset, are new.  Favorites of mine include the comfortable Soma Oxford handlebar and excellent Suntour ratcheting bar-end shifter.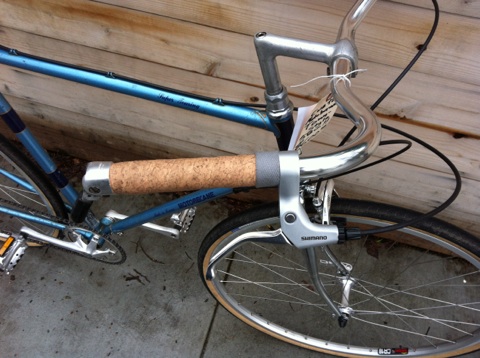 The bike would be a great fit for somebody about 5'10" to 6′.  Come check it out today!!
$600
SOLD!!!!!
Surly Straggler SRAM Apex Build @Pedal Revolution New Bike Update
Surly Straggler! One of Surly's newest models takes the much loved Cross Check platform and ramps it up with disc brakes and integrated shifters. A perfect blend of new contemporary and classic proven technology, this do-it-all bike has all the modern road and "adventure" bike features like a full SRAM Apex road component group, Hayes cable actuated disc brakes, and chubby Surly Knard 70o/650 x 41 tires. Like it's sister bike the Cross Check, the Straggler has all the rack and fender mounts you could ever need to set it up for a wet weather commute or as a fully loaded touring rig. You could even slap some 28mm road slicks on it and head out on a century or a heavy road ride with the spandex crowd.
This Straggler (pictured) is the Mint colored version in a 650b wheel size. A cool new addition is the option of the 650b wheel size in the smaller frame sizes to accommodate the smaller rider and give better wheel/geometry fit and less toe overlap. The bike is also available in a Shimano 105 kit version for those Shimano-philes out there.
$1425.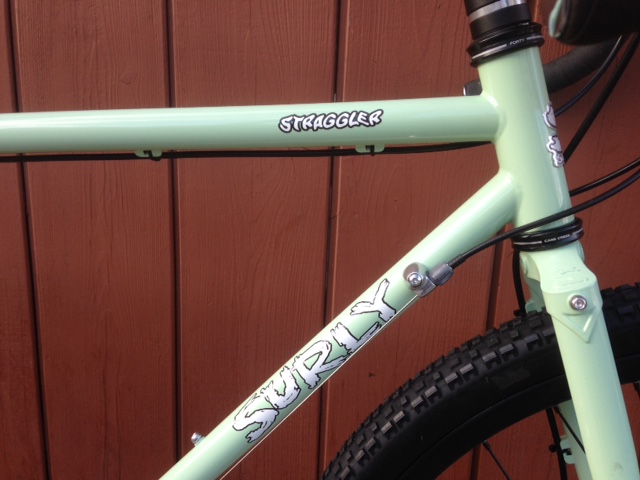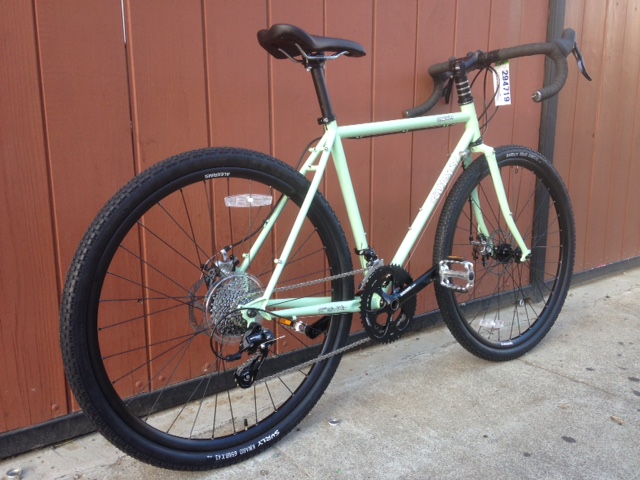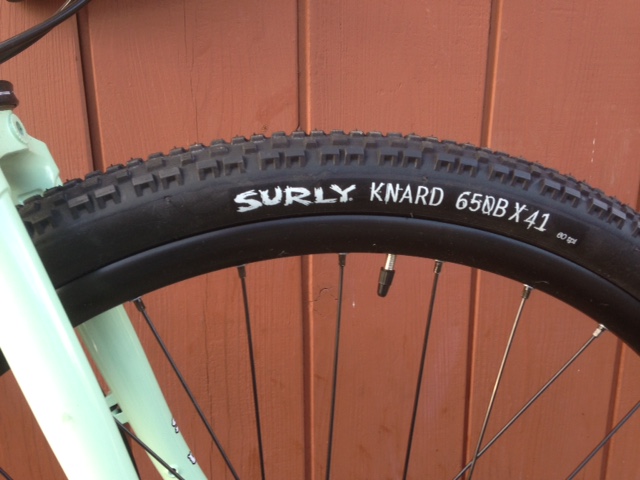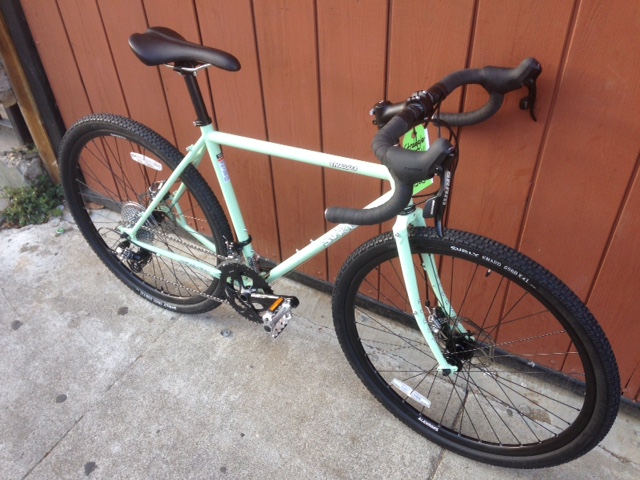 Lemond 853 Reynolds Steel Road Bike 54cm @Pedal Revolution Custom Bike Update
Steel bicycles have had a cadre of die-hard fans who appreciate their smooth ride quality and long-term durability. In an era where much of what we consume is becoming more and more dispose-able, short life spans in products are less and less relevant. That fancy new smart phone you just got will soon be overshadowed by the slightly updated version coming out in six months.  Fortunately, if you do a little research, a bicycle can still be purchased that will last for many years of consistent service. This custom rebuilt Lemond road bike is a fine example of a classic lightweight steel-framed bicycle that has many years of service to give. Built from Reynolds 853 tubing, this is a performance designated bike designed to go fast and handle quickly. The vibration dampening compliance that the steel frame provides is noticeable when travelling over rough roads or after long hours in the saddle.  This bike was refurbished with a well-rounded parts grouping including a Shimano 105 drivetrain and brakeset, brand new Shimano tiagra 9 speed shifters, Soma Highway One compact handlebar, and durable Vittoria Randonneur tires.
It's sized at 54cm  and would be a great fit for a rider 5'5″ - 5'9″.
$900. SOLD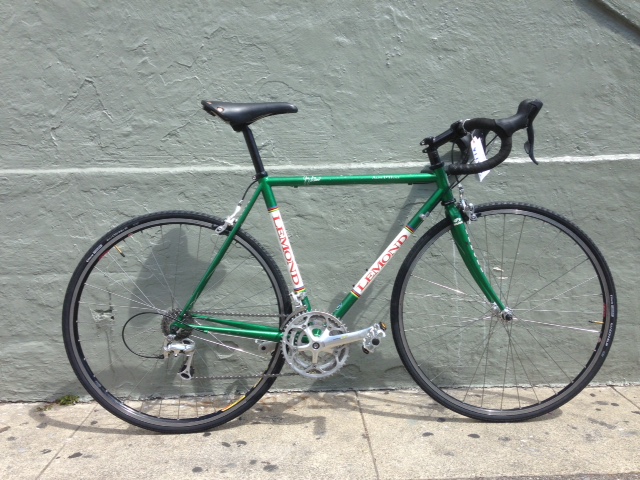 USA Built Trek 1200 Aluminum Road Bike 55cm @Pedal Revolution Refurbished Bike Update
Just on the floorat Pedal Revolution,  a US built Trek 1200 aluminum road bike. Rebuilt with new Shimano/Mavic wheelset, Panaracer Pasela "Grey" tires, Soma Sutro stem and Highway one handlbar, Tektro brakeset, and WTB saddle.
55cm fits 5'7″ - 5'10"
$575. SOLD