Serotta Saratoga 56cm Road Bike @ Pedal Revolution Refurbished Bicycle Update
Bikes that bear the Serotta name belong to a long lineage of high-quality, American-made frames.  The company was founded in 1972 by Ben Serotta and went on to provide frames for Olympians and Tour de France riders in the 1980s.  As a relatively small-scale, artisan frame manufacturer, Serotta did some very interesting designs which can be read about in this article, published in Velo News.
This particular one we have in stock, the Saratoga model, is perhaps the quintessential "mile crusher" that we love here at Pedal Revolution.  It's got a lightweight Reynolds 501 steel frame, a fork with some good steerer tube extension for a moderately upright riding position, and a Shimano 105 groupset in very nice condition.  The wheels are also very nice-Shimano 105 hubs laced to Mavic Open Pro rims.  Good looking and riding hoops, and wrapped with the ubiquitous Panaracer Pasela tire.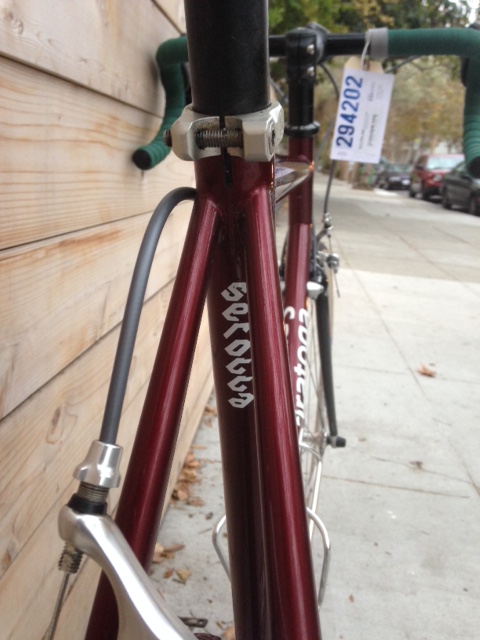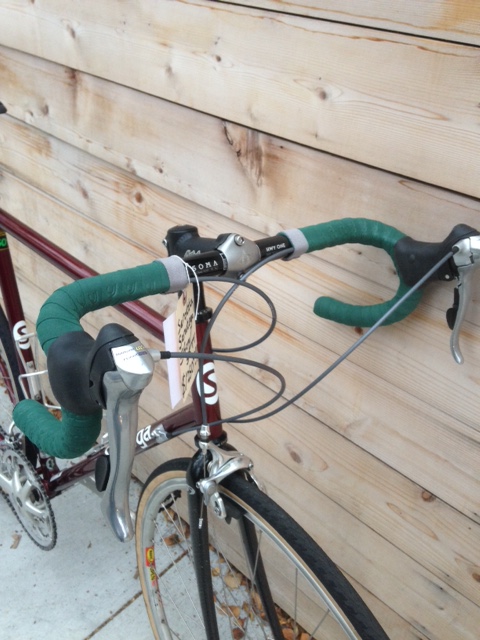 We've modernized the bike with a 42cm wide Soma Highway One handlebar and some cool Jaguar Racing Green handlebar tape, finished off with some grey Newbaum's tape for a classic look.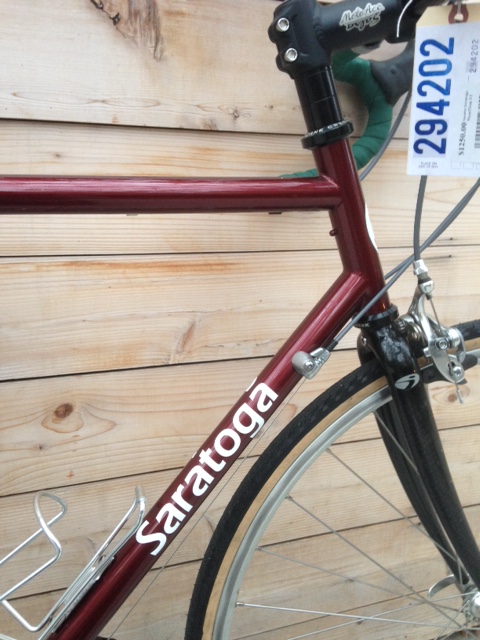 The bike weighs in at just over 23 lbs.  A great fit for somebody in the 5'10" neighborhood.
$1250  SOLD!!!
"Gold Vein" Lugged 56 cm Road Bike @ Pedal Revolution Refurbished Bicycle Update
Anybody who's been in San Francisco for a little time, or closely studied a city map, knows that the streets can be extremely confusing-especially for a cyclist.  That's partly because of the hills (if I keep pedaling straight up this hill maybe it's a shortcut??) but also because of the city's rapid growth brought on by the Gold Rush.  The city really grew like crazy.  A quick Wikipedia query put some numbers on what I had already vaguely known: At the beginning of 1848 there were only 1,000 residents, but by 1870 it was a city of 150,000.  Getting any type of overarching city plan together must have been nearly impossible.  I guess the city is still trying to mitigate the effects of poor initial planning (e.g. the $ 1.5 billion Central Subway), but that's another story.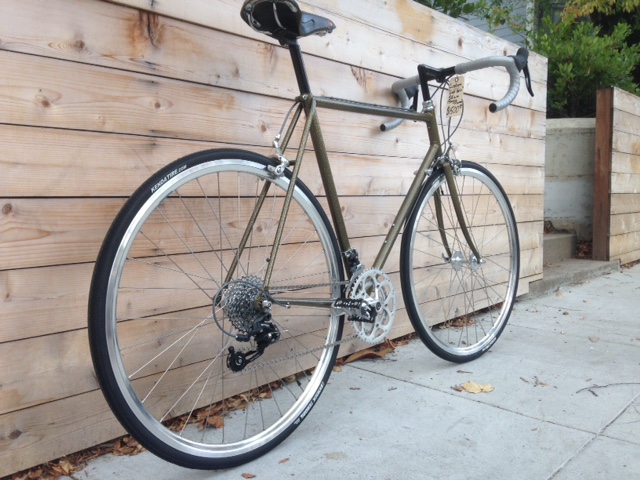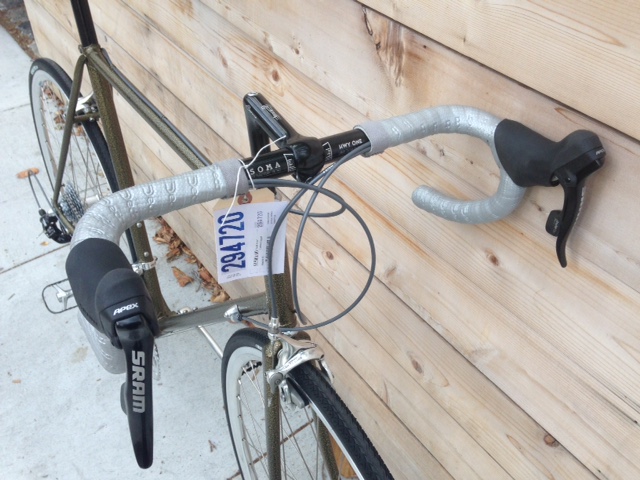 The story for today, though, is a beautiful 56 cm road bike done up in the beautifully textured "Gold Vein" color (thank you Champion Powder Coating).  The frame was a higher-end Shogun from the mid-80's.  You can tell its quality based on the fluted tips of the seatstays, the minimalist cable guides under the bottom bracket, and what I believe are investment-cast Suntour dropouts.  Originally this bike came equipped with Suntour components as well, but after the frame got painted it was time to modernize the bike.
We've put some nice parts into this build.  It's got a SRAM Apex 10-speed drivetrain, Shimano Ultegra brakes (those are some very elegant stoppers, folks), and a nice wheelset with SUZUE sealed bearing hubs.  A Sugino 50/34 crankset, MKS UB-Lite pedals, and a Brooks Professional saddle are some more great looking parts that'll last a very long time.  Considering the frame is already gold, we tried to keep other things a little understated.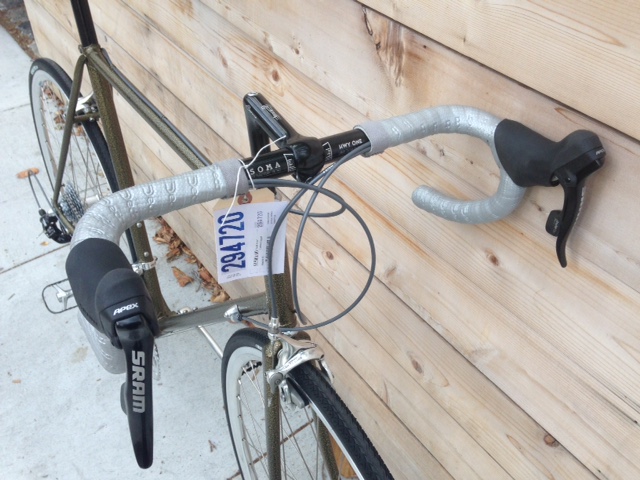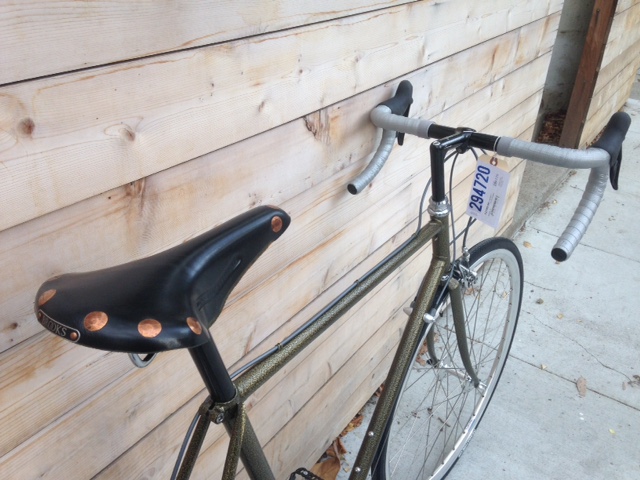 The geometry of this frame was intended for road racing, but we've put the Soma Sutro stem and Highway One bar (in the 42 cm width) for a somewhat more upright riding position.  It handles very nimbly and is a real pleasure to ride.  If you're around 5'10" or so, she'd be a pretty prime fit for you.
$1500     SOLD!!!
Univega Viva Sport Single Speed 68cm!!! @Pedal Revolution Refurbished Bicycle Update
Here at Pedal Revolution we like to joke around and say we "play to the margins." In this context we're referring to those very special hominids who fall outside (sometimes far outside) the bell curve of human height.  To keep costs down and standardize production, most bicycle companies don't invest all that much in designing bikes for both very tall and very short people.  As for me (Todd), I stand around 6'3″ so it's easy enough to get a bike that works out fit-wise.  I could, however, digress for a long time about how frustrating it is to find a size 14 shoe.  Like you, the prospective bike buyer who wants to actually try out the machine, I want to try out the shoe…but of course they only go up to a 12 or a 13.  Then it's time to hang my head and leave the store, resigning myself to the joys of purchasing shoes online, sight unseen.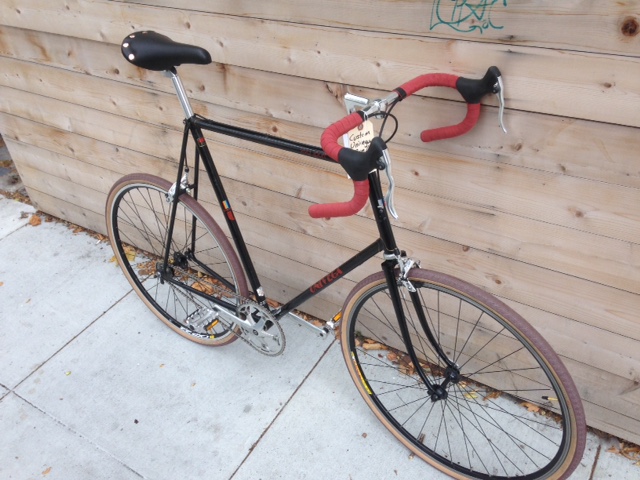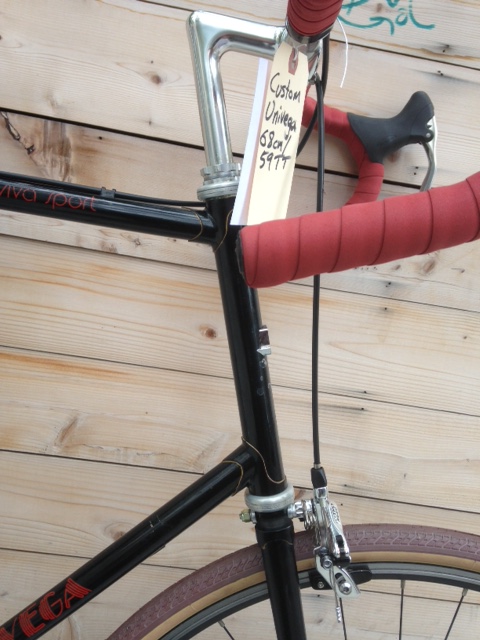 Anyway, if you're above 6'4″ and want some simple, proper-fitting transportation, this Univega could be your ticket.  We've outfitted it with some slick parts, including a Soma handlebar/stem setup and some great-looking Soma 700 x 32mm tires for a smooth ride.  Quality Tektro dual-pivot brakes provide excellent stopping power. Other interesting touches include a Shimano 600 headset (some real smooth bearings there, folks) and true track cranks by the Italian manufacturer Miche.  And to top it off we've chosen bar tape that's the coloration of that nice Chianti…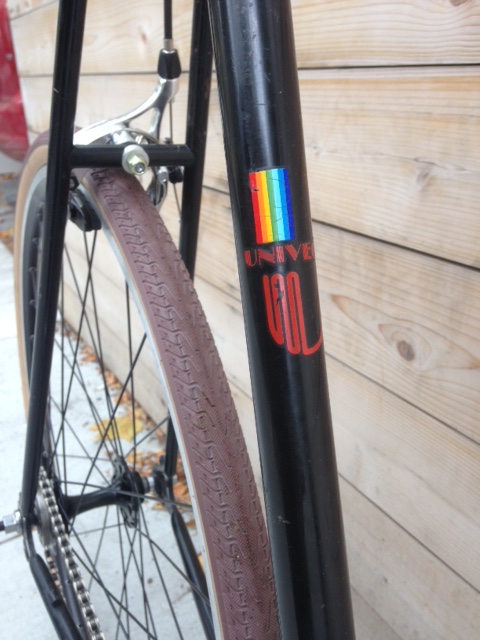 Like many of our refurbished bikes, this one has nearly all new parts, aside from the frame.  You'll get years of low-maintenance riding out of this machine.
$500