Novara Trionfo 48cm @ Pedal Revolution Refurbished Bicycle Update
While shopping a while back I purchased a bottle of what I assumed to be olive oil, based on the presence of those words on the label as well as a prominently displayed Italian flag. It was only when I got home that I discovered it had been blended with canola oil, reducing it from prime bread-dipping status to mere general-purpose frying duty.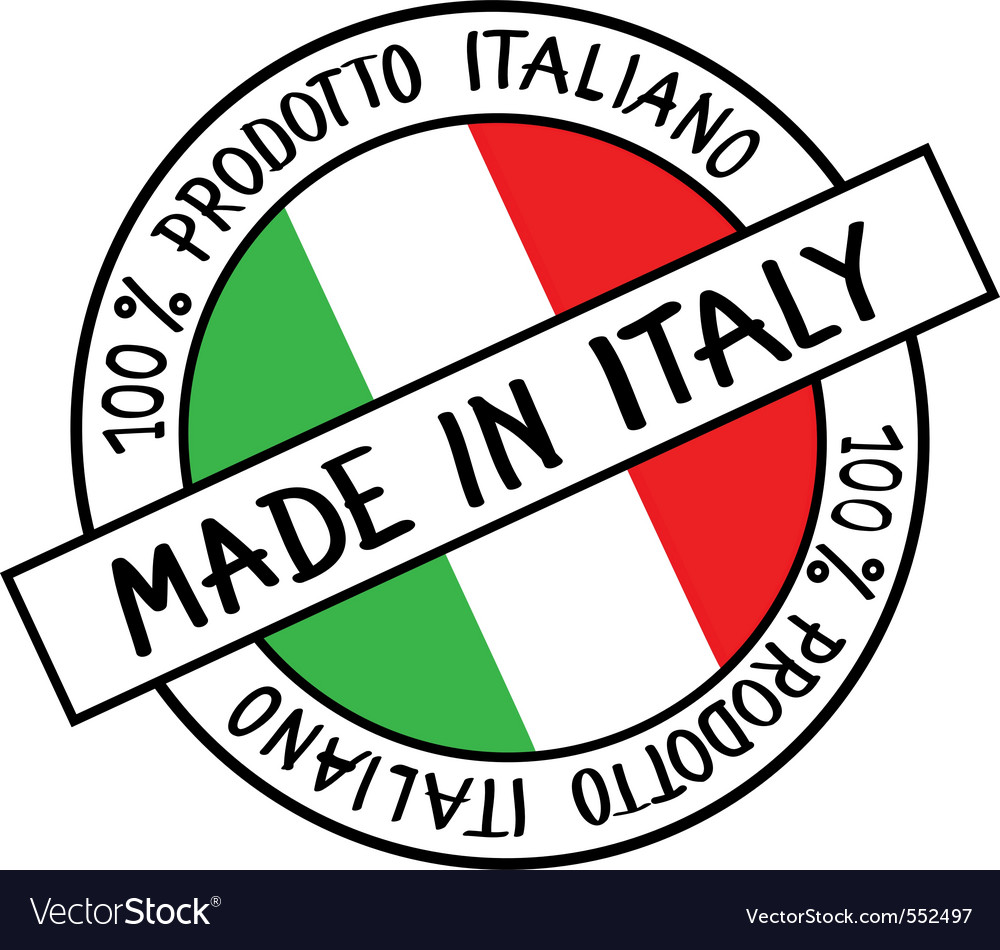 While the Made in Italy label does seem to gain the immediate attention and respect of the average American consumer, I hadn't even seen that.  Just the flag.  Enough to buy the item.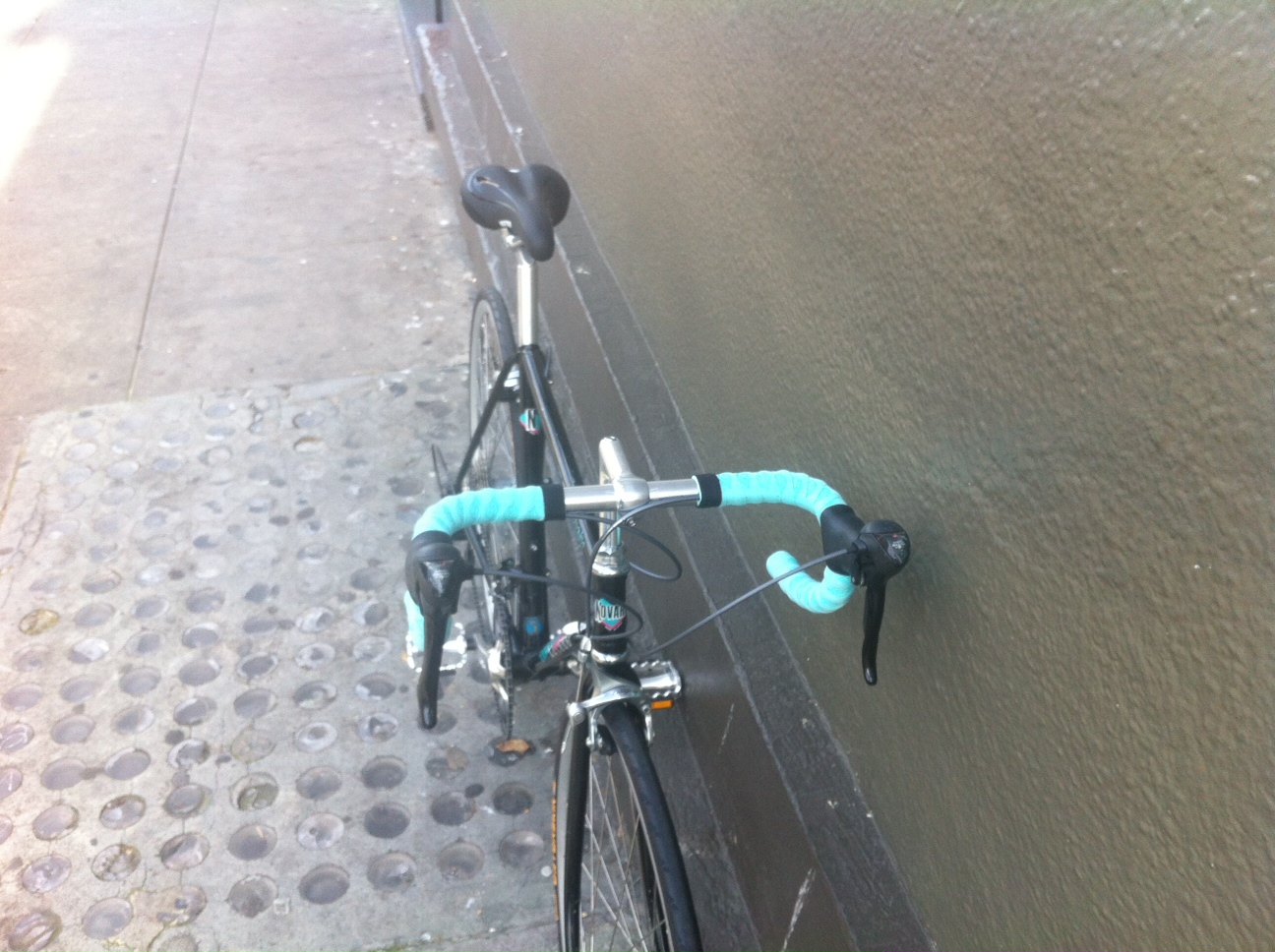 You won't see an Italian flag on this Novara Trionfo, but maybe its Italian name is enough to lure you in.  And in that case you won't feel duped as I did, because this is very nice, classic steel road bike-not some off-brand fry oil lurking in the back of your kitchen cabinet.
Also of note is the internal cable routing. As a mechanic, it's sometimes hard to feed the brake or derailleur cable through these small holes.  The makers of this frame, a late-1980's model, took the trouble to design this feature well.  The cable went through perfectly, and I didn't even have to bother to slightly pre-bend the end of the cable to help it find the exit.
The Trionfo was stripped the the bare frame and fully rebuilt with more modern parts.  A size-appropriate 165mm crankset has been installed, as well as some narrower 38cm Soma Highway One handlebars.  It's also got a nice set of 700 x 25 Gatorskin tires that should hold up well in our glass-strewned city.
Come check it out today! A good fit for someone right around 5′ tall.
$750
Van Dessel Cyclocross 56cm @ Pedal Revolution Refurbished Bicycle Update
Today's new addition in the Pedal Rev refurbished bike rack is this interesting-looking Van Dessel.  It's been nicely set up for general-purpose cyclocross duty, with a single-chainring setup and some Kenda 'cross tires.  Also has new WTB saddle and Salsa handlebars.
This Van Dessel should be a good fit for somebody about 5'9″ to 5'11".  Come check it out today!!
$625
48cm Rocky Mountain Oxygen Road @ Pedal Revolution Refurbished Bicycle Update
Are you a smaller person looking for a good road bike? We have a nice 48cm Rocky Mountain with a Shimano 105 10-speed drivetrain, fresh bar wrap and a new pair of Continental Gatorskins.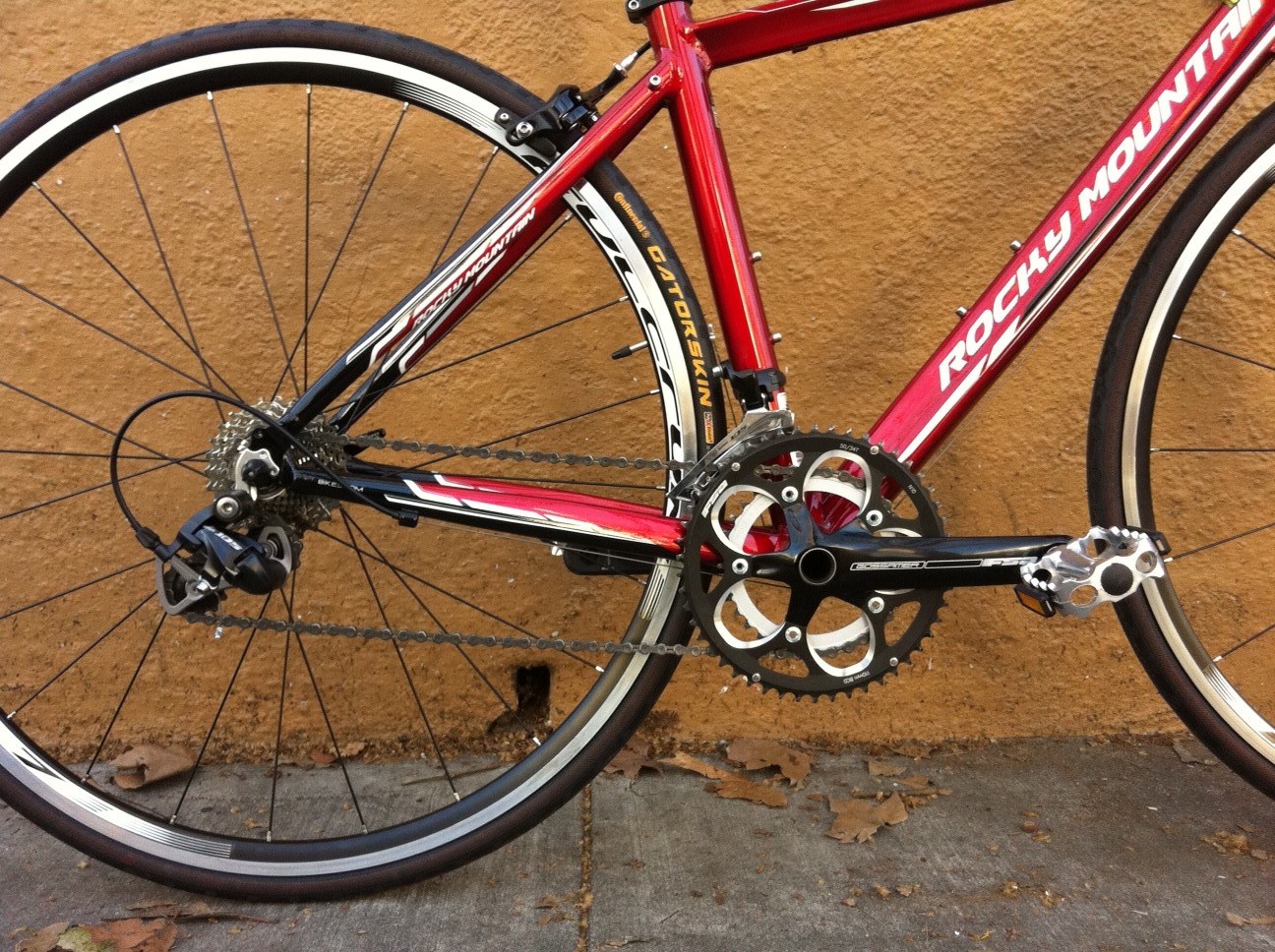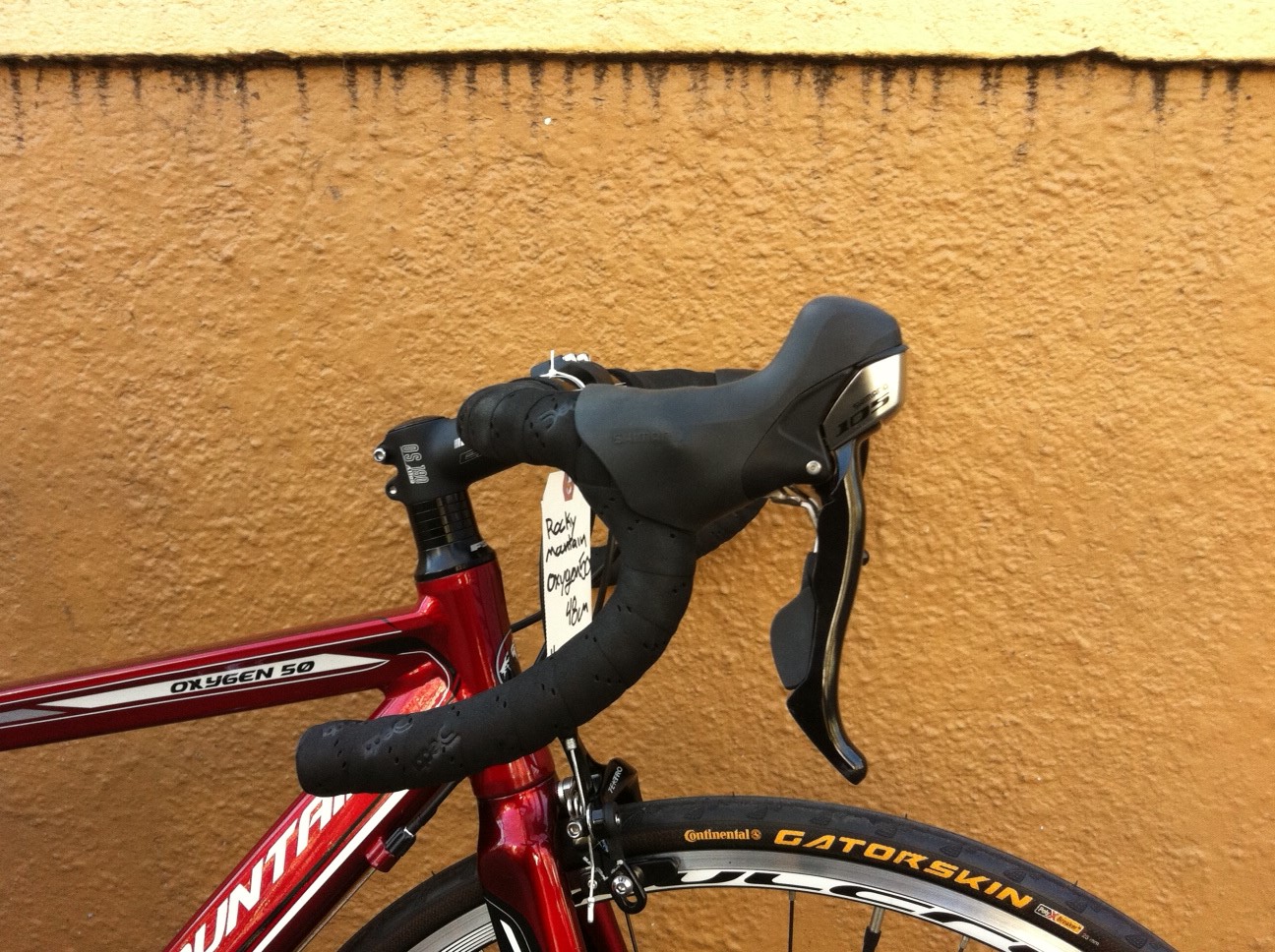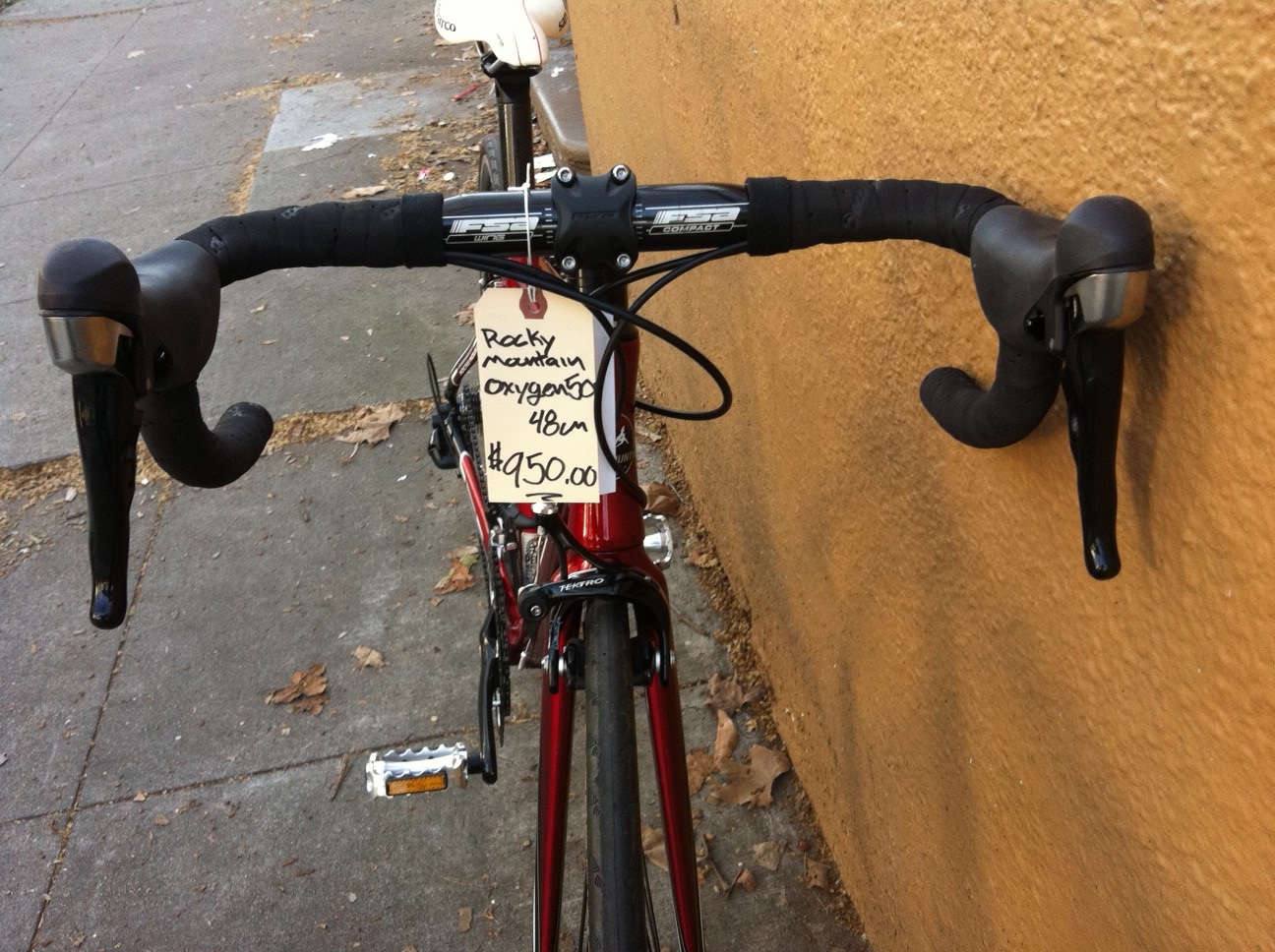 The bike is in like-new shape; like all of our refurbished bikes, it comes with a 3 month guarantee.  If you're around 5′ tall and are looking for a good road bike, come check it out today!
$950
"Gold Vein" Lugged 56 cm Road Bike @ Pedal Revolution Refurbished Bicycle Update
Anybody who's been in San Francisco for a little time, or closely studied a city map, knows that the streets can be extremely confusing-especially for a cyclist.  That's partly because of the hills (if I keep pedaling straight up this hill maybe it's a shortcut??) but also because of the city's rapid growth brought on by the Gold Rush.  The city really grew like crazy.  A quick Wikipedia query put some numbers on what I had already vaguely known: At the beginning of 1848 there were only 1,000 residents, but by 1870 it was a city of 150,000.  Getting any type of overarching city plan together must have been nearly impossible.  I guess the city is still trying to mitigate the effects of poor initial planning (e.g. the $ 1.5 billion Central Subway), but that's another story.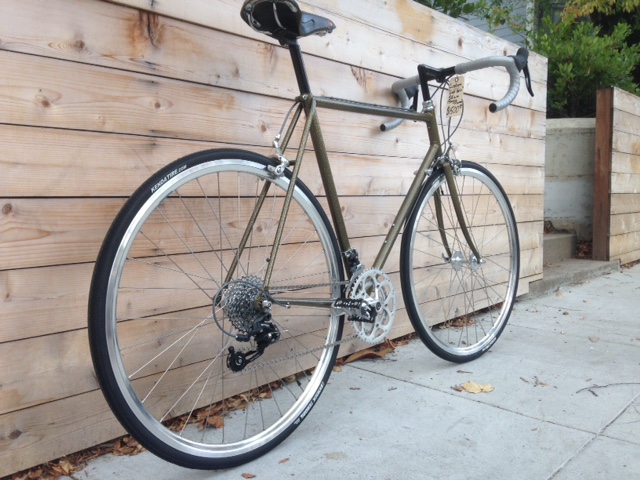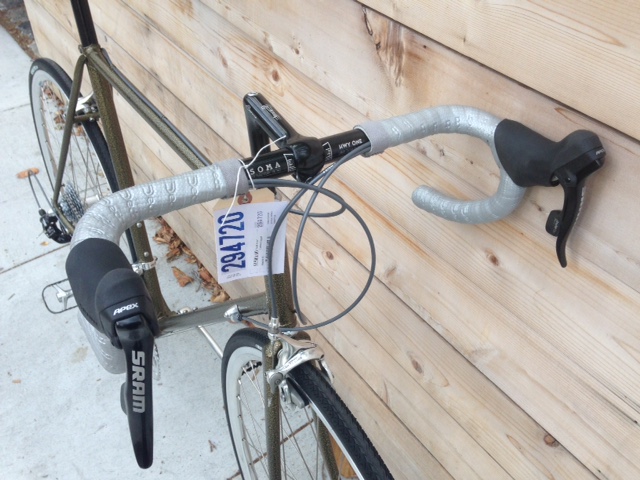 The story for today, though, is a beautiful 56 cm road bike done up in the beautifully textured "Gold Vein" color (thank you Champion Powder Coating).  The frame was a higher-end Shogun from the mid-80's.  You can tell its quality based on the fluted tips of the seatstays, the minimalist cable guides under the bottom bracket, and what I believe are investment-cast Suntour dropouts.  Originally this bike came equipped with Suntour components as well, but after the frame got painted it was time to modernize the bike.
We've put some nice parts into this build.  It's got a SRAM Apex 10-speed drivetrain, Shimano Ultegra brakes (those are some very elegant stoppers, folks), and a nice wheelset with SUZUE sealed bearing hubs.  A Sugino 50/34 crankset, MKS UB-Lite pedals, and a Brooks Professional saddle are some more great looking parts that'll last a very long time.  Considering the frame is already gold, we tried to keep other things a little understated.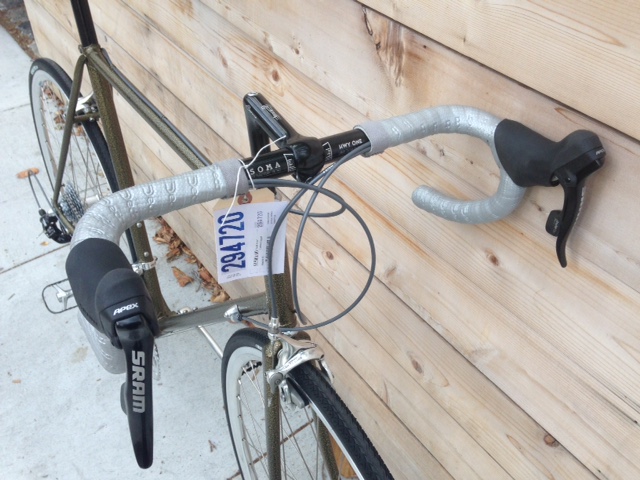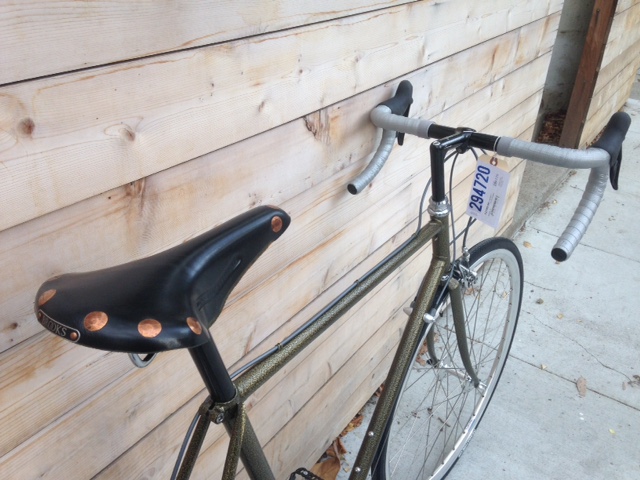 The geometry of this frame was intended for road racing, but we've put the Soma Sutro stem and Highway One bar (in the 42 cm width) for a somewhat more upright riding position.  It handles very nimbly and is a real pleasure to ride.  If you're around 5'10" or so, she'd be a pretty prime fit for you.
$1500     SOLD!!!
Motobecane Grand Touring Road Bike 53cm @Pedal Revolution Refurbished Bike Update
As attributes, quick, light, and affordable are generally not found together in one bicycle. Generally you'd have to settle for one or two of the above characteristics. This 80's Motobecane Grand Touring is a gem of a bike that finds a happy balance between all three. It was rebuilt with a new wheelset, brakes, Soma New Express Terracotta tires, and a Soma Highway one bar. It's a great mix of old and new at a very reasonable price.
53cm ST - 55cm TT. A great fit for 5'5″-5'9″.
$575. SOLD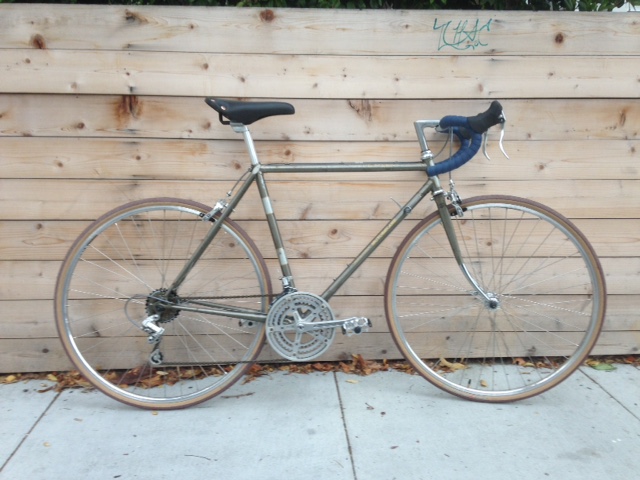 USA Built Trek 1200 Aluminum Road Bike 55cm @Pedal Revolution Refurbished Bike Update
Just on the floorat Pedal Revolution,  a US built Trek 1200 aluminum road bike. Rebuilt with new Shimano/Mavic wheelset, Panaracer Pasela "Grey" tires, Soma Sutro stem and Highway one handlbar, Tektro brakeset, and WTB saddle.
55cm fits 5'7″ - 5'10"
$575. SOLD