Chrome industries and Cinelli! FramesForGood Auction! Support many great causes including Pedal Revolution!
CHROME INDUSTRIES PARTNERS WITH ARTISTS FOR EBAY CHARITY AUCTION
ONE OF A KIND HAND-PAINTED CINELLI BIKE FRAMES
Auction launches with a reception in New York City on Thursday, April 27th from 5:30-7:00pm;
Bidding ends Sunday, May 7th at 6:00pm. All proceeds benefit artist-selected charities.
For twenty years Chrome has built its brand around cycling, art and community engagement. Frames For Good is
a representation of all three of these brand attributes. Teaming up with Cinelli, the legendary Italian-based bicycle
designer, Chrome reached out to eight contemporary artists and commissioned them to apply their artistic vision
to a Cinelli Vigorelli frame. Since the 1940s, Cinelli has made its mark by creating some of the finest bike frames
in the world and the Cinelli Vigorelli continues this tradition. eBay for Charity will host the auction of these unique
pieces, making them available to global base of over 167 million active buyers.
The artists were given free reign on the project, without limitations or direction. The result: eight one-of-a-kind
pieces of art. On Thursday, April 27th, timed with the launch of the auction on eBay for Charity, all eight frames will
be on display at the flagship REI SoHo store in Manhattan, for a cocktail reception from 5:30-7:00pm.. The online
auction will conclude on Sunday, May 7th at 6:00pm EST. Each artist was asked to select a charity with personal
significance and 100% of the proceeds of the sale of each frame will be donated to the charity of their choosing.
The artists and their selected charities are as follows: Zio Ziegler – Trips For Kids; Russ Pope – Alzheimer
Association; Sam Turner – Wish For Wheels; Todd Bratrud – Keep-A-Breast; Erik Otto – Pedal Revolution;
Celeste Byers – Water.org; Sean Light – Underdog Railroad Rescue; and Ben Venom – Leukemia & Lymphoma
Society.
http://www.chromeindustries.com/blog-article-frames-for-good.html
Univega Viva Sport Single Speed 68cm!!! @Pedal Revolution Refurbished Bicycle Update
Here at Pedal Revolution we like to joke around and say we "play to the margins." In this context we're referring to those very special hominids who fall outside (sometimes far outside) the bell curve of human height.  To keep costs down and standardize production, most bicycle companies don't invest all that much in designing bikes for both very tall and very short people.  As for me (Todd), I stand around 6'3″ so it's easy enough to get a bike that works out fit-wise.  I could, however, digress for a long time about how frustrating it is to find a size 14 shoe.  Like you, the prospective bike buyer who wants to actually try out the machine, I want to try out the shoe…but of course they only go up to a 12 or a 13.  Then it's time to hang my head and leave the store, resigning myself to the joys of purchasing shoes online, sight unseen.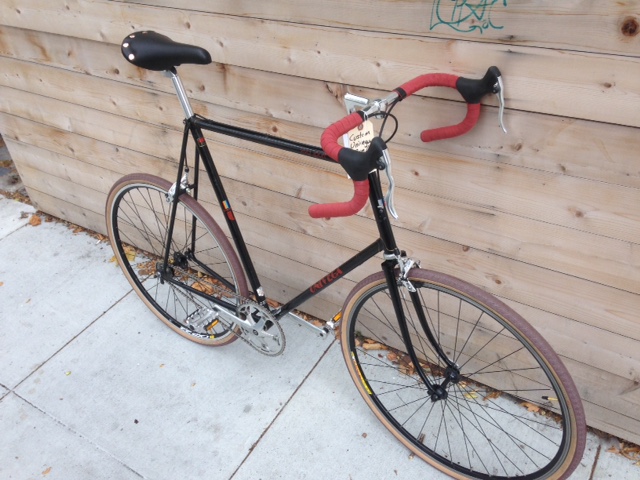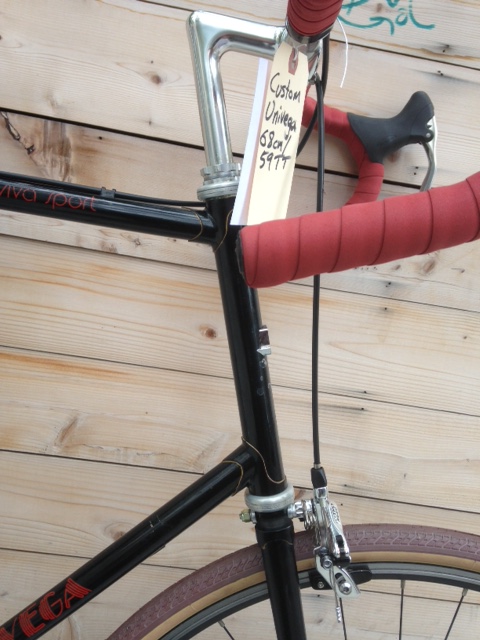 Anyway, if you're above 6'4″ and want some simple, proper-fitting transportation, this Univega could be your ticket.  We've outfitted it with some slick parts, including a Soma handlebar/stem setup and some great-looking Soma 700 x 32mm tires for a smooth ride.  Quality Tektro dual-pivot brakes provide excellent stopping power. Other interesting touches include a Shimano 600 headset (some real smooth bearings there, folks) and true track cranks by the Italian manufacturer Miche.  And to top it off we've chosen bar tape that's the coloration of that nice Chianti…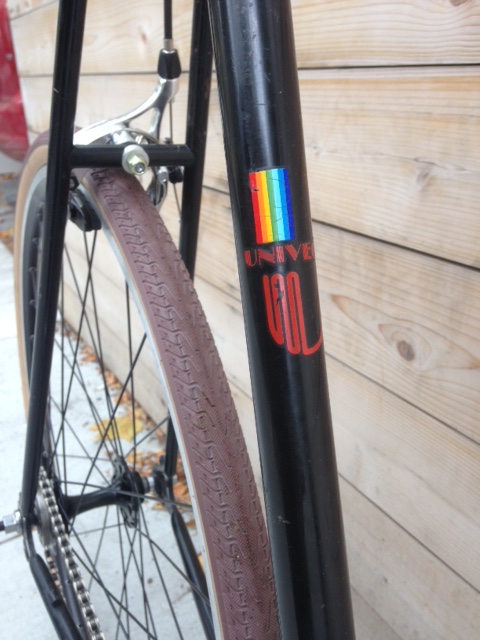 Like many of our refurbished bikes, this one has nearly all new parts, aside from the frame.  You'll get years of low-maintenance riding out of this machine.
$500