Lemond 853 Reynolds Steel Road Bike 54cm @Pedal Revolution Custom Bike Update
Steel bicycles have had a cadre of die-hard fans who appreciate their smooth ride quality and long-term durability. In an era where much of what we consume is becoming more and more dispose-able, short life spans in products are less and less relevant. That fancy new smart phone you just got will soon be overshadowed by the slightly updated version coming out in six months.  Fortunately, if you do a little research, a bicycle can still be purchased that will last for many years of consistent service. This custom rebuilt Lemond road bike is a fine example of a classic lightweight steel-framed bicycle that has many years of service to give. Built from Reynolds 853 tubing, this is a performance designated bike designed to go fast and handle quickly. The vibration dampening compliance that the steel frame provides is noticeable when travelling over rough roads or after long hours in the saddle.  This bike was refurbished with a well-rounded parts grouping including a Shimano 105 drivetrain and brakeset, brand new Shimano tiagra 9 speed shifters, Soma Highway One compact handlebar, and durable Vittoria Randonneur tires.
It's sized at 54cm  and would be a great fit for a rider 5'5″ - 5'9″.
$900. SOLD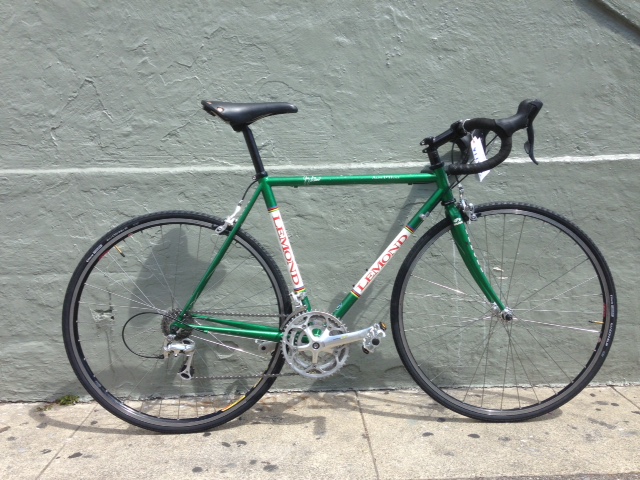 USA Built Trek 1200 Aluminum Road Bike 55cm @Pedal Revolution Refurbished Bike Update
Just on the floorat Pedal Revolution,  a US built Trek 1200 aluminum road bike. Rebuilt with new Shimano/Mavic wheelset, Panaracer Pasela "Grey" tires, Soma Sutro stem and Highway one handlbar, Tektro brakeset, and WTB saddle.
55cm fits 5'7″ - 5'10"
$575. SOLD