Raleigh "Sports" Brown Townie 57cm @Pedal Revolution Refurbished Bike Update
Super custom rebuild on this gem of a Raleigh frameset. A ground-up build with all parts replaced on this made in England frame including a Tange chrome fork, Sturmey Archer 3 speed internally geared wheelset, MKS touring pedals, Dual pivot brake calipers, Soma oxford bar, and leather grips and saddle. Reconfigured to give a more upright seating arrangement, this bike is a go-to city bike for daily use. Slap a basket and some fenders on it and you've got a reliable grocery getter/rain bike.
57cm fits 5'10" - 6'1″
$525. SOLD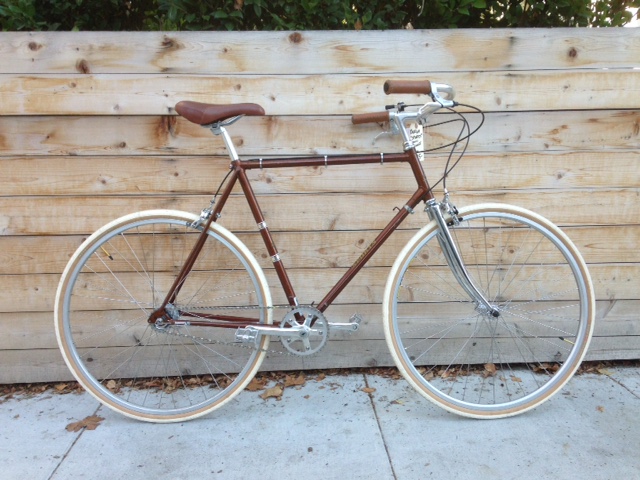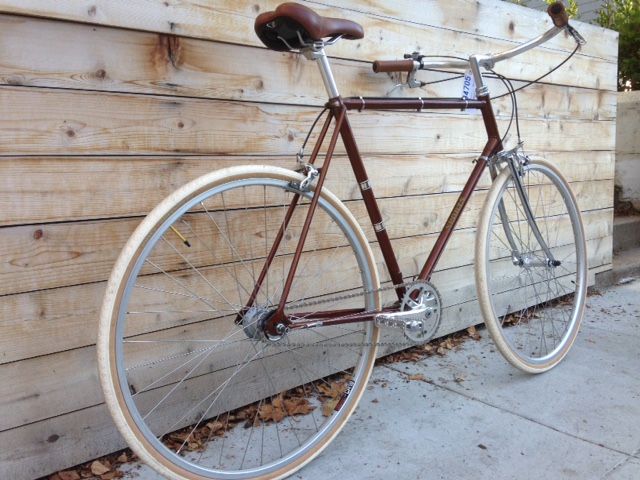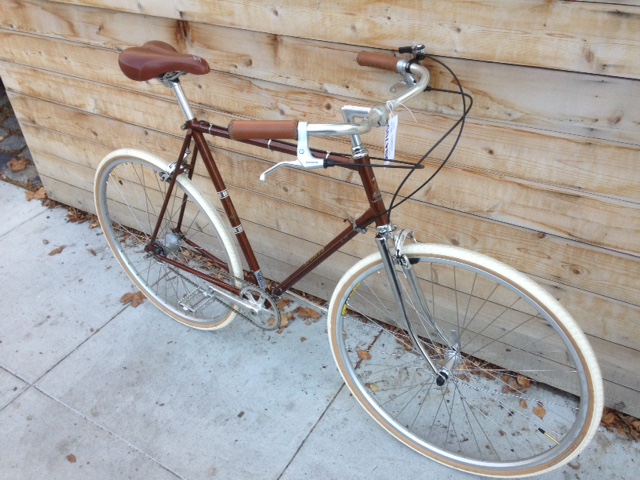 Pedal Revolution Used Bicycle Update: Motobecane Step-Through 3-Speed
Pedal Revolution Used Bicycle Update: Motobecane Step-Through 3-Speed
Another Pedal Revolution original here.  This bike was donated with long obsolete 27″ wheels, a conventional derailleur drivetrain, a low long deep drop handlebar (i.e. uncomfortable) and a bric a brac of low-endish 80s parts.
The bike was reconstituted with a more upright Velo Orange Milan bar and svelte Tektro neo-retro levers (they look like a lot of levers on older bikes but benefit from stiffer cold forge construction and return springs for smoothness and greater cable life).
New 700c wheels with a Sturmey Archer 3-Speed internal gear hub replace the clunky and complex original drivetrain.  Soma Xpress terra cotta tires make another appearance here.  These are essentially a slightly more beefed up version of the Panaracer Pasela tires that get are often spotlighted on this blog.
The gold housing just looks really great. It jives well with the painted on logo but neither enhances or undermines the brake function.
The cork grips were heavily layered with shellac for good looks but they also don't feel too bad.
The demi-mixte frame construction is totally wild.  Just prior to Pedal Revolution being donated this bike, I (Joel), had seen another one of these frames in the shop for the first time and it blew my mind.  So strange to have another one given to us so soon after that.  The unconventional frame construction and 3-Speed rebuild make this a super unique bike.
Burgundy (in New Orleans, they would call the color "Ber-gun-day") Motobecane Step-Through 3-Speed:
$500 - A Good Ride for someone about 5'4″?
SOLD