SFBC Winterfest Auction Bike - Custom built by Pedal Revolution
SFBC Winterfest Auction Bike - Custom built by Pedal Revolution
This bike was assembled from the frame up by Pedal Revolution and given to The San Francisco Bike Coalition for their Annual fundraising party - Winterfest!
Lead Mechanic Todd B. with assistance from two our Youth interns Daniel and Josh spearheaded the assembly utilizing many donated components from Soma Fabrications. This is a signature example of a custom refurbished Pedal Revolution bike; a classic steel frame completely rebuilt with great quality new parts into a totally reconfigured city bike. Our focus is versatility, function, reliability, and fun! Early mountain bike frames like this one had a very high level of craftsmanship from Japan and had more of a touring bike geometry compared to contemporary mountain bikes. We love transforming these classic bikes into unique and utilitarian commuter style bikes, capable of carrying significant loads and accommodating racks, baskets, and fenders. Many of our customers rely on their bikes as their primary mode of transportation, grocery getting, commuting, and recreation. They want a bike that can reliably get them to work and back home and then be outfitted for a weekend bike camping trip or out of town adventure.
Pedal Revolution is a non-profit bike shop that has been in business since 1992 and hosts a paid work internship program for at-risk bay area youth. We employ 20 young people every year as interns in our shop working side by side with our professional staff. Our interns learn a combination of basic work-readiness skills and participate in a bicycle service based training curriculum experiencing bicycle repair, assembly, and sales in our own business. Interns assist our professional staff in the building of our new and custom refurbished used bicycles like the one you see here. Our refurbished used bicycles arrive from donations from individuals like you who want to support our program. The bikes are stripped, assessed, and then rebuilt with new components to assure a long and reliable life. These bikes are unique, one of a kind creations with distinct style and a character all their own. Please consider donating your old bicycles, frames, or bike parts to our program to support our social mission. Next time you are in the market for a fantastic new or refurbished used bike come visit us!
Here are some photos of the before and after bike build process:
Pictured below are two of our current youth interns Josh and Daniel holding the vintage Miyata "Terra Runner" frameset that provided the foundation for this build:
80's Japan built, triple butted, lugged steel goodness.
The paint was a little rough so we sent it off to our friends at Champion Powdercoating for a super sweet repaint.
We've come to referring to this textured blue finish as " Pining for the Fjords Blue".
Service Manager Joel had the bright idea to have the stem painted to match.
Came out quite nice!
Here are Josh and Daniel again with painted frame, fork, and stem with the new wheels and Soma Fabrications New Xpress tires which they set up and installed.
Below Daniel carefully shellacks the cork grips designated for the bike. We love the classic look of cork grips.
Shellacking weatherproofs them and keeps them looking good for a long time.
Brand new drivetrain with Sugino touring cranks, Shimano and IRD mechanicals, and stylish MKS touring pedals.
Shop bottle/shop sticker steeze.
Sprung leather touring saddle.
Soma Fabrications Oxford Handlebar, IRD thumbshifters, Champs Elysees front rack, and Wald basket….gotta have a basket.
Those grips though!
This was a really fun project for the Pedal Rev crew. Hope you like!
Bike details:
-80's era Lugged steel  Miyata "Terra Runner" early MTB frame
-Made in Japan
-Size 21"
-Custom powder-coated "Pining for the Fjords Blue"
Parts:
-Shimano 26" wheelset
-Soma Fabrications New Xpress Touring Tires
-Sugino XD500 Touring Crankset
-Shimano Deore M591 Long cage rear Derailleur
-IRD Front derailleur
-MKS Sylvan Touring Pedals
-Velo Orange Leather Saddle
-Soma Fabrications Oxford handlebar
-IRD 9spd indexed thumbshifters
-Shellacked Cork Grips
-Soma Fabrications Champs Elysees stainless front rack
-Wald basket
Custom "Raspberry Beret" 53cm Town-Style
Prince's music remains difficult to find for free on the internet, and it's a hard thing to complain about when you consider his musical talent and incredible writing.  So when I was trying to find a good video to link here, I was thwarted.  That's okay though, because we all know the song and the fact that if it was warm she wouldn't wear much more. Brilliant.
When this frame came back Champion Powdercoating the Raspberry Beret connection was instantly obvious.  We thus attempted to build it up in a way that would accentuate the frame's color; everything else on the bike exists pretty much in deference to the Raspberry.  Comparatively boring is the fact the the bike is nicely equipped with all new parts, including a simple and reliable 3-speed drivetrain, comfortable saddle, and nice-looking gumwall tires.
To be sure, there are lots of different raspberries out there.  You've got black raspberries (not too common here, though blackberries are presently in season and if you're hungry, head on up to McLaren Park to pick some), golden raspberries, and even yellow raspberries.  But I think it's probably safe to say that when Prince was writing the song, he was picturing the lady in a beret just about the color of the bike you see here.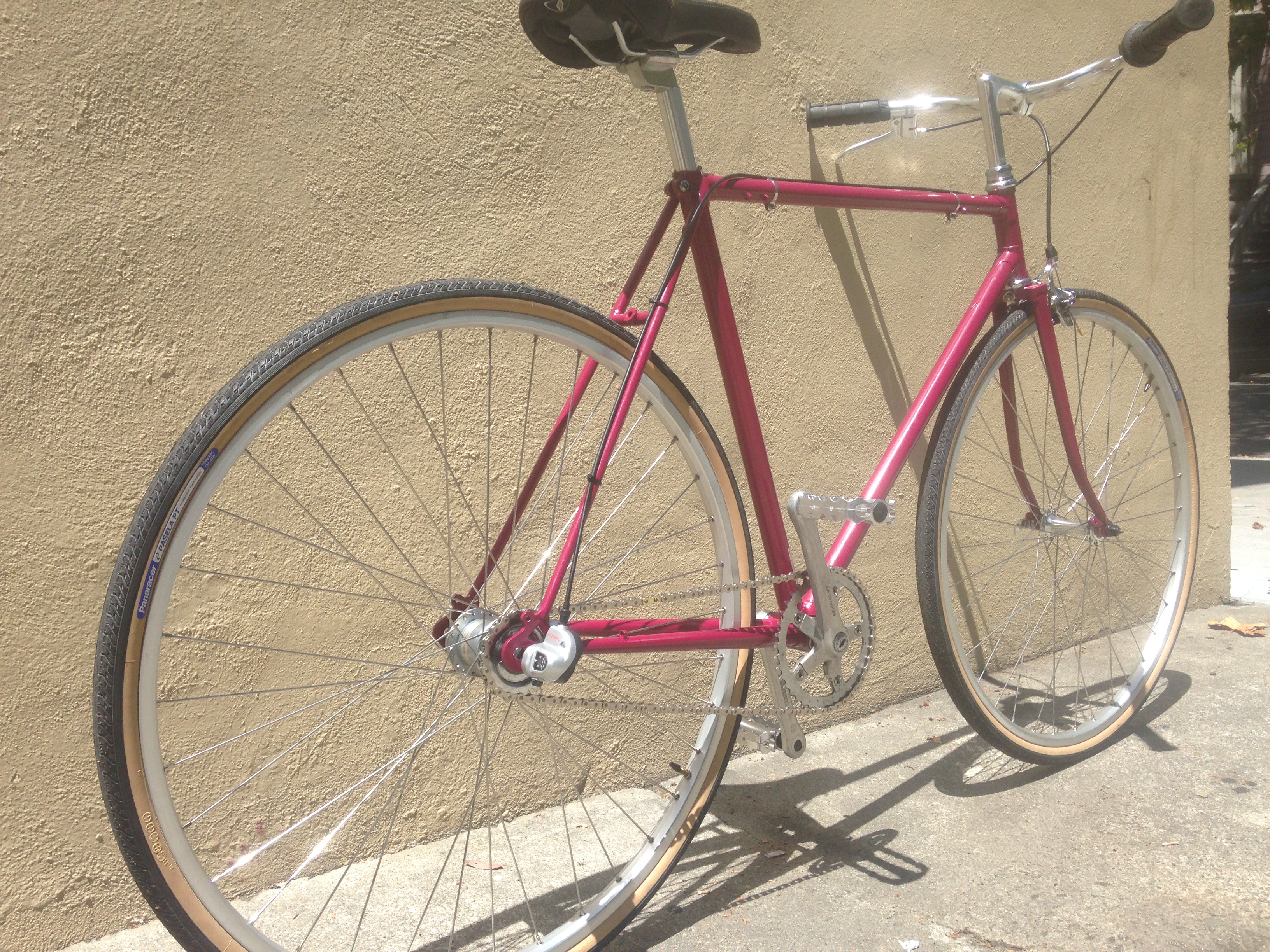 Though the bicycle does not come with a beret included, we can recommend a number of fine fashion establishments nearby where you could find an appropriate one.  I guess that's about all you'll need, then, especially if it's warm.
$725
SOLD!!!!
Custom "Turbo Banana" Touring Rig, 56cm
Though there are indeed hundreds of types of bananas that we humans eat, they are all crosses of only two wild banana species.  This makes bananas quite susceptible to disease, which led big fruit companies (primarily Dole) to buy up vast acreage in the tropics as a hedge against future outbreaks.  Those interested in reading more about this subject should check out this book.
Even if you don't have a particular affinity for the ubiquitous fruit, this brilliantly yellow bicycle may just suit your fancy.  Been thinking about getting a Surly Long Haul Trucker or Cross Check, but want something with a whole lot more character?  Then this rig might just be perfect for you.  In fact, the stem/handlebars have been lifted directly from a brand new Cross Check, and feature 3X10 bar end mounted shifters.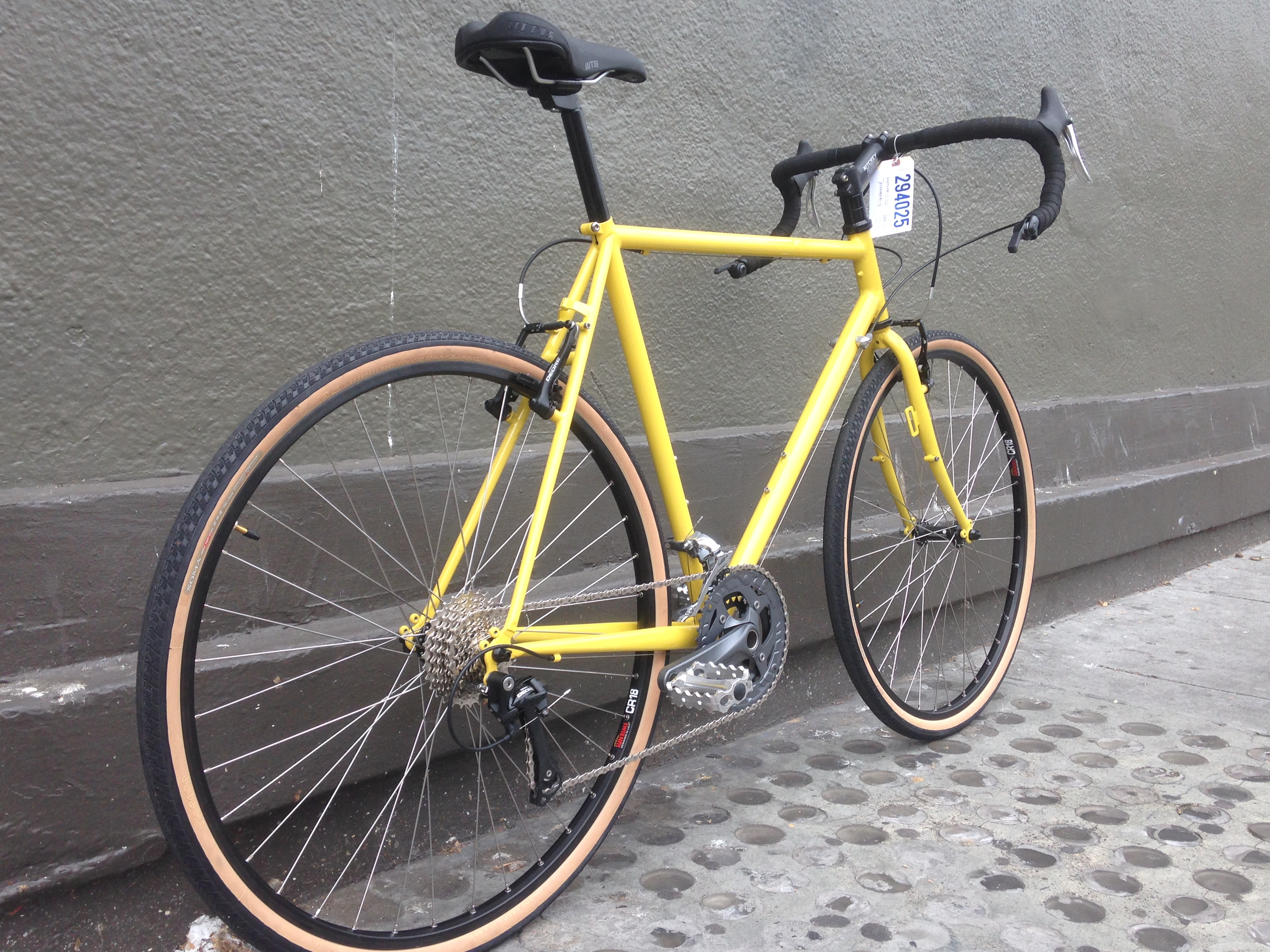 You'll note that there are plenty of rack and fender mounts, as well as a light mount on the fork.  A good quality set of wheels (Shimano hubs/Sun CR18 rims, 36 spoke) should hold up well as the miles float by.  Be sure to only wear Banana Boat sunscreen while you're out there crushing those miles, however….
A good fit for somebody about 5'9″ to 5'11".  Come check it out!
$1050.
Bike Sale! All Linus Bikes are 20% Off!
Some exciting news around these parts is that all models of Linus Bikes are on sale.
That's right, all Linus bikes are 20% right now. Pedal Revolution has pretty good inventory on a bunch of different models so come on by and find yourself a shiny new ride for the summer.
Novara Trionfo 48cm @ Pedal Revolution Refurbished Bicycle Update
While shopping a while back I purchased a bottle of what I assumed to be olive oil, based on the presence of those words on the label as well as a prominently displayed Italian flag. It was only when I got home that I discovered it had been blended with canola oil, reducing it from prime bread-dipping status to mere general-purpose frying duty.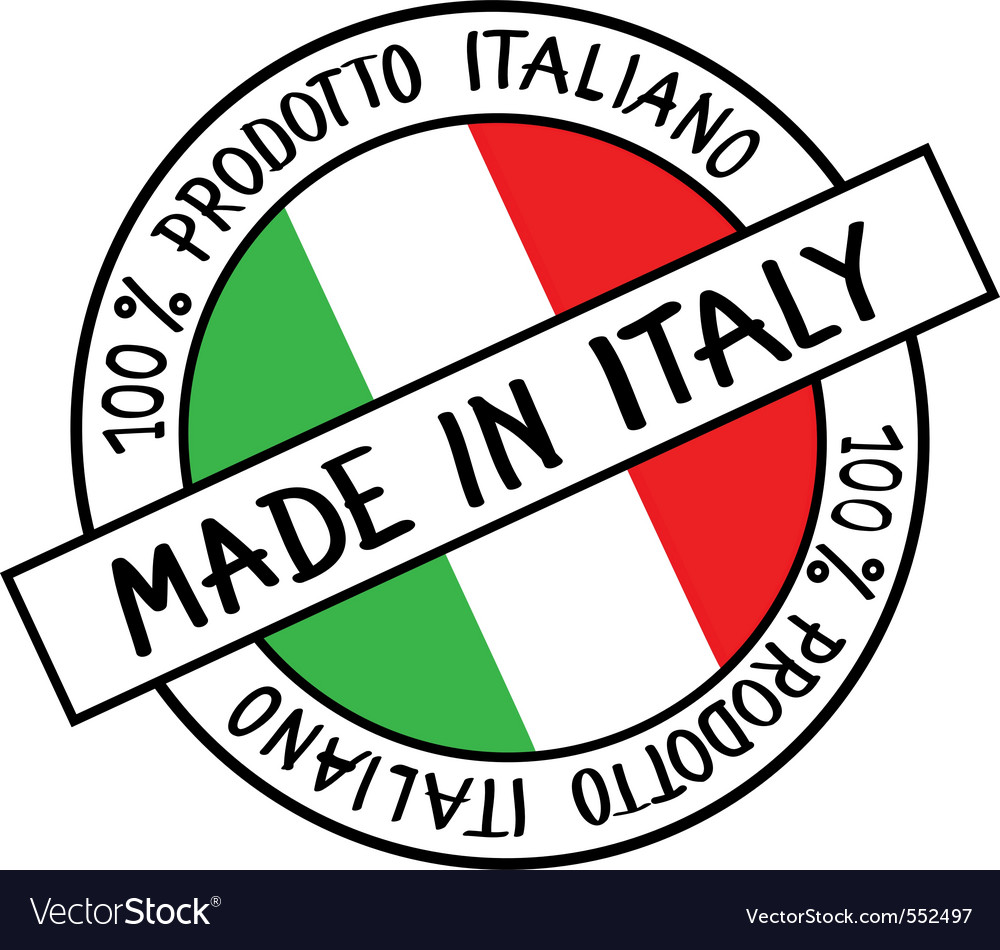 While the Made in Italy label does seem to gain the immediate attention and respect of the average American consumer, I hadn't even seen that.  Just the flag.  Enough to buy the item.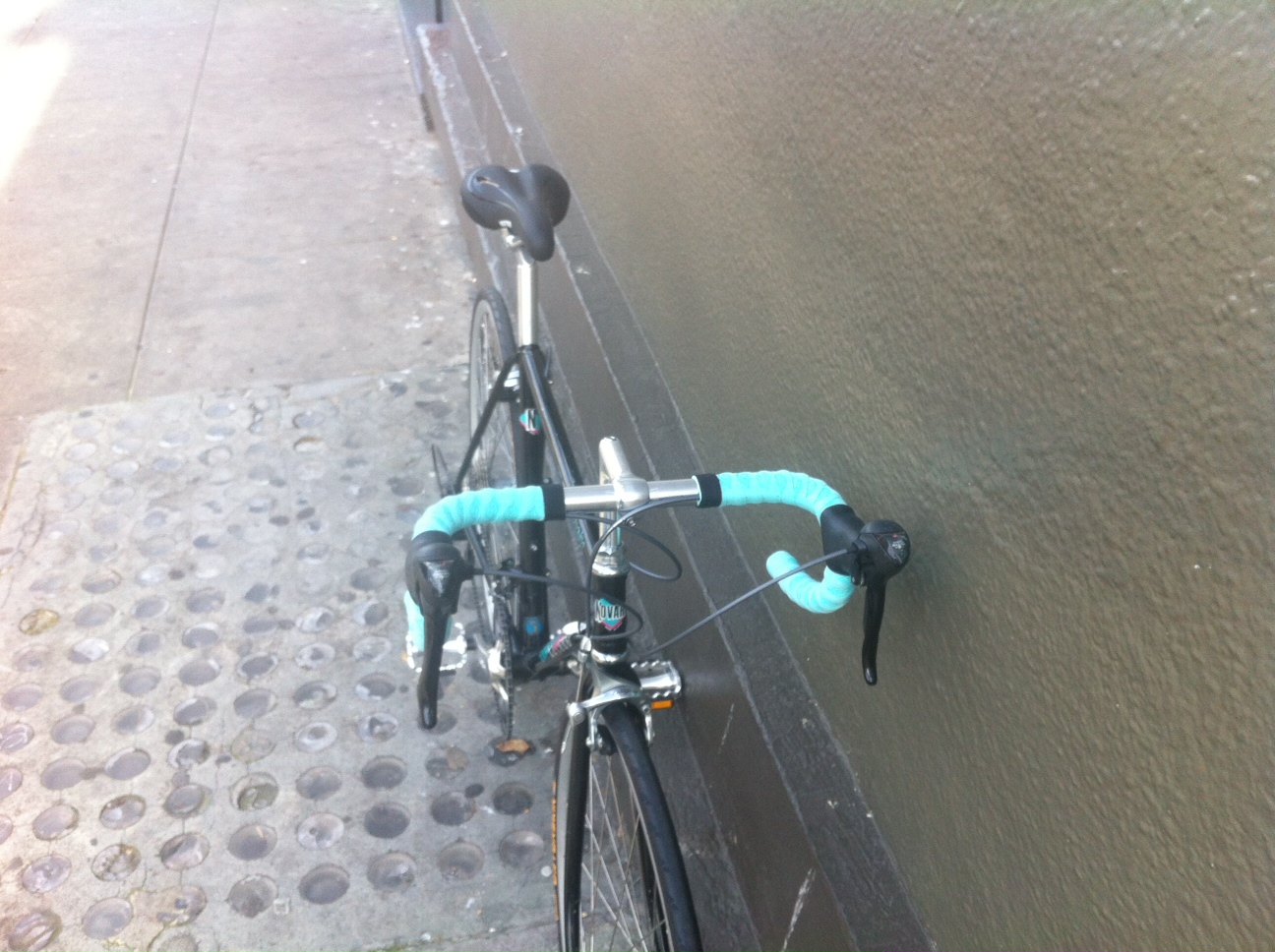 You won't see an Italian flag on this Novara Trionfo, but maybe its Italian name is enough to lure you in.  And in that case you won't feel duped as I did, because this is very nice, classic steel road bike-not some off-brand fry oil lurking in the back of your kitchen cabinet.
Also of note is the internal cable routing. As a mechanic, it's sometimes hard to feed the brake or derailleur cable through these small holes.  The makers of this frame, a late-1980's model, took the trouble to design this feature well.  The cable went through perfectly, and I didn't even have to bother to slightly pre-bend the end of the cable to help it find the exit.
The Trionfo was stripped the the bare frame and fully rebuilt with more modern parts.  A size-appropriate 165mm crankset has been installed, as well as some narrower 38cm Soma Highway One handlebars.  It's also got a nice set of 700 x 25 Gatorskin tires that should hold up well in our glass-strewned city.
Come check it out today! A good fit for someone right around 5′ tall.
$750
Custom 17" Red Specialized Hardrock w/Drop Bars @Pedal Revolution Refurbished Bicycle Update
We've got a nice Specialized that we've converted into a all-rounder, featuring a relatively upright riding position with Shimano bar end shifting.  Most of the parts on this build are new, and if you're into the color red and are looking for a comfortable do-it-all rig, this one could be a great fit for you.
This bike would be great for some long-distance touring too; the long chainstays are on par with a Surly Long Haul Trucker, and the bike's solid enough to handle most anything you could throw at it. If you're in the 5'4″ to 5″8″ range, come check it out today!
$750
Schwinn Sierra 8 Speed Nexus Internally Geared Hub 21" @Pedal Revolution Refurbished Bike Update
This Schwinn Sierra began life as an early era mountain bike and has all the characteristics that made the bikes of that time so versatile: Steel frame, relaxed geometry, long wheel base, low-ish bottom bracket, rack and fender mounts. Early mountain bike design borrowed a lot from classic touring bikes and were designed to be comfortable for off-road touring rather than the popular type of "shredding" style riding done today on contemporary mountain bikes. These early bikes were so robust that a few decades later the frames are still going strong. We love receiving donations of these bikes and rebuilding them as dependable utility commuter bikes. In fact, a current inclination among many San Francisco bike couriers is to use a rebuilt early era mountain bike for delivery, rather than the tried and true fixed gear or steel road bike. They are more comfortable for long days in the saddle, cheap to repair and replace, can accommodate heavy loads, aren't flashy looking (theft deterrent!), and can take a beating!
This one got the unique treatment of an internally geared Shimano Nexus 8 speed wheelset plus all the other goodies that we love - Continental Touring tires, WTB saddle, upright Wald handlebar, new brakes, and full fenders for the rainy days to come.
21″ fits a taller individual of  about  5'11"- 6'2″.
$450 SOLD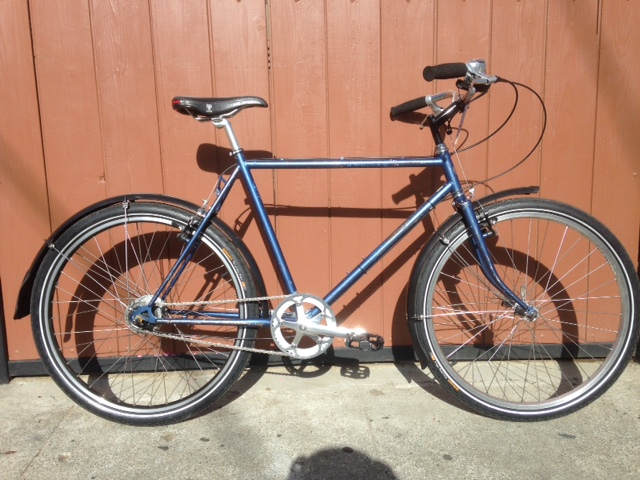 Custom Gitane 63 cm Town-Style 3 speed @ Pedal Revolution Refurbished Bicycle Update
Are you or someone dear to you between 6'1″ and 6'4″, dig the color orange, and in the market for a unique town-style bicycle that rides like a dream? If any of this rings true, you'd best come in to Pedal Rev to check out this Gitane.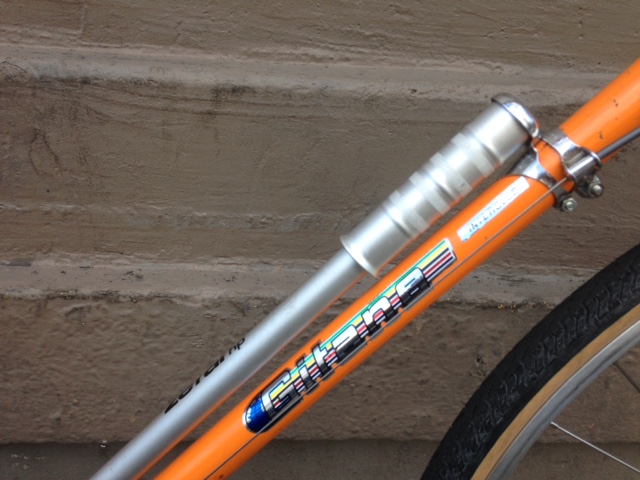 According to the original sales paperwork provided by the gentleman who kindly donated it to us, this bike cost $165 way back in 1972.  It still had all the original parts on it, and the paint is in great shape for its age.  But cycling has come a long way since then and major changes were on order; in fact, the frame, seatpost, and matching original Zefal pump are the only items that weren't replaced.
Cool details on this bike include a new polished 3-speed wheel, some vintage Suntour Cyclone cranks, and some pretty wide Nitto handlebars that'll be well suited to the larger individual who ends up putting miles on this rig.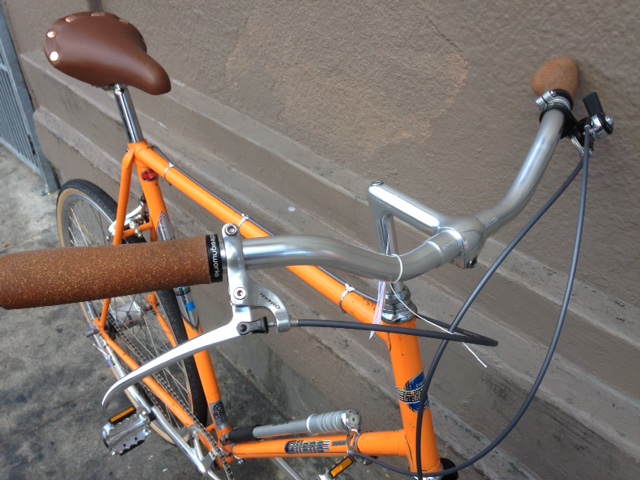 Some ergonomic Portland Design Works grips are comfortable on the hands, and the retro-look Tektro brake levers control new dual-pivot calipers that'll bring this orange whip to a stop in no time.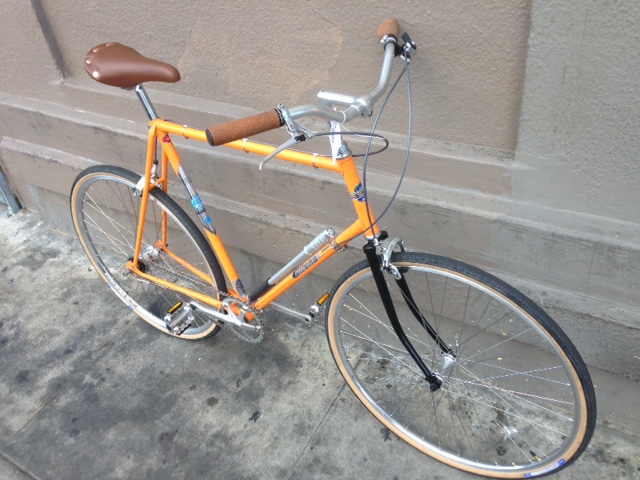 Come on by and take it for a test ride!
$725
Specialized RockHopper Commuter 19.5" @Pedal Revolution Refurbished Bike Update
Another rebuilt gem from yester-year. Cool grey and aqua color scheme on this classic steel Rock Hopper frameset. Rebuilt by Pedal Revolution for heavy duty commuter use with new drivetrain, wheels, upright bars, shifters, brakes, saddle, and burly Continental Touring Plus tires.
19.5″ (fits 5'9″- 6′).
$375.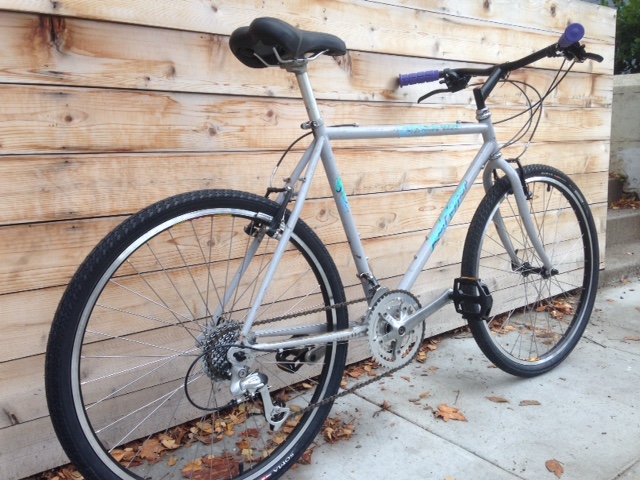 Univega "Davey Jones Green" MTB Commuter 19" @Pedal Revolution Refurbished Bike Update
The rain and a chill in the air have slowed things down here at the shop and the fine mechanics at Pedal Revolution have been keeping busy building up a huge assortment of custom used bikes….almost too many to post! We have a good assortment of affordable commuter bike options as well as some nicer road, touring, and city bike rebuilds. Stop in and pay us a visit to see our latest offerings.
Here is a great deal of the day: A rebuilt Univega Alpina Uno set up for commuter duty with durable Continental City Ride tires. $325 for this bombproof steel framed utility bike!
19″ and an ideal fit for a rider 5'9″ - 6'1″.
Raleigh "Sports" Brown Townie 57cm @Pedal Revolution Refurbished Bike Update
Super custom rebuild on this gem of a Raleigh frameset. A ground-up build with all parts replaced on this made in England frame including a Tange chrome fork, Sturmey Archer 3 speed internally geared wheelset, MKS touring pedals, Dual pivot brake calipers, Soma oxford bar, and leather grips and saddle. Reconfigured to give a more upright seating arrangement, this bike is a go-to city bike for daily use. Slap a basket and some fenders on it and you've got a reliable grocery getter/rain bike.
57cm fits 5'10" - 6'1″
$525. SOLD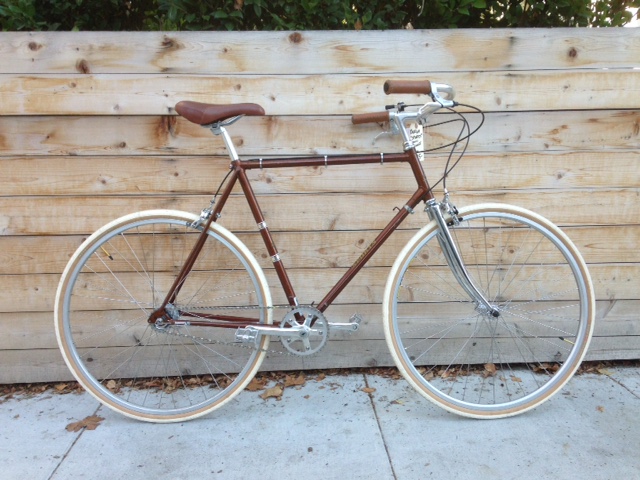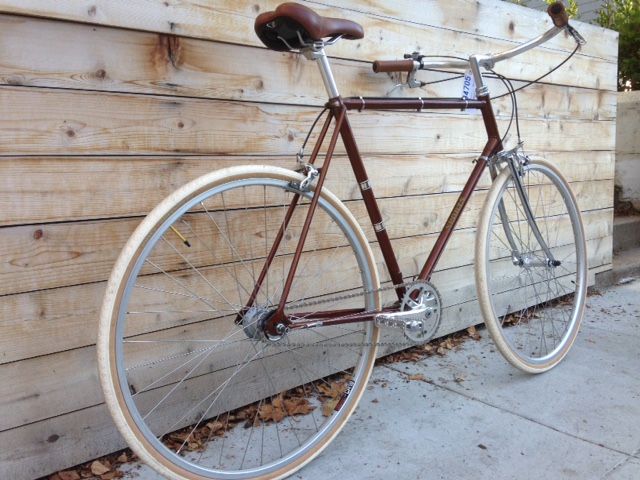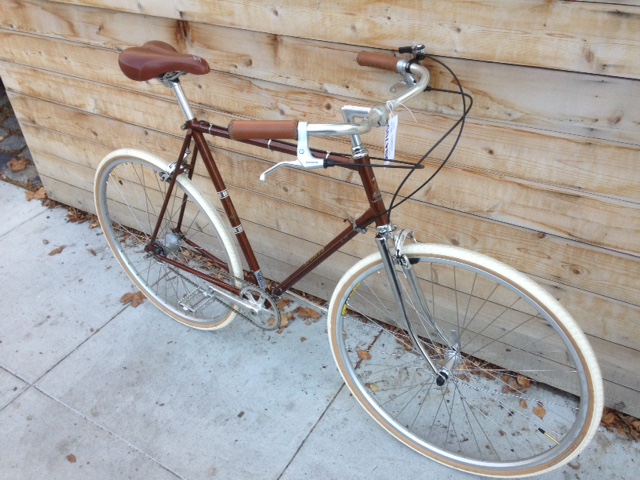 Motobecane Grand Touring Road Bike 53cm @Pedal Revolution Refurbished Bike Update
As attributes, quick, light, and affordable are generally not found together in one bicycle. Generally you'd have to settle for one or two of the above characteristics. This 80's Motobecane Grand Touring is a gem of a bike that finds a happy balance between all three. It was rebuilt with a new wheelset, brakes, Soma New Express Terracotta tires, and a Soma Highway one bar. It's a great mix of old and new at a very reasonable price.
53cm ST - 55cm TT. A great fit for 5'5″-5'9″.
$575. SOLD