48cm Rocky Mountain Oxygen Road @ Pedal Revolution Refurbished Bicycle Update
Are you a smaller person looking for a good road bike? We have a nice 48cm Rocky Mountain with a Shimano 105 10-speed drivetrain, fresh bar wrap and a new pair of Continental Gatorskins.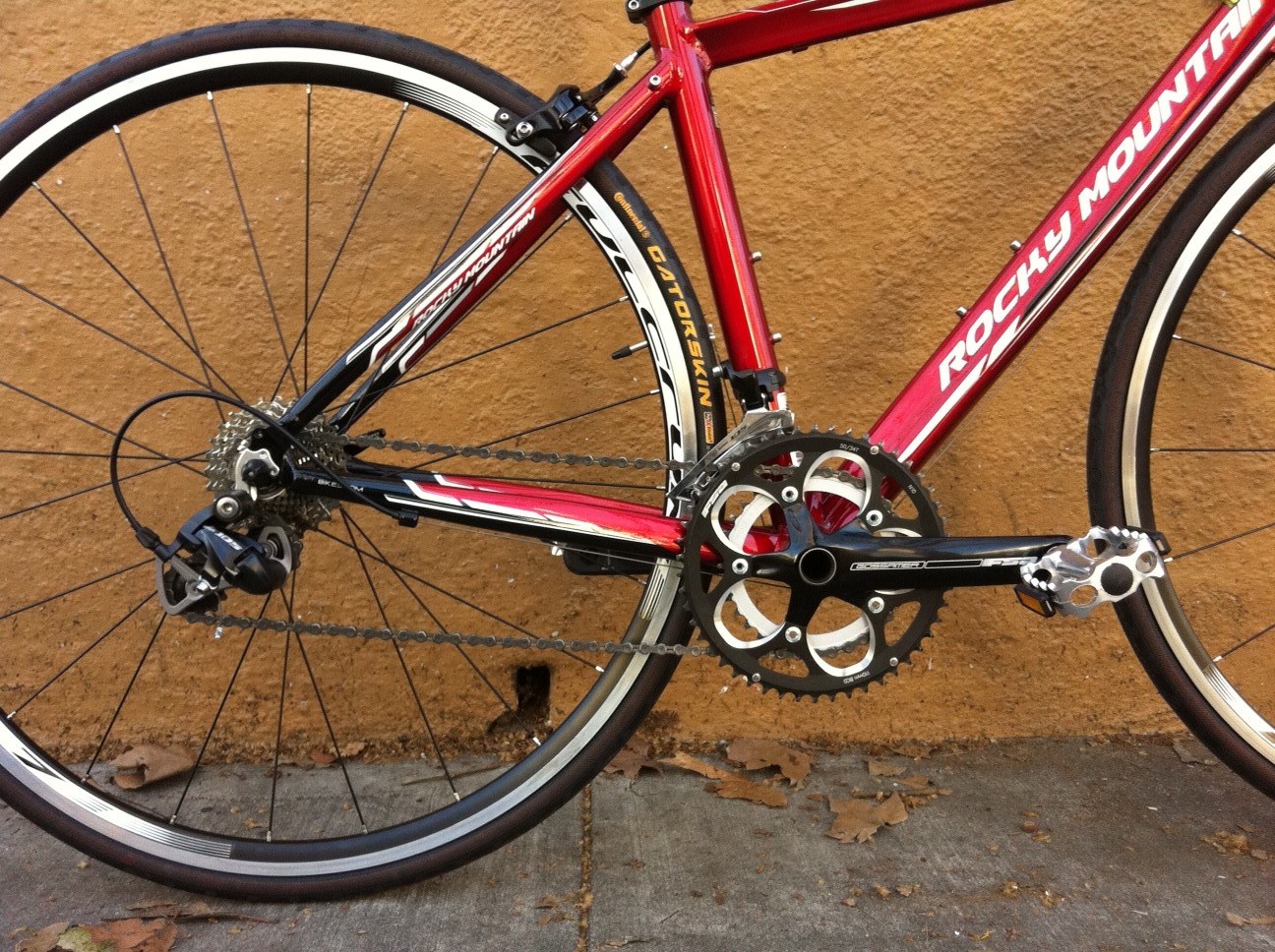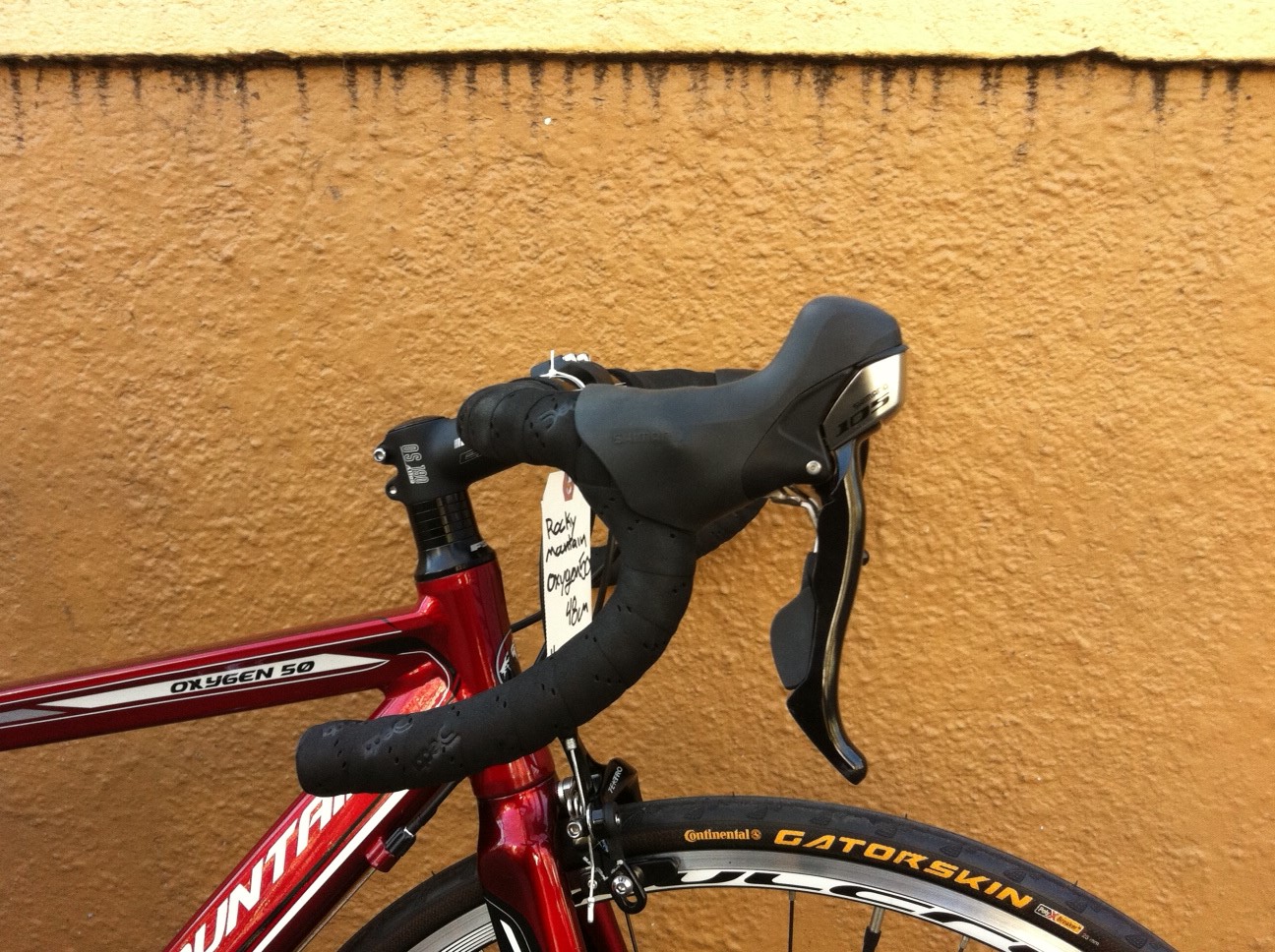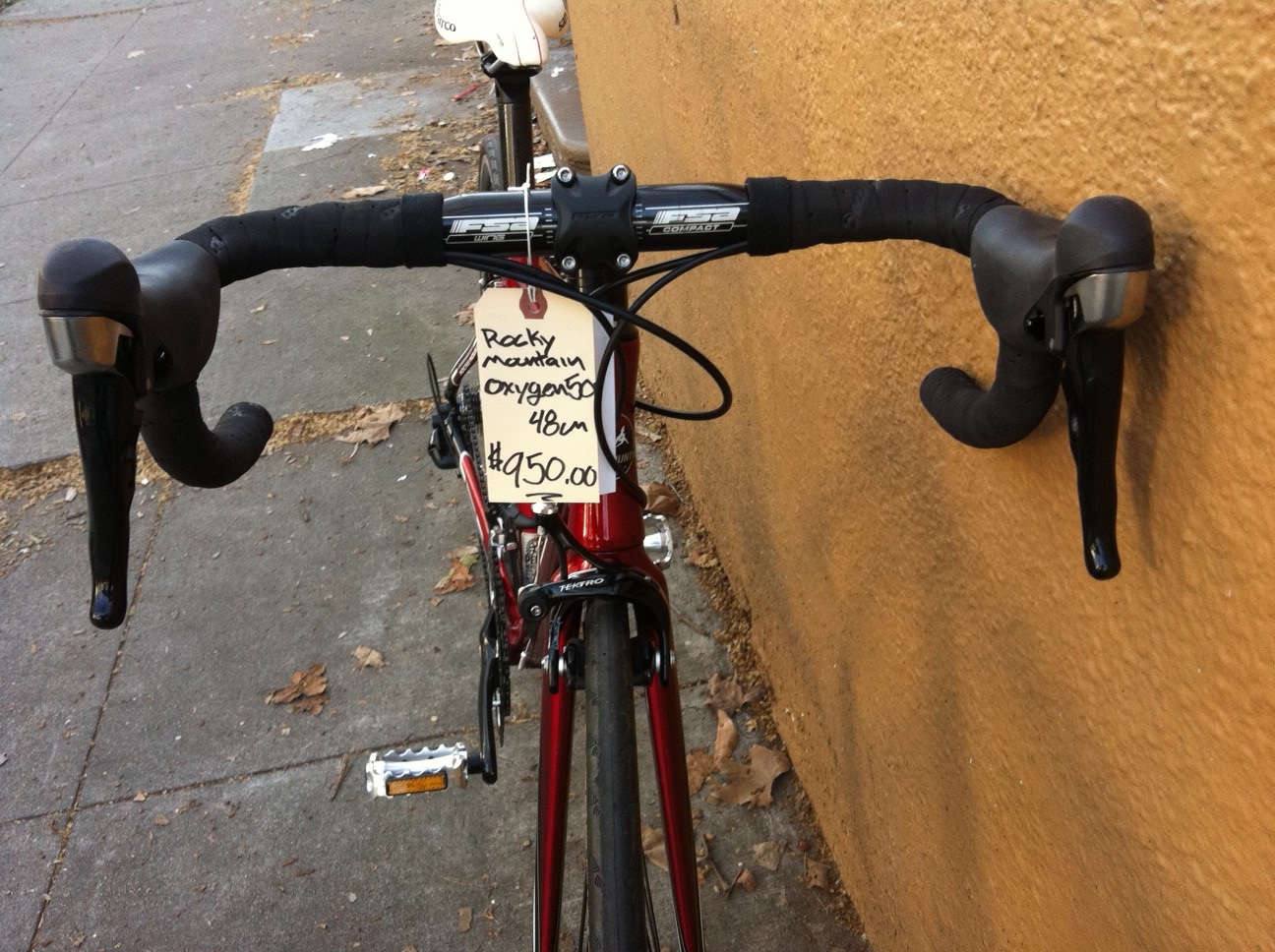 The bike is in like-new shape; like all of our refurbished bikes, it comes with a 3 month guarantee.  If you're around 5′ tall and are looking for a good road bike, come check it out today!
$950
50 cm Trek 2120 Carbon Road Bike @ Pedal Revolution Refurbished Bicycle Update
As a material, carbon fiber was first used on production bikes in the late 80's/early 90's.  The bike you see here, a Trek 2120, was among the first.  The three main tubes are carbon, and they're bonded to aluminum to form the rest of the frame.  Though the frame is pretty old, it is still in fine shape; a lot of the early carbon frames tended to be "overbuilt", and are in fact stronger that some of the newer and thinner carbon frames out there today.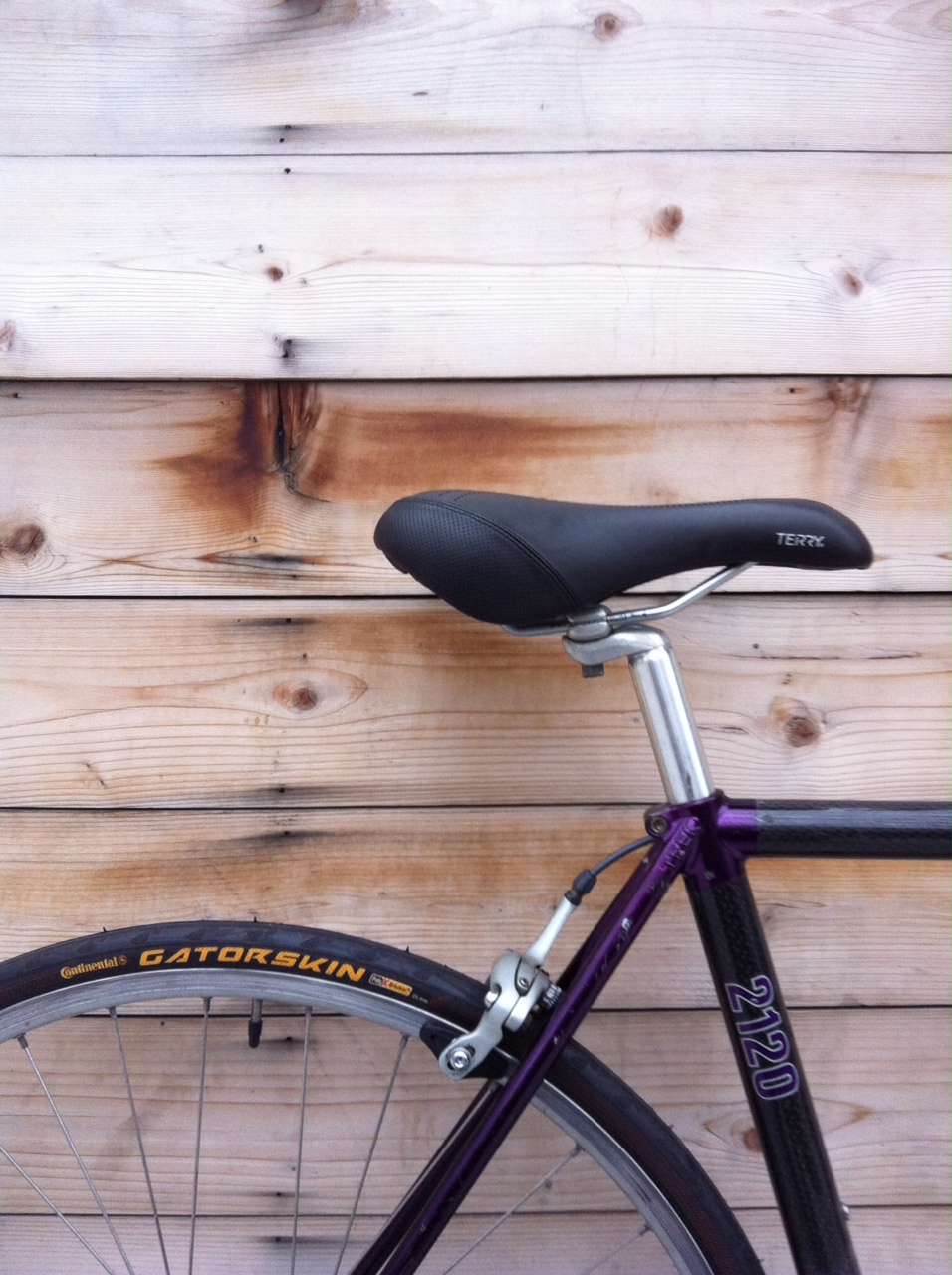 Terry saddle and new Continental Gatorskin 700 x 25 tires.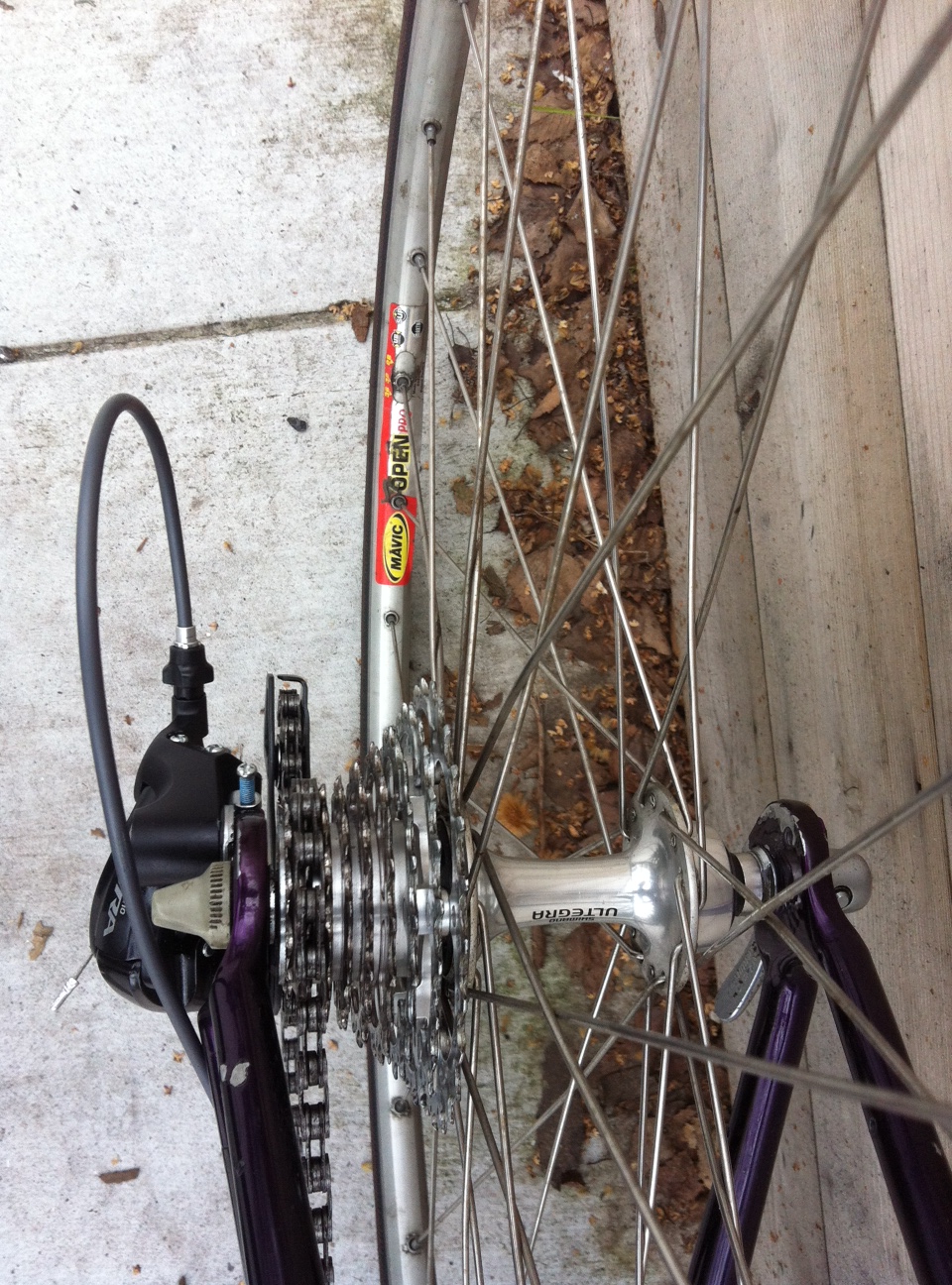 Bike features a nice wheelset-Shimano Ultegra hubs laced to Mavic Open Pro rims.  A light, solid set of hoops!
The rest of the drivetrain is a mix of Shimano Sora/105 parts.  A good fit for someone about 5'1″ to 5'4″.  Come check it out today!!
$700
SOLD!!!
Powdercoated Custom Step-Through Commuter 50cm @Pedal Revolution Refurbished Bike Update
Who says "Mixte" style bikes need to be dainty and pastel colored? We had this one powdercoated in a stylish finish we've come to refer to as "Scorched Earth Brown". Full custom rebuild job on this one and it rides like a dream. All the good stuff and Pedal Rev favorites are represented: 1×7 "just enough" drivetrain, Mavic/Shimano road wheelset, Panaracer Pasela tires, WTB comfort saddle, Velo Orange Milan handlebars, Soma Sutro stem, and leather grips. Understated and awesome.
50cm and an ideal fit for a rider 5'3″ - 5'6″.
$850.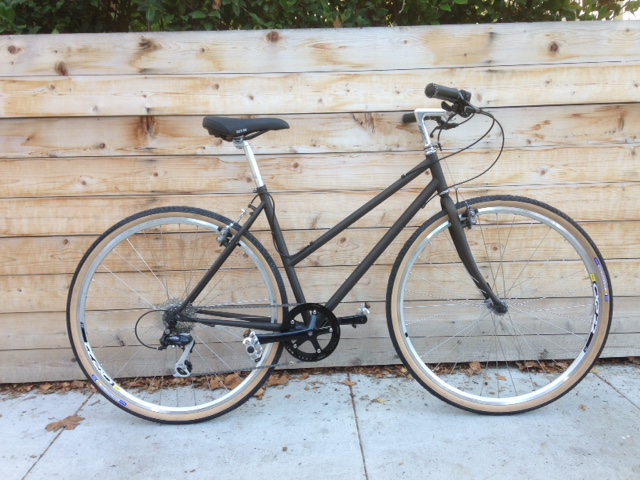 Specialized Sirrus Hybrid Commuter 13" @Pedal Revolution Refurbished Bike Update
A superb condition Specialized Sirrus in sexy matte black on the floor in the heavily visited Pedal Revolution refurbished bike department. This little number is a 13″ and sized for a human of smaller stature…around  4'7″ - 5'2″.
$500. SOLD.
Pedal Revolution Used Bicycle Update: Motobecane Step-Through 3-Speed
Pedal Revolution Used Bicycle Update: Motobecane Step-Through 3-Speed
Another Pedal Revolution original here.  This bike was donated with long obsolete 27″ wheels, a conventional derailleur drivetrain, a low long deep drop handlebar (i.e. uncomfortable) and a bric a brac of low-endish 80s parts.
The bike was reconstituted with a more upright Velo Orange Milan bar and svelte Tektro neo-retro levers (they look like a lot of levers on older bikes but benefit from stiffer cold forge construction and return springs for smoothness and greater cable life).
New 700c wheels with a Sturmey Archer 3-Speed internal gear hub replace the clunky and complex original drivetrain.  Soma Xpress terra cotta tires make another appearance here.  These are essentially a slightly more beefed up version of the Panaracer Pasela tires that get are often spotlighted on this blog.
The gold housing just looks really great. It jives well with the painted on logo but neither enhances or undermines the brake function.
The cork grips were heavily layered with shellac for good looks but they also don't feel too bad.
The demi-mixte frame construction is totally wild.  Just prior to Pedal Revolution being donated this bike, I (Joel), had seen another one of these frames in the shop for the first time and it blew my mind.  So strange to have another one given to us so soon after that.  The unconventional frame construction and 3-Speed rebuild make this a super unique bike.
Burgundy (in New Orleans, they would call the color "Ber-gun-day") Motobecane Step-Through 3-Speed:
$500 - A Good Ride for someone about 5'4″?
SOLD
Omino Small Japanese Racing Bike @ Pedal Revolution Refurbished Bike Update
After laboring to google "Omino Impact Attack" I (Joel) was unable to come up with much information on this awesome little lightweight bike. There was one website that, based on the photos, seems to be affiliated with the brand but the website is 99.9% in Japanese.  Perhaps someone reading this can help translate (the google could not).
What is for sure is that this is very attractive and unique bicycle.  The frame is aluminum but has smooth looking welds that look like fillet brazes but I am not sure it is possible to fillet braze aluminum.  Maybe there is a welder or metal guru in our audience that can help sort this out???
This bike was fitted with very fancy Shimano Ultegra triple cranks and a 9 Speed 105 drivetrain and brakes.  The bike is equipped with 650C (E.R.T.O./I.S.O. 571mm) wheels to maintain a short racy wheelbase while eliminating the toe-overlap that can plague smaller race bikes with 700c wheels (I.S.O. 622mm) that don't extreme angle out (think of riding a chopper motorcycle) the fork and degrade the bike handling.
A tallish Nitto Technomic Stem Stem, ESI silicone bar wrap, and narrow Soma Highway One Bar were added for comfort and killer looks.
This is a great bike for someone around 5′ 2″ tall!!!
50cm Omino Attack Impact (or is it Impact Attack?) - $850 SOLD!!
Cannondale C300 16″ Step-through commuter bike @Pedal Revolution Refurbished Used Bike Update
Cannondale C300 16″ Step-through commuter bike.
A great, affordably priced Cannondale hybrid built in the US. Cannondale's are known for being lightweight and this one is no exception. Geared to take on any hill you want to throw at it this upright positioned commuter bike will make a fine new partner for some lucky person who can appreciate it's understated charms.
16″ fits 5'1″ – 5'5″.
$350. SOLD!
Robin Hood 3-Speed @ Pedal Revolution Refurbished Bike Update
1969 Robin Hood 3-Speed Step-Through - $350 SOLD!
In the year 2008, I (Joel) began my career as a bicycle mechanic.  7 years ago this month actually.  I worked at Broadway Bicycle School in Cambridge, MA. This shop serviced many old British 3-Speed bikes.  It was actually kind of a specialty of the shop.  I was tasked with tuning up many of these bikes and let me tell you, at the time, they were the bane of my existence.  Compared with contemporary bikes, these bikes are unconventional and quirky as can be (internal gear hubs that are influenced by by their position in the frame, front hubs that are adjusted in the fork, use of metric and non-metric/imperial fasteners, "Raleigh"/26 TPI threading, brakes that are centered with a hammer and punch!…).
At a certain indecipherable point (I suppose it has been a process, journey or evolution in my development as a mechanic and cyclist) I formed a real affection for these idiosyncratic machines best celebrated on the Sheldon Brown (fellow Broadway Bicycle School alumnus) website.  Please allow me to quote:
These Are Real Bikes!

on't sneer at old 3-speeds. They are serious bikes, built for serious use. They are meant for utilitarian cyclists, and they are still extremely appropriate for riders who don't usually go more than a few miles at a time. They are particularly at home in stop-and-go traffic, because they can be shifted even while stopped. Their English heritage: full fenders, oil lubrication, and totally enclosed gear system makes them relatively impervious to wet conditions. They may be heavy, but that is not because they were built to be cheap, but because they were built to endure extremely rough usage and neglect. Properly cared for, they will outlast us all.
As evidenced by the date stamped on this Robin Hood's Sturmey Archer hub, this bicycle was manufactured in 1969.
In 1969, the guts of the Sturmey Archer AW hub were much the same as  in 1902, having survived two world wars, the great depression, the baby boom and several high-profile assassinations fully intact. However, 1969 was a pivotal year of change in the history of Rock N Roll.  Anyone in the Bay Area today who happens to catch audio glimpses of traffic reports referencing Altamont must surely be reminded of the ugly events that occurred at the free concert there in December 1969, the edge of the 1970s.  As we now know, the Altamount Free Concert was the event that signaled the end of the day glow tie dye days of peace and love.  What followed was a decade of earth tones, religious cultism, political assassination, heavy narcotic use, domestic terrorism, disco, escalating imperial war atrocities, and the emergence of punk rock. Around the time I was birthed, The Clash succinctly penned the perfect counter point to the peace and love espoused by the flowerer children of the 60's, Hate and War ("the only things we got today").  A real theme song for the 1970s.
A more positive association one can make with this bike and The Clash is their invocation of Robin Hood in the excellent song White Man in Hammersmith Palais.  Perhaps the first of example of White musicians properly doing what Bob Marley would affectionately call the "punky reggae".
As mentioned in the above quote from the Sheldon Brown website, although these are real bikes, they were geared for the flat streets of Nottingham or Manchester (see the below video) England rather than hilly San Francisco.  Thusly, the original cottered cranks were replaced with a Velo Orange threadless bottom bracket (mooting the Raleigh threaded bottom bracket shell) and a beautiful Sugino crank fitted with a 42 tooth chainring.  This crank is mated to a 23 tooth rear cog and provides excellent gearing for our vertiginous local terrain.