Fuji - Mt. Fuji Touring Bike 55cm @Pedal Revolution Custom Bike Update
Fuji, Mt. Fuji
Another day, and another gem of a refurbished bicycle is here at Pedal Rev.  This cycle started its life as a higher end Mt. Fuji mountain bike from what I (Nolan) believe to be a 1980.  This lugged steel steed was created in the magical time when bicycles were expected to do more: your mountain bike was your touring bike, your commuting bike, and your beverage bike.  Quality steel, comfortable geometry, copious eyelets and more made this bike an exemplary all-in-one eighties powerhouse.
While the Mt. Fuji is a great bike, this particular Mt. Fuji was in a bit of a bad way when it arrived at Pedal Rev as a donation.  Distressed paint, and parts worn beyond repair left us wondering: "What were we to do?"  Champion Powder Coating provided us with a screaming matte green paintjob (thanks y'all!), and a new parts build got this bike back in fighting shape. While the bike was originally built with a riser bar, we built it with the cockpit of a touring/randonneuring bike.  Randonneuring bicycles seem to be all the rage right now and the newly dubbed Mt. Fuji Destroyer falls in with the best of them.  Our Destroyer has traditional road bar/levers and bar end shifters to allow for multiple riding positions.  The wide range 3×9 drivetrain give the bike plenty of gears to tackle the hills, while a powerful set of cantilever brakes provide enough Umph! to stop after bombing down said hills.  26" wheels and the perennial Pasela PT tire round out the build. Just when you thought the Destroyer couldn't get any better, we added some flair in the form of a color correct Velocity H2O cage, and wrapped the drive side chainstay with black Newbaum's cloth bar tape for a real curated look. The Willys Jeep is (matte) green with envy.   
This bicycle measures out to a 55cm, and would work be perfect for a rider 5'9"-6'. Come in and put some fun between your legs.
$850.00        
Peugeot Canyon Express All-Arounder Bike @Pedal Revolution Refurbished Bike Update
last night was the longest night of the year. The sun set at 8:54pm and to celebrate all of the extra daylight the staff at Pedal Rev decided to go for a Sub 24 hour bike camping overnight. Otherwise known as an S240, the idea is that it isn't always easy to get away for big trips, extended weekends, etc. but it's not too tough to get out for a quick overnight, sleep under the stars and make it back to work the next day, albeit a little groggy. Touring bikes are a fine choice for this type of excursion accommodating racks and bags to facilitate bringing things like camping gear, food, coffee, frisbees, whiskey, bug spray, etc. Touring bikes are wonderful things but they are costly and there are other options out there if you dream of loading up a bike and venturing forth down the road for a little nature time. Older era Mountain bikes make for great budget touring bikes with their long wheelbases, rack mounts, steel frames,and sturdy construction. These can often be found used and modified to work as workhorse commuter bikes and yes, even touring bikes.
Below is a fine example of a Pedal Revolution rebuilt Peugeot Canyon Express rigid mountain bike into a more utilitarian machine. Reinforced asphalt friendly tires matched to new wheels and a comfortable wide, upright handlebar make for steady cruising on street or dirt, in city or country. We have modified Surly Long Haul Truckers in just way for customers who preferred a more upright but still efficient ride. Come check this one out and get your ride on.
22″ fits 6'1″ - 6'4″
$400.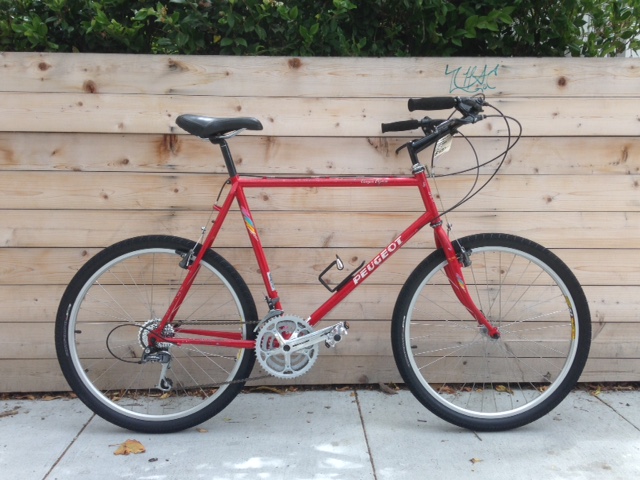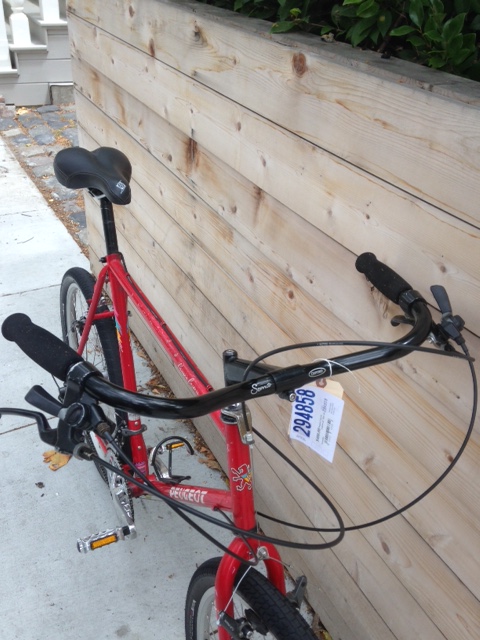 Surly Disc Trucker Outfitted out for the Road @Pedal Revolution Bike Update
A super utility vehicle is presented in this mini Surly Disc Trucker. Our customer wanted a reliable touring bike to take her from California to Colorado. Upright riding position was key as well as carrying capability as she will be self-supported for the trip through various national parks. The 42cm Disc Trucker with 26″ wheels was a perfect match for her needs. This bike will do the job confidently over asphalt and dirt for miles and miles. When the next adventure is just beyond the horizon, a bicycle is fine choice to get you there.