SFBC Winterfest Auction Bike - Custom built by Pedal Revolution
SFBC Winterfest Auction Bike - Custom built by Pedal Revolution
This bike was assembled from the frame up by Pedal Revolution and given to The San Francisco Bike Coalition for their Annual fundraising party - Winterfest!
Lead Mechanic Todd B. with assistance from two our Youth interns Daniel and Josh spearheaded the assembly utilizing many donated components from Soma Fabrications. This is a signature example of a custom refurbished Pedal Revolution bike; a classic steel frame completely rebuilt with great quality new parts into a totally reconfigured city bike. Our focus is versatility, function, reliability, and fun! Early mountain bike frames like this one had a very high level of craftsmanship from Japan and had more of a touring bike geometry compared to contemporary mountain bikes. We love transforming these classic bikes into unique and utilitarian commuter style bikes, capable of carrying significant loads and accommodating racks, baskets, and fenders. Many of our customers rely on their bikes as their primary mode of transportation, grocery getting, commuting, and recreation. They want a bike that can reliably get them to work and back home and then be outfitted for a weekend bike camping trip or out of town adventure.
Pedal Revolution is a non-profit bike shop that has been in business since 1992 and hosts a paid work internship program for at-risk bay area youth. We employ 20 young people every year as interns in our shop working side by side with our professional staff. Our interns learn a combination of basic work-readiness skills and participate in a bicycle service based training curriculum experiencing bicycle repair, assembly, and sales in our own business. Interns assist our professional staff in the building of our new and custom refurbished used bicycles like the one you see here. Our refurbished used bicycles arrive from donations from individuals like you who want to support our program. The bikes are stripped, assessed, and then rebuilt with new components to assure a long and reliable life. These bikes are unique, one of a kind creations with distinct style and a character all their own. Please consider donating your old bicycles, frames, or bike parts to our program to support our social mission. Next time you are in the market for a fantastic new or refurbished used bike come visit us!
Here are some photos of the before and after bike build process:
Pictured below are two of our current youth interns Josh and Daniel holding the vintage Miyata "Terra Runner" frameset that provided the foundation for this build:
80's Japan built, triple butted, lugged steel goodness.
The paint was a little rough so we sent it off to our friends at Champion Powdercoating for a super sweet repaint.
We've come to referring to this textured blue finish as " Pining for the Fjords Blue".
Service Manager Joel had the bright idea to have the stem painted to match.
Came out quite nice!
Here are Josh and Daniel again with painted frame, fork, and stem with the new wheels and Soma Fabrications New Xpress tires which they set up and installed.
Below Daniel carefully shellacks the cork grips designated for the bike. We love the classic look of cork grips.
Shellacking weatherproofs them and keeps them looking good for a long time.
Brand new drivetrain with Sugino touring cranks, Shimano and IRD mechanicals, and stylish MKS touring pedals.
Shop bottle/shop sticker steeze.
Sprung leather touring saddle.
Soma Fabrications Oxford Handlebar, IRD thumbshifters, Champs Elysees front rack, and Wald basket….gotta have a basket.
Those grips though!
This was a really fun project for the Pedal Rev crew. Hope you like!
Bike details:
-80's era Lugged steel  Miyata "Terra Runner" early MTB frame
-Made in Japan
-Size 21"
-Custom powder-coated "Pining for the Fjords Blue"
Parts:
-Shimano 26" wheelset
-Soma Fabrications New Xpress Touring Tires
-Sugino XD500 Touring Crankset
-Shimano Deore M591 Long cage rear Derailleur
-IRD Front derailleur
-MKS Sylvan Touring Pedals
-Velo Orange Leather Saddle
-Soma Fabrications Oxford handlebar
-IRD 9spd indexed thumbshifters
-Shellacked Cork Grips
-Soma Fabrications Champs Elysees stainless front rack
-Wald basket
Custom 17" Red Specialized Hardrock w/Drop Bars @Pedal Revolution Refurbished Bicycle Update
We've got a nice Specialized that we've converted into a all-rounder, featuring a relatively upright riding position with Shimano bar end shifting.  Most of the parts on this build are new, and if you're into the color red and are looking for a comfortable do-it-all rig, this one could be a great fit for you.
This bike would be great for some long-distance touring too; the long chainstays are on par with a Surly Long Haul Trucker, and the bike's solid enough to handle most anything you could throw at it. If you're in the 5'4″ to 5″8″ range, come check it out today!
$750
Specialized RockHopper Commuter 19.5" @Pedal Revolution Refurbished Bike Update
Another rebuilt gem from yester-year. Cool grey and aqua color scheme on this classic steel Rock Hopper frameset. Rebuilt by Pedal Revolution for heavy duty commuter use with new drivetrain, wheels, upright bars, shifters, brakes, saddle, and burly Continental Touring Plus tires.
19.5″ (fits 5'9″- 6′).
$375.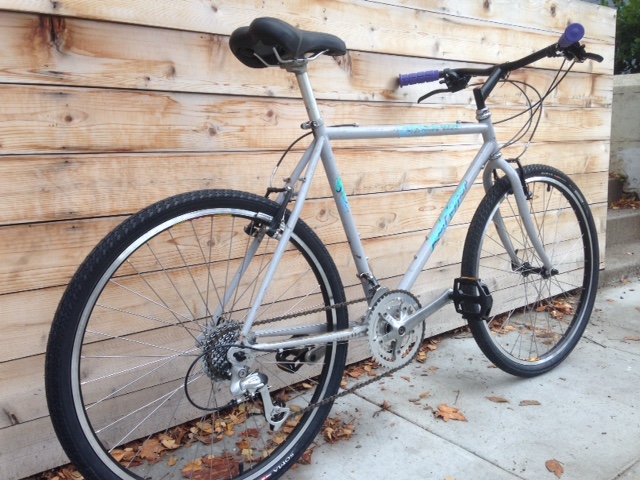 Pedal Revolution Used Bike Update: Schwinn Sierra Drop Bar Mountain Tour Bike
Pedal Revolution Used Bike Update: Schwinn Sierra Drop Bar Mountain Tour Bike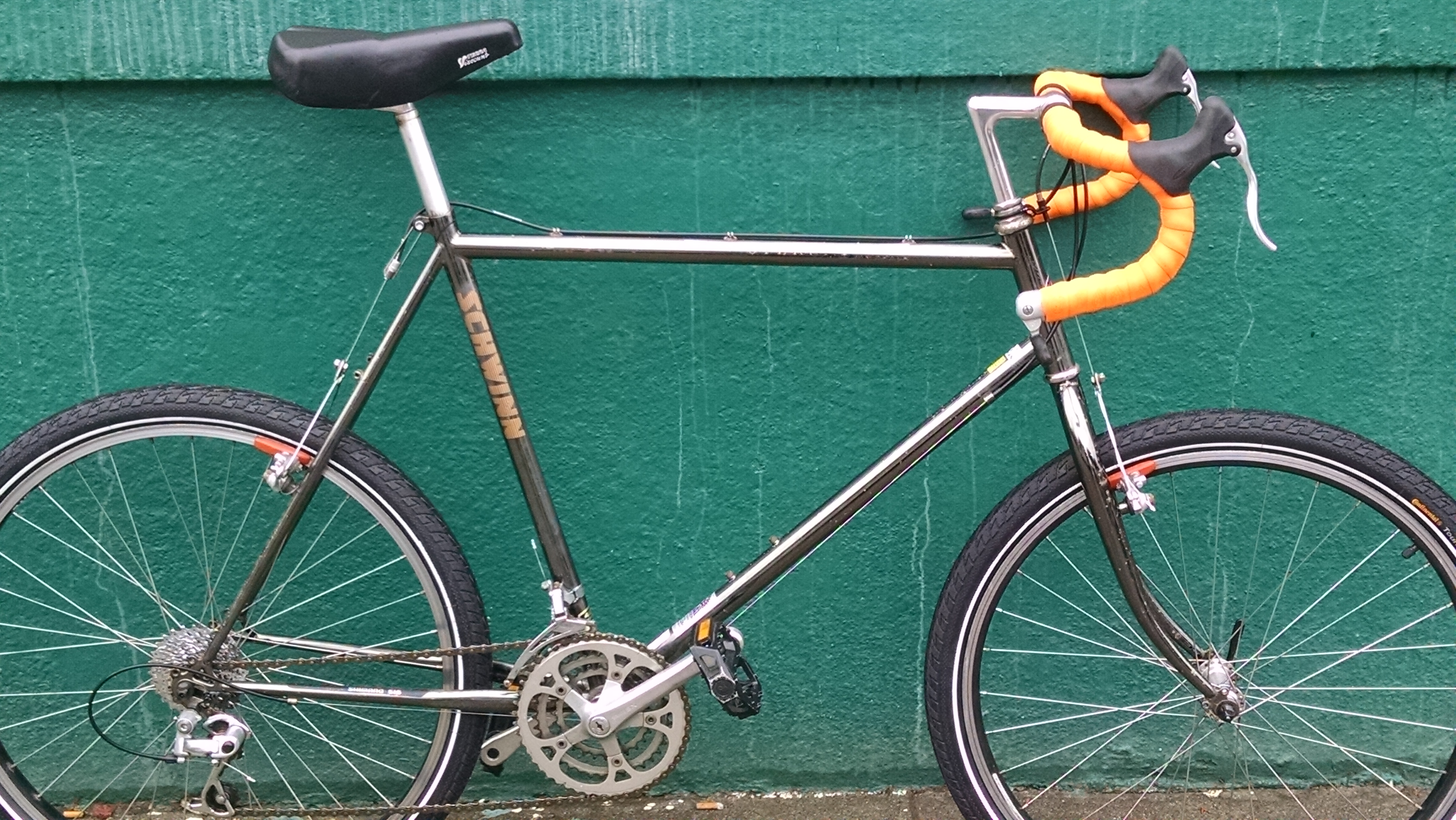 It's truly astounding the number of 80's and 90's vintage mountain bikes Pedal Revolution receives in donation (thank you generous benefactors). They are testament both to the number of these bikes sold during the original mountain bike boom and the quality of construction of these frames (FYI: their iron like strength, resilience, and durability is largely due to them being actually made of steel!).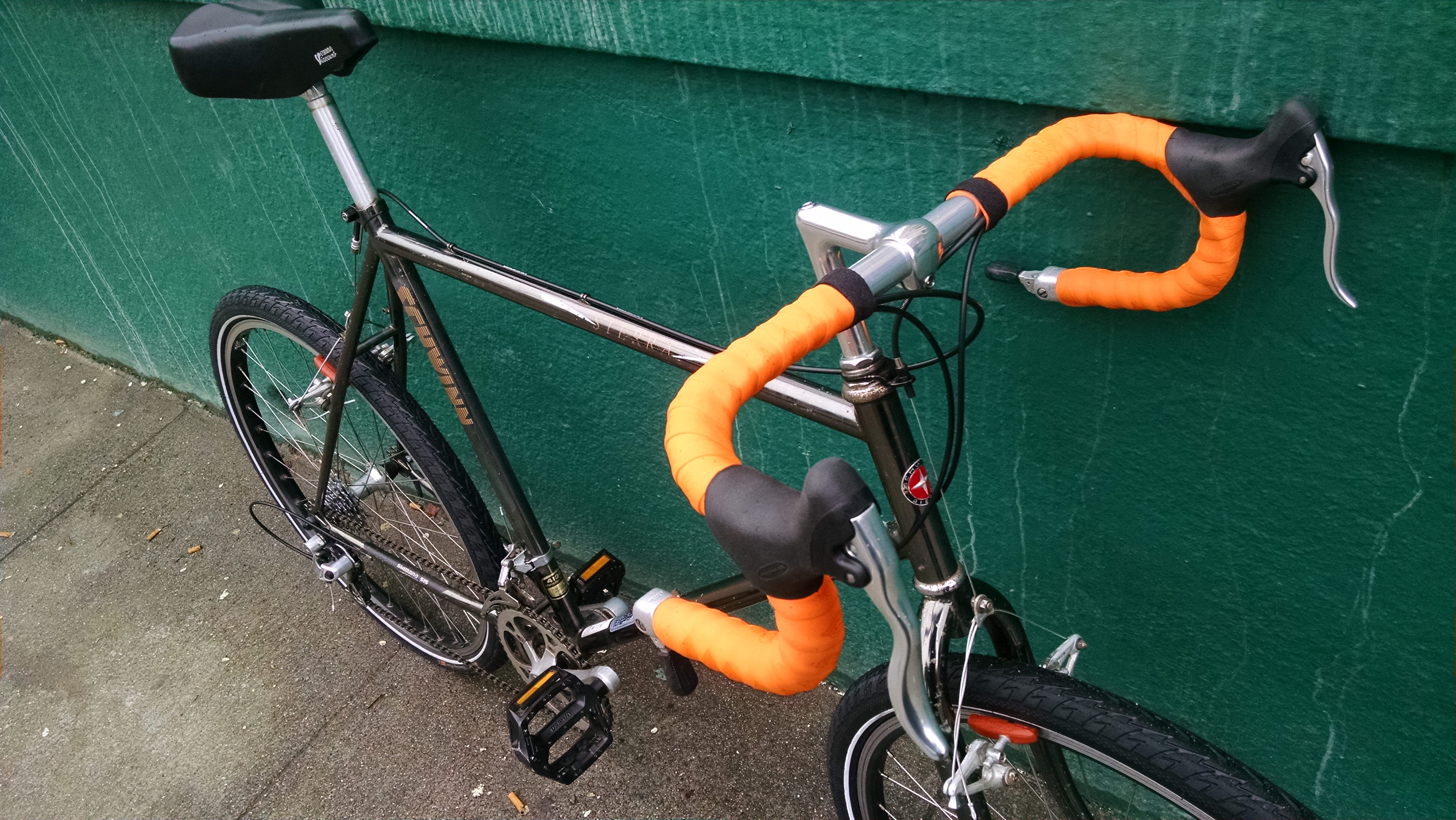 By the standards of today, bikes like this Schwinn Sierra are terrible bikes for serious single-track mountain biking (ps. the flip side is also true that the super fun trail riding bikes of today are the absolute worst transportation bikes due to technological suspension overkill and lack of utilitarian features).  However, with some parts changes and updates these original off road specialty machines can be transformed into excellent city and transportation steeds.
Just to mix things up from the rote Pedal Revolution older mountain bike becomes city bike genesis (street slicks replace knobby tires, new drive train parts, etc), a drop bar was added to this bike to give it some long ride and bike tour potential.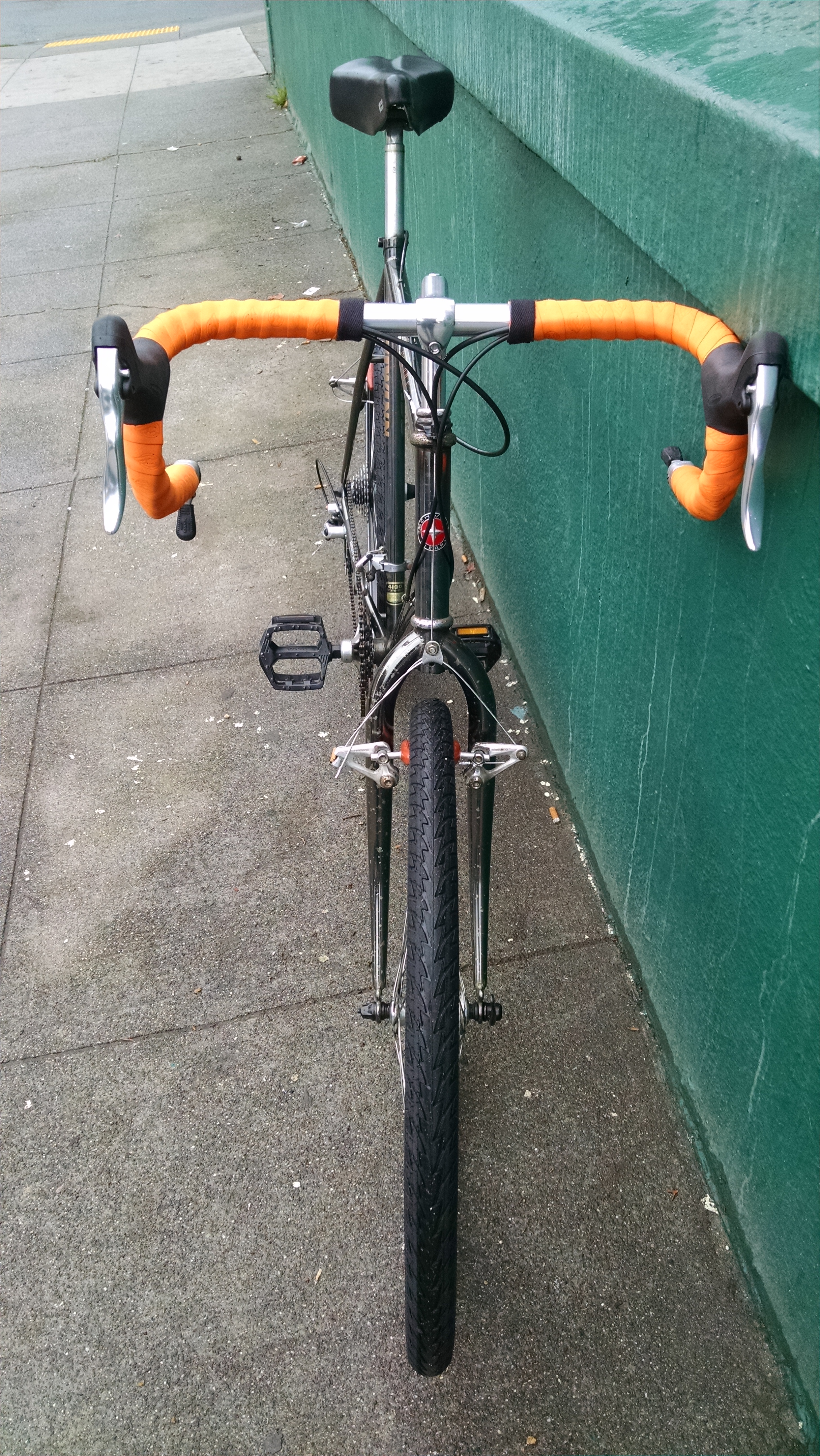 The orange bar wrap gives the bike some seasonal fall flair.  Front and rear fork eyelets add more easy fender and rack options.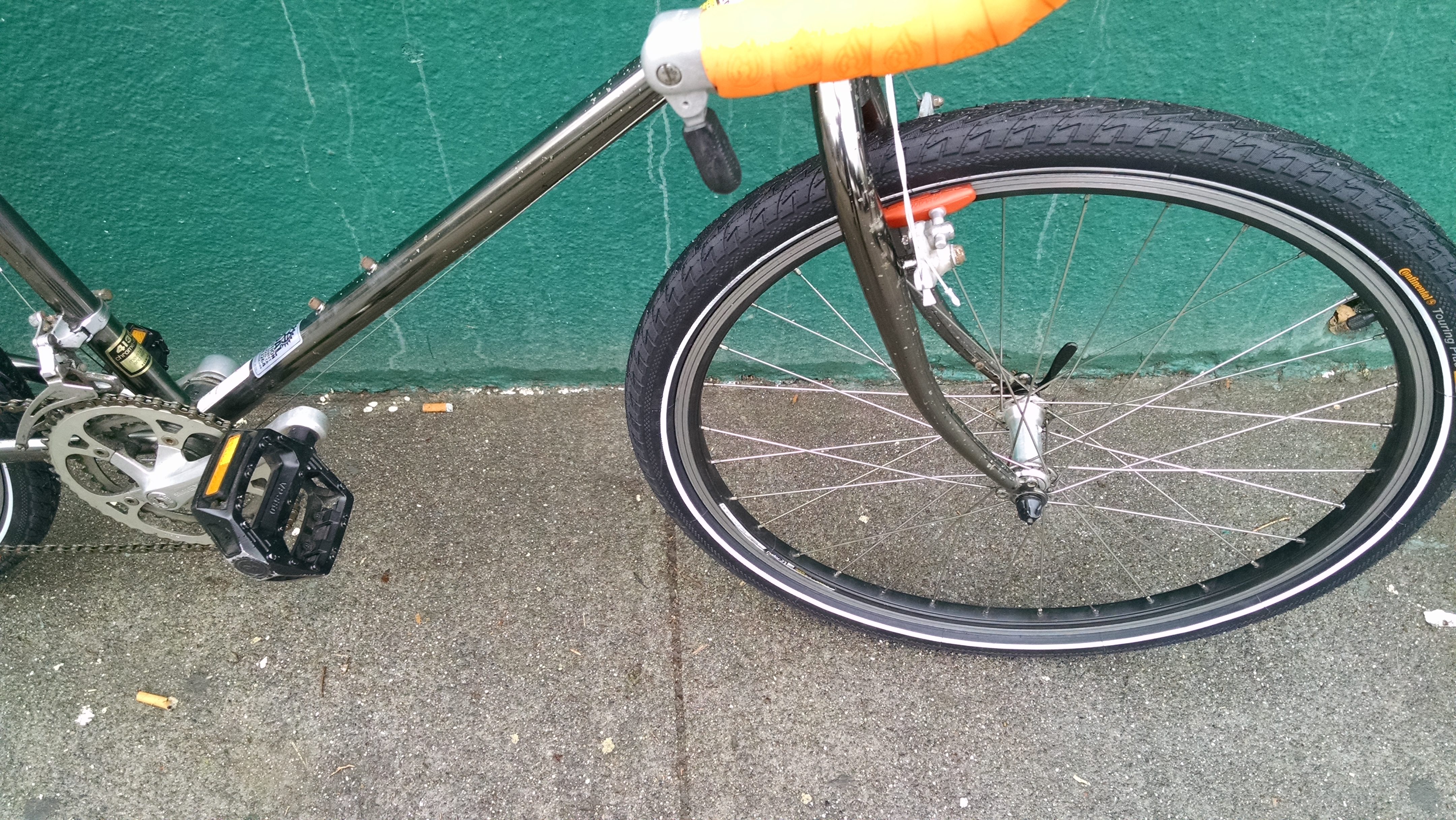 Suntour Bar end shifters are just fantastic.  They were on some very cheap back in the day bikes (the Schwinn Sierra was not originally cheap or equipped with these).  Every micro friction shift with these units is an utter delight.  They are what I (Joel) use on my own touring bike!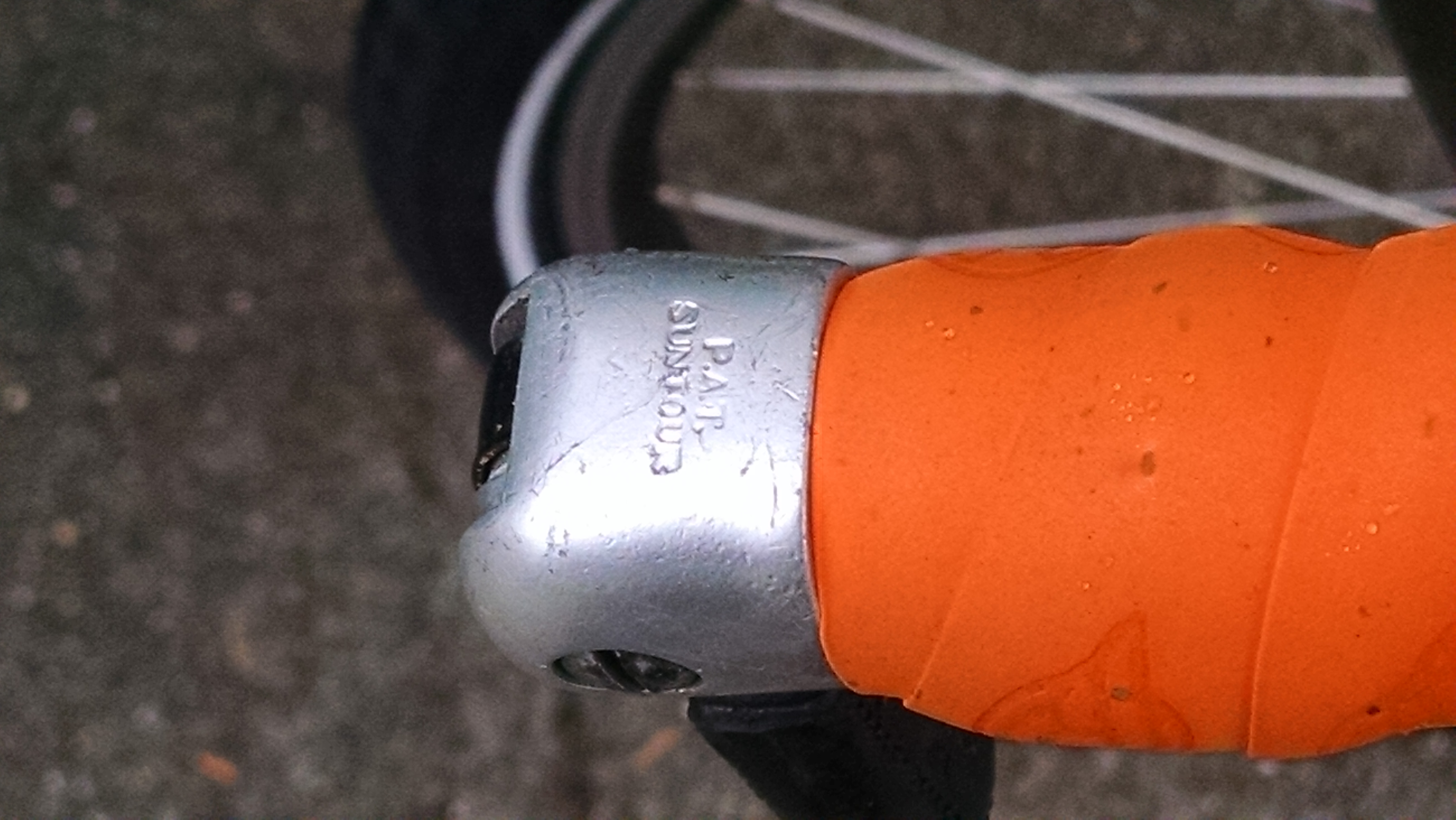 This is a great all-purpose bike for someone about 6′ tall.  The large tires and strong frame with plenty of accessory mounts make a great bike for carrying large loads on bike trips around the city or across the country!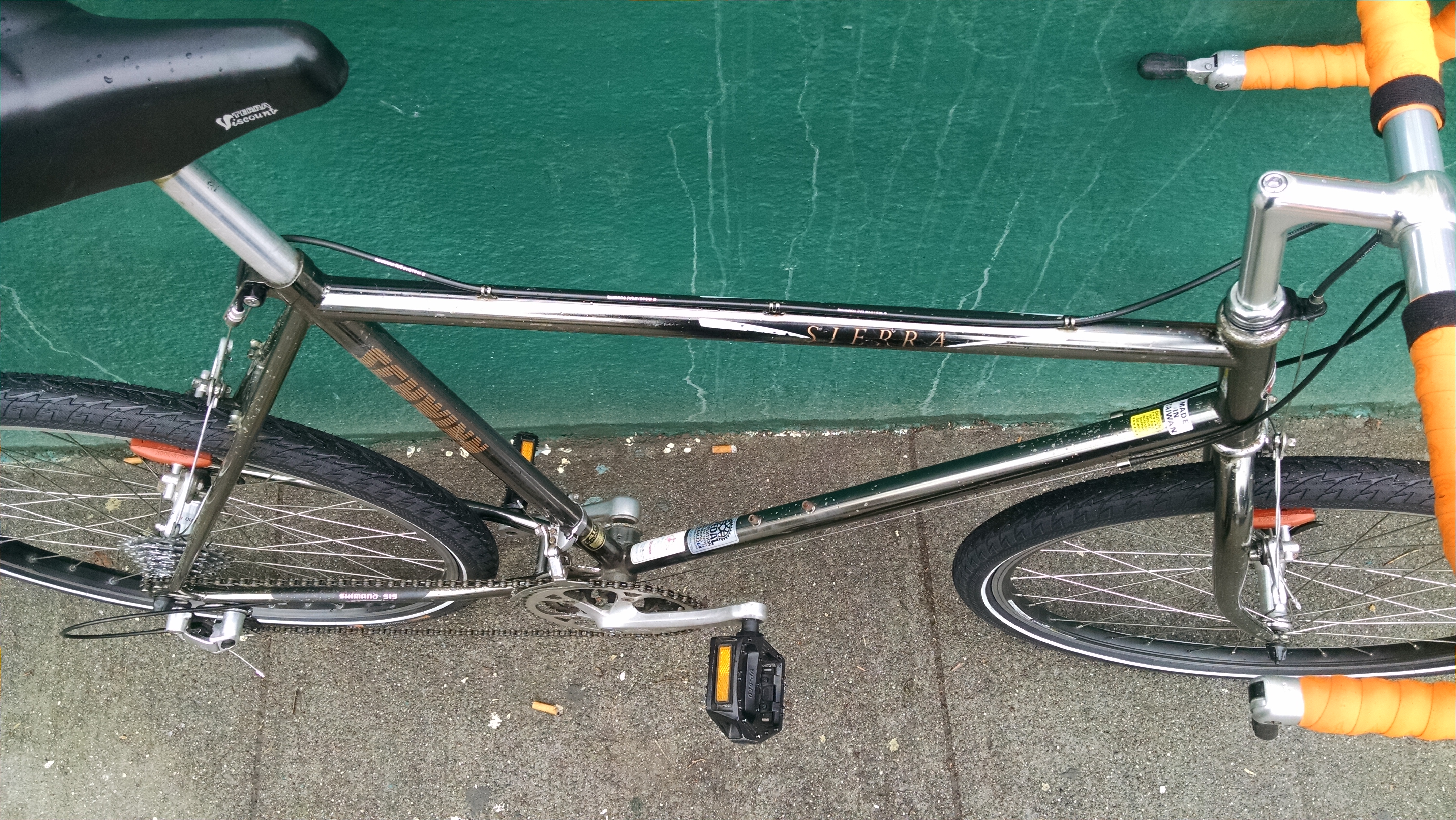 Schwinn Sierra 23″ : $550
Peugeot Canyon Express All-Arounder Bike @Pedal Revolution Refurbished Bike Update
last night was the longest night of the year. The sun set at 8:54pm and to celebrate all of the extra daylight the staff at Pedal Rev decided to go for a Sub 24 hour bike camping overnight. Otherwise known as an S240, the idea is that it isn't always easy to get away for big trips, extended weekends, etc. but it's not too tough to get out for a quick overnight, sleep under the stars and make it back to work the next day, albeit a little groggy. Touring bikes are a fine choice for this type of excursion accommodating racks and bags to facilitate bringing things like camping gear, food, coffee, frisbees, whiskey, bug spray, etc. Touring bikes are wonderful things but they are costly and there are other options out there if you dream of loading up a bike and venturing forth down the road for a little nature time. Older era Mountain bikes make for great budget touring bikes with their long wheelbases, rack mounts, steel frames,and sturdy construction. These can often be found used and modified to work as workhorse commuter bikes and yes, even touring bikes.
Below is a fine example of a Pedal Revolution rebuilt Peugeot Canyon Express rigid mountain bike into a more utilitarian machine. Reinforced asphalt friendly tires matched to new wheels and a comfortable wide, upright handlebar make for steady cruising on street or dirt, in city or country. We have modified Surly Long Haul Truckers in just way for customers who preferred a more upright but still efficient ride. Come check this one out and get your ride on.
22″ fits 6'1″ - 6'4″
$400.