SFBC Winterfest Auction Bike - Custom built by Pedal Revolution
SFBC Winterfest Auction Bike - Custom built by Pedal Revolution
This bike was assembled from the frame up by Pedal Revolution and given to The San Francisco Bike Coalition for their Annual fundraising party - Winterfest!
Lead Mechanic Todd B. with assistance from two our Youth interns Daniel and Josh spearheaded the assembly utilizing many donated components from Soma Fabrications. This is a signature example of a custom refurbished Pedal Revolution bike; a classic steel frame completely rebuilt with great quality new parts into a totally reconfigured city bike. Our focus is versatility, function, reliability, and fun! Early mountain bike frames like this one had a very high level of craftsmanship from Japan and had more of a touring bike geometry compared to contemporary mountain bikes. We love transforming these classic bikes into unique and utilitarian commuter style bikes, capable of carrying significant loads and accommodating racks, baskets, and fenders. Many of our customers rely on their bikes as their primary mode of transportation, grocery getting, commuting, and recreation. They want a bike that can reliably get them to work and back home and then be outfitted for a weekend bike camping trip or out of town adventure.
Pedal Revolution is a non-profit bike shop that has been in business since 1992 and hosts a paid work internship program for at-risk bay area youth. We employ 20 young people every year as interns in our shop working side by side with our professional staff. Our interns learn a combination of basic work-readiness skills and participate in a bicycle service based training curriculum experiencing bicycle repair, assembly, and sales in our own business. Interns assist our professional staff in the building of our new and custom refurbished used bicycles like the one you see here. Our refurbished used bicycles arrive from donations from individuals like you who want to support our program. The bikes are stripped, assessed, and then rebuilt with new components to assure a long and reliable life. These bikes are unique, one of a kind creations with distinct style and a character all their own. Please consider donating your old bicycles, frames, or bike parts to our program to support our social mission. Next time you are in the market for a fantastic new or refurbished used bike come visit us!
Here are some photos of the before and after bike build process:
Pictured below are two of our current youth interns Josh and Daniel holding the vintage Miyata "Terra Runner" frameset that provided the foundation for this build:
80's Japan built, triple butted, lugged steel goodness.
The paint was a little rough so we sent it off to our friends at Champion Powdercoating for a super sweet repaint.
We've come to referring to this textured blue finish as " Pining for the Fjords Blue".
Service Manager Joel had the bright idea to have the stem painted to match.
Came out quite nice!
Here are Josh and Daniel again with painted frame, fork, and stem with the new wheels and Soma Fabrications New Xpress tires which they set up and installed.
Below Daniel carefully shellacks the cork grips designated for the bike. We love the classic look of cork grips.
Shellacking weatherproofs them and keeps them looking good for a long time.
Brand new drivetrain with Sugino touring cranks, Shimano and IRD mechanicals, and stylish MKS touring pedals.
Shop bottle/shop sticker steeze.
Sprung leather touring saddle.
Soma Fabrications Oxford Handlebar, IRD thumbshifters, Champs Elysees front rack, and Wald basket….gotta have a basket.
Those grips though!
This was a really fun project for the Pedal Rev crew. Hope you like!
Bike details:
-80's era Lugged steel  Miyata "Terra Runner" early MTB frame
-Made in Japan
-Size 21"
-Custom powder-coated "Pining for the Fjords Blue"
Parts:
-Shimano 26" wheelset
-Soma Fabrications New Xpress Touring Tires
-Sugino XD500 Touring Crankset
-Shimano Deore M591 Long cage rear Derailleur
-IRD Front derailleur
-MKS Sylvan Touring Pedals
-Velo Orange Leather Saddle
-Soma Fabrications Oxford handlebar
-IRD 9spd indexed thumbshifters
-Shellacked Cork Grips
-Soma Fabrications Champs Elysees stainless front rack
-Wald basket
Custom "Turbo Banana" Touring Rig, 56cm
Though there are indeed hundreds of types of bananas that we humans eat, they are all crosses of only two wild banana species.  This makes bananas quite susceptible to disease, which led big fruit companies (primarily Dole) to buy up vast acreage in the tropics as a hedge against future outbreaks.  Those interested in reading more about this subject should check out this book.
Even if you don't have a particular affinity for the ubiquitous fruit, this brilliantly yellow bicycle may just suit your fancy.  Been thinking about getting a Surly Long Haul Trucker or Cross Check, but want something with a whole lot more character?  Then this rig might just be perfect for you.  In fact, the stem/handlebars have been lifted directly from a brand new Cross Check, and feature 3X10 bar end mounted shifters.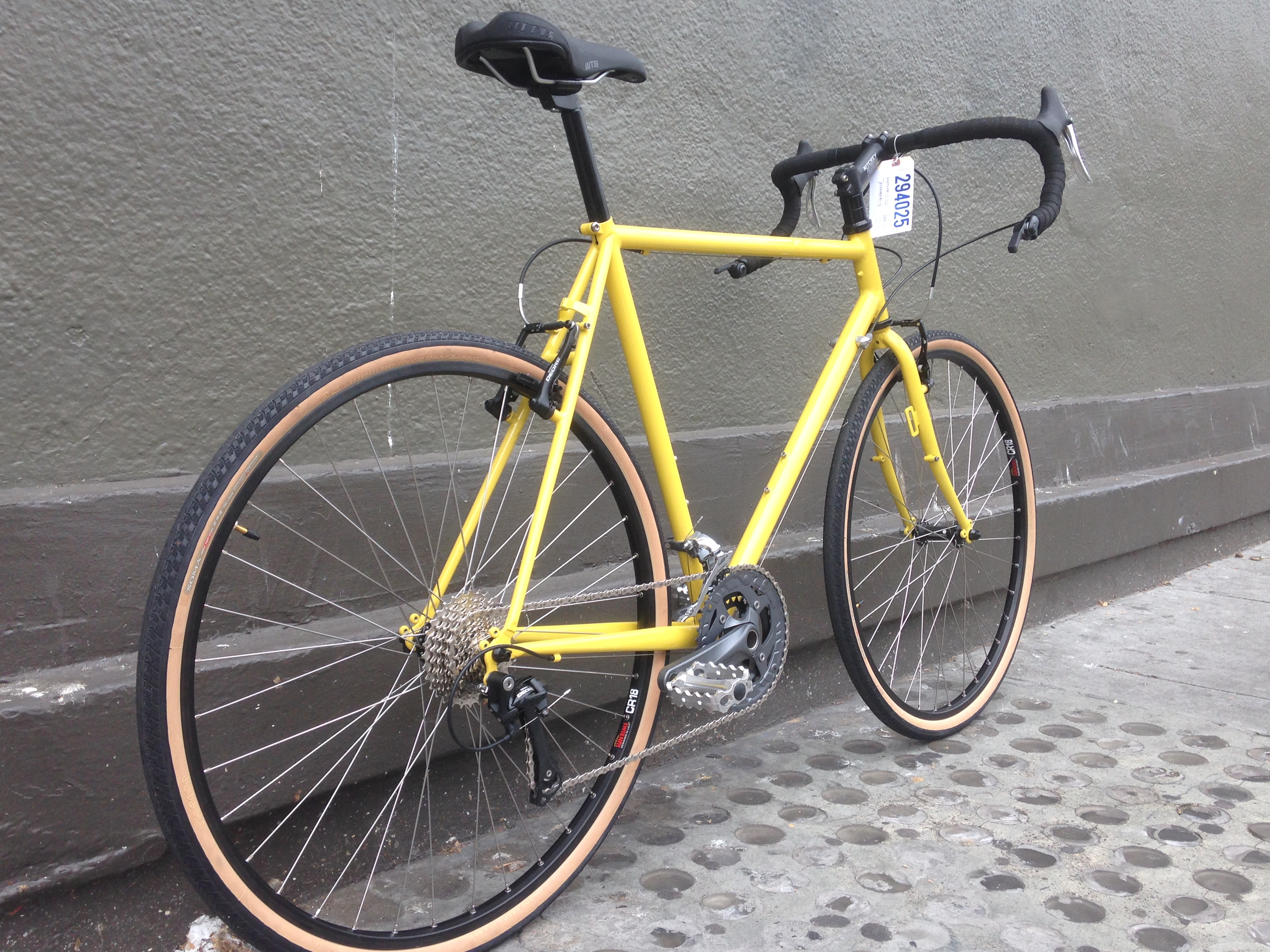 You'll note that there are plenty of rack and fender mounts, as well as a light mount on the fork.  A good quality set of wheels (Shimano hubs/Sun CR18 rims, 36 spoke) should hold up well as the miles float by.  Be sure to only wear Banana Boat sunscreen while you're out there crushing those miles, however….
A good fit for somebody about 5'9″ to 5'11".  Come check it out!
$1050.
Specialized RockHopper Commuter 19.5" @Pedal Revolution Refurbished Bike Update
Another rebuilt gem from yester-year. Cool grey and aqua color scheme on this classic steel Rock Hopper frameset. Rebuilt by Pedal Revolution for heavy duty commuter use with new drivetrain, wheels, upright bars, shifters, brakes, saddle, and burly Continental Touring Plus tires.
19.5″ (fits 5'9″- 6′).
$375.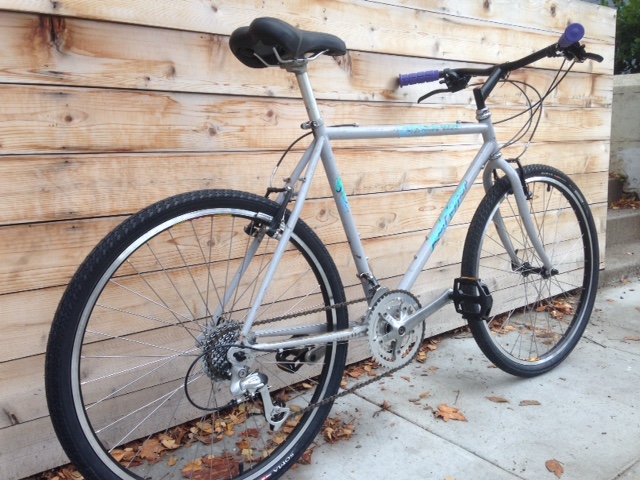 Surly Straggler SRAM Apex Build @Pedal Revolution New Bike Update
Surly Straggler! One of Surly's newest models takes the much loved Cross Check platform and ramps it up with disc brakes and integrated shifters. A perfect blend of new contemporary and classic proven technology, this do-it-all bike has all the modern road and "adventure" bike features like a full SRAM Apex road component group, Hayes cable actuated disc brakes, and chubby Surly Knard 70o/650 x 41 tires. Like it's sister bike the Cross Check, the Straggler has all the rack and fender mounts you could ever need to set it up for a wet weather commute or as a fully loaded touring rig. You could even slap some 28mm road slicks on it and head out on a century or a heavy road ride with the spandex crowd.
This Straggler (pictured) is the Mint colored version in a 650b wheel size. A cool new addition is the option of the 650b wheel size in the smaller frame sizes to accommodate the smaller rider and give better wheel/geometry fit and less toe overlap. The bike is also available in a Shimano 105 kit version for those Shimano-philes out there.
$1425.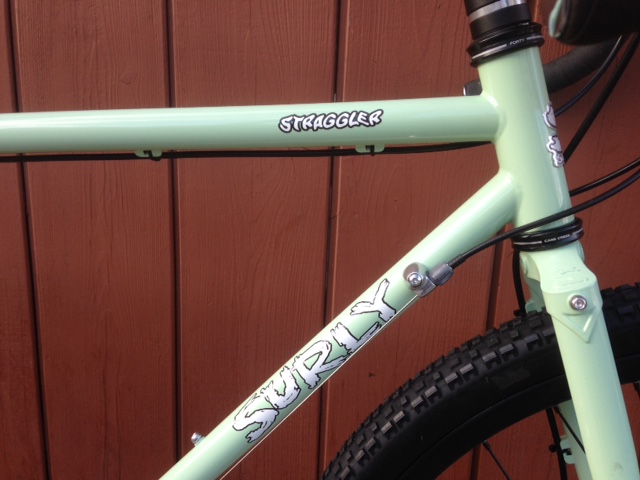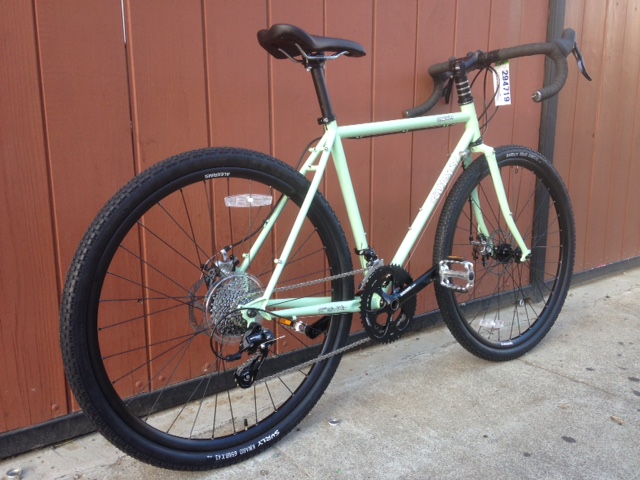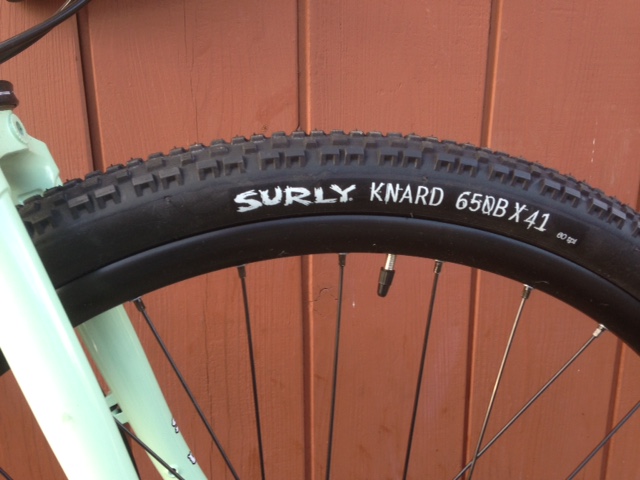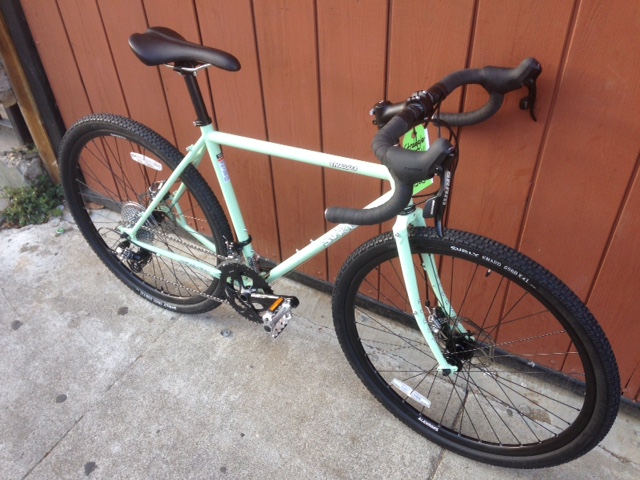 Pedal Revolution Used Bike Update: Schwinn Sierra Drop Bar Mountain Tour Bike
Pedal Revolution Used Bike Update: Schwinn Sierra Drop Bar Mountain Tour Bike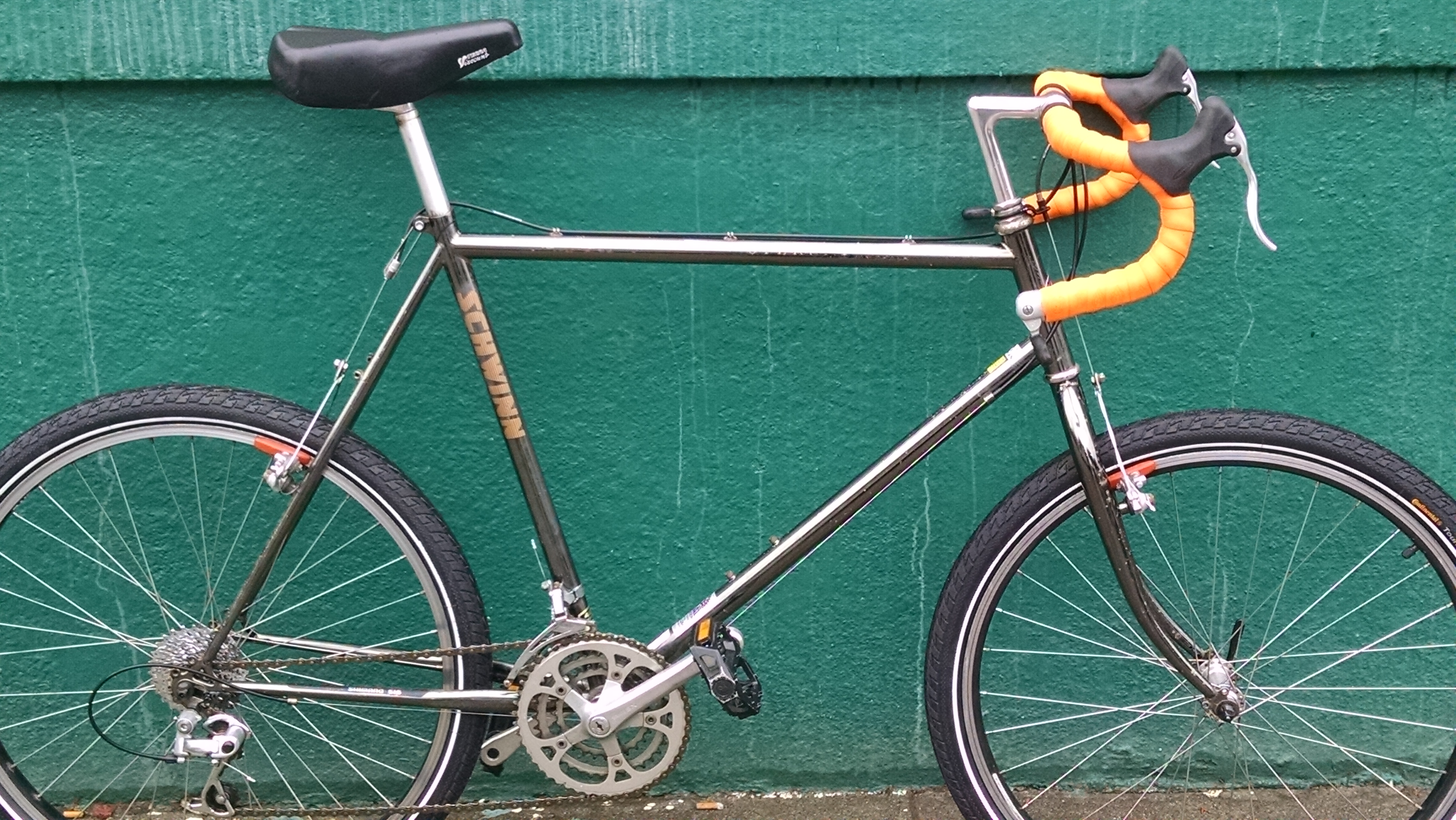 It's truly astounding the number of 80's and 90's vintage mountain bikes Pedal Revolution receives in donation (thank you generous benefactors). They are testament both to the number of these bikes sold during the original mountain bike boom and the quality of construction of these frames (FYI: their iron like strength, resilience, and durability is largely due to them being actually made of steel!).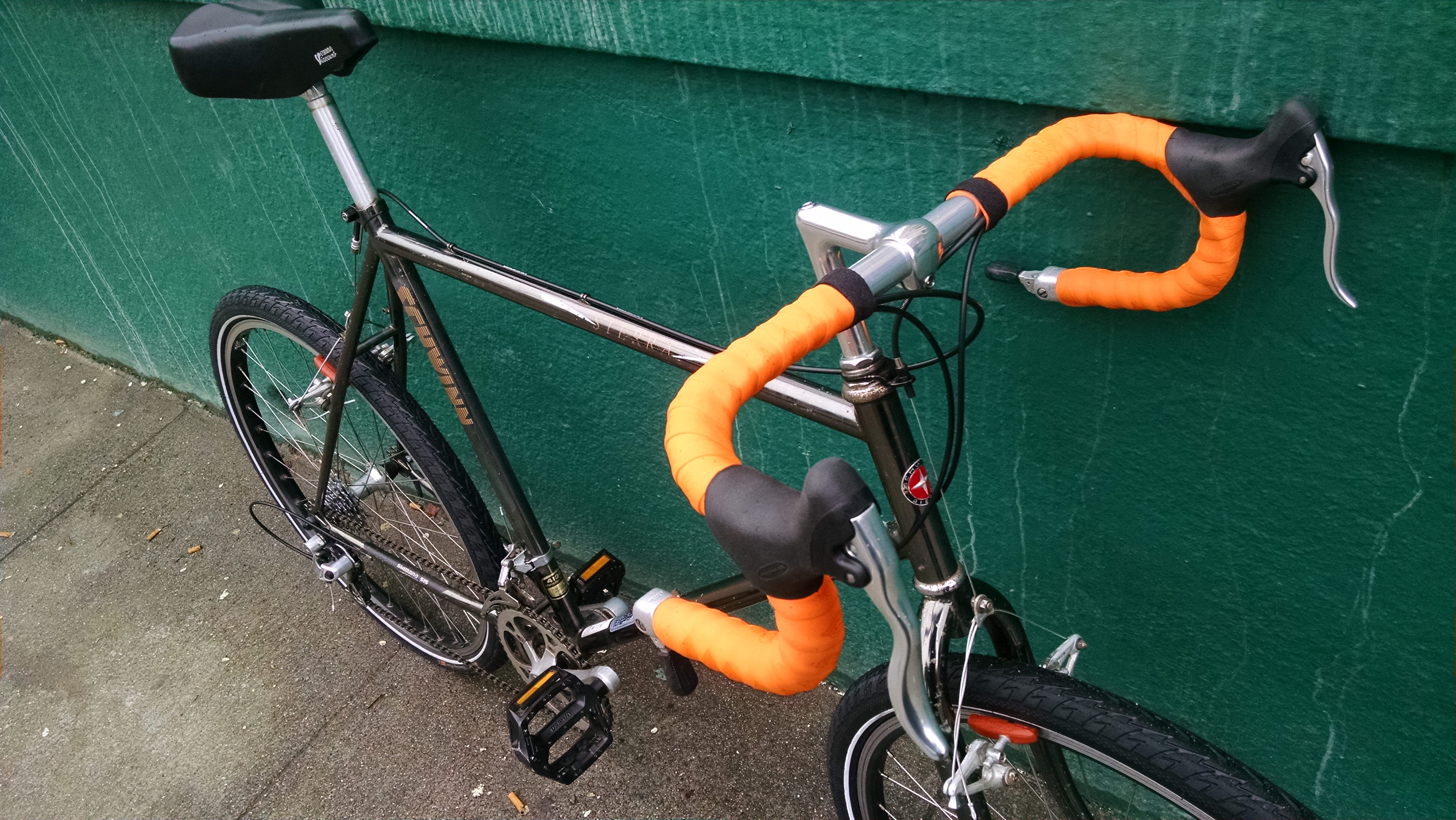 By the standards of today, bikes like this Schwinn Sierra are terrible bikes for serious single-track mountain biking (ps. the flip side is also true that the super fun trail riding bikes of today are the absolute worst transportation bikes due to technological suspension overkill and lack of utilitarian features).  However, with some parts changes and updates these original off road specialty machines can be transformed into excellent city and transportation steeds.
Just to mix things up from the rote Pedal Revolution older mountain bike becomes city bike genesis (street slicks replace knobby tires, new drive train parts, etc), a drop bar was added to this bike to give it some long ride and bike tour potential.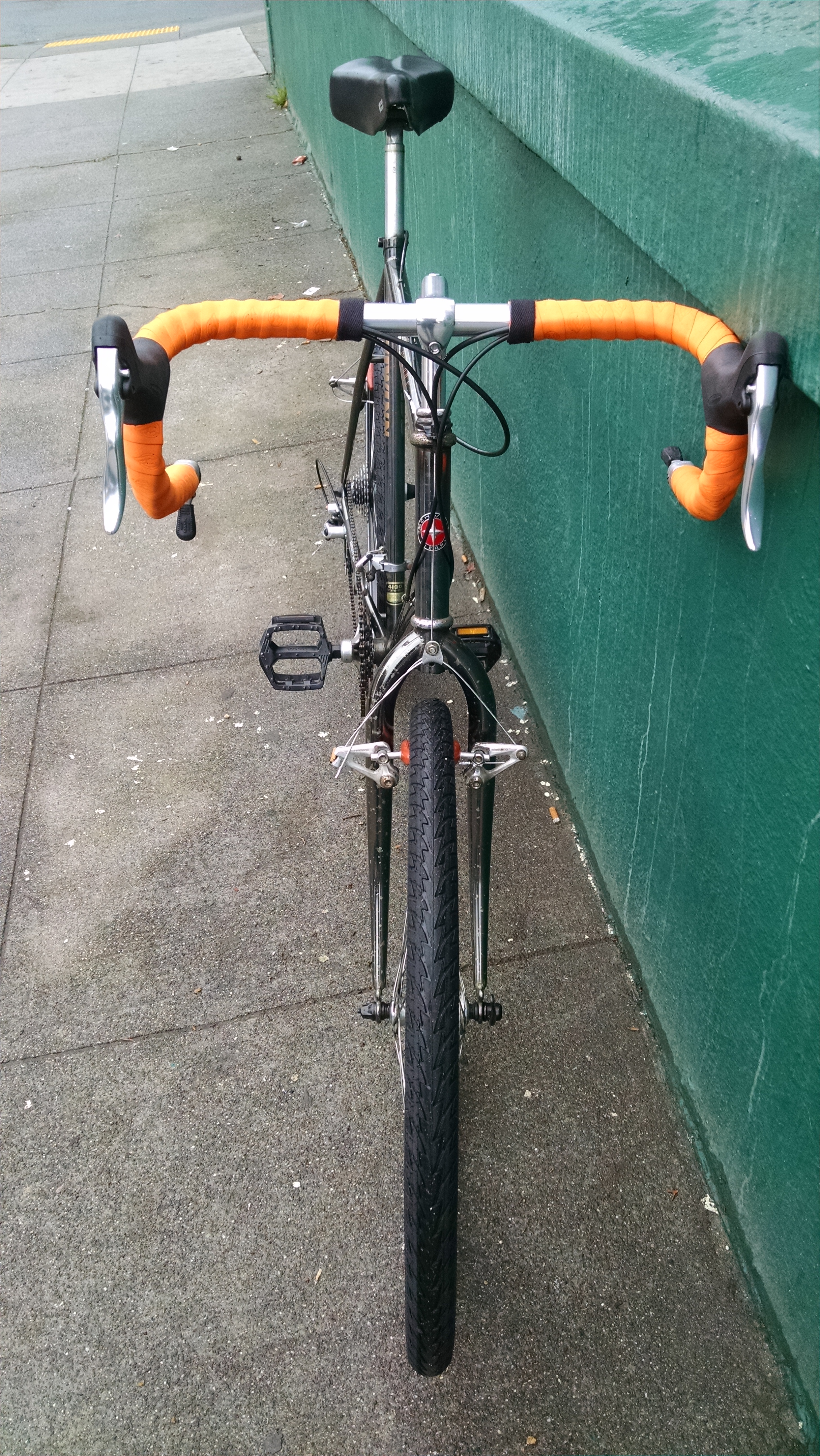 The orange bar wrap gives the bike some seasonal fall flair.  Front and rear fork eyelets add more easy fender and rack options.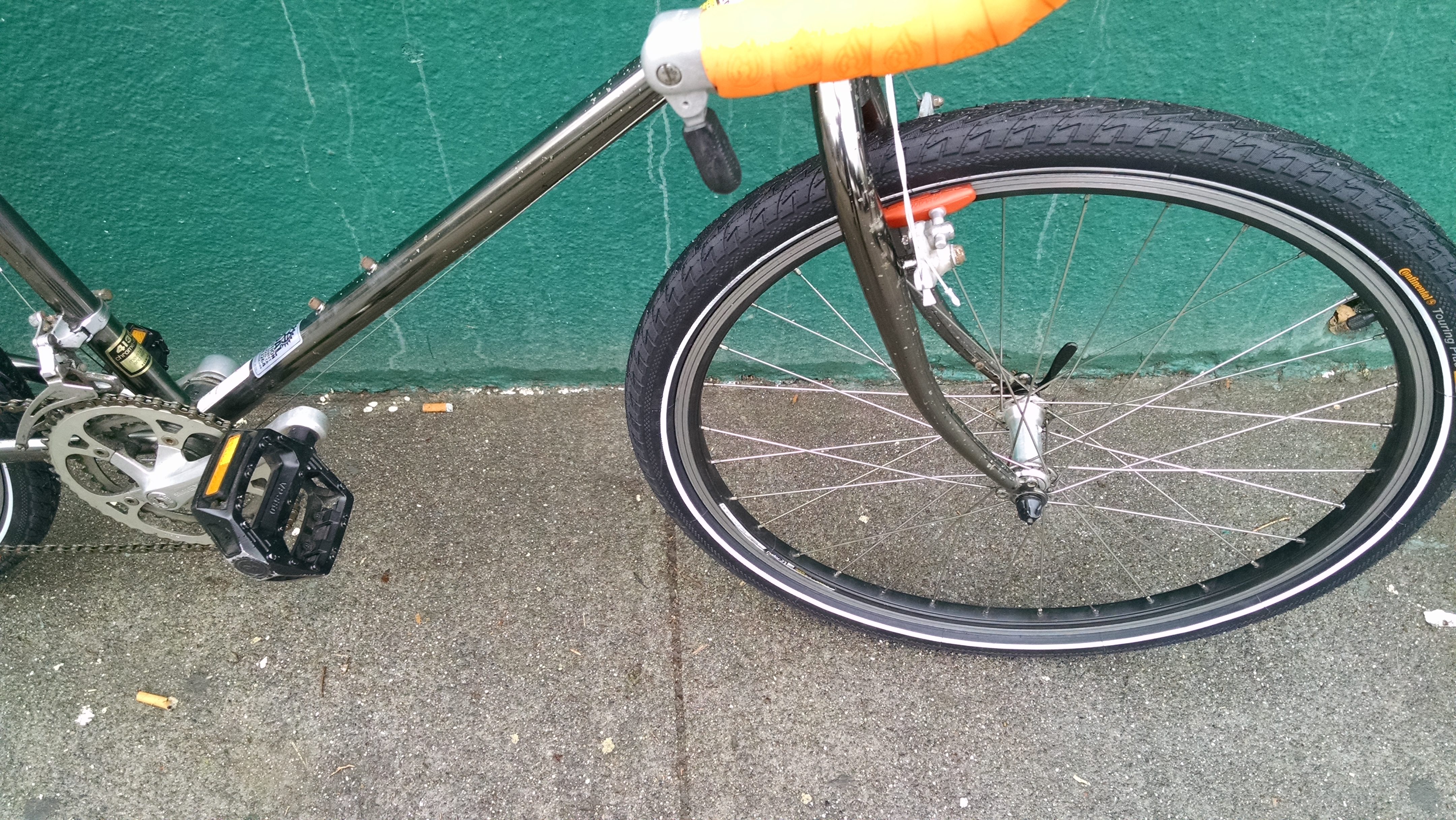 Suntour Bar end shifters are just fantastic.  They were on some very cheap back in the day bikes (the Schwinn Sierra was not originally cheap or equipped with these).  Every micro friction shift with these units is an utter delight.  They are what I (Joel) use on my own touring bike!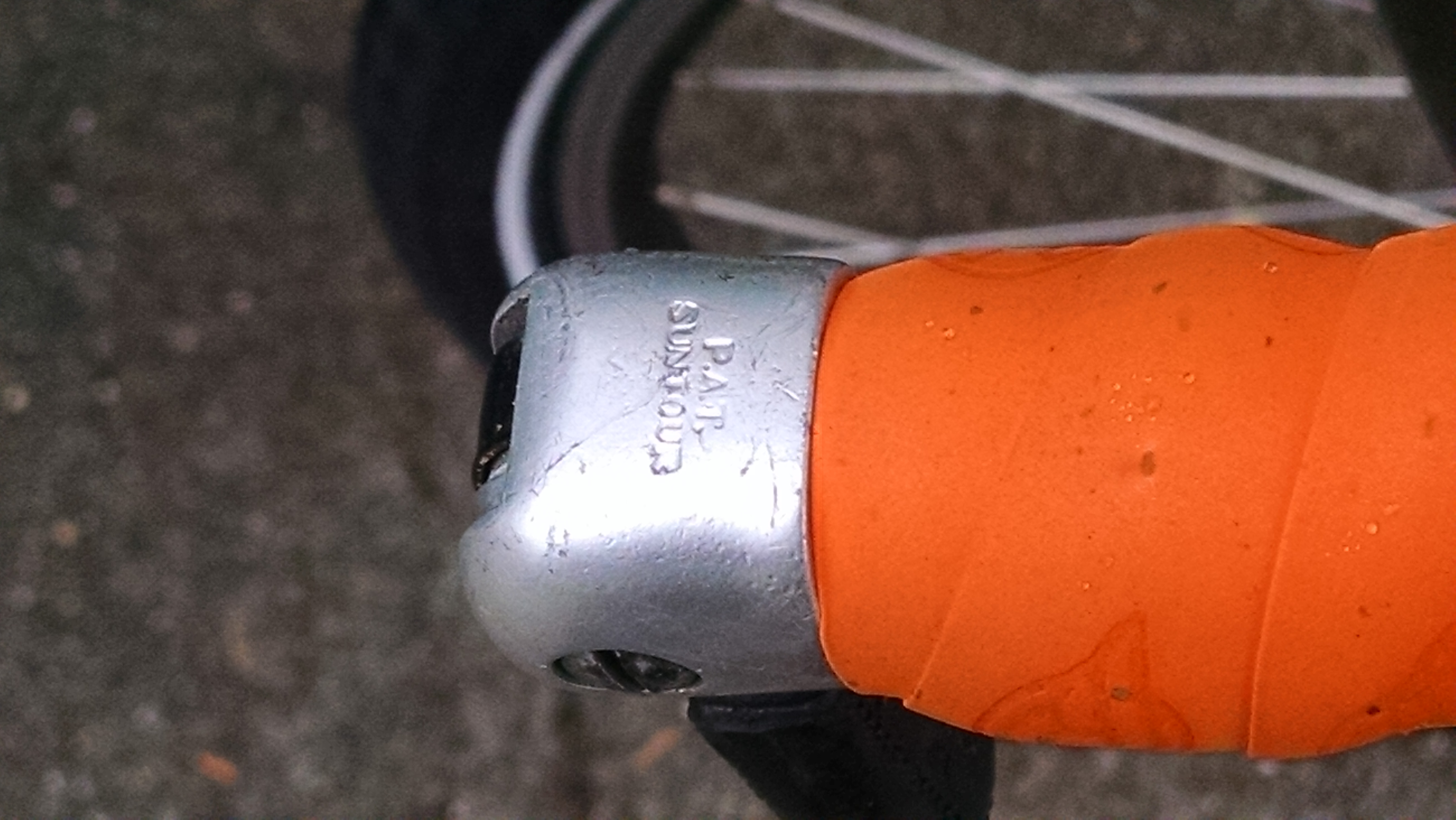 This is a great all-purpose bike for someone about 6′ tall.  The large tires and strong frame with plenty of accessory mounts make a great bike for carrying large loads on bike trips around the city or across the country!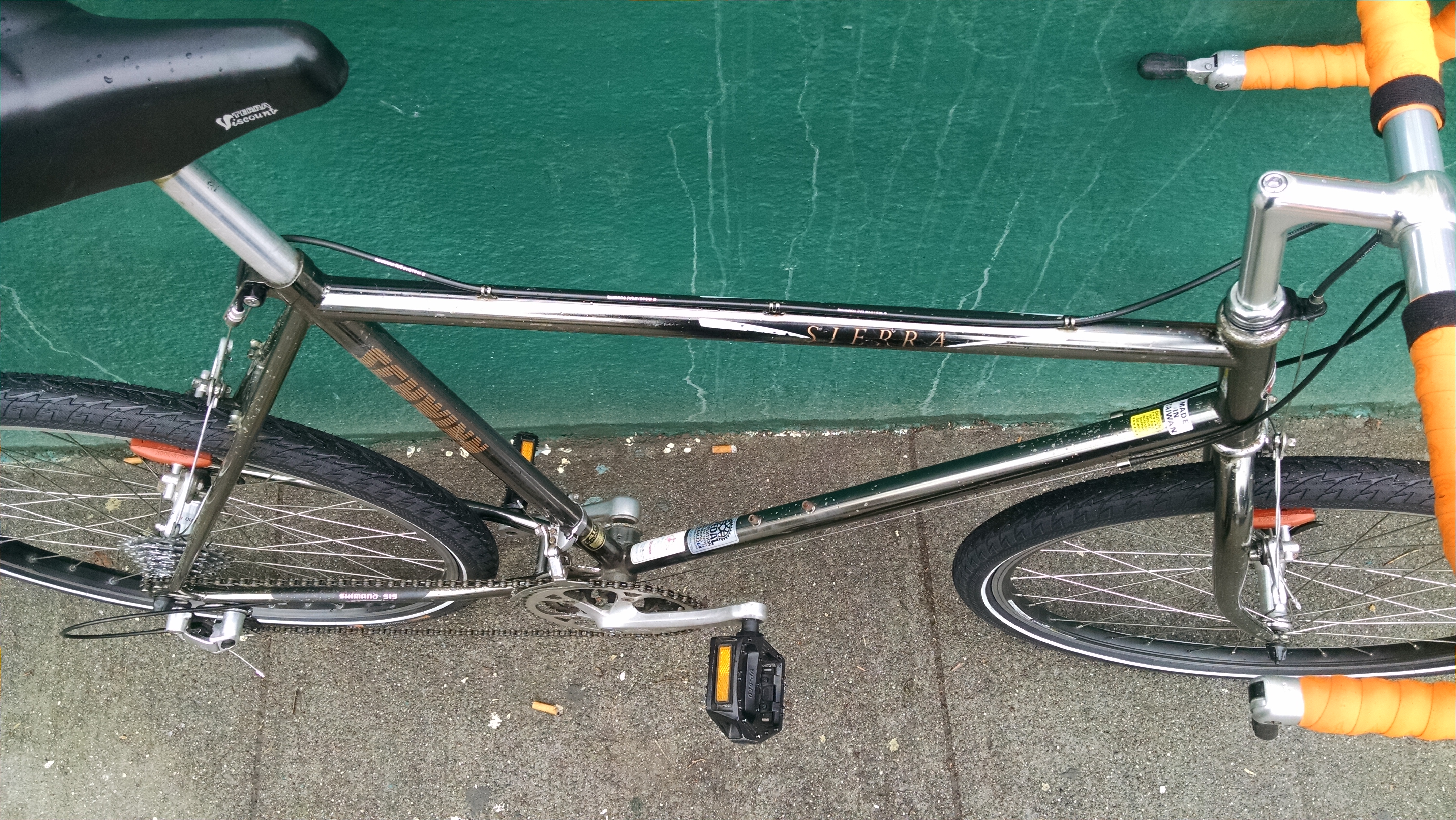 Schwinn Sierra 23″ : $550
Fuji - Mt. Fuji Touring Bike 55cm @Pedal Revolution Custom Bike Update
Fuji, Mt. Fuji
Another day, and another gem of a refurbished bicycle is here at Pedal Rev.  This cycle started its life as a higher end Mt. Fuji mountain bike from what I (Nolan) believe to be a 1980.  This lugged steel steed was created in the magical time when bicycles were expected to do more: your mountain bike was your touring bike, your commuting bike, and your beverage bike.  Quality steel, comfortable geometry, copious eyelets and more made this bike an exemplary all-in-one eighties powerhouse.
While the Mt. Fuji is a great bike, this particular Mt. Fuji was in a bit of a bad way when it arrived at Pedal Rev as a donation.  Distressed paint, and parts worn beyond repair left us wondering: "What were we to do?"  Champion Powder Coating provided us with a screaming matte green paintjob (thanks y'all!), and a new parts build got this bike back in fighting shape. While the bike was originally built with a riser bar, we built it with the cockpit of a touring/randonneuring bike.  Randonneuring bicycles seem to be all the rage right now and the newly dubbed Mt. Fuji Destroyer falls in with the best of them.  Our Destroyer has traditional road bar/levers and bar end shifters to allow for multiple riding positions.  The wide range 3×9 drivetrain give the bike plenty of gears to tackle the hills, while a powerful set of cantilever brakes provide enough Umph! to stop after bombing down said hills.  26" wheels and the perennial Pasela PT tire round out the build. Just when you thought the Destroyer couldn't get any better, we added some flair in the form of a color correct Velocity H2O cage, and wrapped the drive side chainstay with black Newbaum's cloth bar tape for a real curated look. The Willys Jeep is (matte) green with envy.   
This bicycle measures out to a 55cm, and would work be perfect for a rider 5'9"-6'. Come in and put some fun between your legs.
$850.00        
Custom Mikkelsen
The bicycle industry operates on an economy of large-scale.  This generally, at least in terms of economics, benefits most bicycle buyers.  For relatively small sums, people can purchase reliable and comfortable bikes.  Unfortunately, this scale requires that bicycles are built-in a several sizes fit most model, a tyranny of the majority that does not consider the needs of many cyclists. Essentially, mass-produced economical bikes are sized to fit people about 5′ tall to about 6'3″.  Most often folks at or beyond these fit margins end up riding poorly sized and or designed (i.e. badly handling) bikes. One approach the taller rider can take is getting a custom builder to make them a frame to suit their needs.
Bernie Mikkelsen is a local bicycle building legend of sorts and I (Joel) believe a tall guy himself.  This is the second Mikkelsen Pedal Revolution has had the honor to build in the past year. It seems that Mikkelsen, capitalizing on an industry void, somewhat specializing in building bikes for big riders.
The semi-compact frame design adds strength (less leverage in the shorter tubes) while the tall head tube extends well above the top tube to help get the handlebar nice and high (i.e. more comfortable).  This, in addition to the seamless looking fillet brazed frame (most steel bikes have T.I.G. welded seams or lugged brazed joints) are distinct features that you are just not going to see on any mass-produced bike.
In addition to owning an appropriately sized bike for the first time in his life, the owner was seeking a bike with integrated shifters and low enough gears for possible touring. The gearing was achieved via a 10-speed Shimano 105 drivetrain with triple cranks in the front and a Shimano XT rear derailleur (non-dynasys) and mountain cassette (11-36).
Shimano doesn't authorize this low-grade drivetrain hack but it works great!!!  (Pedal Rev sticks it to the man again!) The Schwalbe 35mm Kojak tires mounted to custom-built Mavic touring rims on 105 hubs provide supreme speed, smoothness, strength, and flat resistance.
Lots of excellent boutique made'n 'Merica parts complete the build: ESI silicone bar wrap, Paul (Chico Cali) polished brakes with Kool Stop (Oregon) pads, Chris King headset (artisanal C.N.C. machine micro crafted in Portland, OR) Thomson set-back seatpost (made in Georgia, the state in the Southeastern USA also famous for its peaches and the rap group Outcast) and seatpost clamp.  The bikes color scheme (paint by Champion Powder Coating - Hunters Point SF) is the same as the owner's long-time Mission (SF USA) local company.  This is a really awesome ride…
Custom rebuilt 17" Specialized Stumpjumper with Sparkle powdercoat @Pedal Revolution Custom Used Bikes Update
Custom rebuilt Specialized Stumpjumper with Sparkle powdercoat.
This beauty began it's life as a high-end mountain bike but after a creative makeover from Pedal Revolution it's transitioned into a great city bike. A mix of high end Shimano components matched to Panaracer Pasela touring tires, Soma Sutro stem and and Ahearne Map bar for a comfortable higher bar position, and Selle Italia saddle makes this a great all-around ride. The quick geometry makes it react with snappy turns and fast handling plus the added durability found in the classic mountain bike platform. A great do-it-all bike with an exceptional paint job.
17″ fits 5'5′-5'9″
$750.
Surly Disc Trucker Outfitted out for the Road @Pedal Revolution Bike Update
A super utility vehicle is presented in this mini Surly Disc Trucker. Our customer wanted a reliable touring bike to take her from California to Colorado. Upright riding position was key as well as carrying capability as she will be self-supported for the trip through various national parks. The 42cm Disc Trucker with 26″ wheels was a perfect match for her needs. This bike will do the job confidently over asphalt and dirt for miles and miles. When the next adventure is just beyond the horizon, a bicycle is fine choice to get you there.