"Purple Panic" 17" Specialized RockHopper Custom Refurbished Bicycle @Pedal Revolution Used Bike Update
Specialized RockHopper "Purple Panic" Custom rebuilt used bicycle fitted out for daily use. All new components adorn this gem of a 17″ frameset. 1×7 drivetrain, quick and durable Pasela Panaracer tires, Soma Sutro stem and Ahearne bar, psychedelic pedals, etc. So much goodness in this little bike. Perfect size for someone 5'5″ -5'9″.
$485.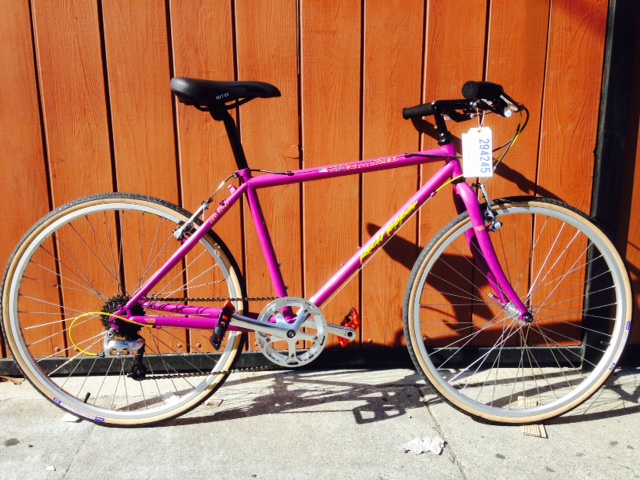 Robin Hood 3-Speed @ Pedal Revolution Refurbished Bike Update
1969 Robin Hood 3-Speed Step-Through - $350 SOLD!
In the year 2008, I (Joel) began my career as a bicycle mechanic.  7 years ago this month actually.  I worked at Broadway Bicycle School in Cambridge, MA. This shop serviced many old British 3-Speed bikes.  It was actually kind of a specialty of the shop.  I was tasked with tuning up many of these bikes and let me tell you, at the time, they were the bane of my existence.  Compared with contemporary bikes, these bikes are unconventional and quirky as can be (internal gear hubs that are influenced by by their position in the frame, front hubs that are adjusted in the fork, use of metric and non-metric/imperial fasteners, "Raleigh"/26 TPI threading, brakes that are centered with a hammer and punch!…).
At a certain indecipherable point (I suppose it has been a process, journey or evolution in my development as a mechanic and cyclist) I formed a real affection for these idiosyncratic machines best celebrated on the Sheldon Brown (fellow Broadway Bicycle School alumnus) website.  Please allow me to quote:
These Are Real Bikes!

on't sneer at old 3-speeds. They are serious bikes, built for serious use. They are meant for utilitarian cyclists, and they are still extremely appropriate for riders who don't usually go more than a few miles at a time. They are particularly at home in stop-and-go traffic, because they can be shifted even while stopped. Their English heritage: full fenders, oil lubrication, and totally enclosed gear system makes them relatively impervious to wet conditions. They may be heavy, but that is not because they were built to be cheap, but because they were built to endure extremely rough usage and neglect. Properly cared for, they will outlast us all.
As evidenced by the date stamped on this Robin Hood's Sturmey Archer hub, this bicycle was manufactured in 1969.
In 1969, the guts of the Sturmey Archer AW hub were much the same as  in 1902, having survived two world wars, the great depression, the baby boom and several high-profile assassinations fully intact. However, 1969 was a pivotal year of change in the history of Rock N Roll.  Anyone in the Bay Area today who happens to catch audio glimpses of traffic reports referencing Altamont must surely be reminded of the ugly events that occurred at the free concert there in December 1969, the edge of the 1970s.  As we now know, the Altamount Free Concert was the event that signaled the end of the day glow tie dye days of peace and love.  What followed was a decade of earth tones, religious cultism, political assassination, heavy narcotic use, domestic terrorism, disco, escalating imperial war atrocities, and the emergence of punk rock. Around the time I was birthed, The Clash succinctly penned the perfect counter point to the peace and love espoused by the flowerer children of the 60's, Hate and War ("the only things we got today").  A real theme song for the 1970s.
A more positive association one can make with this bike and The Clash is their invocation of Robin Hood in the excellent song White Man in Hammersmith Palais.  Perhaps the first of example of White musicians properly doing what Bob Marley would affectionately call the "punky reggae".
As mentioned in the above quote from the Sheldon Brown website, although these are real bikes, they were geared for the flat streets of Nottingham or Manchester (see the below video) England rather than hilly San Francisco.  Thusly, the original cottered cranks were replaced with a Velo Orange threadless bottom bracket (mooting the Raleigh threaded bottom bracket shell) and a beautiful Sugino crank fitted with a 42 tooth chainring.  This crank is mated to a 23 tooth rear cog and provides excellent gearing for our vertiginous local terrain.
Peugeot Canyon Express All-Arounder Bike @Pedal Revolution Refurbished Bike Update
last night was the longest night of the year. The sun set at 8:54pm and to celebrate all of the extra daylight the staff at Pedal Rev decided to go for a Sub 24 hour bike camping overnight. Otherwise known as an S240, the idea is that it isn't always easy to get away for big trips, extended weekends, etc. but it's not too tough to get out for a quick overnight, sleep under the stars and make it back to work the next day, albeit a little groggy. Touring bikes are a fine choice for this type of excursion accommodating racks and bags to facilitate bringing things like camping gear, food, coffee, frisbees, whiskey, bug spray, etc. Touring bikes are wonderful things but they are costly and there are other options out there if you dream of loading up a bike and venturing forth down the road for a little nature time. Older era Mountain bikes make for great budget touring bikes with their long wheelbases, rack mounts, steel frames,and sturdy construction. These can often be found used and modified to work as workhorse commuter bikes and yes, even touring bikes.
Below is a fine example of a Pedal Revolution rebuilt Peugeot Canyon Express rigid mountain bike into a more utilitarian machine. Reinforced asphalt friendly tires matched to new wheels and a comfortable wide, upright handlebar make for steady cruising on street or dirt, in city or country. We have modified Surly Long Haul Truckers in just way for customers who preferred a more upright but still efficient ride. Come check this one out and get your ride on.
22″ fits 6'1″ - 6'4″
$400.