Italian Dreams-Benotto & Atala
These two beauties make a cameo appearance in the previous post, but they're both worthy of special mention.  We all have some appreciation for the beauty and flow of the Romance languages, and bicycle makers in those nations have indeed capitalized on the American desire for something a little bit more-how shall we put this-well, maybe just a little prettier.  Think Bianchi, De Rosa, Colnago or even (dare I say it) Peugeot.  But the Italians seem to have maintained the most cachet, so let's just focus on them for a minute.  It's also tempting to try and spin a fictional love story for Benotto and Atala; I am sure they do love each other very much, and enjoyed every minute they spent together riding along the cobblestone roads of the Italian countryside…of course now they have both found themselves in San Francisco, are a little lost, and need loving homes!
Atala, at 53 cm, would be a good fit for a human about 5'5″ to 5'9″.  Benotto's a little smaller, at 50 cm, and is seeking a rider in the 5'0″ to 5'4″ neighborhood.  While both would like to think they're priceless, the brutality of capitalism and the global marketplace have assigned each of them values of $550.
Custom "Raspberry Beret" 53cm Town-Style
Prince's music remains difficult to find for free on the internet, and it's a hard thing to complain about when you consider his musical talent and incredible writing.  So when I was trying to find a good video to link here, I was thwarted.  That's okay though, because we all know the song and the fact that if it was warm she wouldn't wear much more. Brilliant.
When this frame came back Champion Powdercoating the Raspberry Beret connection was instantly obvious.  We thus attempted to build it up in a way that would accentuate the frame's color; everything else on the bike exists pretty much in deference to the Raspberry.  Comparatively boring is the fact the the bike is nicely equipped with all new parts, including a simple and reliable 3-speed drivetrain, comfortable saddle, and nice-looking gumwall tires.
To be sure, there are lots of different raspberries out there.  You've got black raspberries (not too common here, though blackberries are presently in season and if you're hungry, head on up to McLaren Park to pick some), golden raspberries, and even yellow raspberries.  But I think it's probably safe to say that when Prince was writing the song, he was picturing the lady in a beret just about the color of the bike you see here.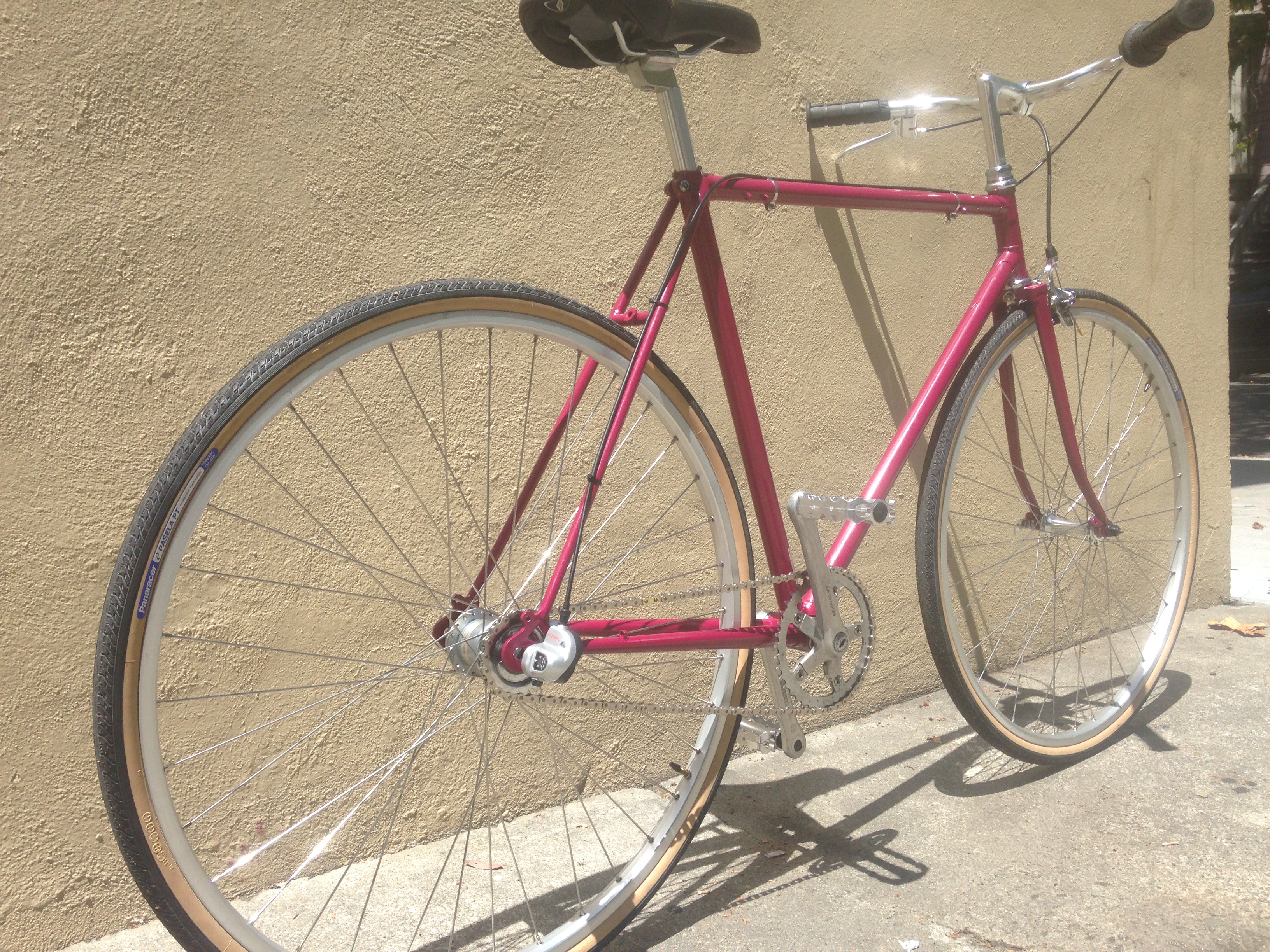 Though the bicycle does not come with a beret included, we can recommend a number of fine fashion establishments nearby where you could find an appropriate one.  I guess that's about all you'll need, then, especially if it's warm.
$725
SOLD!!!!
Novara Trionfo 48cm @ Pedal Revolution Refurbished Bicycle Update
While shopping a while back I purchased a bottle of what I assumed to be olive oil, based on the presence of those words on the label as well as a prominently displayed Italian flag. It was only when I got home that I discovered it had been blended with canola oil, reducing it from prime bread-dipping status to mere general-purpose frying duty.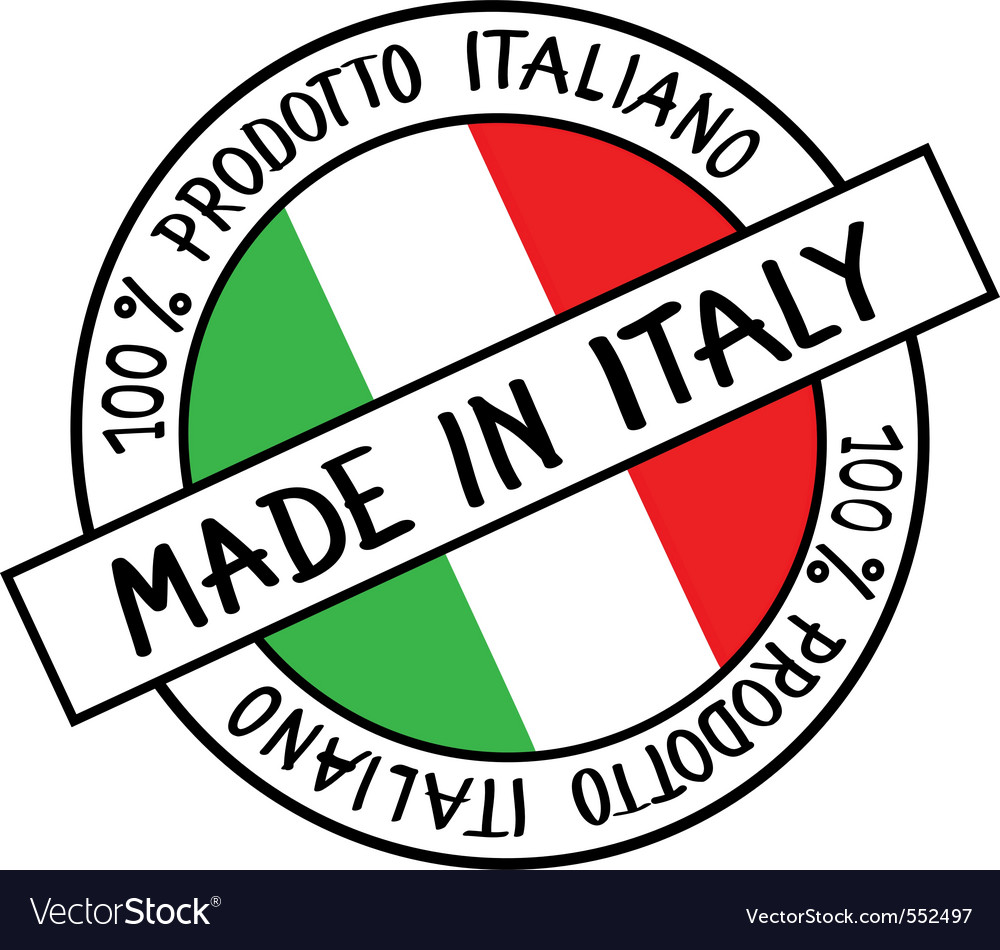 While the Made in Italy label does seem to gain the immediate attention and respect of the average American consumer, I hadn't even seen that.  Just the flag.  Enough to buy the item.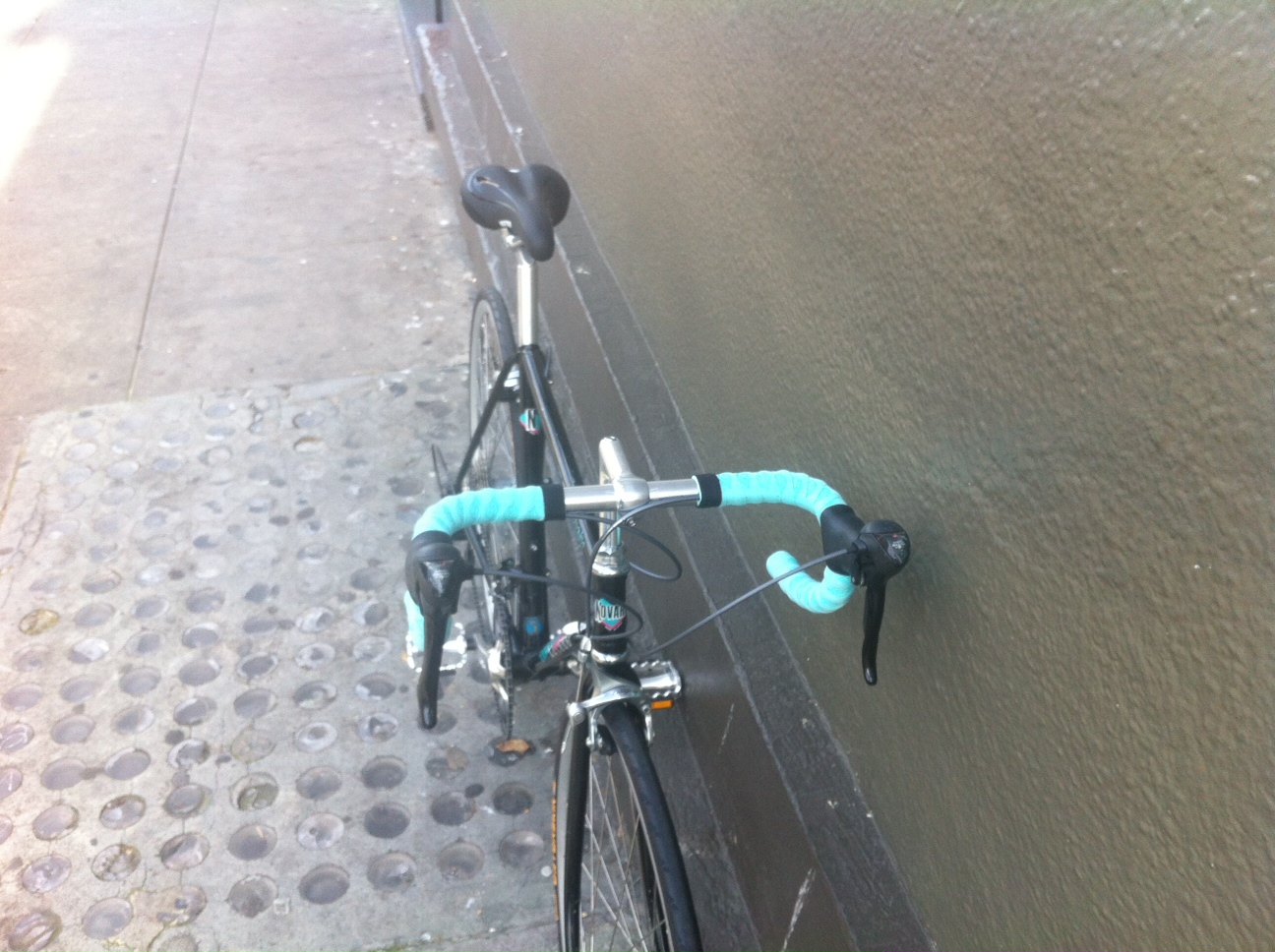 You won't see an Italian flag on this Novara Trionfo, but maybe its Italian name is enough to lure you in.  And in that case you won't feel duped as I did, because this is very nice, classic steel road bike-not some off-brand fry oil lurking in the back of your kitchen cabinet.
Also of note is the internal cable routing. As a mechanic, it's sometimes hard to feed the brake or derailleur cable through these small holes.  The makers of this frame, a late-1980's model, took the trouble to design this feature well.  The cable went through perfectly, and I didn't even have to bother to slightly pre-bend the end of the cable to help it find the exit.
The Trionfo was stripped the the bare frame and fully rebuilt with more modern parts.  A size-appropriate 165mm crankset has been installed, as well as some narrower 38cm Soma Highway One handlebars.  It's also got a nice set of 700 x 25 Gatorskin tires that should hold up well in our glass-strewned city.
Come check it out today! A good fit for someone right around 5′ tall.
$750
48cm Rocky Mountain Oxygen Road @ Pedal Revolution Refurbished Bicycle Update
Are you a smaller person looking for a good road bike? We have a nice 48cm Rocky Mountain with a Shimano 105 10-speed drivetrain, fresh bar wrap and a new pair of Continental Gatorskins.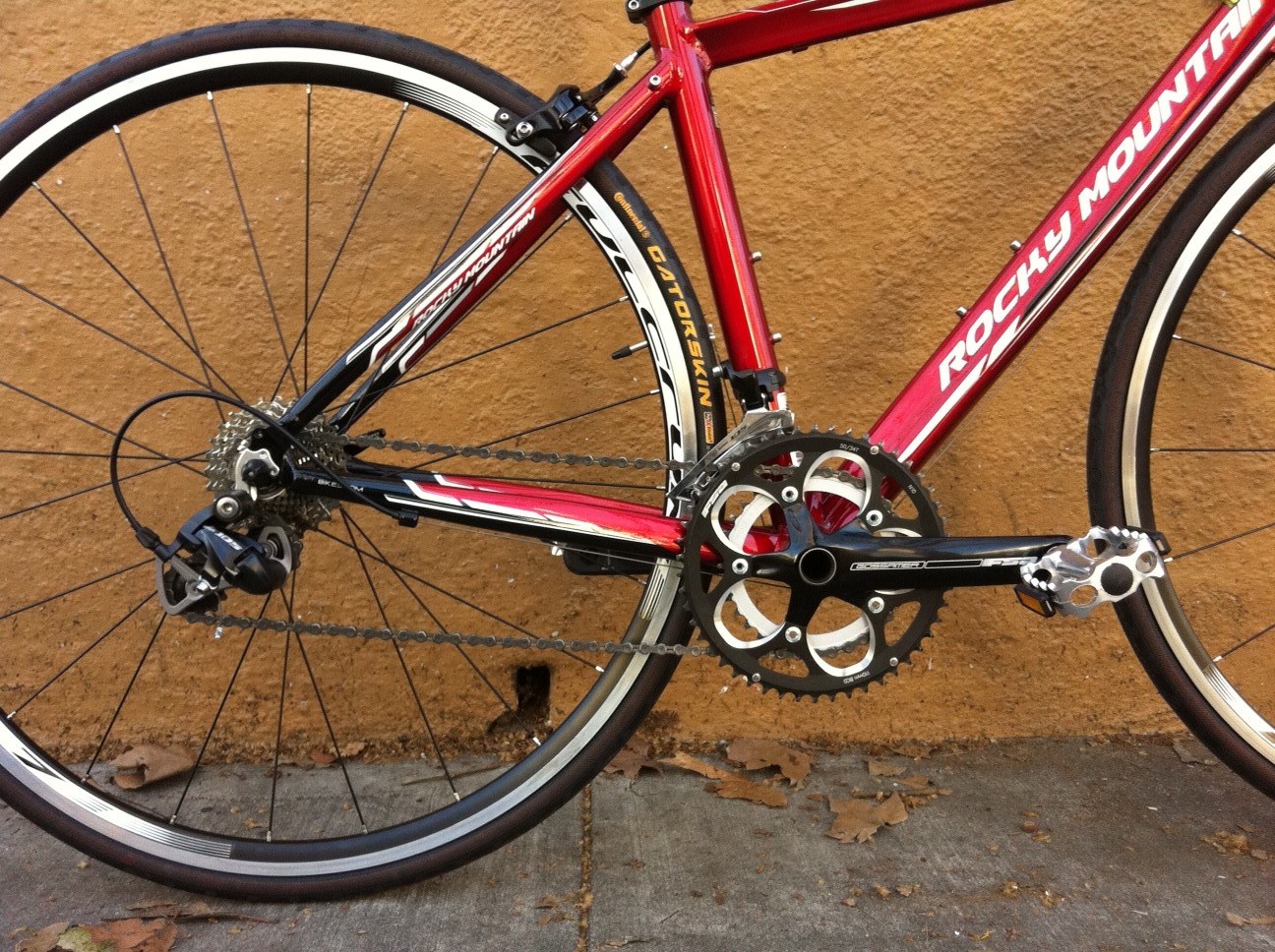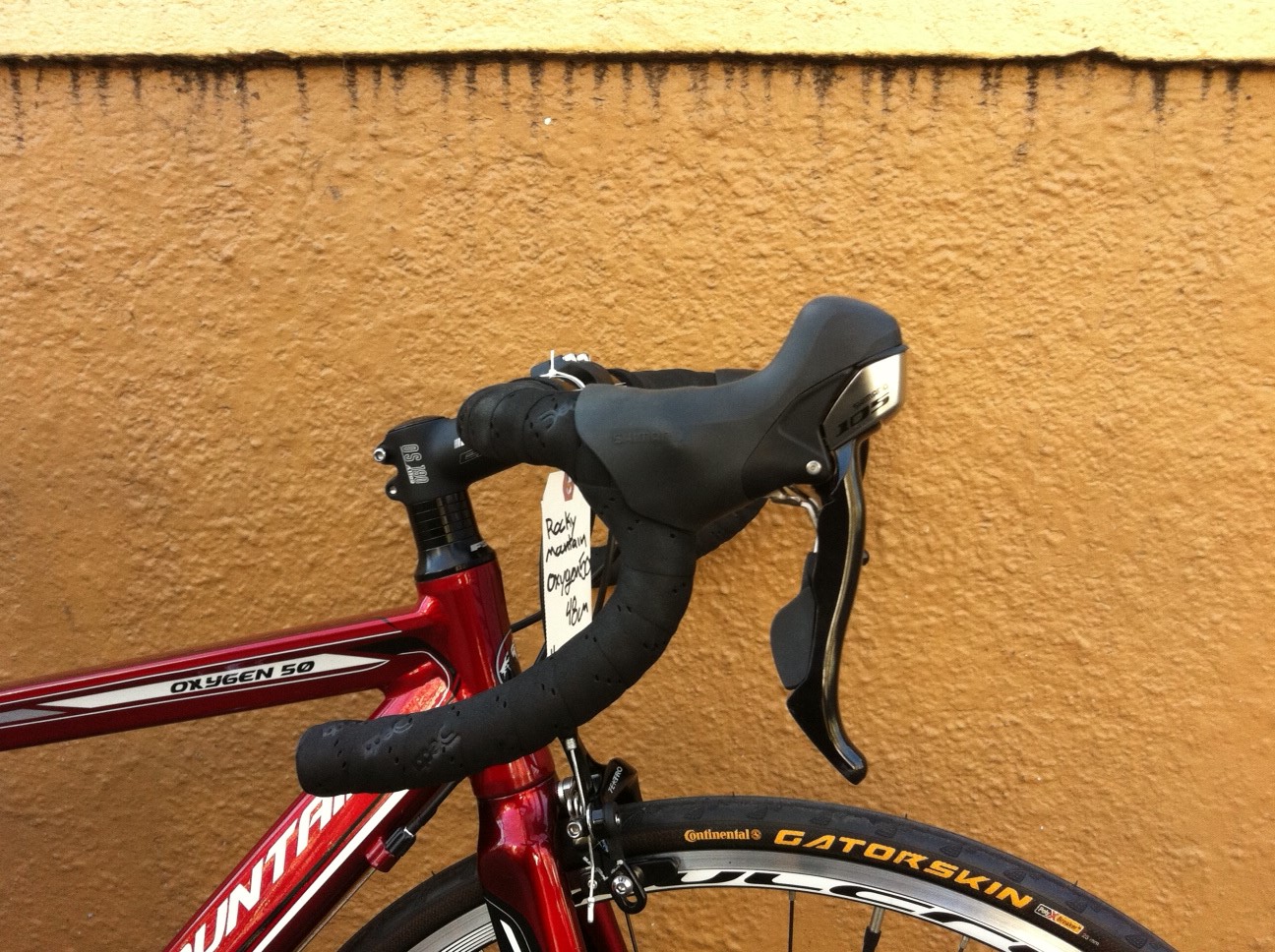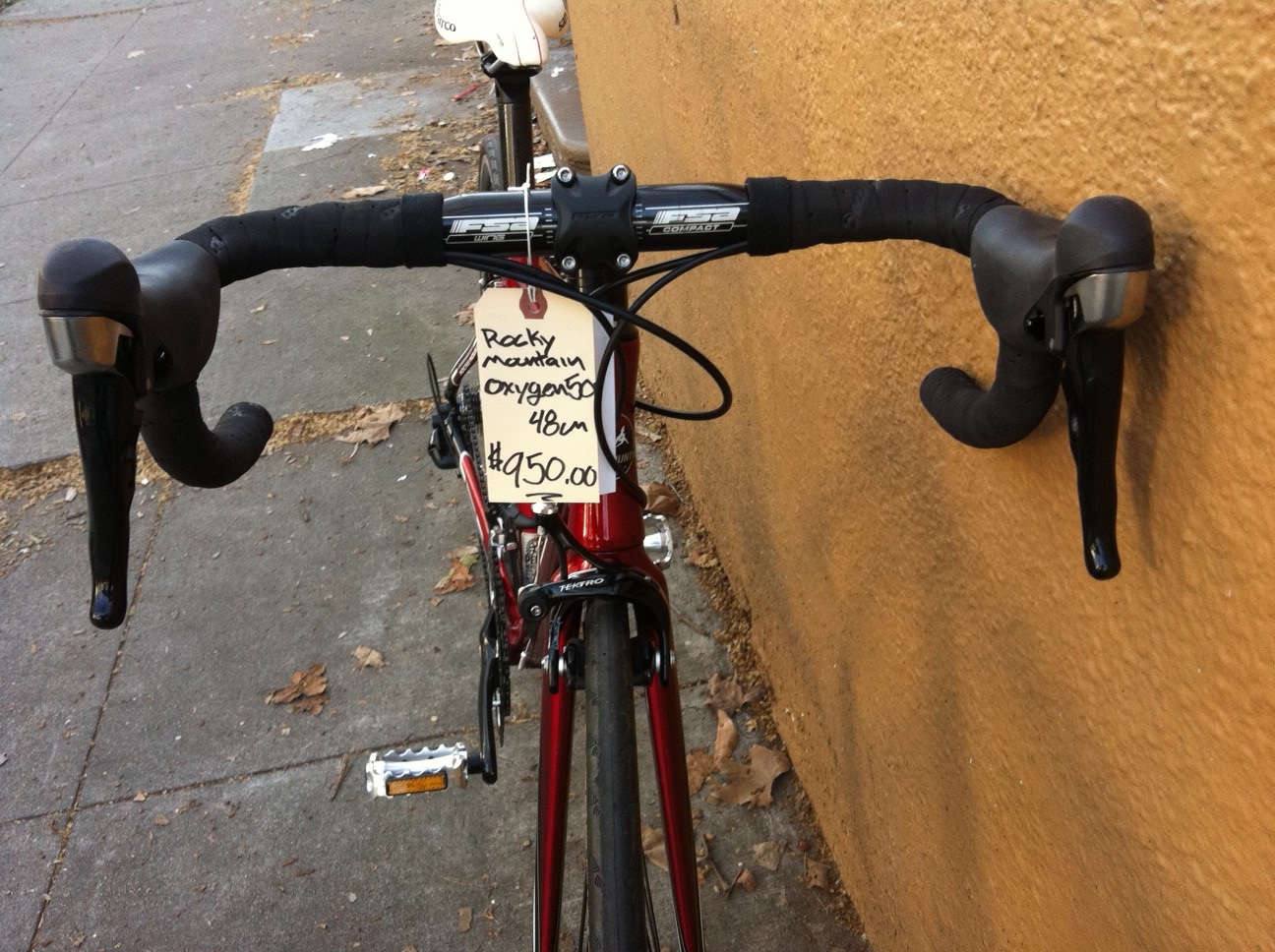 The bike is in like-new shape; like all of our refurbished bikes, it comes with a 3 month guarantee.  If you're around 5′ tall and are looking for a good road bike, come check it out today!
$950
50 cm Trek 2120 Carbon Road Bike @ Pedal Revolution Refurbished Bicycle Update
As a material, carbon fiber was first used on production bikes in the late 80's/early 90's.  The bike you see here, a Trek 2120, was among the first.  The three main tubes are carbon, and they're bonded to aluminum to form the rest of the frame.  Though the frame is pretty old, it is still in fine shape; a lot of the early carbon frames tended to be "overbuilt", and are in fact stronger that some of the newer and thinner carbon frames out there today.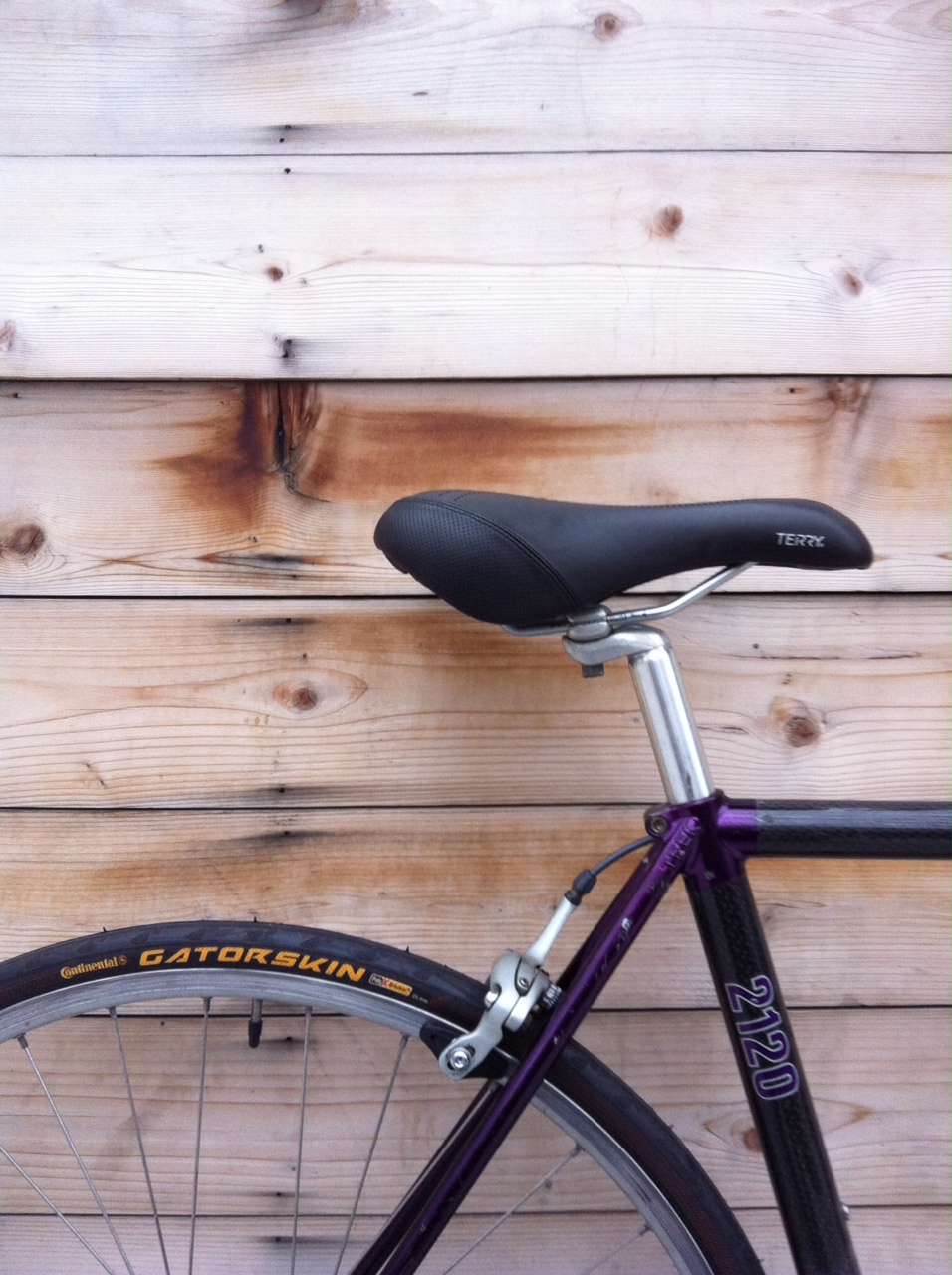 Terry saddle and new Continental Gatorskin 700 x 25 tires.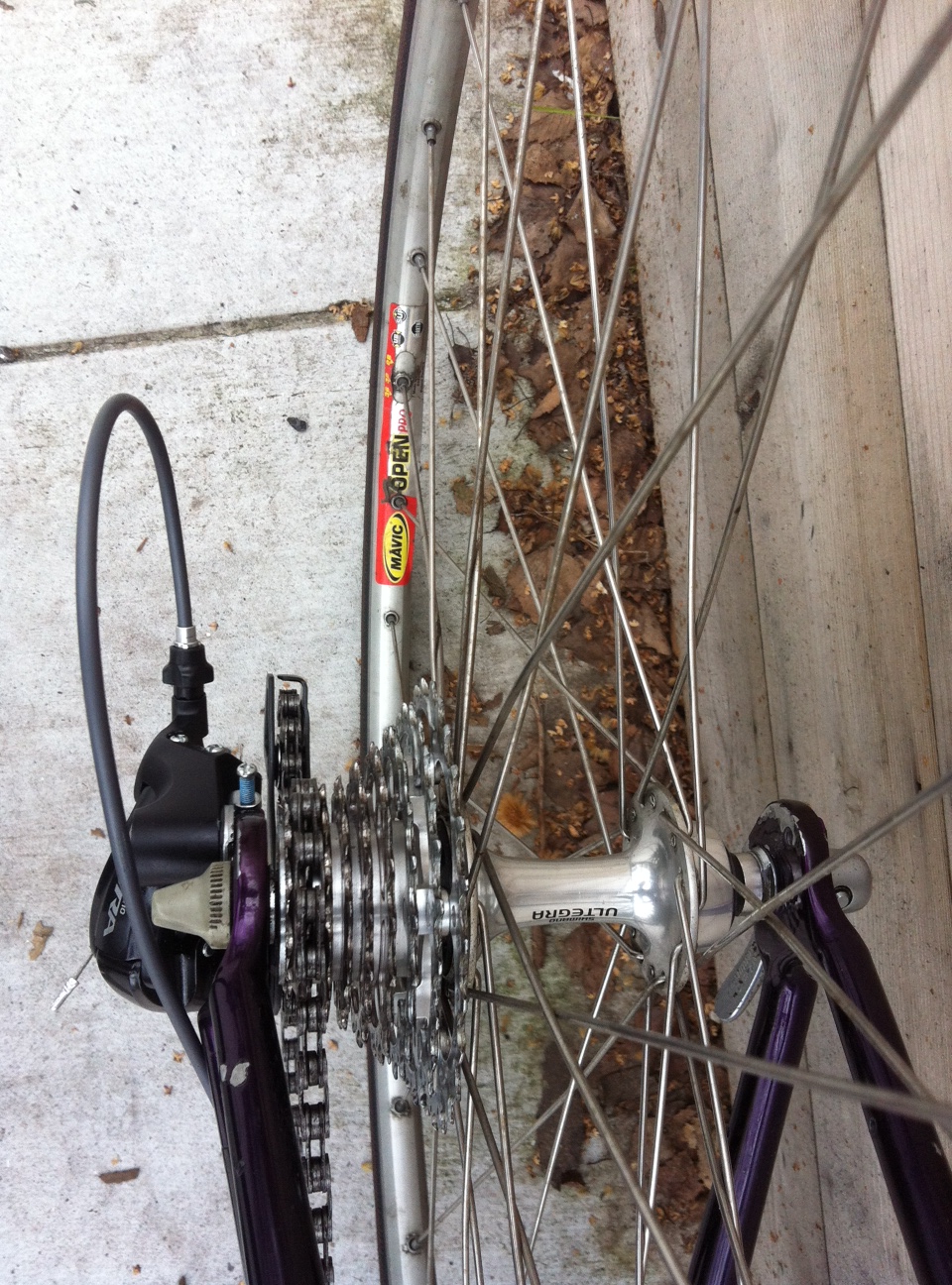 Bike features a nice wheelset-Shimano Ultegra hubs laced to Mavic Open Pro rims.  A light, solid set of hoops!
The rest of the drivetrain is a mix of Shimano Sora/105 parts.  A good fit for someone about 5'1″ to 5'4″.  Come check it out today!!
$700
SOLD!!!
Specialized RockHopper Commuter 19.5" @Pedal Revolution Refurbished Bike Update
Another rebuilt gem from yester-year. Cool grey and aqua color scheme on this classic steel Rock Hopper frameset. Rebuilt by Pedal Revolution for heavy duty commuter use with new drivetrain, wheels, upright bars, shifters, brakes, saddle, and burly Continental Touring Plus tires.
19.5″ (fits 5'9″- 6′).
$375.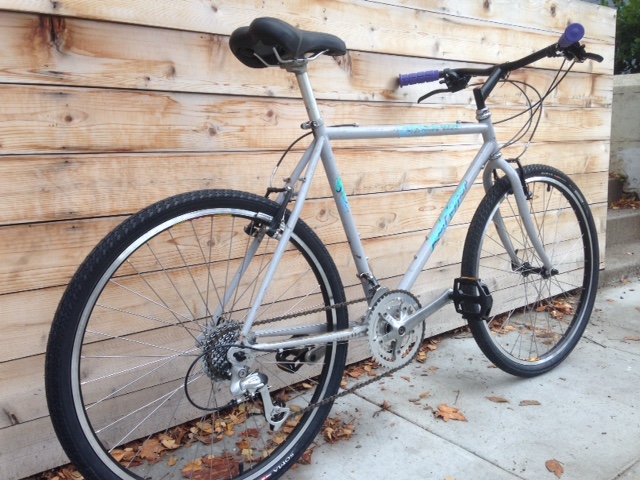 Powdercoated Custom Step-Through Commuter 50cm @Pedal Revolution Refurbished Bike Update
Who says "Mixte" style bikes need to be dainty and pastel colored? We had this one powdercoated in a stylish finish we've come to refer to as "Scorched Earth Brown". Full custom rebuild job on this one and it rides like a dream. All the good stuff and Pedal Rev favorites are represented: 1×7 "just enough" drivetrain, Mavic/Shimano road wheelset, Panaracer Pasela tires, WTB comfort saddle, Velo Orange Milan handlebars, Soma Sutro stem, and leather grips. Understated and awesome.
50cm and an ideal fit for a rider 5'3″ - 5'6″.
$850.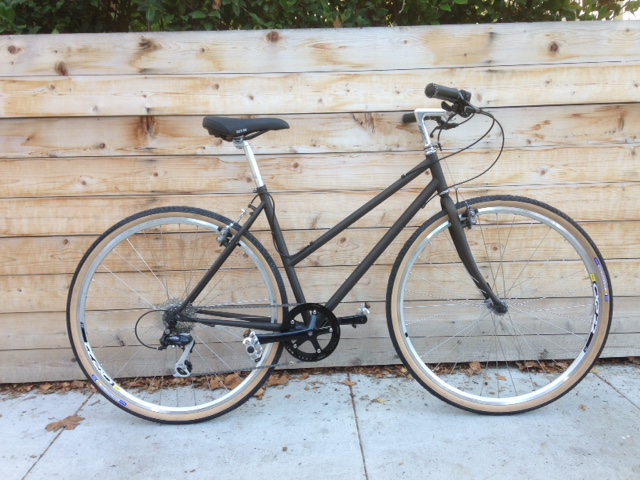 Pedal Revolution Used Bike Update: IRO Mark V Single Speed
Pedal Revolution Used Bike Update: IRO Mark V Single Speed - 49cm
Depending on your needs, a single-speed bike can be awesome.  In addition to the excellent elemental minimalist stripped down bare naked good looks, single-speeds tend to be more maintenance free than bikes with complex gear systems. Because the drivetrains are so simple, wear and tear parts that do need to be replaced are generally less expensive (1/8″ single speed/bmx style chain for $15 vs a $50 10 speed cassette chain!!!).  Simply due to having fewer parts, the bikes also trend lightweight for less dollars.
As a secondary or tertiary bike, single speeds are ideal.  Their lightweight and simplicity makes hauling them up and down apartment stairs and on and off public transit a breeze.  Further, no need to worry about your rear derailleur getting bent out of shape when parking at a busy bike rack.
This bike has super nice unique handbuilt wheels (super strong and light!): pink IRO sealed bearing hubs and Velocity rims.  The brand new wheels are 650C size (actual rim/Bead Seat Diameter 571 mm), smaller than conventional road 700c (BSD 622 mm) wheels so they are appropriately scaled to the very small frame and rider.

Oury grips, neo-retro Tektro brake levers, and a sweptback Velo Orange Milan handlebar for comfort and style.
Because of the unique parts, and small frame and appropriately sized wheels, this is a really killer bike for someone around 5′ tall:
$600 - 49cm frame
Specialized Sirrus Hybrid Commuter 13" @Pedal Revolution Refurbished Bike Update
A superb condition Specialized Sirrus in sexy matte black on the floor in the heavily visited Pedal Revolution refurbished bike department. This little number is a 13″ and sized for a human of smaller stature…around  4'7″ - 5'2″.
$500. SOLD.
Omino Small Japanese Racing Bike @ Pedal Revolution Refurbished Bike Update
After laboring to google "Omino Impact Attack" I (Joel) was unable to come up with much information on this awesome little lightweight bike. There was one website that, based on the photos, seems to be affiliated with the brand but the website is 99.9% in Japanese.  Perhaps someone reading this can help translate (the google could not).
What is for sure is that this is very attractive and unique bicycle.  The frame is aluminum but has smooth looking welds that look like fillet brazes but I am not sure it is possible to fillet braze aluminum.  Maybe there is a welder or metal guru in our audience that can help sort this out???
This bike was fitted with very fancy Shimano Ultegra triple cranks and a 9 Speed 105 drivetrain and brakes.  The bike is equipped with 650C (E.R.T.O./I.S.O. 571mm) wheels to maintain a short racy wheelbase while eliminating the toe-overlap that can plague smaller race bikes with 700c wheels (I.S.O. 622mm) that don't extreme angle out (think of riding a chopper motorcycle) the fork and degrade the bike handling.
A tallish Nitto Technomic Stem Stem, ESI silicone bar wrap, and narrow Soma Highway One Bar were added for comfort and killer looks.
This is a great bike for someone around 5′ 2″ tall!!!
50cm Omino Attack Impact (or is it Impact Attack?) - $850 SOLD!!
Cannondale C300 16″ Step-through commuter bike @Pedal Revolution Refurbished Used Bike Update
Cannondale C300 16″ Step-through commuter bike.
A great, affordably priced Cannondale hybrid built in the US. Cannondale's are known for being lightweight and this one is no exception. Geared to take on any hill you want to throw at it this upright positioned commuter bike will make a fine new partner for some lucky person who can appreciate it's understated charms.
16″ fits 5'1″ – 5'5″.
$350. SOLD!
Robin Hood 3-Speed @ Pedal Revolution Refurbished Bike Update
1969 Robin Hood 3-Speed Step-Through - $350 SOLD!
In the year 2008, I (Joel) began my career as a bicycle mechanic.  7 years ago this month actually.  I worked at Broadway Bicycle School in Cambridge, MA. This shop serviced many old British 3-Speed bikes.  It was actually kind of a specialty of the shop.  I was tasked with tuning up many of these bikes and let me tell you, at the time, they were the bane of my existence.  Compared with contemporary bikes, these bikes are unconventional and quirky as can be (internal gear hubs that are influenced by by their position in the frame, front hubs that are adjusted in the fork, use of metric and non-metric/imperial fasteners, "Raleigh"/26 TPI threading, brakes that are centered with a hammer and punch!…).
At a certain indecipherable point (I suppose it has been a process, journey or evolution in my development as a mechanic and cyclist) I formed a real affection for these idiosyncratic machines best celebrated on the Sheldon Brown (fellow Broadway Bicycle School alumnus) website.  Please allow me to quote:
These Are Real Bikes!

on't sneer at old 3-speeds. They are serious bikes, built for serious use. They are meant for utilitarian cyclists, and they are still extremely appropriate for riders who don't usually go more than a few miles at a time. They are particularly at home in stop-and-go traffic, because they can be shifted even while stopped. Their English heritage: full fenders, oil lubrication, and totally enclosed gear system makes them relatively impervious to wet conditions. They may be heavy, but that is not because they were built to be cheap, but because they were built to endure extremely rough usage and neglect. Properly cared for, they will outlast us all.
As evidenced by the date stamped on this Robin Hood's Sturmey Archer hub, this bicycle was manufactured in 1969.
In 1969, the guts of the Sturmey Archer AW hub were much the same as  in 1902, having survived two world wars, the great depression, the baby boom and several high-profile assassinations fully intact. However, 1969 was a pivotal year of change in the history of Rock N Roll.  Anyone in the Bay Area today who happens to catch audio glimpses of traffic reports referencing Altamont must surely be reminded of the ugly events that occurred at the free concert there in December 1969, the edge of the 1970s.  As we now know, the Altamount Free Concert was the event that signaled the end of the day glow tie dye days of peace and love.  What followed was a decade of earth tones, religious cultism, political assassination, heavy narcotic use, domestic terrorism, disco, escalating imperial war atrocities, and the emergence of punk rock. Around the time I was birthed, The Clash succinctly penned the perfect counter point to the peace and love espoused by the flowerer children of the 60's, Hate and War ("the only things we got today").  A real theme song for the 1970s.
A more positive association one can make with this bike and The Clash is their invocation of Robin Hood in the excellent song White Man in Hammersmith Palais.  Perhaps the first of example of White musicians properly doing what Bob Marley would affectionately call the "punky reggae".
As mentioned in the above quote from the Sheldon Brown website, although these are real bikes, they were geared for the flat streets of Nottingham or Manchester (see the below video) England rather than hilly San Francisco.  Thusly, the original cottered cranks were replaced with a Velo Orange threadless bottom bracket (mooting the Raleigh threaded bottom bracket shell) and a beautiful Sugino crank fitted with a 42 tooth chainring.  This crank is mated to a 23 tooth rear cog and provides excellent gearing for our vertiginous local terrain.
Bianchi "Neon Eggplant" Advantage Commuter Bike @Pedal Revolution Refurbished Bike Update
Bianchi Advantage "Neon Eggplant" commuter bike. A great quick and lightweight hybrid bike rebuilt and ready for daily use. If you dig purple, come and ride this luminous creature.
16″ fits 5'2″ -5'6″
$650. SOLD!
Cannondale C400 Hybrid Commuter Bike @Pedal Revolution Custom Refurbished Bike Update
This is a great smaller sized Cannondale commuter bike. Rebuilt to have an upright riding position. This one has all the great characteristics of Cannondale bicycles; made in the USA and very lightweight!
13.5″ fits 4'10" - 5'2″
$425.